Camp Bestival review 2018: We danced, glittered, laughed and had a (disco) ball. Until storms stopped the action, we had the time of our lives. Find out how our family enjoyed this incredible festival.
This was our third year at Camp Bestival (read my review of Camp Bestival 2016 and Camp Bestival 2017). We look forward to it all year and it really is the highlight of our calendar. I asked the kids which was better: Christmas or Camp Bestival, and they struggled to decide.
This year the weather put a bit of a spanner in the works though. After Thursday - Saturday being fantastic, a massive storm hit the site on Saturday night, so for safety they couldn't open the site on Sunday.
But we were so happy to have had a wonderful first few days. Thursday the site isn't fully open, but we were able to make ourselves at home and explore the partially open arena and party in the amazing Caravanserai area.
Forget the storm, Friday and Saturday were magical. We danced, glittered, laughed and we had a (disco) ball.
Here's what founder Rob da Bank had to say about CB18: "Wow, what a weekend on so many levels! Three glorious days and nights of sunshine, music, theatre, great grub, yoga, banging nails into pieces of wood, face-paint, eco glitter wearing, Dingly Dells, trolley pimping, daredevil circus feats and Mary Berry… and then our first day in 11 years where we couldn't open the arenas due to insane winds… but we all made it and we loved having you here and we hope you wanna come back. You guys are the Camp Bestival!"
CB have a very special 72-hour pre-sale on Fri 3rd Aug with adult weekend tickets available to buy for just £150.
To take advantage of pre-sale prices, head to the Camp Bestival website and sign up to the mailing list to receive your access code.
Following the pre-sale, early bird tickets go on sale on Monday 6th August at 10am.
What is Camp Bestival?
Created in 2008 by Radio 1 DJ Rob da Bank, Camp Bestival is a festival that's as much for kids as it is for parents and where they can party together. It's located on the Dorset coast and it's a long weekend of fun, enchantment and activities. Camp Bestival has a capacity of 30,000.
It brings together crafts and craft beer, big tops and banging tunes, rides and rhythms. And it is flipping awesome.
What's the difference between Camp Bestival and Bestival?
These are two very different beasts. Camp Bestival is family friendly and geared up for kids. Bestival, it's big sister festival, is more grown up hedonism. Currently, Bestival is at the same location (Lulworth Castle, Dorset) and it's held the weekend after Camp Bestival.
They share the same organisers, site and many stages, stalls and decorations.
This seemed to cause a bit of confusion. There were a few groups at Camp Bestival that had booked the wrong festival. A stag do of 20 blokes were horrified when they rocked up to party and found the place full of families and kids. Apparently the stag cried when he realised he had booked them all into the wrong festie.
Families = Camp Bestival
Partiers = Bestival
Geddit?
Camp Bestival Review 2018
We were joined this year by my sister-in-law's family, making us a party of four adults and four kids, ranging from age 6 - 11. They hadn't been before, but were lured into buying tickets by our tales from the years before.
The cousins all had a ball together, exploring, dancing, eating ice creams and gazing about at the wonder of the festival.
Boutique Camping
We were staying in the Boutique glamping area, so there wasn't the big rush to get a pitch and we arrived late in the afternoon on Thursday. If you're in general camping and in a group, I'd suggest you aim to get there at 10am on Thursday so you can get enough space on a flat bit of the hilly site together.
Boutique glamping has a car park much closer to the camping, and no big hills, so it's a lot easier to get settled. We queued up to pick up our wristbands, then got our belongings and went through the security checks. If you're wondering what to pack, check out my Camp Bestival Packing List.
Boutique also has nice (free) showers, flushing toilets and our hosts Podpads, had a stand with free teas, coffees and hot chocolate.
Camping is open on Thursday, but not all of the festival is. We settled in, opened some of our cold ciders, made some dinner (I made up a big batch of peanut stew for us to heat) and then headed into explore the festival.
The incredible and the bizarre
I almost hate to share too many pictures with you. The best part of CB is discovering crazy things.
Walking into the Caravanserai and partying to wild drum and bass while the kids climb on vintage caravans.
Glancing at the screen at the main stage and incredulously seeing cook and national treasure Mary Berry drumming for Rick Astley (yes, really!).
Pulling the kids asleep in a trolley into the Bollywood tent and raving like it's 1994.
Nursing a hangover while the kids meet Peppa fricking Pig.
Finding glitter in the most unmentionable of places
Finding glowing disco balls in the Dingly Dell forest lit up at night.
Learning legal swear words with Dick and Dom (try 'scampi pamphlets')
Attending strangers' 'wedding' in an inflatable church
It's madness. Blissful, wonderful madness.
The Music
Everywhere you go, there's music. Very eclectic music.
Passing the Big Top, we wandered in to discover the hilarity of Mr B the Gentleman Rhymer who does 'Chap Hop'. Popping into the Caravanserai, we were treated to a packed crowd enjoying drum and bass.
My 11 year old nephew was delighted to watch Max and Harvey as teen girls screamed at the front, and the little ones partied on shoulders to Clean Bandit. Under the cover of darkness the crowd was a see of flashing LEDs and glow sticks.
Sadly, most of the bands we wanted to see (The Undertones, 77/78, Shed Seven, Orbital and the outstanding Elvana) were on Sunday which was cancelled. Still, we saw The Skatalites, had lunch to Pop Will Eat Itself and drank ciders listening to Jesus Jones.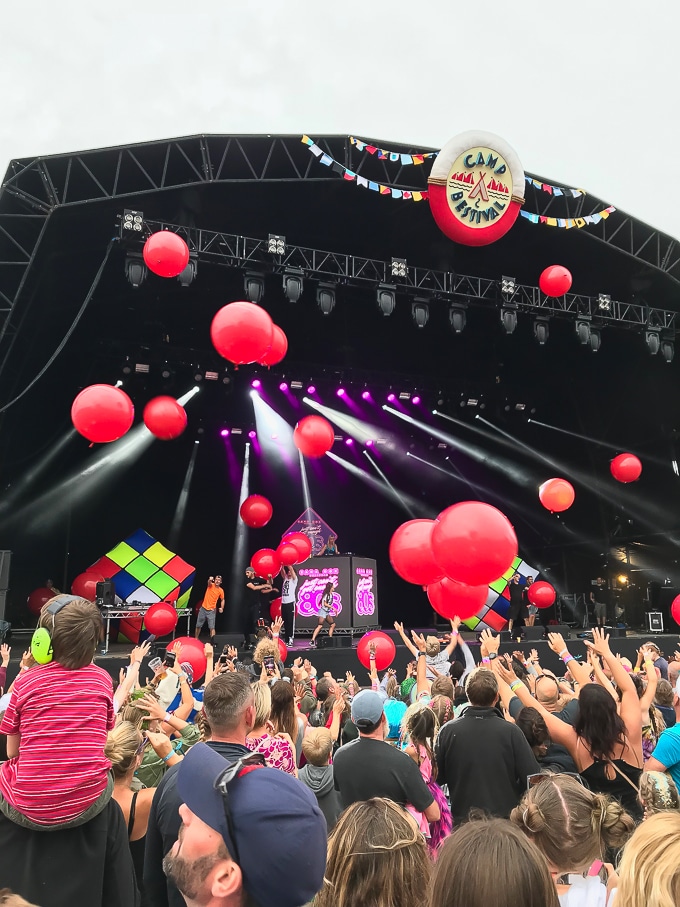 We had a big ol' dance to Sarah Cox's Just Can't Get Enough 80's set at the main stage. There was swaying, singing and partying. There was loads of ticker tape confetti released and then these huge balloons soared over the crowd during, you guessed it, 99 Red Balloons.
The main stage
The main stage looks so busy and crowded, but it's the angle. We were pretty close to the front and had plenty of space for the kids to dance and doze.
During the second to last act (Declan McKenna who we didn't know beforehand but really enjoyed), the four kids even sat down to a picnic of pizza from a nearby stall. Adults danced around them as wiggling grownup butts made a wall around their pizza party. There really is quite a lot of space and you'll never feel crushed like at a typical festival.
That's one of the great things at CB. You can so easily get right to the front to see bands. Most people hang around the very back with their kids, chairs and trolleys. So, if you're happy to just walk to the front you can!
The one main issue was that there were far less toilets at the main stage this year. It's not easy to get through a crowd with small children, and an hour long queue for the loo is horrendous with little ones. Hopefully they'll take the toilet complaints on board and go back to having loads like the years before.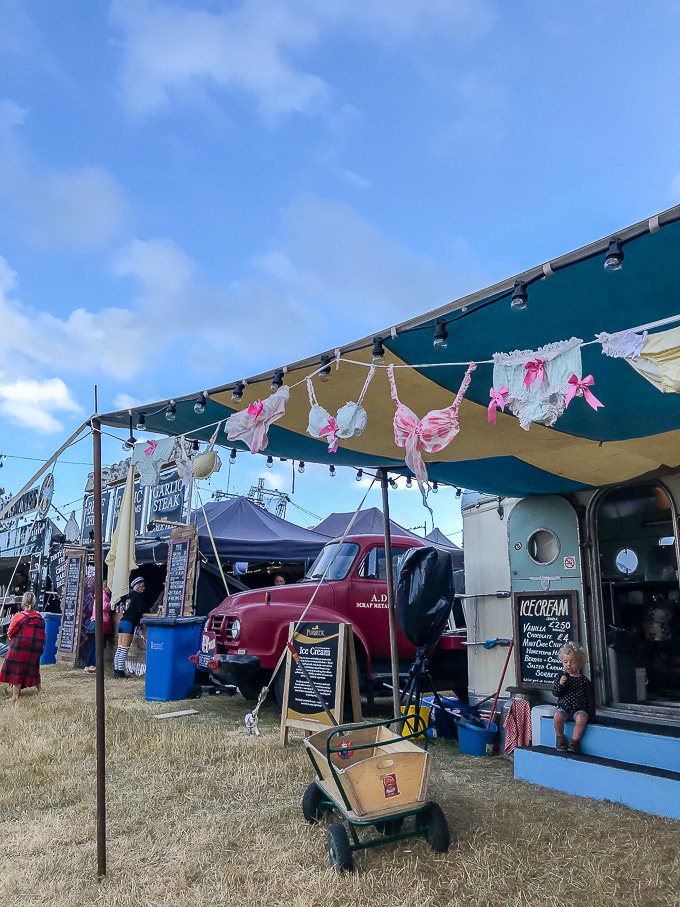 The Food
There are food stalls dotted all over the site. They're in the camping fields and in all the arenas, so you're never far from a snack, it's just choosing what to go for that's difficult.
We tended to have breakfast at the tent and make the kids sandwiches for lunch and grabbed a load of snacks to keep them fuelled. It's an easy way to save some money and instead spend it on grown ups who will appreciate the amazing array of food more.
I *may* have let my daughter have ice cream for breakfast once though. And, well, we treated the kids to chocolate waffles for dinner. Shhhh.
The grownups all had lunch and dinner from the food stalls. There's so much tempting food that we were really spoiled for choice.
The main part is the Feast Collective in the upper kids garden. It's a massive tent with exceptional food. Camp Bestival isn't really a 'burger van' sort of place. Rather you'll find posh mac n cheese, Biff's Jack Shack with vegan jackfruit burgers, Le Bao's Asian buns and so much more. The food is all an amazing standard and the selection is pretty mind blowing. It's SO HARD to choose what to have at each meal.
I've been dreaming about the vegan kebab from Milgi at the Feast Collective since last year, and it didn't disappoint! I need to go to Cardiff to their restaurant one day.

The sweet potato sushi from Happy Maki was a perfect lunch. Full of flavour and stuffed with healthy veggies.
I also had a lovely spicy coconut and chickpea curry from Zoe's Ghana Kitchen and a tasty vegan paella. Sorry, too busy having fun to remember to take a picture!
The drinks
After a night on the cider there's only one way to face Mr Tumble taking to the stage. Coffee. Preferably a really good coffee from Girls Who Grind Coffee.
They're an all-female small batch roastery based in the South West who ethically source specialty coffee from female producers. And man, that coffee was soooo needed as Mr Tumble larked about the stage to the delight of the audience.
There were also loads of bars dotted around the site, mainly selling Amstel and Strongbow on draft. New this year, was also the Rob and Josie Gin Festival tent. Outside were two of these giant GIN signs that kids could climb on and play around.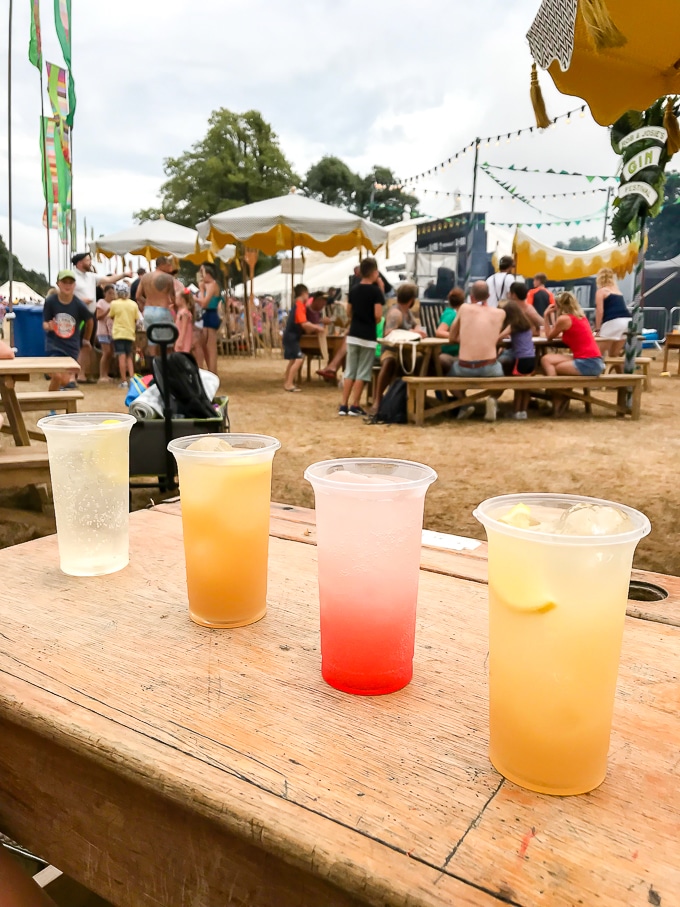 We sat at a vintage school desk and sipped amazing gin cocktails while the kids played next to the bar at the kids circus area, with the 11 year old cousin keeping an eye on them while he practised his newly-learned diablo throwing skill.
Camp Bestival Review - Attractions and Activities
There are so many attractions and activities that I couldn't even begin to list them all. When you arrive you can buy a programme (£10) which is a canvas bag with lanyard, colouring books and also a thick book outlining all there is to do.
Reading through this tome got us so excited about seeing so many things, but we couldn't possibly make it to everything we wanted to. I suggest you choose a few 'must see' highlights for your group and just wander around discovering everything else.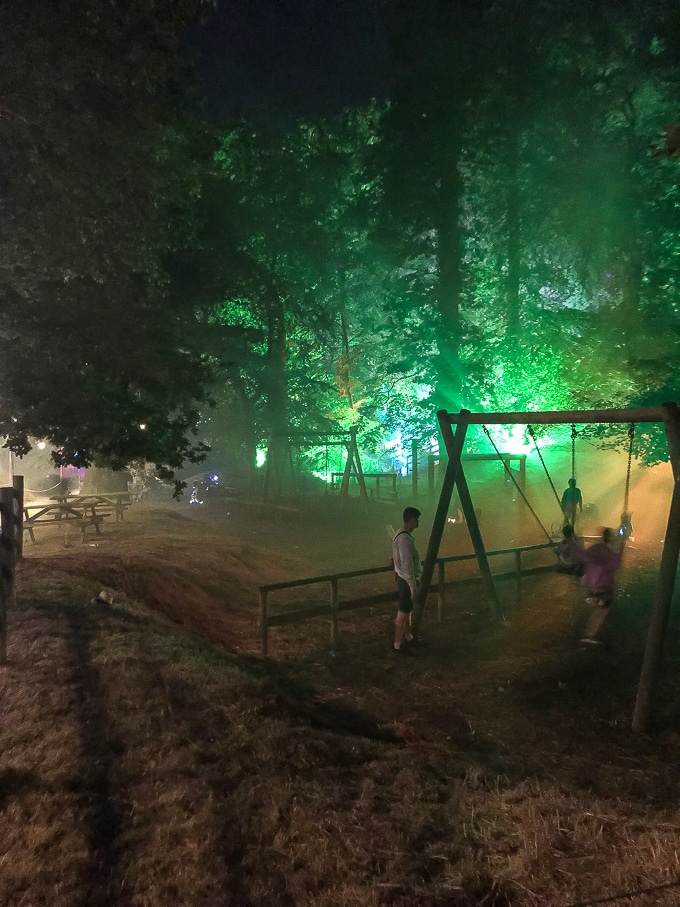 While Rick Astley crooned to those on the main stage, we wandered into the Dingly Dell, and incredible woodland area. By day it's fun with Lizzie's Way - a section of mud kitchens, potion making and other fun activities, as well as a playground. By night it's transformed into this enchanting light show.
We went for a much needed cup of tea at the Magic Teapot - a new area full of instruments. Our kids instantly started a band with daddy on guitar.

As the kids snoozed in their trolleys, we grabbed another pint and went dancing in the awesome Bollywood tent.
Kids having gadget withdrawls? We found the perfect antidote - the Actual Reality Video Game Arcade. We all played Frogger, Space Invaders, Donkey Kong and more. There's also something very very satisfying about hitting your kids over the head with a giant foam mallet as they become the moles, popping their heads out in Whack a Mole.

Other activities:
-There are so many tents and stages, from the Big Top and The Greatest Tent on Earth, to the HMS Camp Bestival.
- Slow Motion is a wellbeing area with yoga, healthy food and wellness activities
- Spinney Hollow is an enchanting area with natural crafts like willow bending and wooden sword making
- We somehow missed out on the Silent Disco this year. We've LOVED that every year so we'll be doing it next time for sure.
- Guardian Literary Tent - catch the family pub quiz and talks by authors
- Go to a pretend wedding at the inflatable church and then dance at the reception next door
- Sit in an old fairground car and listen to amazing music in the gypsy punk Caravansarai
- Listen to DJs spinning vintage tunes at the Shellac Collective
- Ride the swing chairs, jump in the world's largest bouncy castle, ride the ferris wheel (all payable)
- Rave with the kids at Big Fish Little Fish
- You may roll your eyes, but Mr Tumble and Dick and Dom are somehow must see acts! They're there every year and I swear the adults love shouting BOGEYS even more than the kids do.
Plus about a thousand other things too!
Surviving Stormageddon
On Sunday morning we huddled from the howling gales in our sturdy and dry bell tent (we stayed with Podpads on the Boutique glamping site). Sadly, many people lost their tents after they collapsed and blew around the camping fields.
Festival organisers kept us updated via social media and kept putting off the decision to shut early. Presumably, they were hoping, like we were, that the storm would pass and everything would be okay. But at 1:30 they called time so we packed up and headed home.
It was a completely understandable decision and they had to put safety first. Signs were flying and portaloos toppled like dominoes.
But we'll definitely not let the storm and closure spoil the festival for us. We had a few incredible days of making so many wonderful memories first.
Camp Bestival 2019 will take place on July 25th – 28th. Early Bird tickets and weekly payment plan are on sale now.
Disclosure: We were guests of Camp Bestival and paid a charitable donation for our entry. Thanks to Podpads for hosting our stay in the glamping field.