Camp Bestival review 2019: The year of constant sunshine, high spirits and so much fun. We danced, glittered, laughed and had a ball. Find out how our family enjoyed this incredible festival.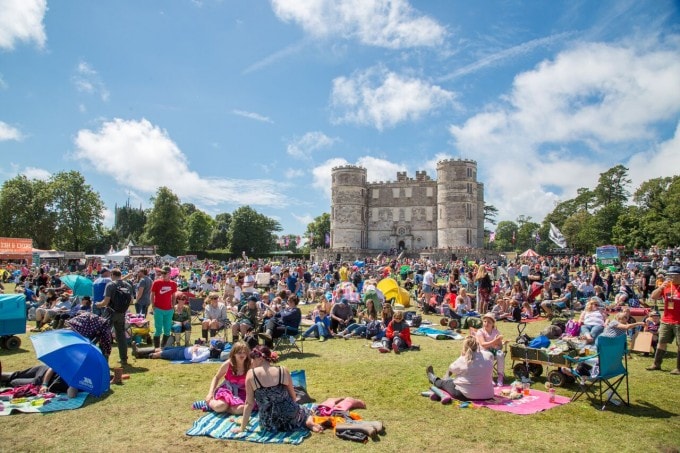 Gifted tickets
This was our fourth year at Camp Bestival. Gosh , the time has flown. Each year has been incredible, even in the past when the weather didn't cooperate. Rain and wind can't dampen the spirits of Camp Bestival Campers. This year, there wasn't a welly boot in sight as the sun shone above us every day.
We look forward to it all year and it really is the highlight of our calendar. All year long the kids ask how long until we go again. They've grown up at the festival and our summer wouldn't be the same without it. We all agree that it's better than a holiday abroad. Four action packed days of bonkers shows, music and constant family time together. We absolutely love it.
Check out my review of Camp Bestival 2016 , Camp Bestival 2017 and Camp Bestival review 2018.
What is Camp Bestival?
Camp Bestival was started in 2008 by Radio 1 DJ Rob da Bank, as a festival that's as much for kids as it is for parents, and where they can party together. It's located on the beautiful Dorset coast and it's a long weekend of fun, music, wonder and activities. The festival has a capacity of 30,000.
Camp Bestival has music, crafts, comedy, fairground rides, play areas, science, bushcraft and so much more.
This festival is all about family fun. And this year it was perfect. As perfect as a festival can be. The crowds were in great spirits, the music was incredible, the crazy acts were wonderfully bonkers and the sun shone and shone and shone.
The wonderful world of Camp Bestival is a multi-award winning festival that combines an all-encompassing family festival experience with an action packed camping holiday; something that we like to call a Festi-Holiday! - Camp Bestival
Camp Bestival Review
So you'll by now realise that we love this festival. My kids are now 7 and 9 and it's hard to believe that they've been going to it every year for nearly half of their lives. It's in their blood now. It's in mine, too.
The festival is big. Like, BIG. That means that there's a lot to see and do.
There were bands we wanted to see, but the kids are still a bit young to spend hours quietly at the main stage, so we would watch them for a bit then listen as we wandered off to do other things. One of the striking things about Camp Bestival is that since so many people are laden with trolleys, kids, chairs etc... that if you like a band you can very very easily get right to the front and it's not crowded.
But the other side of that is that the car park is a bit of a trek to the campsite. But I don't recommend that you pack lightly. Nooooo. If you're at a festival with kids, then you'll want comfort. We always set up a pretty epic Base Camp. Sure, it means a few trips to the car with our gear, but it's worth it. Check out my Camp Bestival Packing List.
We always go early on Thursday to make the most of the festival. It's not all open until Friday, but there's still loads to do. We set up Base Camp, then slathered on more sun cream (it was HOT) and walked the 10 minutes or so into the heart of the festival.
This year there were lots of changes to the layout, but all the best things were still there: the Big Top, Caravanserai (gypsy punk crazy area the I LOVE), inflatable church, science tent, greatest tent on earth, fairground rides etc...
Wild Tribe
A new area is Wild Tribe. Think Bear Grylls meets the kids from Lord of the Flies. We walked down the slope to see tipis with drumming classes, willow dens, a giant grass covered hut, bars, Greenpeace cafe and the piece de resistance - kids making their own play structure.
My kids really loved this bit. They went up to a mock hardware store and were able to choose a hammer or saw and some nails. Then they got to grab wood and help create a large play structure. It took a while for my inner 'health and safety monitor' to let go. I hovered for a bit, worried they'd bash a thumb or saw of a limb. But if you trust kids to not be stupid, they're generally okay. So I let go and watched them create handrails, add the floor and climb around.
Then... a giant dragon was brought in by Medieval drummers and set it alight. Eh? Yeah. Because that's the sort of bonkers stuff that happens at Camp Bestival.
Were my kids upset at their hard work being burned? Nope. They got all savage and chanted 'burn it, burn it'. See, it doesn't take much for kids to go all Lord of the Flies.
The Music
Camp Bestival always has a great lineup of music. This year's acts included Jess Glynne, Nile Rogers and Chic, Lewis Capaldi, Bombay Bicycle Club, Elvana (Elvis-fronted Nirvana, an unmissable act), Sister Sledge, Goldie and, erm, Napalm Death.
Defintely one of my biggest memories is watching a Big Top full of kids staring in awe at Napalm Death belting out metal. When it got too much for the kids, we decamped to the field outside and got them some chocolate waffles to get all jacked up on.
As they sat, scoffed and we visibly saw the sugar course through their little veins, I was able to lean to my right and hear Napalm Death, or lean to my left and hear Dub Pistols in the Bollywood tent. My brain could barely cope with that musical mashup. Then my kids started wrestling and we had to move on...
Attractions and Activities
There are so many attractions and activities that I couldn't even begin to list them all. When you arrive you can buy a programme (£10) which is a canvas bag with lanyard, colouring books and also a thick book outlining all there is to do.
Reading through this tome got us so excited about seeing so many things, but we couldn't possibly make it to everything we wanted to. I suggest you choose a few 'must see' highlights for your group and just wander around discovering everything else.
A few things we did:
Painted a giant cardboard castle (made from all the stall holders' waste cardboard, which will then be recycled).
Ferris Wheel at dusk.
Kids loved the swing chairs.
Watched a Science show.
Watched lots of aerial acrobatics.
Saw strangers have a pretend wedding in an inflatable church.
Tried out hands at block painting fabric.
My daughter loved getting glittered in the LOL Surprise tent.
Saw slightly inappropriate comedy shows (after crying with laughter at a story about a bus, my son declared it the best moment of his life.).
Rode crazy bikes (bonkers homemade hybrids of kids bikes and unicycles).
Learned to tightrope walk.
My son parted the crowd dancing in the Bollywood tent so he could lie on the floor and make 'confetti angels'.
Watched incredible dancing in the Pig's Ballroom late at night.
Saw metal band Napalm Death rock out to a crowd full of kids. This still cracks me up just thinking about it!
Made mud pies in an incredible mud kitchen at Lizzie's Way.
The Food
Oh. My. Foodie. Goodness. The food at Camp Bestival is a treat. Festivals generally aren't burger van affairs anymore, but Camp Bestival really ups the festi-food ante with the Feast Collective.
There are food stalls all around, but my favourite is always the stalls in the Feast Collective tent.
It's full of world foods and the standard is very high. Expect to pay about £8 a meal for large portions of restaurant quality food.
Vegetarians, gluten free and vegans are all very well catered for.
I loved the Vietnamese tofu noodle bowl from Hanoi Kitchen and the vegan Lebanese Shawarma from Bamboo Street Food particularly. It's SO HARD to choose what to have at each meal.
There are food stalls dotted all over the site. They're in the camping fields and in all the arenas, so you're never far from a snack, it's just choosing what to go for that's difficult.
We tended to have breakfast at the tent and make the kids sandwiches for lunch and grabbed a load of snacks to keep them fuelled. It's an easy way to save some money and instead spend it on grown ups who will appreciate the amazing array of food more.
Camp Bestival Dates
Camp Bestival 2020 will take place on 30 July - 2nd August 2020 at Lulworth Castle, Dorset.
The Lineup
The lineup for 2020 hasn't been released yet, but here's a list of previous acts...
Fatboy Slim, Basement Jaxx, Chuck Berry, Max and Harvey, Madness, Blondie, Hot Chip, Primal Scream, Florence and the Machine, Paloma Faith, Ed Sheeran, Mumford and Sons, Clean Bandit, Jess Glynne, Mark Ronson and many many more. I love that they have acts to thrill every generation.
For the little ones, you can find Mr Tumble, Dick n Dom, Sam and Mark, Mr Bloom, Peppa Pig, PJ Masks and many more characters.
The Location
Camp Bestival is held at Lulworth Castle in beautiful Dorset on the dramatic Jurassic Coast. However, even though it's right on the coast, in four years we've never made it to the beach. There's just so much to do at the festival!
Camp Bestival Tickets
Camp Bestival 2020 will take place on July 30th – Aug 2nd. Early Bird tickets and weekly payment plan are on sale now.
Disclosure: We were guests of Camp Bestival and paid a charitable donation for our entry. Thanks for reading out Camp Bestival Review. Landscape pix courtesy of Camp Bestival.