This lighter ginger yogurt cheesecake is a healthier take on the classic dessert. It's packed with flavour and easy to make. I've added carrot to the base for extra goodness.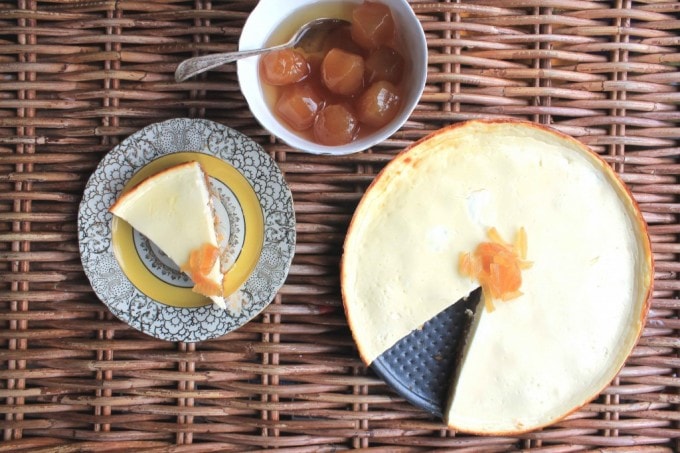 My mum used to give me ginger biscuits to quell seasickness on ferry trips when I was small, and I found it invaluable for quelling morning sickness during my pregnancies. But far from associating it with illness, I adore it's warming qualities.
Cheesecake can be a bit rich, so this one is cheese-less and uses Greek yogurt instead. I love the combination of carrots and ginger, so for this ginger cheesecake I've added carrot to the biscuit base – making it a vegetable dessert!
This recipe for yogurt cheesecake can easily be made vegan with non dairy yogurt and butter.

Ginger Yogurt
Author:
Kate @ Veggie Desserts
Ingredients
750g Greek yogurt
5 tablespoons stem ginger syrup (from a jar of stem ginger), plus extra to serve
3 eggs
1 ½ teaspoons vanilla extract
1 ½ tablespoons cornflour
For the biscuit base:
150g ginger nut biscuits
50g carrot, grated
2 tablespoons butter, melted
Instructions
Preheat oven to 160C.
For the biscuit base:
In a food processor, pulse the biscuits and grated carrot until it resembles large crumbs. Add the melted butter and pulse to combine. Press into the bottom of ramekins or a springform pan. Bake the base for 10 minutes and then set aside to cool.
For the filling:
Mix the yogurt, syrup, eggs, vanilla and cornflour until smooth. Pour over the prepared biscuit base.
Bake in the oven for 35 minutes. It won't be set, so allow to cool and then refrigerate for at least an hour to allow it to firm up further. Serve chilled with chopped stem ginger and extra ginger syrup drizzled over the top.