Review of Gylly Sunrise self catering holiday apartment in Falmouth, Cornwall. All mod cons with breathtaking sea views.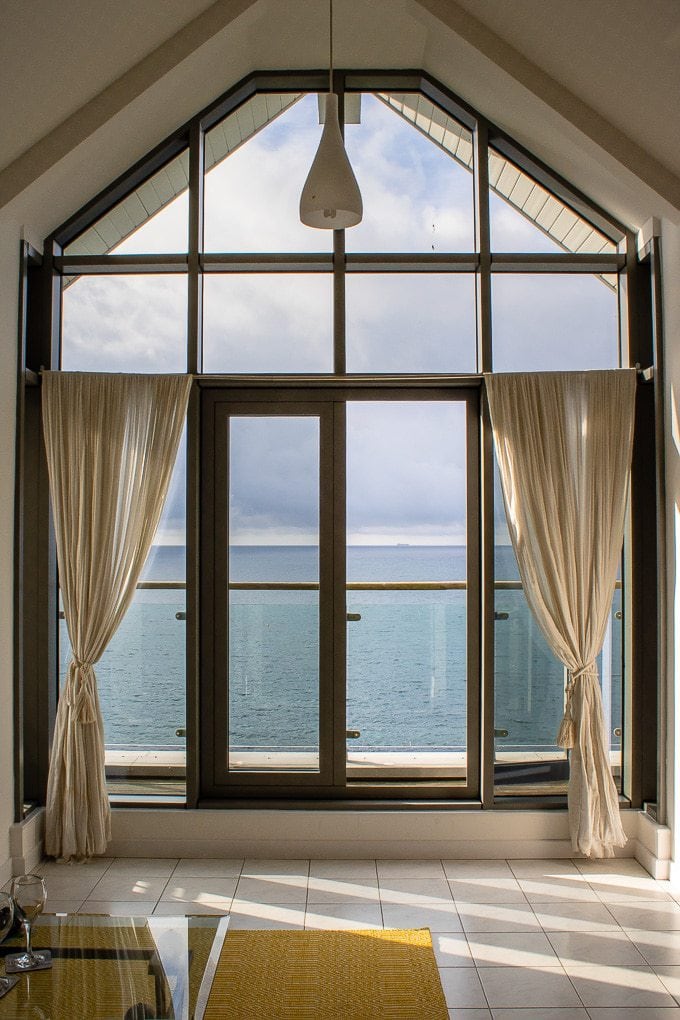 Cornwall
I fell in love with Cornwall not long after I fell in love with my husband. I had moved from Canada to London many years before, but I hadn't ventured west of Bristol. Having spent all of his childhood summers in North Cornwall, he soon whisked me there to the place where his heart lies. I was instantly enchanted by the stunning beaches, rolling seas and Blyton-esque cliffs.
Although his family having a place in Cornwall is absolutely wonderful, it means that we rarely venture beyond the beaches from Newquay to Padstow. We try to visit a few times a year, but now we're also casting our sights on further reaches and different beaches.
When Classic Cottages asked us to stay at one of their self-catering cottages, we chose Falmouth. With it's sea views and contemporary styling, Gylly Sunrise penthouse apartment sounded like the perfect base to explore Falmouth's beaches, gardens, fortresses, attractions and town.
Falmouth - creativity-on-sea
Falmouth is a charming coastal town. This year, it was named as the Best Place to Live in the South West by the Sunday Times and it's not difficult to see why. The small town has a cosmopolitan vibe, historic nautical roots and an arty culture.
The town centre has lots of shops, galleries and, as you'd expect in a port for cruise ships, lots of gift shops. You'll be spoiled for choice for a pasty and a pint of Cornish cider and I insist that you do imbibe.
The bustling harbour was filled with everything from little sailboats to a huge cruise ship, via a billionaire's yacht. It's the deepest natural harbour in Western Europe and the third deepest in the world. We sat at a waterside bar/restaurant and watched the comings and goings of the boats.
Gyllyngvase Beach
We spent a lot of time at Gyllyngvase Beach, a popular Blue Flag beach that's a mixture of sand and shale. There are lifeguards, public toilets, a great cafe (with vegan and gluten free options, as well as a bar) and ice cream shop selling the fabulous Roskilly's Cornish Ice Cream.
The kids loved paddling in the sea, making Andy Goldsworthy-esque sand art, watching the paddleboarding and surfing lessons and exploring the impressive rock pools.
Gylly Sunrise
Gylly Sunrise is a contemporary self catering holiday apartment with spectacular sea views. It's the third floor penthouse (there's a lift that takes you right into the flat) and the views reach far out to sea, from Henry VIII's Pendennis Castle to the hills beyond Gyllyngvase Beach.
A short stroll to beaches, town and pubs, we loved the location, exploring Falmouth and we spent much of our time while we were in the apartment just staring out to sea with a cold glass of wine or a coffee in hand.
Sadly, with the sun coming up at 5:15 this time of year we weren't able to wake up early enough to view the sunrise that the apartment is named after. But we watched the morning sun break through clouds, cruise ships come and go, a hardy group of swimmers and many sailboats.
There's no need for any entertainment other than watching the world sail by this window.
The apartment
The airy open plan apartment has large vaulted ceilings over a spacious living room, dining area and family-sized kitchen. There's a small terrace, with space for chairs (we found four outdoor chairs in a cupboard, along with a beach blanket). There's a main bathroom and an ensuite shower room - all perfectly clean and equipped. The modern decor had nods to Falmouth's coastal heritage. There are two comfortable sofas and two arm chairs with footstools. We quickly turned them to face the views and settled in to watch the sea.
I love self catering holiday cottages, particularly with kids. It means we can easily cook what we want and we have a lot of space. There's nothing worse than quietly sitting in a hotel bathroom with your partner supping a glass of wine in tiny tumblers so you don't wake the sleeping kids sprawled out in the room. I've done that too often!
The modern kitchen had everything we needed, from equipment and crockery to pans and cutlery. There's an oven, hob, microwave, kettle toaster etc.. Tea, coffee and sugar were supplied, along with a pint of milk in the fridge and even a bottle of wine and local cookies.
All bed linen and towels are provided, though you'll need to bring your own beach towels. There are two TVs, books, board games and even two pairs of binoculars, which we made great use of watching the boats.
There's parking outside in the secure gated car park and you'll get access codes when you collect the key from a nearby hotel - Classic Cottages supply all information when you book. Dogs aren't allowed at the apartment, and they're not allowed on Gylly Beach from Easter to Oct.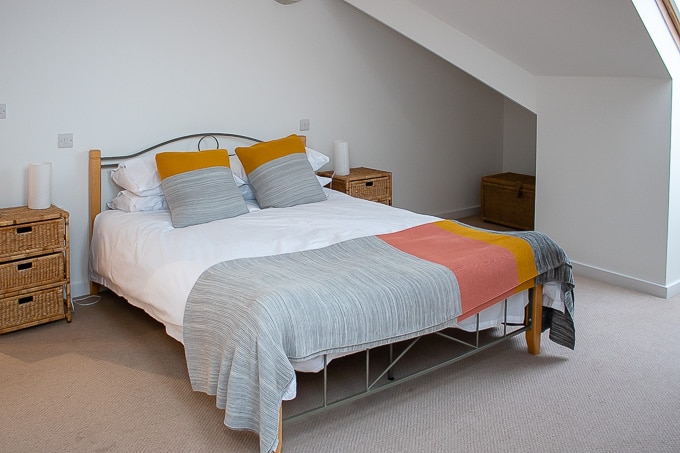 The master bedroom has an ensuite shower room, large TV, hair dryer and was spacious and comfy. The window has sea views and we slept with the window slightly open, listening to the sea. It was blissful.

The twin room had plenty of space, hanging rail, mirror and comfy beds. My kids loved their temporary room and quickly set about making themselves right at home!
The Location
The apartment is located on the seafront, the SW Coast Path, less than 10 minutes walk to the renowned Gyllyngvase Beach, and even less time in the other direction to the smaller Castle Beach. Falmouth Town is 15 minutes walk away, with all the expected amenities from shops and supermarkets to pubs and restaurants. If you arrive by train, Falmouth Town station is about 5 minutes walk to the apartment.
To do
There was plenty to keep us entertained in Falmouth over a long weekend. The National Maritime Museum was great fun to explore for a few hours as we walked around the harbour. You can see Pendennis Castle from the apartment and it's worth visiting to see Henry VIII's historic fortress. We were lucky to sit on the balcony one night and see a huge fireworks display over the castle as the Uni students celebrated their graduation.
If you want to go further afield, Truro is 20 minutes drive with more high street shopping.
Classic Cottages
You can book Gylly Sunrise online at Classic Cottages. Booking was super-easy and they have loads of self catering accommodation to choose from. They followed up with emails and posted a welcome pack with directions and vital info. One other thing that I found handy was that they have the kitchen inventory online. We had all of this equipment and more so we were perfectly able to cook everything we wanted to.
They offer more than 1000 coastal and countryside holiday cottages across Cornwall, Devon, Somerset, Dorset, Hampshire and the Isle of Wight.
Further reading: One Mason's Court Review, Stratford Upon Avon
Thanks to Gylly Sunrise and Classic Cottages for hosting our stay. All opinions are our own.