Harry Potter studio tour review, London: Wizards, witches, muggles and squibs - find out how we got on at the Warner Bros Studio Tour.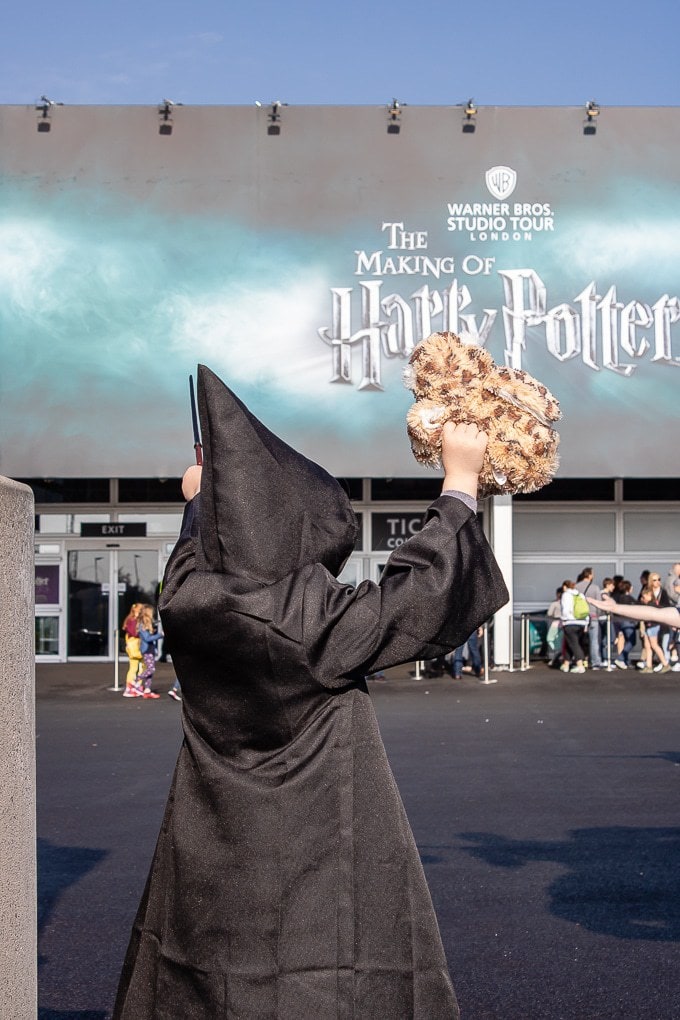 What is the Harry Potter Studio Tour, London?
Explore Warner Bros' enormous soundstages, warehouse and backlot, where all eight Harry Potter films were made, with close up look at authentic sets, costumes and props.
Look into the Gryffindor common room, stroll down Diagon Alley, drink butterbeer, board the Hogwarts Express on Platform 9¾ and walk through Ollivander's Wand Shop. Marvel at how SFX teams made Hagrid look so big, animate Dobby, check out the potions classroom, ride a broomstick and so much more.
Don't expect a theme park, rather this is a permanent exhibition - an engaging and magical look behind the scenes. Suitable for muggles of all ages, from 5 to 105, it's a must-see for Harry Potter fans.
Book tickets to the WB Harry Potter Studio Tour.
Walk in the footsteps of Harry Potter and explore the wonders of the wizarding world
Harry Potter Tour - Need to Know
Tickets must be booked online. The tour is currently booked three months in advance, so plan ahead.
The tour is actually in Leavesdon, Watford - about an hour outside of London.
It takes about 3 hours for the Harry Potter studio tour, but you can stay as long as you like.
Shuttle buses run from the train station.
There's plenty of free parking.
In addition to the entry tickets, audio guides, some photos, broomstick ride videos etc.. are all chargeable (and not cheap - broomstick video is currently £20, but you can do the ride and not buy a video)
There's a Starbucks and cafe in the lobby, plus a cafe halfway through the tour.
You can bring your own food.
Although the entries are timed, they're flexible if you arrive early.
There's no pressure to hurry through the tour at a particular pace and you're free to roam around at will.
If any kids in your party are there for a birthday, head to the front after the entrance holding area, where birthday kids will be called up for a special suprise.
Don't be shy - dress up! It's so magical to see so many people in robes, glasses and with lightening scars.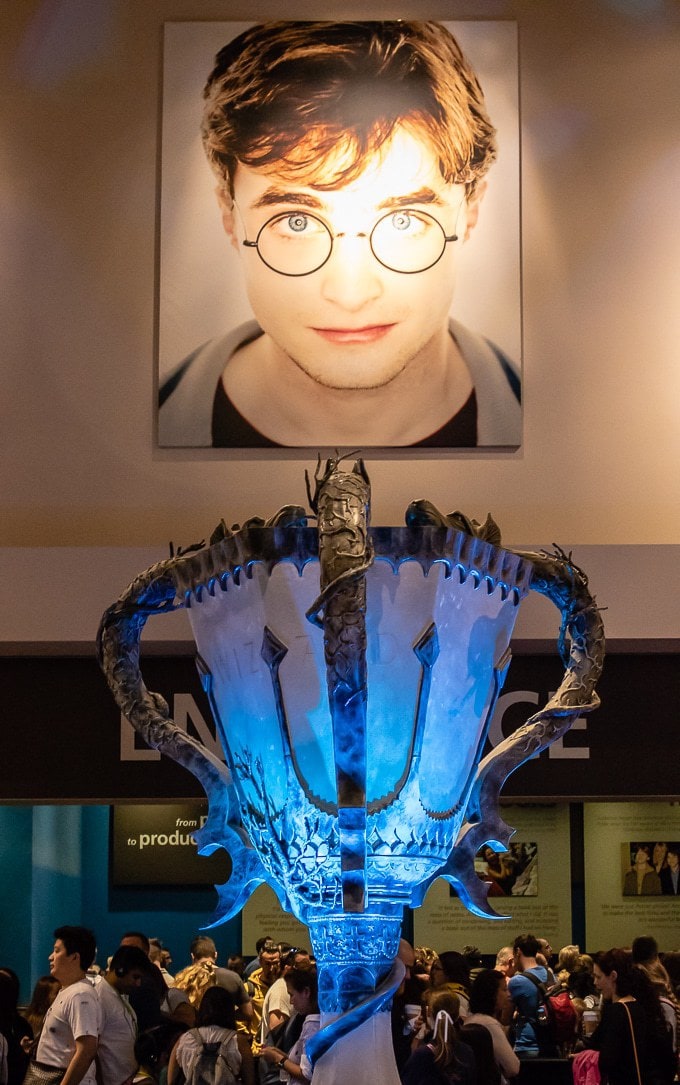 My daughter, 6, is a huge Harry Potter fan. At Christmastime she watched the first film and has been completely enchanted ever since. We've since devoured the first three films and books (she was a bit scared of the 4th so we'll leave that for a while). She talks about it all the time and loves rereading the books. She wears her Gryffindor robe and practises her charms. Thoroughly under Harry Potter's spell, we jumped at the chance to visit the studio tour at Warner Bros.
To say she was excited for our trip was an understatement. Her brother, 7, enjoys the books as well so the family set off early from Somerset, ready for our day at Hogwarts.
Lobby
The lobby is large with lots to see, including a massive Goblet of Fire, the enchanted flying car and huge pictures of the characters from the film. There's a large merchandise shop, cafe, seating and Starbucks. Traffic was great, so we arrived very early. Staff were all pleasant and timed entry meant it was busy but not heaving. We were early and they told us to go through whenever we were ready, rather than sticking to the time on our tickets.
Audio Guides
We got the audio guides, which were an additional £12.95 for four. I wasn't sure if they would be worth it for the kids (aged 6&7), but they loved learning more about each part of the set. The audio guides provided a lot of background info about the production of the films. And, being modern-day kids they didn't really need any instruction on using the touch screen guides.
I was also worried that we would end up all listening and not engage with each other on the tour, but the spiels were short so we often had our headphones off all chatting and being in the moment together. There wasn't a queue for the audioguides when we were there. I'm glad we got them as we learned so much. Even if you don't get them, there are guides around the tour to tell you lots of interesting information and stories.

It's pretty mind-blowing to suddenly stand in the Great Hall at Hogwarts. Costumes from the various houses are around the room and Dumbledore and the other teachers reside over the proceedings.
How to save money at the Warner Bros Harry Potter Studio Tour, London
Like any specialist attraction, the entry price isn't the only thing you'll be spending money on. If you're on a budget, here are some ways to keep the price down.
Bring your own lunches. They don't mind you bringing your own and you can eat at the tables in the lobby or Backlot cafe.
There are three shops around the tour, perfectly set up to wear you down with pester power from your kids. Merchandise is pretty pricey, so you may want to consider promising anything and even pick up cheaper wands elsewhere before you go.
Sweetie stands are dotted around the tour with Chocolate Frogs and Bertie Bott's Every Flavour Beans, but each (prettily designed) box is £9 so if you're not fussed about the Harry Potter packaging you could save money buying a few Freddo Frogs or Bean Boozles beforehand.
You can pre-order ButterBeer before your trip, but there weren't queues, so you can decide on the day if you want them as the price is the same. My kids found them too sweet to drink, so you might not all want to get one to start with just in case.
Bring water. We took our usual refillable water bottles, which was perfect because bottled water is £2 in the shops.
You can ride broomsticks and sit in the Hogwarts Express seats without actually buying the videos of your experience (videos cost about £20 each)
Seeing all the sets, costumes and props really brought the films to life. As soon as we got home, we all cuddled up on the sofa and watched Harry Potter and the Philosopher's Stone, marvelling at what we had just seen.
It was such a magical and unforgettable experience.
I took a lot of photos while we were there, but I'm only going to share a few with you. If you go, you should be surprised.
There are so many exciting things to see and wonder at, so I don't want you to have too many sneak peeks! That said, there is a LOT to see.
In summary
We all had an absolute blast at the Warner Bros Harry Potter studios. From the moment we entered, surrounded by children and adults dressed in their finest Hogwarts attire, the atmosphere was palpable. There are so many wonderful touches, designed to enchant both adults and children.
The films and books were all brought to life around us, through authentic sets, costumes and props. We also learned so much about what goes on behind the scenes, special effects and making props and masks. This tour is a must-see for Harry Potter fans young and old.
We were guests of the Warner Bros Harry Potter Studio Tour. All opinions are my own. For another UK attraction, check out my review of the SS Great Britain, Bristol