A family weekend in Southport, Merseyside - an archetypical British seaside resort town in North West England. From fairground rides to a trek down the pier, we found family fun and adventure-on-sea.
I'm originally from Canada, and I'm always completely charmed by British seaside resorts. The lights, the amusements, the endless offerings of ice cream and fish and chips - they're like nothing I'd ever seen before. It all completely enchants me. Southport is one such place.
Southport is a large coastal town in Merseyside, North West England, just north of Liverpool. The area has 22 miles of beaches along the Irish sea.
Victorian architecture lines the promenade, while lakes and parks give way to the large beach. Known for it's historic pier (the oldest iron pier and second longest pier in the country), the walk to the end is rewarded with panoramic views.
The scent of fish and chips mingles in the salty sea air of Southport, while a healthy dose of seaside kitsch flashes in the form of arcades. Silcock's Pleasureland at the foot of the pier is all it should be: amusements, arcades and £1 hot dogs. My kids were, of course, instantly drawn in to the flashing lights and tinkling of pennies.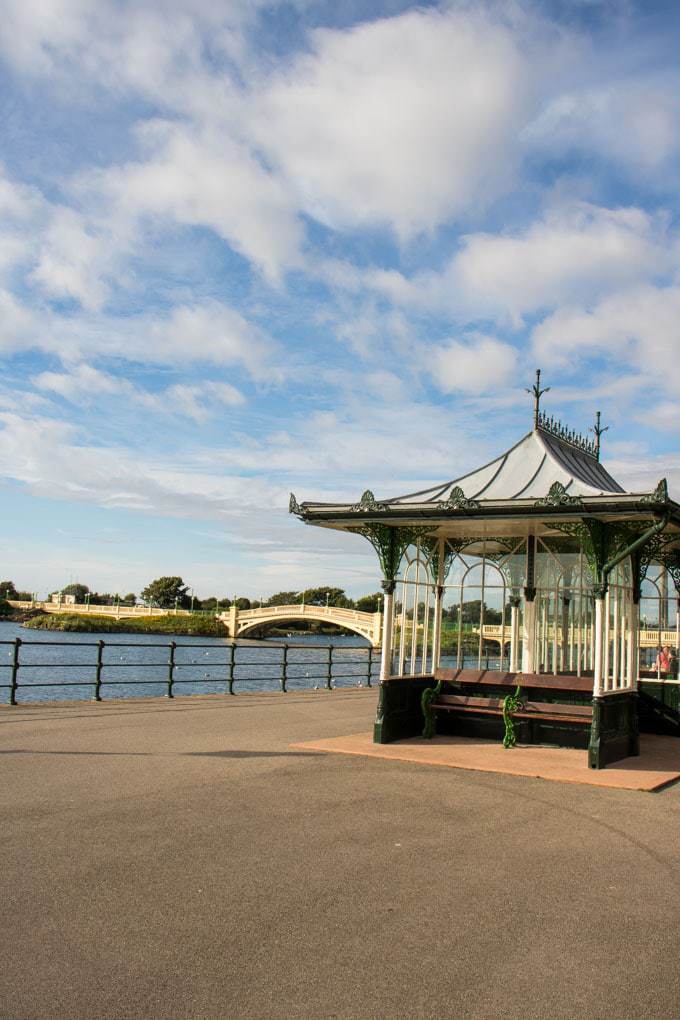 Things to do in Southport
King's Gardens
After we arrived in Southport, we took a stroll around the beautiful Kings Gardens, a 17 acre area park the seaside. The kids were drawn straight to the adventure playground, while my husband and I gazed at the immaculate vibrant gardens. As the kids rode the zip wire and climbed onto the wooden structures, we gazed out over Marine Lake with the charming swan-shaped pedalos that can be hired.
There are Victorian teahouses and ice creams, as well as a Model Railway Village. My son was gutted that we didn't have time on our trip to make it into the model village.
Walking along the promenade, there are beautifully restored Victorian shelters and the pretty Venetian bridge. It's hard not to imagine We spotted huge rides nearby, so at the children's behest, we headed to Southport Pleasureland.
Southport Pleasureland
Southport Pleasureland is kid heaven. It's a huge amusement park that originally opened in 1913. There's a great mix of new whizzy rides, as well as older vintage rides like waltzers. Expect a log flume, dodgems, hook a duck etc... My kids loved the swing chair ride, ghost house and running in inflatable balls on water.
Entry is free, and you pick up a card and top it up with 'tokens' at machines. It's very centrally located so we ended up popping back to Pleasureland a few times, so just kept topping it up for a few rides each.
Open every weekend and school holiday until 4th November.
Southport Pier
You can't go to Southport without walking down it's historic pier. Completed in August 1860, it's the oldest iron pier in the country and the second longest at 1,108 m (3,635 ft) - first place goes to Southend.
The industrial revolution meets Victorian holiday-making at the impressive Southport Pier.
Back when it was first built, the pleasure pier would have been frequented by paddle steamliners and entertainers such as Charlie Chaplin. A pricey toll had to paid to access the pier, so it was firmly just for rich.
These days it's a pleasant stroll (or trip on the pier tramway) to the end. There are panoramic views, picnic tables and a cafe and penny arcade.
20 years ago, when I first moved to the UK, I was soon introduced to my first penny arcade. The antique Victorian machines had me instantly smitten. So simple, so futile, so much fun. The walk down the pier is rewarded with not only a beautiful sea view, but also one such vintage arcade.
Trading our coins for old pennies, we were treated to antique slot machines, retro pinball and a carnival arm wrestling machine. There were also some cheeky smut machines with risque animatronics. Oooh, you saucy Victorians!
Cycling
I live in a town that is very very hilly, so we took advantage of Southport being flat and hired bikes at Southport Eco Centre. It's an environmental education pavilion on the Esplanade near the seafront, and an easy walk from town.
They have a lovely range of British-made Pashley bikes and I didn't want to give back my gorgeous town bike with a pretty (and useful!) wicker basket. I seriously considered buying it from them (they have some for sale) then remembered just how hilly my town is!
The knowledgeable friendly staff gave us loads of advice on routes to take. They don't have many children's bikes, but luckily we brought the kids' bikes with us.
We had picked up picnic foods at the large Morrison's near the Eco Centre, so we cycled off in search of adventure.
Red Squirrel Reserve
The famous Red Squirrel Reserve is in nearby Formby. It's a 7.5 mile cycle ride, all flat, from the Eco Centre, but we didn't think my kids (aged 6 & 8) would be able to manage the hour long ride. So we cycled 1 mile to Birkdale and caught a train to Freshfields. The trains are frequent (approx every 15 mins), inexpensive and it's fine to take bikes on board (no charge). On the 9 minute journey we looked out at Ainsdale Beach and the Birkdale Sands Nature Reserve.
We disembarked and cycled the ¾ mile through Freshfield, Formby towards the Red Squirrel Reserve. It's quite the journey itself past massive mansions and supercars. The area is known for it's celebrities, footballers (Gerrard, Rooney, Shearer etc.. lived there while playing for local clubs) and businesspeople.
It's free to go to the Red Squirrel Sanctuary on foot or bike. It's owned by the National Trust so if you arrive by car then you'll have to pay for parking if you're not a member. There are plenty of picnic spots, but food is limited to a small coffee stand and an ice cream van, so bring food with you.
We wandered through the impressive woodland but sadly didn't spot any of the elusive shy squirrels. They're increasingly rare but hopefully the work of the reserve will help preserve them. The introduction of grey squirrels has nearly wiped them out in the UK.
Formby Beach
Walking through the red squirrel pinewoods, suddenly it opens up into impressive sand dunes. The kids loved running up and down them, then we were treated to the huge expanse of Formby Beach. The drizzle set in, so it was nearly empty, except for some hardy dog walkers.
A few more dune runs and we were heading back through the woods towards our bikes and a train ride back to Southport.
Amusement Arcades
There are loads of amusement arcades dotted around the seafront. Right at the foot of the pier is the massive Silcocks Funland - a huge arcade full of games.
There are loads of amusements, rides, and games where you can win tickets to exchange for small toys and sweets.
Crosby Lakeside Adventure Centre
Just outside of town is the Crosby Lakeside Adventure Centre. It's a large lake with all sorts of water sports. We took a one hour family taster sailing lesson and had an absolute blast. The kids and I hadn't been on a sailboat before (though we lived on a narrowboat for many years!). My husband had sailing lessons at school when he was young, so he was rather more a dab hand than we were.
The friendly instructor suited us up in life jackets, then we hopped on board our sailboat and were then (literally) shown the ropes. The kids really loved learning how to go faster, turn and being in charge of our craft. My son christened the ducks lake chickens, and we were all in fits of laughter. It was relaxed, educational and most of all, fun.
Antony Gormley's Another Place
We couldn't miss seeing renowned British artist Antony Gormley's Another Place at Crosby Beach. The work consists of 100 cast iron sculptures, modelled on the artist's body and all facing the sea, dotted along 2 mile stretch of beach.
Since 2007 the naked statues have created a breathtaking display on the beach. We saw them at low tide with dozens visible as far as the eye could see. Barnacles and seaweed cling to the statues, that are slowly being eroded.
The feeling being surrounded by these silent, still figures, all facing the sea as if in some sort of trance or collective sadness is unforgettable.
What to eat in Southport
Ice Cream
The kids were pretty tired by this stage, so after returning to Southport, we dropped the bikes back to the Eco Centre, and headed into town.
The street from the seaside area is lined with cotton candy, fish and chip shops, gifts and ice cream parlours. We hit up the well-known Flavours ice cream shop. It has over 30 artisan flavours, from Eton Mess to Bakewell Tart. They're all handmade with local milk.
It's not a trip to the seaside with out ice cream, is it?
Roberto's Southport
We had a lovely meal at Roberto's. It's a large relaxed family-friendly Italian restaurant in a retail park, Ocean Plaza, just off the pier, and it's a place with a lot of heart. We were greeted warmly and the kids were given crayons and colouring sheets. There's a great-value kids menu (with ice cream dessert in animal holders that my kids LOVED and still play with).
Everyone was friendly and service was impeccable. Marc and I shared a starter of breaded mushrooms (large, juicy and flavourful). My main was a superfood salad that had loads of tasty vegetables and quinoa. My husband had the authentic classic lasagne and he loved every bite, while the kids tucked into chicken nuggets and chips. Marc's dessert was a creme brulee that had a beautiful crust and flavourful custard.
The chef kindly made me this special vegan dessert. Just check out the plate of amazingness. It was such an incredible special treat with tropical cream in a filo basket topped with fruit, spiced pears, chocolate sauce and chocolate 'salami' full of biscuits. I'm used to having to forego dessert, so this was a most wonderful treat. It was so kind of them to create it for me.
Where to stay in Southport
We stayed in a family room at the Ramada Plaza Southport, currently being rebranded to Bliss Southport. It's in a large white Art Deco style building overlooking Marine Lake. From our large and comfortable room we had wonderful views across the lake to the sea. At night we could even see the lights of Blackpool in the distance.
The hotel was clean, well maintained and lovely. We had a little bit of trouble finding the car park (go through the town car park just past the hotel, free parking) and the entrance to the hotel (go into the unmanned front entrance and then up the stairs to find the reception), but after that it was all fine.
The room was a large size with two double beds, TV (it's a Smart TV but the wifi wasn't strong enough to watch TV shows online), tea set, wardrobe etc... The bathroom had a lovely powerful shower and fluffy towels. All of it was immaculately clean.
There isn't a pool in the hotel, but guests are allowed to use the pools across the road and take towels from the hotel. Housed in an old Victorian baths, there are three pools, one very warm children's pool, adults only pool and general pool. There are also men's and women's changing rooms, sauna and steam room.
The breakfast buffet had loads of choice, from continental and cereals to plenty of hot cooked foods. It's also possible to order from the menu.
Read some o f my other reviews of family weekends in the UK
Stratford Upon Avon
Bluestone Wales
Featherdown Farm, Ilfracombe
Summary
With nearly 8,000 miles of coastline, the UK certainly has a lot of seaside towns. But there are seaside towns and then there are SEASIDE TOWNS. You know, the ones with the bright lights, arcades and rides, with a healthy dose of nostalgia for Victorian leisure. Southport, Merseyside is one such charming coastal town.
Of course, when you scratch the surface of Southport, you'll find more than penny arcades and candy floss. Culture lovers may want to visit for the many theatres, galleries and museums, putting on a range of shows. Then there's also a yearly calendar of festivals, from Jazz, food and fireworks, to the bustling flower show that was on during our visit. Fans of niche exhibitions (like me - I had my wedding reception in a canal museum!), won't want to miss the British Lawnmower Museum. Shoppers will be charmed by Lord Street, a Victorian canopied boulevard with scenic gardens.
We had an action-packed family weekend in Southport, and still couldn't possibly have ticked all the 'must see' boxes. It was a fantastic break, full of fun.
Disclosure: We were guests of Visit Southport and some of the partners mentioned in this article. All opinions are our own.