These glamping accessories are guaranteed to elevate your time outdoors from camping to luxury glamping.
I love camping, but I really love glamping. It just means you're still sleeping outdoors, but you're making things extra special. This guide of the best glamping accessories isn't all about the functional camping essentials, but rather the special touches that will add a bit of glam and luxe to your glamping holiday.
Bell Tent, £669
If you're going glamping, you want to be snoozing under canvas, not nylon. No zzzzzip noises in the morning as you emerge from your hot cocoon, rather a nice and airy yurt or bell tent is what you need. I dream of having one of these awesome bell tents one day!
This lovely 5m Sandstone Star Bell Tent with zipped in ground sheet from Boutique Camping is top of my list. One person can put it up and it has webbing rather than guy ropes to make it sturdier. Up to six adults can sleep comfortably inside the breathable bell tent, giving it the feel of a luxurious open-plan bedroom. I'd want proper beds and duvets too for the ultimate luxury glamping.
PodPads Bell Tent Hire
If you don't want to buy a bell tent, then luckily you can hire them at loads of sites and festivals.
We're going to be staying in a PodPads BellePad at Camp Bestival next month and I can't wait. Not having to lug our tent to the site is great, and it will be all set up for us with beds! My full review will be coming soon after the festival.
I recently stayed in a lodge/safari tent glamping in Ilfracombe, Devon. Read my Featherdown Farm review. For something rather fancier, I had a wonderful time at Log House Holidays in the Cotswolds - a luxury log cabin with private beach, hot tub and rowboat.
Now, onto the best glamping accessories to elevate camping to luxury glamping!
Campingaz Party Grill 600, £200
This is an incredible gas barbecue and grill with versatile cooking options. You can cook on the solid ridged griddle, grill rack or stove and it has a large surface area so you can cook for a group at once. I love that it has legs (two sizes) so you can use it on a table or standing.
Party Grill features:
Grill, griddle and stove cooking options
Grill and griddle have non-stick coating
Integrated pan supports for stove top cooking
Fully adjustable power
Domed lid with temperature gauge
Piezo ignition (match free)
Pan support, grid & griddle are dishwasher safe
Detachable legs and lockable lid make it is easy to transport and store in it's carry bag.
We found this stove super easy to use. It's all self explanatory, just get the gas and regulator (doesn't come with them but you can find them at camping stores), then attach them and turn the ignition. It's intuitive and so versatile with all the cooking surface options. You can turn it to the flat griddle side and heat a kettle, or make a fry up. Get barbecue char marks on the ridged grill side or use it like a stove with the lid. It heated really quickly and we were really impressed by how easy it is to cook on.
Cable and Cotton Fairy Lights, £30
Aren't these fairy lights adorable?! I love the bright colours and they're sure to liven up any bell tent. The handcrafted balls come in a huge variety of colour combinations so you can choose the ones that will suit your decor. They have 49 different shades and you can mix and match or choose from one of their selected combos.
They're not waterproof, but they're a lovely vibrant way to light up the inside of the tent, or outside on dry days.
Coleman Fastpitch Event Shelter Pro L (12x12), £190
I've had other shelters before, and they can certainly be a bit fiddly to put up, but this one is soooo easy. On our first time, it only took two of us 5 minutes to put it up. It's all very obvious who it fits together which makes it super easy. Just fit the poles together, stand it up, throw the cover over and clip it in. I can't say enough just how easy this one is to erect.
This one is a massive 12ft x 12ft (3.65m x 3.65m) so a great size for a group to gather under while glamping (though you can get even larger models). It's perfect to keep off the rain, but also to provide shelter from the sun. The polyester cover is both waterproof and has UV sun protection. It has headroom of 218cm in the centre, lowering to 169cm at the sides. You can buy sides to put on it as well for extra privacy and wind blocking. It stores pretty small in it's own carry bag, with a weight of 17kg.
Primus Onja Portable Camping Stove, £130
You can't be cooking on a disposable bbq when you're glamping. Isn't this a beauty! This innovative folding camping stove has two burners, but still folds down to the size of a messenger bag. It has a modern classic style with leather details and canvas bottom. Plus, it has an oak panel to both protect the burners and act as a cover and serving tray.
We found it really straightforward as soon as we took it out of the box. It's all super easy to set up. Just open it up by gently pulling the base, screw gas canisters into the bottom and cook. I love the look of it, and that it's really light with a handy carry strap.
It was easy to find the right gas canisters at my local outdoor supply shop. It really takes seconds to set up and you can get cooking. We put the stove out of the wind (just in case it blew out the burners) and it was absolutely fine. I liked that you really don't need instructions as it's so obvious how it works, while still looking really contemporary and trendy.
Juice® Poolside Speaker, £40
You can't be glamping in silence, so if you haven't got someone to croon to you with a guitar or ukulele around the campfire, I'd recommend bringing a bluetooth speaker. I love this splashproof one from Juice, since you won't have to panic if you get caught out by a light shower.
I wouldn't blast out music loud enough to disturb any neighbouring yurts or tipis, but if you're on your own, this speaker can go pretty loud without distortion (10w). It has a good 8 hour playback time (with 4 hour charge time) and a range of 10m. It also has impact, water and dust protection. The sound is fantastic and it instantly picked up our bluetooth mobile signal to connect.
Wild & Wolf Gentlemen's Hardware Portable Barbecue from Hurn and Hurn, £80
I love the retro styling of this portable briefcase style coal barbecue. I'm making a big effort to reduce our waste, so we definitely won't be using disposable barbecues ever again. This bbq is compact enough to take glamping, to the park and for picnics.
We found it really easy to use and lightweight (made from stainless steel). The legs keep it off the ground, so you don't have to worry about scorching the grass. It has a good sized cooking area for two people and a compact barbecue that's quick to set up.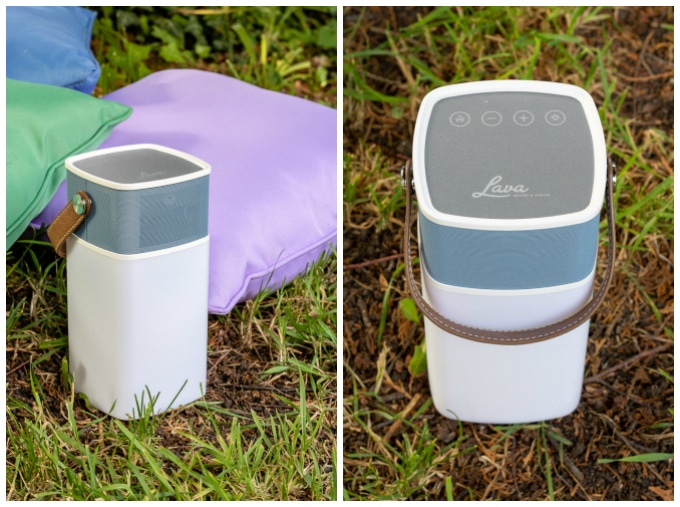 Brightsounds 2 portable speaker by Lava, £39.99
This is a really attractive looking portable bluetooth speaker, but it does even more than just let you play tunes from your phone while you're glamping. This one is also an ambient LED light (the white base lights up with dimmable setting). It's also useful for charging your phone or tablet. It has an impressive 36 hour play time and a really great sound quality that has won awards. We got it to go really loud without any distortion. It's water resistant as well, so no panics if it starts to sprinkle a little.
The speaker comes in lots of colours and I really like it's sleek look and handy carry handle.
Flying Tiger Outdoor Cushions, £7 each (just seen above)
It's useful to have cushions for extra comfort while you're glamping and I like these outdoor ones from Flying Tiger. They're splashproof and really full and fluffy. Perfect on a picnic blanket to keep you nice and comfy. Also great for dozing in a hammock or to make camping chairs more comfortable.
Wax Lyrical Recharge Travel Candle, £14
Obviously you won't be using this in your tent for safety reasons, but it's lovely to unwind at the campfire with a glass of wine after a day of glamping with a scented candle. This one has 100% natural wax and is made in the Lake District with essences of bergamot and pink lemon to recharge you after a day in the great outdoors.
Personally presented glamping mug, £15.49
This personalised mug has a fun design and ensures your coffee stays warm. It's unbreakable and very durable with a vacuum space inside the mug which stops the outside of the mug getting hot but keeps the drink warm.
You can personalise it with your name (your campmates won't be able to accidentally drink your tea!) and a message on the back of the mug. I'm such a sucker for personalised things!
Gentlemen'sHardware Camping Cutlery Tool, £12
This handy Swiss Army style tool is really useful for glamping. It has a bottle opener, corkscrew and small knife. But the part I liked the best was that it pulls apart into two pieces, one with a fork and one with a spoon. It's not only great for camping, but I'll be keeping it in my handbag so I don't have to use plastic cutlery while eating on the go. It has lovely trendy gift packaging and is super useful.
Design Letters
You don't want paper plates or single use water bottles when you're glamping! Instead be more eco conscious and take some reusable picnicware. I love this range of minimalist typographic on-the-go boxes and bottles. The bold type was drawn in 1937 by renowned Danish architect Arne Jacobsen, and the water bottles and lunch boxes were designed by his grandson Tobias Jacobsen. The founder of Design Letters is ex magazine editor Mette Thomsen.
The 'to go' water bottle (£19) is a lovely matte pink (also in grey and black) and I love it's smooth feel and great size. The cute little snack pot is perfect for taking my beloved raspberries or carrot sticks on the go. I really like the size of the lunch box as it's the perfect size to pack with salad or snacks. It's sleek design with bold lettering can be personalised (I got a K of course!). I've been using it for picnics and camping and the lid stays on perfectly, but is quick to remove. It's a top quality range with a bang-on-trend yet classic design.
I recently bought some other products in their stationery range to give as a gift so do check them out. They even have fab baby sippy cups.
The range is dishwasher safe and BPA-free.
Pretty Useful Tools 12 in 1 Kitchen Multi-Tool, £3o
It's undoubtably more difficult to cook when camping. Sure you can bring a stove and pans, but I don't usually bring many tools, besides a knife, cutting board and tin opener (unless I forget it, doh). That's why this multi tool is so handy. I love that it looks like a big turquoise Swiss army knife, but inside are far more useful tools for glamping. There's a bottle opener, corkscrew and knife, but also a grater, peeler, garlic crusher, zester and even a fork and spoon. Think of all those gourmet salads you can now whip up with a grating of parmesan and a twist of lemon zest. Glam, for sure.
One thing that I didn't realise until after the first time I used it, is that you can separate the tool in half where the fork is, which is quite handy and makes each part lighter to use.
Giveaway has ended.
Disclosure: I was sent some of these products to review and a Campingaz Party Grill 600 was provided for the giveaway. All opinions are my own. Prices correct at the time of writing.