The Organix No Junk Journey
I'd consider myself to be a No Junk Mum. Sure, a bit of junk creeps in now and again, but it's not the norm. Since having my two little darlings, I've always been very concerned with what my kids eat. I love vegetables, so I've tried to instil that love with them. Although we sometimes have unhealthy foods, we try to maintain a good balance with far more nutritious foods than rubbish.
So, when healthy kids snack brand Organix asked me to be a No Junk Mum as part of their No Junk Journey, I was delighted.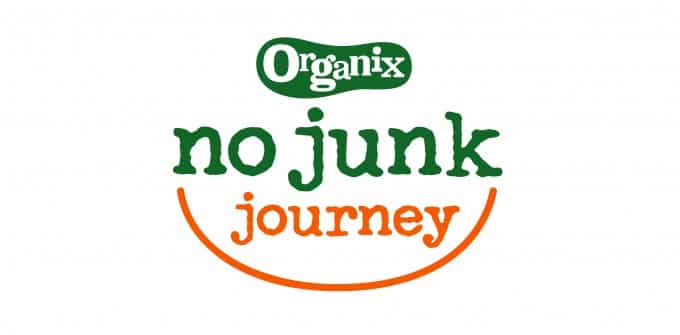 Organix have become increasingly concerned about the impact of engineered food, and the increasing use of unnecessary additives, colourings and flavourings on the development of taste within young children. So, they commissioned the Engineering Taste report as a basis of their No Junk Journey campaign.
"We were worried that this could be changing children's palates, their ability to enjoy the taste of 'real' food, and impacting their health – which could be significant for children in the context of the current obesity crisis." - Organix
This really resonated with me. I knew that rubbish food caused tooth decay, obesity, diabetes and hyperactivity - but it hadn't occurred to me that kids were getting a 'taste' for processed foods and their palates were adapting to chemicals in food.
The Engineering Taste Report
The report, by Greg Tucker and the the University of Nottingham Food Science Department, made some surprising findings.
But first, what do they mean by engineered foods?
As people have demanded less 'artificial' foods, the manufacturers haven't reverted back to 'real' foods. Instead, engineered foods blur the lines between the two. They may be marketed as natural/no added sugar/real fruit, but reading the ingredients list uncovers the truth. Carrot juice may be a natural colouring in strawberry yogurt - but what is it doing there and is it affecting what kids think strawberries should taste like? And if they only ever have 'natural' strawberry purees in foods, that are padded out with sweet apple pulp, will kids stop enjoying real strawberries?
The report found that:
• Engineered foods are impacting children's ability to recognise, experience and enjoy the taste of 'real' foods.
• Children are growing up thinking chickens don't have bones and apples don't have cores.
• Children's eating habits are changing – they're needing more instant taste gratification and 'easy eats'.
• Food industry claims of 'real' and 'natural' on children's food packaging is misleading and duping mums.
• New survey of mums supports the research - 90% think the food industry enhances or engineers the flavour of foods to appeal to children, 64% are shocked at the number of ingredients in the food aimed at children.
"Parents are being lured by front-of-pack flashes of words such as "real" or "natural" which can actually mean very little when there is a list of complicated ingredients as long as your arm in the small-print on the back." - Engineering Taste Report, 2016
In a busy supermarket, often with kids in tow, it's understandable that we trust the loud claims on the front of the packaging that claims to be 'natural' and 'real'. We don't have time to read all of the ingredients lists on everything we buy, but, as this report has shown me, it's important that we try to make that time and to find brands we can trust not to conceal. It would be so much easier to shop if we weren't being conned into believing that when a packet says natural, that it actually is.
"We found children who believed that chickens do not have bones or skin and that apples don't have cores," - Engineering Taste Report. Ouch.
Fruit doesn't grow cut up in bags and boxes. I often let my kids buy little bags of grapes and sliced apples when we're out - but after reading this report, which showed that there are children who don't believe that apples have cores, it's made me want to go back to all food in its most natural state. I can buy an apple cheaply, so why am I giving them more expensive apples that have been cut in a factory, washed in something to keep them from browning and put into a plastic bag - increasing packaging waste and energy in cutting that apple up for us? Good grief.
A real apple is very different to a supposedly 'healthy' cereal bar with a 'fruit' filling – the apple filling is sweet, melts easily in the mouth, yet the back of pack ingredients' list shows it contains 36 ingredients including flavouring. Consequently, children are confused and disappointed by the actual genuine article and so they fail to acquire a taste for real apples as early or as readily as happened a generation ago."
So, the report has shown me that it's also important to stop exposing my kids to 'fruit' flavours which will train their palates away from the real fruit. Very interesting reading.
This report for the No Junk Journey has really got me thinking and I've had a little look through my cupboards for some examples of supposedly healthy products that have a concerning ingredients list.
The picture on the left shows two jars of peanut butter that we have in our cupboards. On the left, the ingredients are 98% peanuts, sea salt. Just what you'd expect. On the right, the list is 95% peanuts, brown cane sugar, palm oil, sea salt. Two completely unnecessary ingredients are lurking in that jar. It's cheaper to buy, but obviously padded out with the palm oil. The most worrying thing, though, is that the jar on the left tastes absolutely gorgeous - to me and my husband. I did a taste test and my kids preferred the jar with the sugar and palm oil. I won't be buying it again, so they'll have to get used to the natural brand.
The other image is a package of kids fruit and yogurt snacks with a very long list of ingredients including some surprising things like shellac, two entries for palm fat and fructose-glucose syrups. There are three entries for sugar - and it comes first on the list. Eeek. The front of the packet says loudly 'Made with Real Fruit' ' Natural Colours & Flavours', so I'd be forgiven for thinking they were healthy - but they are basically strawberry flavoured sugar wrapped in yogurt covered sugar. I won't be buying them again, either.
While they're too small to shop for themselves, our children depend on us to make the right choices for them. But often that's hard. The most colourful packages often hide the most unhealthy ingredients. I don't expect Disney to start marketing on apples, but it would be nice if the big 'pester power' products weren't the most sugar-filled. If all kids films and TV shows only showed characters and kids eating healthy fruits and vegetables, it would also make it easier to reduce pester power. Fruit and veg should be the norm. Engineered foods with disingenuous labelling should not. Read the report.
Do you want Organix to campaign on your behalf to do something about the problem, and to make it easier for parents to feed their children healthy 'real' food? You can share your views on their Facebook page. Join in the Organix No Junk Journey on social media with #NoJunkJourney
Organix
Find out more in my other posts for Organix
Healthy Kids Snacking On the Go
Exploring Baby and Toddler Snacks at Organix HQ
Fun Food for Toddlers with Organix
Toddlers: Exploring New Tastes and Foods with Organix
Organix No Junk Journey: Weaning
Healthy Eating on a Budget for Families
Healthier Kids Birthday Party Tips
Disclosure: I've partnered with Organix for a series of posts about the No Junk Journey. Apple image courtesy of Shutterstock/LotusImages. Packaging images courtesy of me. All other images courtesy of Organix.