Here are my top 12 vegetarian and vegan cookbooks. With vegetarianism and veganism surging in popularity, the cookbook shelves are getting filled with choices. Here are my personal favourites.
Before we launch into my top veggie and vegan cookbooks, I'm thrilled to let you know that my own vegetable cake cookbook has now been released!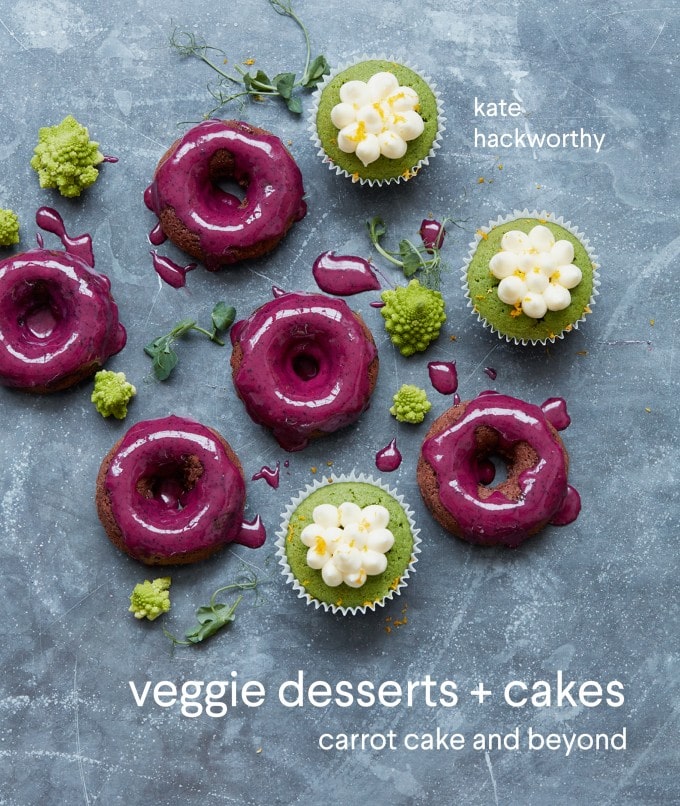 'An inspirational, beautiful book' - BBC Good Food magazine
Vegetables have never been more popular, with the interest in natural, plant-based food at an all-time high. Meanwhile, the appetite for home baking shows no signs of abating.
Food writer Kate Hackworthy, author of the popular site www.veggiedesserts.com, has found a delicious way to combine the two, with this book of scrumptious cakes and desserts packed full of healthy veg. Pushing the boundaries of carrot cake, Kate puts vegetables into cakes, muffins, biscuits, tarts, brownies, pastries and even ice cream.
Vegetables bring moisture, natural sweetness and extra nutrients to your baking, with the happy consequence that less refined sugar and fat is required, resulting in great-tasting treats that are also a lot less naughty.
With 60 original recipes, including vegan options, virtuous snacks and lighter ways to bake cakes, this book is not about sneaking veggies into recipes, but celebrating them as hero ingredients and making them as much a part of dessert as they are of dinner.
Recipes include: Kale and Apple Cake with Apple Icing, Butternut Squash Spiced Muffins, Black Bean Chocolate Brownies, Avocado Key Lime Tarts and Cauliflower Chocolate Churros.
Vegetarian Cookbooks
A Modern Way to Eat by Anna Jones
This is definitely a new classic of vegetarian cooking. You can't have missed it when this book splashed onto the cookery book scene. A protege of Jamie Oliver, Anna Jones takes
This whopping tome has over 200 recipes spanning breakfasts, salads, soups, hearty dinners for a crowd, side dishes, desserts, breads, drinks, preserves and more. Showing her passion for food, Anna includes sections about building the perfect salad, vegetable underdogs and how to cook them, and non-recipes for pestos, soups and more.
The first recipe I tried was the California miso, avocado and butter bean salad. It was quick to make and absolutely packed with flavour. All the guests that I served it to loved it. I loved that I didn't need to spend all day in the kitchen!

Persepolis by Sally Butcher
Sally Butcher runs the popular cafe and shop, Persepolis, in Peckham, London. Here, she shares her Middle Eastern-inspired vegetarian recipes with us all. It's veggie, but there are many vegan recipes - all woven through beautiful tales. I can almost smell the heady spices through the pages of Persepolis and I'm sure Sally's Veggiestan Gumbo could even make me get over my fear of okra. There's also the Perdeli hidden pilau - a spiced vegetable rice within a crispy filo shell. It's a dinner party showstopper.
Sally also shares hints and tips, like how to smoke vegetables. The recipes range from baked goods and light bites to meze, soups, mains, preserves and puddings.
Buy Persepolis
In My Kitchen by Deborah Madison
Deborah Madison has written a whopping 13 cookbooks and was inducted into the James Beard
The recipes are all in imperial (cups and ounces) measures. Like many people here though, I have a set up cup measures so that's not an issue to me. This book is about her personal vegetarian and vegan favourites. She's a stalwart of the veggie cooking scenes so it's nice to get to see what she cooks at home.
Many of the dishes are simple, but beautifully considered. Artichoke and scallion (spring onion) saute over garlic-rubbed toast. Doesn't that just sound divine? She's added tarragon, dry white wine and chive blossoms to turn veg on toast into something very special.
"Reflecting how she cooks at home today, Deborah Madison's newest book shares 100 of the most inspired and innovative recipes from her vast repertoire, all pared down to the key ingredients needed to achieve delicious, nuanced flavour, with simplified preparations."
Buy In My Kitchen
River Cottage Veg Everyday by Hugh Fearnley-Whittingstall
I bought this book years ago when it first came out. There are a few dishes that we cook regularly - particularly the chickpea, chard and porcini soup. My husband makes this often and it's probably his signature dish.
The book is packed with hearty but easy-to-make recipes that really highlight the best seasonal ingredients. I love that it's all simple store-cupboard ingredients. They're combined with fresh vegetables as the star of the show. Hugh's passion for fresh produce really shines through.
Very Veggie Family Cookbook by Sara Ask and Lisa Bjarbo
Created by a paediatric dietitian and a food writer, this book is rammed with family-friendly veggie recipes. The book addresses questions about why to go veggie and vegetarian sources of iron and protein. I like that throughout the book there are cooking tips, serving suggestions and nutritional information. There are also sections about using up leftovers, veggie food for very little ones and introducing kids to new flavours. I had a look through the book with my five-year-old daughter and she gave loads of the recipes an enthusiastic thumbs up.
First up we tried the tortellini with roasted pepper sauce. There's white wine in the sauce and although I know the alcohol cooks off, I just left it out. Because hey, all the wine in this house if for me. The kids really enjoyed the sauce and there was plenty left over for another day.
Next up Polly wants to try the mango and elderflower ice lollies. There are loads of recipes in this pretty book including taco burgers, spring rolls with peanut dip, almond balls with potato and jerusalem artichoke mash and chocolate avocado mousse.
Buy Very Veggie Family Cookbook
The Meat Free Monday Cookbook
This book has an unusual layout as it provides a seasonal meal plan for every Monday of the year. It's nice for those trying Meat Free Monday as they can plan ahead and do the meal plan, but I like to just dip in and out and pick out recipes. Loads of celebrities have contributed recipes including Yotam Ottolenghi, Vivienne Westwood, Skye Gyngell and, of course, the McCartneys.
Recipes include: tofu scramble with spinach, smoky polenta chips, poached quince with vanilla, aubergine casserole with pomegranate and watermelon granita. We made Paul McCartney's refried bean tacos which was really quick and easy and the whole family loved them.
The book supports Paul McCartney's Meat Free Monday initiative and has a foreward by him and his daughters, Mary and Stella.
Buy The Meat Free Monday Cookbook
Vegetable Perfection by Mat Follas
In this book, Masterchef 2009 winner shares over 100 recipes that show off the versatility of vegetables. Mat has really made vegetables the star of the show and this book is beautifully shot. I've stuck loads of scraps of paper between the pages with recipes that I want to try including potato bowls with mushroom, garlic, spinach and ricotta, mushroom ketchup, pea panna cottas and the fennel, watercress, red onion and thyme gratin.
Mat has a love of foraging, so there are also 'free food' recipes like wild garlic and nettle soup and wild garlic pesto.
The recipes range from quick sides or fast meals, to slightly more complicated weekend dishes. But all of them are achievable and generally they don't require specialist ingredients. This book is strictly savoury dishes, and what delicious and well-considered dishes they are.
The Happy Pear by David and Stephen Flynn
I've had this book for a few years and I particularly love the salads. Most of the recipes are vegan, though there are eggs and dairy in some. Recipes that are vegan or contain gluten, soy etc. are all clearly marked.
The Happy Pear is from Irish twin brothers who are on a mission to get people to eat more veg, both via this book and their cafe and Co. Wicklow, Ireland. That's a mission I can certainly get behind!
Recipes range from breakfast to dessert and include millet porridge, Indonesian aubergine satay, samphire cider and veg chowder and superfood tiffins.
Buy The Happy Pear
Vegan Cookbooks

Vegan in 15 by Kate Ford
Kate is a blogger friend who writes The Veg Space. I reviewed her cookbook Vegan in 15 and shared the recipe for her Easy Bean Burger with Mustard Mayo. This paperback book doesn't have many photos, but it's all food that's easy to visualise - and it's all so quick! It has 60 delicious plant-based recipes you can cook in 15 minutes or less.
I've been cooking my way through the cookbook and have so far made quite a few. None of the recipes disappoint and they really all can be made in 15 minutes! I've made the Portobello Mushroom Stroganoff often. There are other lovely recipes including Thai sweet potato and coconut soup, warm puy lentil and beetroot salad and black bean tacos with avocado and roasted peppers.
Vegan Street Food: Foodie Travels from India to Indonesia by Jackie Kearney
This book, by 2011 Masterchef finalist Jackie Kearney, has over 100 vegan street food recipes inspired by her travels. I loved flipping through this book as soon as I got it. The sights and smells evoked from every page made me want to head straight into the kitchen. Recipes include mung bean vegetable noodle soup, sticky bbq tofu skewers and spring vegetable cheela (gram flour pancake with peas and leeks with pineapple chutney).
One particularly great recipe for veggies and vegans is the vegan fish sauce! That's one ingredient that I always just skip, but now I can make Jackie's version to keep in the fridge.
As is to be expected, you'll need a trip to an asian supermarket for some ingredients, however, Jackie gives substitutions where possible. And many of the recipes have ingredients that can be found easily in standard supermarkets.
15 Minute Vegan by Katy Beskow
This book has 100 fast, modern vegan recipes, from breakfast to dessert - all made in 15 minutes. I've turned to both of these books time and again since getting my hands on them because the recipes that I've tried have all been delicious, healthy and sooo fast to make.
I had some friends over for dinner recently. They're all meat-eaters, but I made a few dishes from various cookbooks for them, without making a big deal about them eating vegan. From this book we had Katy's rainbow chard, red bean and peanut stew. Everyone stood around in the kitchen chatting while I threw the stew together, (along with a carrot and seed salad plus miso green veg salad). They honestly couldn't believe how quick it all was. The peanut stew was by far the biggest hit of the night. We all absolutely loved it. My brother-in-law even got the name of this book from me so he could buy it! He then made this stew for his boyfriend a few days later.
The book uses pantry staples and although my cupboards are admittedly heaving, for each dish I cooked I only needed to buy one or two ingredients. We made the sweet and sour vegetables with cashews, and then used the remaining vegetables the next night for the satay noodles.
Buy 15 Minute Vegan
Keep it Vegan by Aine Carlin
This is a great vegan book with over 100 recipes from 'buttermilk' pancakes to mint chocolate birthday cake. There are even cocktails and sweet potato sushi! I've loved how easy they are to prepare with great instructions.
We enjoyed the shepherdess pie with sweet potato topping. It's perfect, hearty comfort food where my omni husband doesn't miss the meat (I'm working on that...). It had great depth of flavours from the balsamic and marmite (even though I hate marmite!). Dill in the sweet potato was a nice touch.
Buy Keep it Vegan
What are your favourite cookbooks? Let me know in the comments!
Disclosure: I was sent some of these vegetarian and vegan cookbooks and others I purchased myself. All opinions are my own. This post contains affiliate links.