Recently, my family stayed at the YHA Eden Project Snoozebox after spending the day exploring the Eden Project in Cornwall.
Eden Project Accommodation
Before we had kids, my husband and I visited the Eden Project on one lovely afternoon. It hadn't been long open and we had a wonderful time exploring the biomes and wandering the gardens.
Now, years later, we returned with kids in tow and all had a ball together.
The options for accommodation at the Eden Project are the YHA Eden Project Snoozeboxes (shipping containers) or camping. We opted for the YHA!
YHA Eden Project Review
Check in time for the YHA Eden Project is 4pm, so after a day of exploring the Eden Project, my husband and I gathered the kids, aged 4 & 6 and headed over to the YHA to see our Snoozebox.
The YHA is in the grounds of the Eden Project, so we got back in the car and drove the very, very short distance to the site.
I haven't stayed in a youth hostel since I was 19 and spent months backpacking around Europe with my best friend Katya. However, I'd heard from friends that YHA sites are a great base to explore with kids. They weren't wrong!
YHA Eden Project - Reception
We went into the reception tent and found it equipped with a bar (yay!), plenty of seating and some games for the kids.
There were some people sat at tables with their own cases of cider, while other small groups were barbecuing outside.
I liked the atmosphere and the way you could bring your own food and drink, or buy it there.
My kids headed straight for the massive building blocks and set to work making a tower, while Marc and I took a look around.
There isn't a kitchen for guests to use at this site, but there is a microwave, fridge and tea and coffee-making facilities.
We chose to eat at the YHA Eden Project, but others had brought their own food.
Accommodation - YHA Eden Project
There are camping facilities and bell tents that you can hire on the top of the site (with amazing views!), but we stayed in a Snoozebox.
They are rows of shipping containers all kitted out like small ensuite rooms.
My kids lost their minds with excitement when they saw that they would be sleeping on bunk beds, while Marc and I had a double bed. There was also a TV, hanging space, drawers and an ensuite shower room.
YHA Eden Project
The Snoozebox room is cozy, and it reminded us of when we lived on a narrowboat.
The kids enjoyed the quirky surroundings and inspecting every cupboard and drawer. Being situated in shipping containers meant that they had vacuum flushing toilets that were a bit loud, but that was the only negative.
We couldn't hear our neighbours and our room was spotlessly clean and had everything that we needed.
There wasn't a kettle, but we just popped out to the reception tent get coffees in the morning to bring back to our room. Only 50p!
In the evening, when the kids were tired, they let us take our ciders back to the snoozebox so we could put them to bed. Once they were asleep we sat on the bed, had a few drinks and watched the Glastonbury highlights.
YHA Eden Project - Breakfast
We had forgotten to book the continental breakfast of pastry, yogurt, fruit and hot drink, so we had coffees and the kids had hot chocolate, plus some of our leftover snacks that we had brought with us.
Eden Project - Review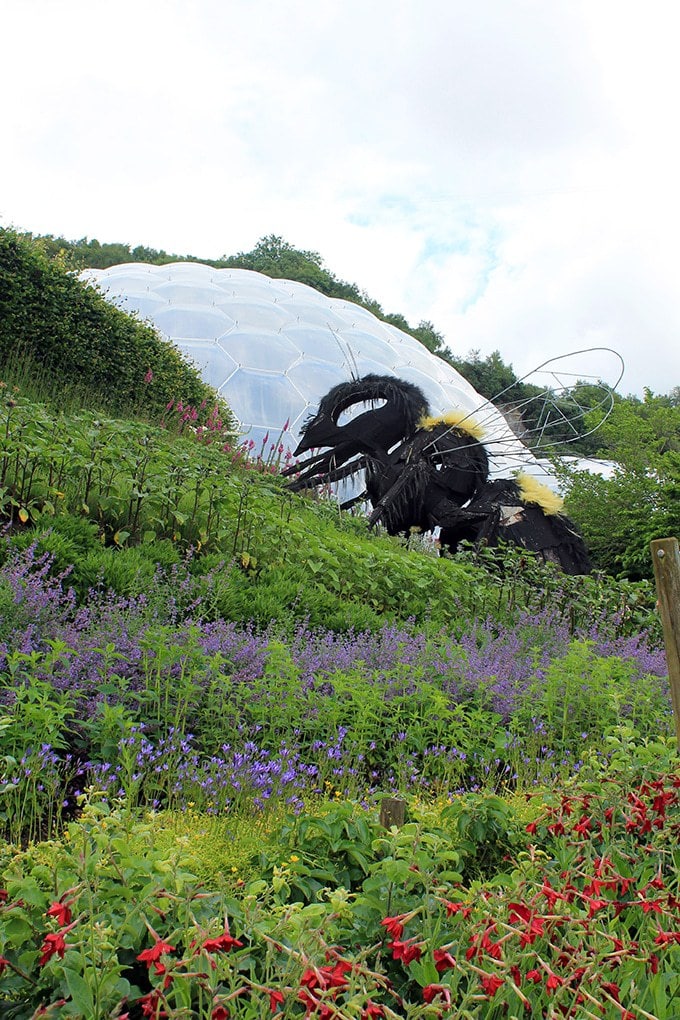 My son and daughter are aged 4 and 6, so they're a great age to take out on short trips. They love the outdoors and I knew from the website that the Eden Project is very child friendly.
When we first got there we hopped onto the tractor-driven land train, much to the kids' delight. As they squealed with glee it drove us down to the unmistakable massive biomes. The kids were quite right when they said that they looked like giant balls of bubble wrap.
Rainforest Biome - Eden Project
After a short wander around the grounds, we headed for the Rainforest Biome. The warm humid air and the new smells and sounds struck us as we entered and set about exploring. The kids loved finding giant leaves and looking at the small houses, huts and mock food seller stalls.
It's the largest indoor rainforest in the world, with over a thousand varieties of plants and temperatures up to 35C. We saw rubber trees, banana plants and so much more.
Throughout the biome there are lots of opportunities for learning and some areas with educational games. The kids didn't have a chance to get tired feet as they were constantly moving on to find something new to look at. We spotted a viewing platform at the very top of the biome, so we headed for that and began to climb.
Rainforest Canopy
The kids were fine on the slightly-moving metal staircase up to the Rainforest Canopy Walkway and they loved looking down on all of the people who looked like ants from that vantage. It was a spectacular way to see around the rainforest biome and worth every step up in the humid air.
We headed back down and straight out for some ice cream for the kids and a lovely baobab smoothie for me.
Eden Project - The Food
There are plenty of places to eat around the Eden Project, including pasties, street food and restaurants.
The food all seemed to be organic, fair traded and ethically sourced. There are water refill stations and the site is single use plastic-free.
There was plenty for vegan and gluten-free diets, as well as child-friendly foods. We had a lot of choice!
Exploring Outdoors - Eden Project
There was much to explore outside as well.
The kids were given a treasure map, so they wandered about spotting plants. They also found hidden pathways, a giant climbing frame, mini rivers and playgrounds, while we marvelled at the array of plants.
Being close with nature, there were plenty of inspiring sculptures and objects to encourage us to talk about the environment, recycling, sustainability and ecosystems - all in a fun way that's accessible to kids.
This is WEEE Man - a giant sculpture made from waste. He's 7 meters tall and 3.3-tonnes, created to represent the amount of waste electrical and electronic equipment (WEEE) the average British household throws away in a lifetime.
The Core
The Core is an interactive exhibit for kids and adults. It's an amazing space that's modelled on the structure of a sunflower and a seed sculpture at it's core.
This is the plant engine that gently teaches kids all about what plants do. There was also a wall of old fridge doors and loads of magnets, a cinema showing educational films, a big water spout, soft play for under 5s and a massive steampunk-stye nutcracker.
There was a lot to keep the kids entertained in here so rainy days wouldn't be a problem at the Eden Project.
Mediterranean Biome - The Eden Project
The Mediterranean Biome is a huge indoor garden with a Mediterranean temperate climate.
We wandered through olive groves and a field of cacti, through the landscapes of the Mediterranean, South Africa and California.
The temperatures are a bit lower than the rainforest biome, 9-25°C so it's really pleasant and not too hot. There's even a restaurant inside!
The smell was amazing, with heady aromas of sweet herbs. The kids discovered a train carved from a tree that they could play on and we tried to each spot the prettiest flower.
There's a restaurant in the middle of the Mediterranean Biome, so we settled down to eat pizzas and marvel at out crazy surroundings.
Soon it was time to get their tired little legs back to our home for the night: the nearby YHA Eden Project.
We then climbed to the top of the campsite to enjoy the view and set off to explore the nearby beaches.
Within half an hour the kids were paddling in the sea. It was a lovely end to a lovely holiday.
Disclosure: My family stayed at the YHA Eden Project and visited the Eden Project as guests for this review. All opinions are my own.