My family camping product guide includes essentials from tents and gazebos to kids UV tops and solar chargers.
Camping with the family can mean a LOT of equipment. Sure there's the tent, stove, chairs, sleeping bags and air mattresses. But there are also loads of other products to consider. This isn't a packing list, but rather a load of fab useful products that I wanted to share with you! Have you tried any of them? What do you think?
Family Camping Product Guide - Larger Essentials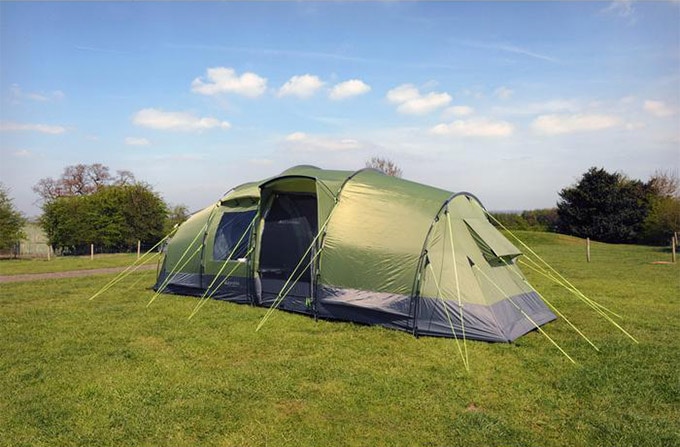 Eurohike Buckingham Elite 6 Tent
I'm a big fan of the great value Eurohike tents, having bought one for the family in past. I love that this range has a tall centre so you can stand up - a feature that you don't realise is an absolute necessity until you try it! Seriously, you'll never go back to crouching to get changed again. Plus, this range has lots of well-thought-out storage compartments that make it easy to locate all of your bits and bobs.
This spacious tunnel-style tent has two main sleeping areas (sleeps 6 with 3 in each compartment) and a central area (party room?!). My kids are small, so the four of us slept all cuddled up together in one end. We then used the other sleeping compartment to store our equipment. It's well-ventilated without being breezy so we didn't wake up too hot and it didn't feel too cold at night.
Probably most importantly, this tent is really quick and easy to set up. It's well-made and sturdy, as well as really obvious how to put it up. We didn't have to waste any time fiddling with poles or get frustrated as it's clear what goes where.
Millets also kindly sent me this amazing hamper of camping goodies! It's rammed with fabulous essentials from insect repellant and sun cream, to a lantern, snacks and mug. So many useful essentials!
Follow along with all the Millets camping fun via #homefromhome on social media.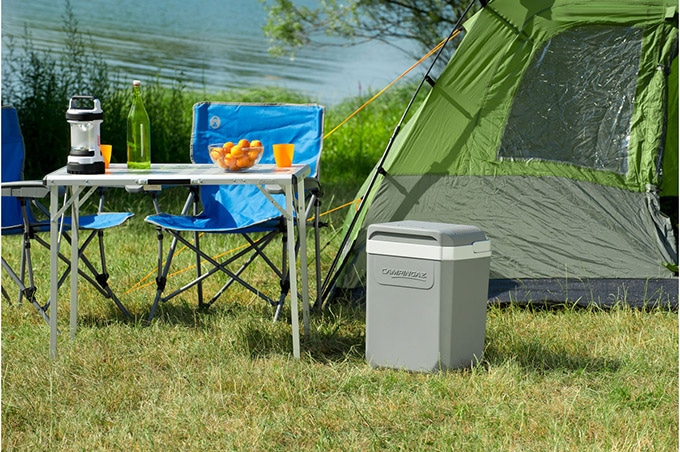 Campingaz Powerbox Plus 24l electric cooler. You can plug it into mains at home, or when camping you can plug it into a cigarette lighter in the car, and it has safety measures so it won't drain your car battery. The cooler can keep contents chilled to 5C and holds 24l. We found it to be a great size or a family camping trip. It has fans in the lid, but it's surprisingly quiet. It has thick walls, so even if you're away from the car (at a festival), it will stay cool for quite a while. We plugged it in in the car on the journey and kept it on for a while at the campsite. We turned it off at night and brought the cooler into the tent and everything was still quite cold in the morning.
Whether it's hot out or rainy, a gazebo is so useful when camping. We like to put the picnic table in it so the kids can do crafts in the day while protected from the sun. It's also very useful when there's a shower! It's a heatwave at the moment, so we have it up in the garden over the paddling pool. Now the kids can splash about and stay cool, without me worrying about them getting too much sun!
This 3mx3m pop-up gazebo by dCor from Wayfair is really easy to use. It's water resistant with steel poles and windowed sides. It's quite durable and quick to assemble - though easiest with two people. It packs away well, so doesn't take a huge amount of space to store. We chose the green, but it comes in a range of colours.
This Orsprey Tempest 20 daysack from Tiso is a great high-quality bag. It's 20L size is perfect for all the bits and bobs that we need out for the day and at festivals. It's well-considered with lots of useful compartments and a comfortable structure. There are side pockets for water bottles and an open front pouch for quick access to items.
The daysack has useful loops and clips so you can attach solar chargers, picnic rugs or anything else. Inside there is another small pouch and a good sized space with a wide opening. The lower hip strap comes with small zipped pockets on each side - ideal for money and a phone.
This is a really fantastic and useful bag that we will be using regularly for years to come.
This is a really fantastic product. It's a solar charger that's light, durable and just a bit bigger than an iPhone6. It can charge a mobile or small electronic device in up to 2 hours. You just leave it in the sun for 12-24 to fully charge it. I left it in the sun at home, then also clipped it onto my rucksack when out. It's also a torch that, when fully charged, can give up to 150 hours of light (with 4 light settings and SOS emergency beacon).
You don't need full direct sun, however that will charge it faster. The small led at the top left flashes when it's charging, and the flash speeds up the faster it's charging (direct sunlight).
I love it's recyclable cardboard book-like packaging, and how well it works, but the best bit is that the company donates one to people living without access to electricity. #sharethesun
A picnic blanket is a must for camping and festivals, so I've chosen this pretty one from Finchwood at Wayfair. It's a very high-quality picnic blanket with waterproof backing and top. It's wipe-clean but still soft and comfortable. I love the flower and leaf pattern and that it comes with a removable carry strap.
Rex London have lots of fun camping and festival products. I love these battery operated lights - they'll be strung up in our gazebo at Camp Bestival! They're a nice quality and have 10 retro bulbs over 3metres.
We always end up with lots of bits and bobs for camping, so we'll be using this sturdy jumbo storage bag to keep them all in one place. I really rate these bags and have bought them often over the years. We keep our Christmas decorations in them, as well as out of season clothes. I love the transport pattern on this bag - which makes it easy to remember that this one contains our camping gear.
I also have this vintage-style battery-operated lamp. It's a gorgeous sunny yellow colour and it gives off a really nice light. We're using it on our outdoor dining table until we next go camping! It's light with a carry handle, so it will be perfect to take for the (many) kids look trips in the night while camping. Why do they suddenly need lots of night wees when you have to trek to a toilet?? I despair.
Family Camping Product Guide - Kids Essentials
Jaq Jaq Chalk Books from EatWellUK are great for the car journey or campsite. They're beautifully made books of reusable chalk paper and they come with nifty dust-free chalk. So, no messy fingers or reams of paper to deal with, but endless drawing and imagining. Win-win. My children adored these books.
Fancy feeding a wiggling baby on your lap in a camping chair? No, I thought not. That's where this Totseat is so genius. It's fully adjustable so you can attach it to pretty much any chair. Voila - safe and secure baby. It comes in lovely patterns and is machine washable. I also like that it packs down super small so you can take it anywhere.
We've had baby sunglasses for both of my children. They're light and comfortable, with a neoprene strap to make sure the baby doesn't take them off. I like that they also have 100% protection against both UVA and UVB rays. Festivals and camping can mean long days outside, so it's important to protect babies' eyes! These ones from KIDLY are a fab colour.
KIDLY also sell these funky mini earmuffs. I'd say these are an absolute must for taking little ones to festivals (and many other events). They protect little ears from harmful noise, and they also dull any noise so it's easier for kids to nod off. At our last festival, my little ones even slept in their earmuffs, which meant they weren't woken by snorers or partiers in neighbouring tents. We were also able to stay up late and Camp Bestival and watch bands while the children slept with their earmuffs on in their trolley.
Last year at Camp Bestival, I wished that I had UV tops for the kids. It was amazing weather and it felt like I was constantly slathering them in sun cream. This year I'll be packing this Isbjorn of Sweden long-sleeved child's UV top. It looks great, it's comfortable, plus it has 50+ protection. I'll still be slathering on the sun cream, but I love that this UV top gives extra peace of mind.
My kids love these Bogs wellies. They are fantastic quality and really durable. They have handles so kids can easily get them on themselves - phew! They have a lovely range of patterns and styles. The material is thick, but not too stiff and my kids found them really easy to walk in. The soles have a good, deep tread.
Family Camping Product Guide - Other Essentials
A Muggi tray is one of those camping essentials that you never knew you needed. Ever been to the bar and walked away with one pint in each hand and the other held against you by your elbows - sloshing cider down your top? Yeah, me too. Just grab a muggi and all the other sodden punters will be very jealous. It fits four drinks, whether mugs of tea or pints and it's very durable. We also used it to keep drinks in on the grass so they didn't tip over.
Have you ever pulled out the tent, only to find a year in the garage hasn't done it any favours? Storm camping cleaning products will get your camping equipment looking fresh in no time. Our trolley was looking slightly mildewed, so we gave it a clean with these and it looks sparkling now. There's also waterproof spray, a sponge and a tent repair kit. All very useful.
Isn't this HydroFlask lovely? It's so bright and sunny. The 32oz wide-mouth flask is double wall insulated so it protects the temperature for hours and is good for keeping drinks hot or cold. I like that it's quite large but is still easy to grip. It's a great, high-quality bottle.
Project Shout is a national campaign to raise awareness of the dangers of carbon monoxide (CO) - a dangerous, colourless, odourless and tasteless gas emitted when fuel is burned inefficiently. A carbon monoxide alarm is the only certified way to detect it, so Project Shout are encouraging everyone to pick up an inexpensive alarm and use it at home, on holiday and when camping. Campfires and barbecues can be a potential source of CO.
I've long been a huge fan of Dr Bronners, so I'll be taking their pure castile soap camping. It's fairtrade, organic and has all natural ingredients, and it really works. It's concentrated and not just soap, but also useful as shampoo, body wash, washing dishes, hands, laundry and more. I'll also be using the lavender organic hand sanitiser - because you don't need a cocktail of chemicals for clean hands. This one just has alcohol, water, glycerin and lavender oil and is 99.9% effective against germs.
These Bridgedale socks are perfect to keep your feet comfy when walking around all day at a festival, or hiking in the hills. I found them to be super-comfortable and soft. They have a big range, so you can choose them based on your activity. If you want them to be lightweight, or if padding is more what you're after. They also have lots of colours. Bridgedale use fusion technology, which basically means that they use unique blends of yarn and methods of knitting in order to ensure optimum performance. Plus, they're socks with a generous 3 year guarantee - so they must be pretty durable!
So, what products would you add to this family camping product guide?
Check out my guide to Camp Bestival and other Family Camping Essentials.
Disclosure: I was sent items to review for this family camping product guide. All opinions are my own.