Why buy organic - post in association with Organix and the No Junk Journey, exploring my organic choices and how to reduce costs.
Post sponsored by Organix.
I've been working with Organix for the past few years as part of their #NoJunkJourney campaign, to highlight the importance of healthy eating for children.
Previously, I've discussed healthy snacking for toddlers, healthy kids snacking on the go and more.
For this latest post, I'm talking about why I personally choose organic.
It's now Organic September, a month long celebration of all things organic, run by the Soil Association. This month is a great time to find out how organic can be for the everyday or even just for making a few swaps to organic in your weekly shop.
So this month, choosing organic will be highlighted online, in the press and during pop up events.
Last year I was proud to me named Best Organic Blogger at the Soil Association's prestigious Best of Organic Market (BOOM) awards. It's a wonderful event that highlights the food producers, manufacturers, farms and shops that are all passionate advocates of organic.
I was absolutely thrilled to be a part of it all. I obviously discuss vegetables a LOT in my posts. Whether I'm putting them into cake (like kale cake!) or swirling spinach into a lentil dhal, I always want my veg to be the best. Wherever I can, I try to choose organic.
Whether I buy them from my local farm shop or a supermarket, I try to ensure my veggies are their best and not covered in chemicals.
What organic means to me
To me it means making a conscious choice to put health, quality of food, animals and the environment first. Yes, organic costs a little more, but I do believe you get what you pay for. Those few pence or pounds mean less pesticides, more ethical production and more goodness.
I'd rather not expose myself and my family to a cocktail of chemicals on our fresh fruit and veg, and I'd prefer that the produce we eat is more nutritious. I also want to make sure that we tread more softly on the planet.
I'm proud to use my platform to support Organic September. It's a positive time to highlight and celebrate all the great reasons for choosing organic: from enjoying healthier vegetables to understanding the impact on ourselves and the planet. It's a month of conversations, ideas and support for organic.
Budgets mean most people have to make a choice about what products to buy organic. I look towards the worst pesticide culprits and make those my organic priority.
The Dirty Dozen
If you're going to make swaps to organic - start with these! List compiled yearly by the Environmental Working Group.
1. Strawberries
2. Spinach
3. Nectarines
4. Apples
5. Grapes
6. Peaches
7. Cherries
8. Pears
9. Tomatoes
10. Celery
11. Potatoes
12. Sweet bell peppers
The Clean Fifteen
These foods have the least pesticide residue.
1. Avocados
2. Sweet corn
3. Pineapples
4. Cabbages
5. Onions
6. Frozen peas
7. Papayas
8. Asparagus
9. Mangoes
10. Aubergine
11. Honeydew melons
12. Kiwis
13. Cantaloupes
14. Cauliflower
15. Broccoli
Organix
Choosing organic snacks for my kids means that I'm giving them the best for their growing bodies. I love that Organix use minimal ingredients, all organic, and the company really cares about the earth and it's youngest inhabitants.
I recently went to a talk at the Organix HQ and was shocked to discover the huge amount of salt and additives that are in popular child-targeted snacks. I love supporting a company that makes kids' snacks that my children love to eat, but they also campaign tirelessly.
They spurred Jamie Oliver to make a change to school dinners after he was shown a report they commissioned. Remember blue smarties? Organix realised that the mix of food colourings was making kids hyperactive so they campaigned to have them removed and more natural colourings used.
They're now working to improve food labelling for our kids.
Company Statements:
Organix exists to give children the best start in life, by giving parents better, more nutritious choices
Organix wants a world where healthy, nutritious food is a real choice for everyone
Why Buy Organic: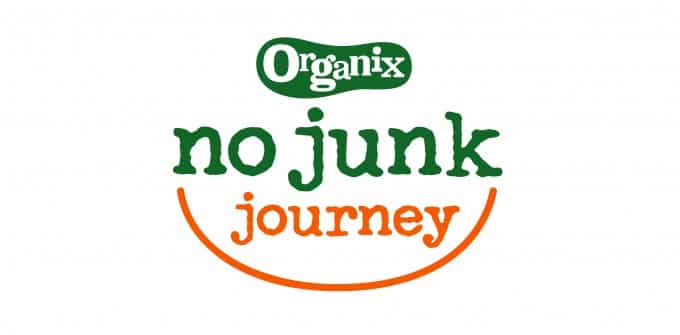 Organix have a No Junk Promise – they never add anything unnecessary and are always organic.
Find out more on social media using #NoJunkJourney #FoodYouCanTrust #ChooseOrganic
Disclosure: This post was commissioned by Organix. All opinions are my own.