Veggie Desserts is my multi-award-winning vegetarian and vegan food blog. I enjoy working with brands that fit my audience on sponsored blog posts, recipes, social posts, ambassadorships, travel reviews, festivals and more.
Many of my brand sponsored posts have gone on to be very popular year after year.
Quite a few of my all-time most popular recipes were sponsored by brands and have been viewed by hundreds of thousands of readers.
Brands that I've worked with include Waitrose, Circulon, Organix Foods, Leisure Range Cookers, Thermapen, A2 Milk, Expedia, Tesco, Iceland and more.
To work with me, please get in touch on [email protected]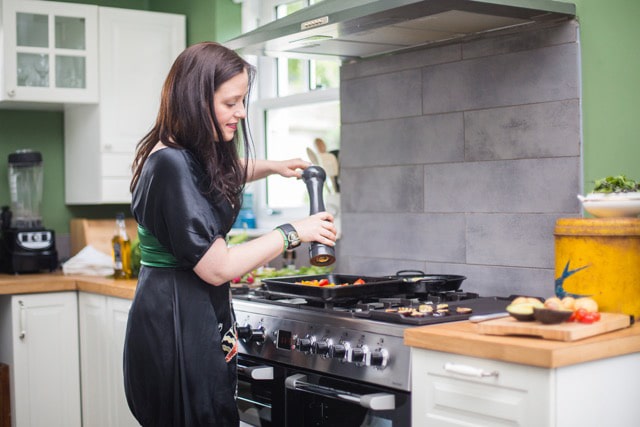 Work with Me
Services offered include:
Recipe Development
Sponsored Posts
Sponsored Recipe Posts
Social Media Recipes
Social Media Campaigns
Stop Motion Social Videos
Brand Ambassadorships
Food Photography
Event Attendance
Social Media Takeovers
Travel Reviews
Festival and Attraction Reviews
RECIPE DEVELOPMENT & FOOD PHOTOGRAPHY
I love working with brands to develop sweet or savoury recipes. I am also happy to use your products in recipes for your website and/or social channels, or other uses as agreed upon. Please contact me for my rates.
SOCIAL MEDIA PROMOTION
I would love to promote your brand to my extensive social following. Please get in touch for my rates or for more information.
FREELANCE FOOD WRITING
I am the author of a cookbook, Veggie Desserts + Cakes, and I also write a monthly family recipe column for Vegetarian Living magazine. In the past I was a freelance restaurant and bar reviewer for a number of London-based publications. I'm available to write recipes or editorial content for your website, magazine or newspaper. Please get in contact for more details.
BRAND AMBASSADORSHIPS
I enjoy working with brands on long-term campaigns. If you feel that I would be a good fit for your brand on an ongoing basis, please get in contact. I have been an ambassador for Organix Foods for many years and I work with a number of other brands on 6 month and 12 month recipe development projects.
REVIEWS & GIVEAWAYS
Please get in contact if you would like to discuss product reviews and giveaways. I run many giveaways throughout the year and they are very popular with my readers.
TRAVEL AND EVENTS
I would be happy to represent your brand and travel to events, brand headquarters, product launches etc. and share my experiences with my readers through blog posts and/or social shares. I am also delighted to review hotels, trips and adventures. Please see my travel section for my International city guides, camping reviews, festivals, luxury apartments, log cabins and more.
Find out more about me on my about me page.
Take a look at my press and awards page.
Get in touch to work with me at [email protected]
Case Study
In January 2017, Flora commissioned me to write a sponsored recipe post using their dairy free spread. The post was an instant hit and had 150,000 views in the first few months and was pinned many tens of thousands of times. Two years later and the post has had well over 1,000,000 hits. Many hundreds of readers have contacted me to tell me how much they love the recipe and they regularly post their recreations on instagram and twitter.
Quotes
"These luscious cakes are full of surprises thanks to Kate Hackworthy who finds endlessly inventive ways to smuggle in vegetables." – Gurgle magazine
"Hugely imaginative" – The Independent
"An inspirational, beautiful book" – BBC Good Food magazine
"Popular blogger Kate Hackworthy's hugely imaginative cookbook will show you how to have your cake and eat your veg too. As the title suggests, once you're done flicking through this book you'll understand that the possibilities of using vegetables in sweet treats are endless. If you think beetroot brownies and courgette muffins are old news, you'll be delighted by the wealth of unusual recipes." – The Independent, 14 Best Vegetarian Cookbooks
"Kate is a vegetable virtuoso" – Vegetarian Living magazine
"In 2016 vegetables pushed meat to the side; in 2017 they're set to shove it off the plate altogether… Talented chefs and food writers are showing us just how versatile (and tasty) vegetables are, making the struggle to eat five a day a thing of the past. Need some inspiration? Kate Hackworthy's Veggie Desserts (Pavilion). It promises that it's not about sneaking vegetables into our cakes and puddings but making them the star" – The Independent, Top Food Trends of 2017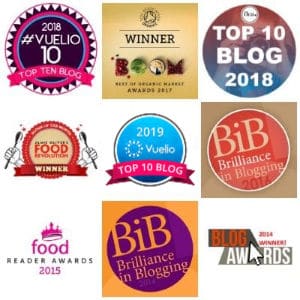 Unless otherwise indicated, images and content on this food blog are copyrighted. Please contact me for usage permission.
Please note that all sponsored posts, reviews and gifts will have full disclosure and links will be no-follow.