"Hugely imaginative" - The Independent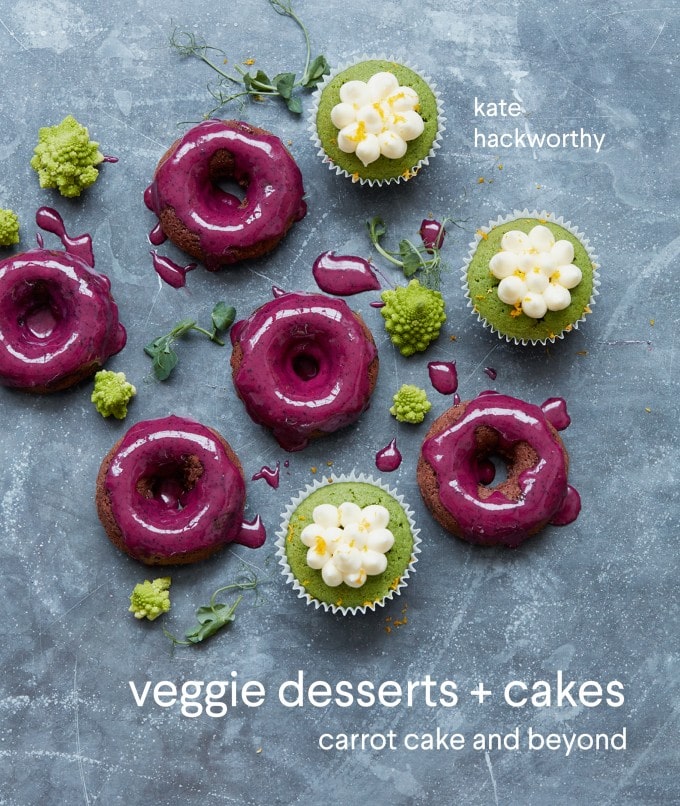 Buy the Veggie Desserts Cookbook now!
UK Publisher: Pavilion Books
United States Publisher: Rizzoli
International:
Canada
Australia Amazon
New Zealand Fishpond
Japan
Germany
Germany (Weltbild)
Sweden
Finland

Book Buzz
"These luscious cakes are full of surprises thanks to Kate Hackworthy who finds endlessly inventive ways to smuggle in vegetables." - Gurgle magazine
"Hugely imaginative" - The Independent
"An inspirational, beautiful book" - BBC Good Food magazine
"Popular blogger Kate Hackworthy's hugely imaginative cookbook will show you how to have your cake and eat your veg too. As the title suggests, once you're done flicking through this book you'll understand that the possibilities of using vegetables in sweet treats are endless. If you think beetroot brownies and courgette muffins are old news, you'll be delighted by the wealth of unusual recipes." - The Independent, 14 Best Vegetarian Cookbooks
"Kate is a vegetable virtuoso" - Vegetarian Living magazine
"In 2016 vegetables pushed meat to the side; in 2017 they're set to shove it off the plate altogether... Talented chefs and food writers are showing us just how versatile (and tasty) vegetables are, making the struggle to eat five a day a thing of the past. Need some inspiration? Kate Hackworthy's Veggie Desserts (Pavilion). It promises that it's not about sneaking vegetables into our cakes and puddings but making them the star" - The Independent, Top Food Trends of 2017
---
About the Veggie Desserts + Cakes Cookbook by Kate Hackworthy
Let's celebrate vegetables loud and proud.
Pushing far beyond the boundaries of traditional carrot cake, Kate Hackworthy puts vegetables into scrumptious cakes, muffins, biscuits, tarts, brownies, pastries and even ice cream.
Veggies bring moisture, natural sweetness and extra nutrients to baking.
Avocados make a great substitute for butter, root vegetables bring sweetness and, in some desserts, vegetable puree can replace eggs.
Just because we're used to having veggies as savoury foods doesn't mean we can't serve them in sweet dishes too, so, it's time to whack them out of the ground and onto the cake stand.
With 60 original recipes, this book is not about sneaking vegetables in, but celebrating them as hero ingredients, resulting in great-tasting treats that are a lot less naughty.
Author of award-winning site veggiedesserts.com, Kate Hackworthy is a columnist for Vegetarian Living magazine, writing about healthy recipes for kids.
She has been featured in mainstream press including the Guardian, Cosmopolitan and Grazia, and counts Nigella Lawson, Jamie Oliver and Fearne Cotton among her followers.
Kate has been an Organix 'No Junk Mum' for the last two years, working with the brand on events, sponsored features and recipes to help promote healthy eating for children.
Kate also won this year's prestigious BOOM Awards (Best of Organic Market Awards) from the Soil Association for Best Blog. She lives in Somerset with her young family.
Find out more about making the book in the cookbook cover reveal post.
Check out my Virtual Book Launch
Cookbook details
Hardcover: 144 pages
Publisher: Pavilion (3 Aug. 2017)
Language: English
ISBN-10: 1911216740
ISBN-13: 978-1911216742