This is seriously the Best Lentil Dahl recipe! It's a tasty easy 1-pot restaurant-style Indian dhal curry that's ready in just 25 minutes. With red lentils, coconut milk, and simple spices, it's a protein-packed, creamy, and delicious dish.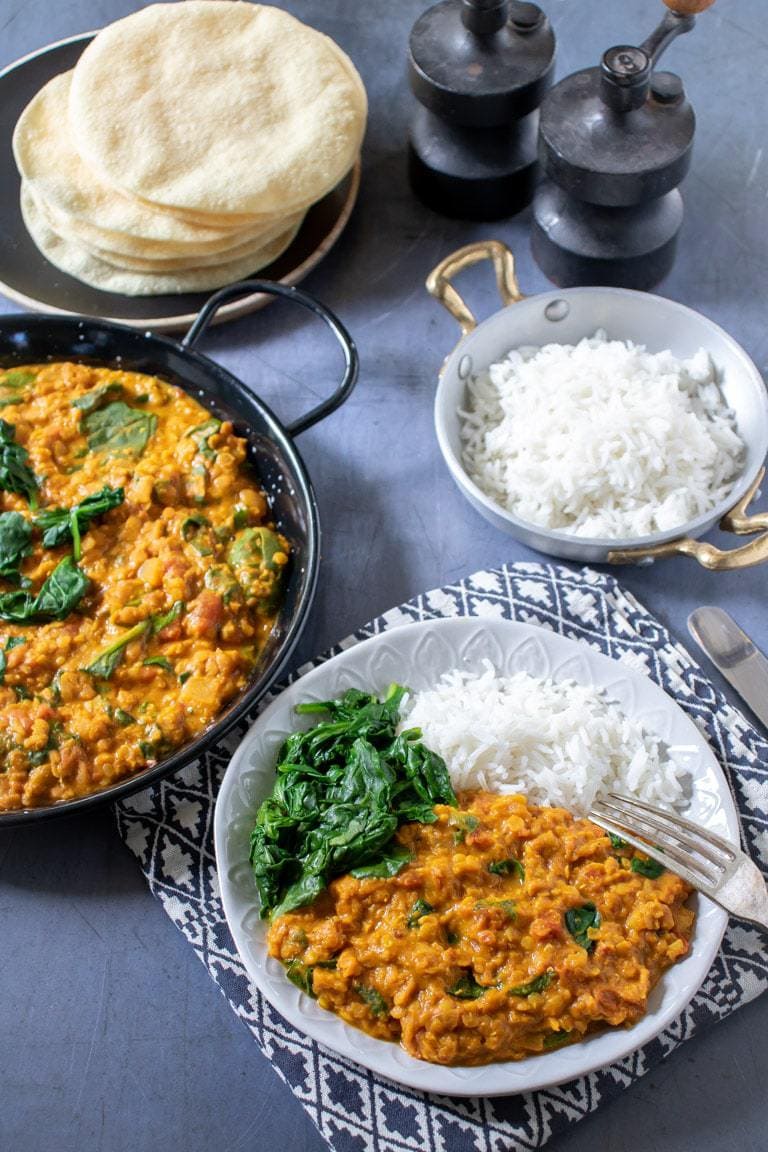 I love Lentil Dahl (also known as dal, dhal, daal). I'm sure once you try this dhal, you'll love it too.
It's creamy, rich, and mildly spiced with a gentle heat from the spices, chillis, and ginger.
And this is seriously the Best Lentil Dahl!
I know that's a big statement, but soooo many of you write to tell me that you love it and you make it over and over again.
At this very moment, there are freezers all over the world with a stash of it too! I love that so many people make a double batch to freeze some for later.
This dhal is a tasty easy 1-pot Indian curry with lentils, coconut milk, and simple spices that's ready in just 25 minutes!
It's naturally vegan, vegetarian, and gluten-free (but check your ingredients!)
Jump to:
Dhal is a great midweek meal or alternative homemade Indian curry.
It's also freezer-friendly and has less than 300 calories per portion.
As soon as my family mentions wanting a curry, I know exactly what I'll be having - dhal.
I've tweaked and changed this restaurant-style dahl recipe over the years and I've finally settled on this combination as my absolute favourite.
It's comfort food at it's finest.
I always make a big batch and keep a stash of this vegan lentil curry in the freezer for super-quick midweek meals that the whole family loves.
I love to serve this lentil dahl curry with rice or my super easy naan bread recipe (just 4 ingredients and 15 minutes for homemade naan bread, plus it's yeast-free and easily vegan or gluten free).
It's also amazing with Bombay Potatoes.
This daal post was originally posted 2016. Updated with new photos, step by step images and updated text on 27 August 2018.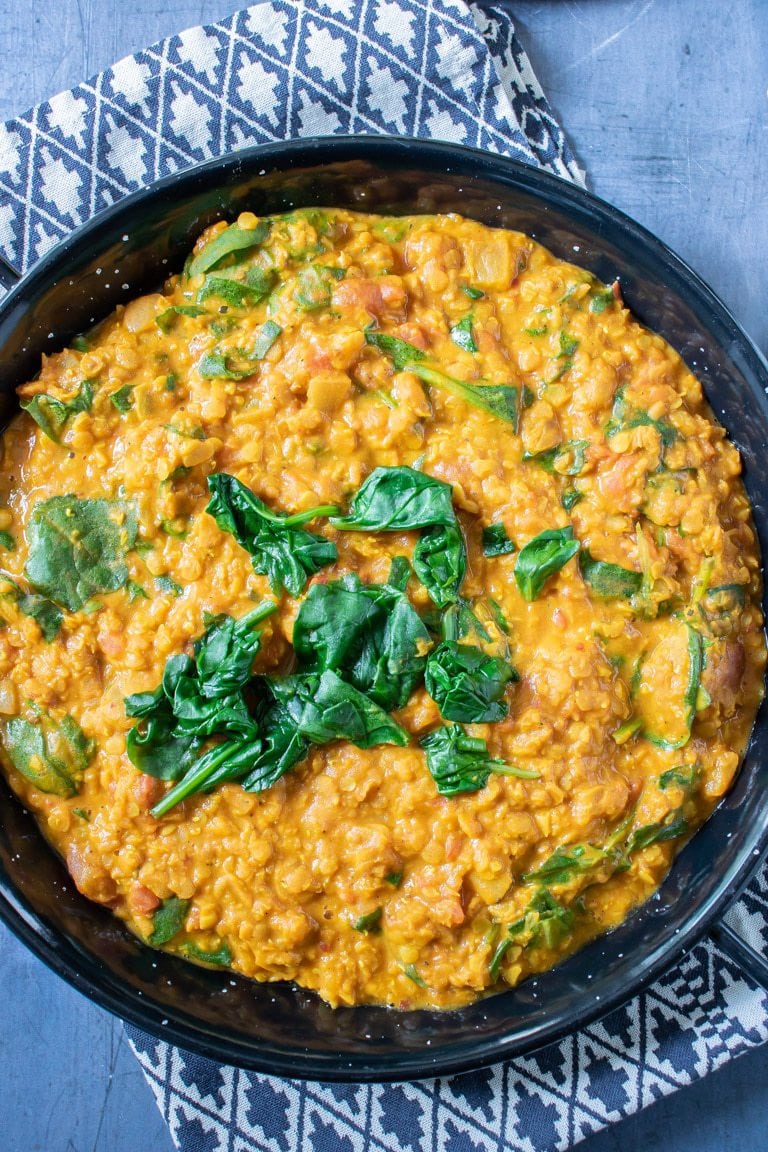 Reader Testimonials
Loads of you have been making this lentil dhal recipe! Here are some reader testimonials
⭐⭐⭐⭐⭐ 'Loved this daal and so did my husband and 18 month old son! I will be making this again and again and again. ' - Emily
⭐⭐⭐⭐⭐ 'This is one of the best dhal recipes I have come cross in recent years. It is so simple but so tasty.' - Michiko
⭐⭐⭐⭐⭐ 'The best Dhal I've ever eaten was absolutely delicious' - Sean
⭐⭐⭐⭐⭐ 'Delicious dahl! Will be making over and over again!' - Betty
⭐⭐⭐⭐⭐ 'I just made this and all the comments are so justly deserved – it was my first time making Daal and this recipe is phenomenal! ' - Joanne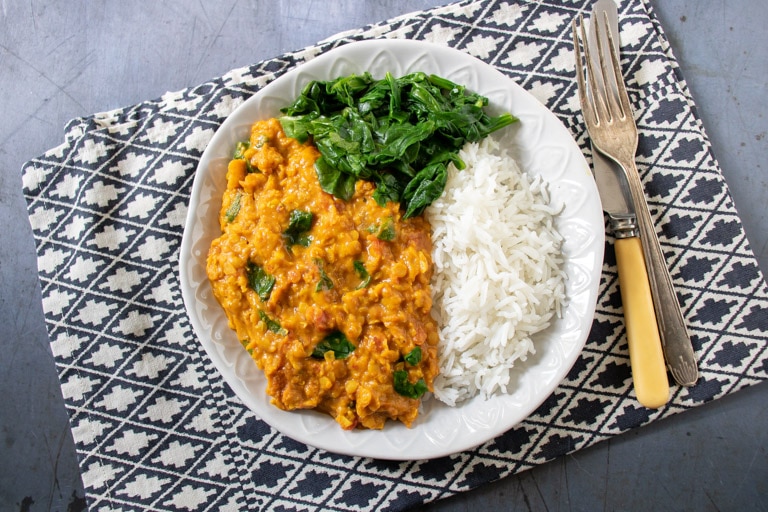 Why you'll love this recipe
An authentic Indian curry.
1-pot simple recipe.
Ready in 25 minutes.
Lentil dahl is naturally vegan, vegetarian, and gluten-free.
It makes a great Indian feast along with naan bread (my easy naan takes just minutes and is soooo good!) turmeric rice, chapattis, roti or poppadoms, vegetable samosas, onion bhajis, or vegetable pakoras.
Add more chilli if you like the heat, or more coconut milk if you want it extra creamy.
What is Dhal?
Dhal, also called dahl, dal, or daal, refers to either dried split lentils or dried split peas as an ingredient (that don't require soaking or pre-cooking) or as a spiced curry dish from the Indian subcontinent made with split peas or lentils cooked until softened and thick.
Dhal is a very popular staple dish served widely across India. As with most traditional meals, the exact methods and ingredients vary from region to region and household to household.
A lentil dahl doesn't always have tomatoes in it, but adding them means the acidity from the tomatoes cuts through the coconut milk so it has more depth of flavour rather than sweetness.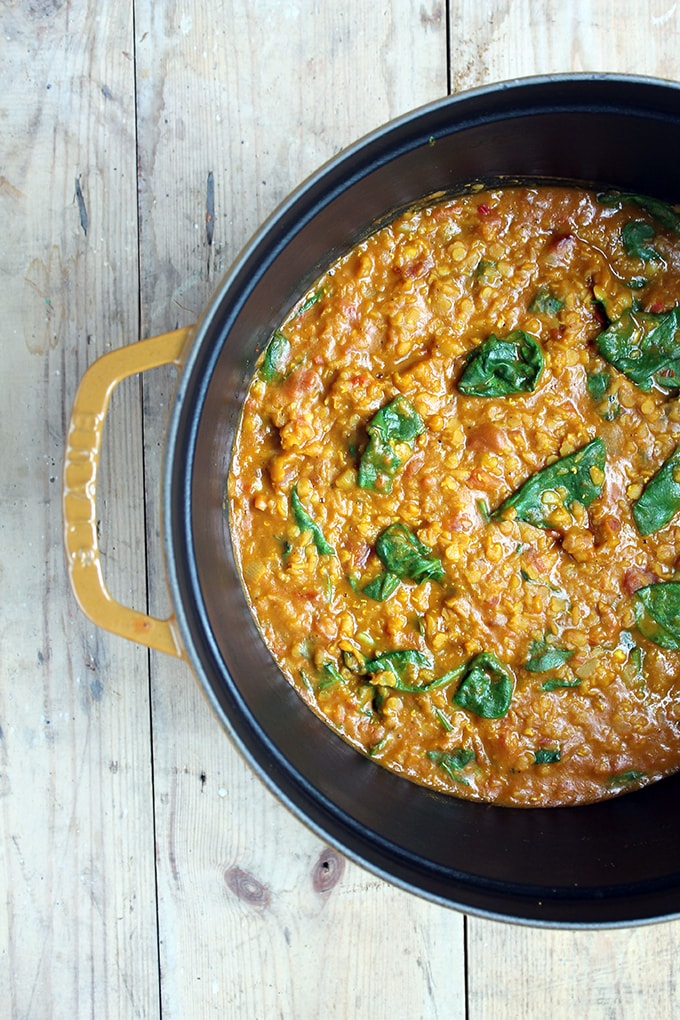 Expert Tips
Do I use dried red lentils? Yes. No need to pre-cook them (just give them a rinse), they'll cook in the curry.
If you have more time, let the onions cook longer in the pan for a more fragrant dahl.
Do the red lentils need to be pre-soaked? No, just add them dry! Though you'll want to rinse them first.
If you don't have all the spices, just add 3 tsp of Garam Masala (an easy-to-find dried Indian spice blend that's in most grocery stores).
Serving Suggestions
How to serve this Indian dhal? Serve it as a lentil curry with rice and/or naan bread, or as a side dish alongside another curry or Bombay aloo.
Try this served with my baked vegetable pakora or turmeric roasted cauliflower.
Try it with a few other curries for a party or gathering.
Finish with a Banana Lassi or Mango Shake.
Freezing and storage tips
Can I freeze dahl? Yes! Let it cool and freeze in portions in airtight containers or bags for up to 3 months. I love keeping a stash of portions in my freezer for quick curry nights.
How long does red lentil dahl last? Dhal will last in the fridge, covered, for up to 5 days.
Special Diets
Can I make this daal vegan? This daal is naturally vegan and gluten free.
This daal is dairy free, eggless and gluten-free.
Each portion of this has only 293 calories.
How many Weight Watchers points per portion of this daal recipe? 12 smart points.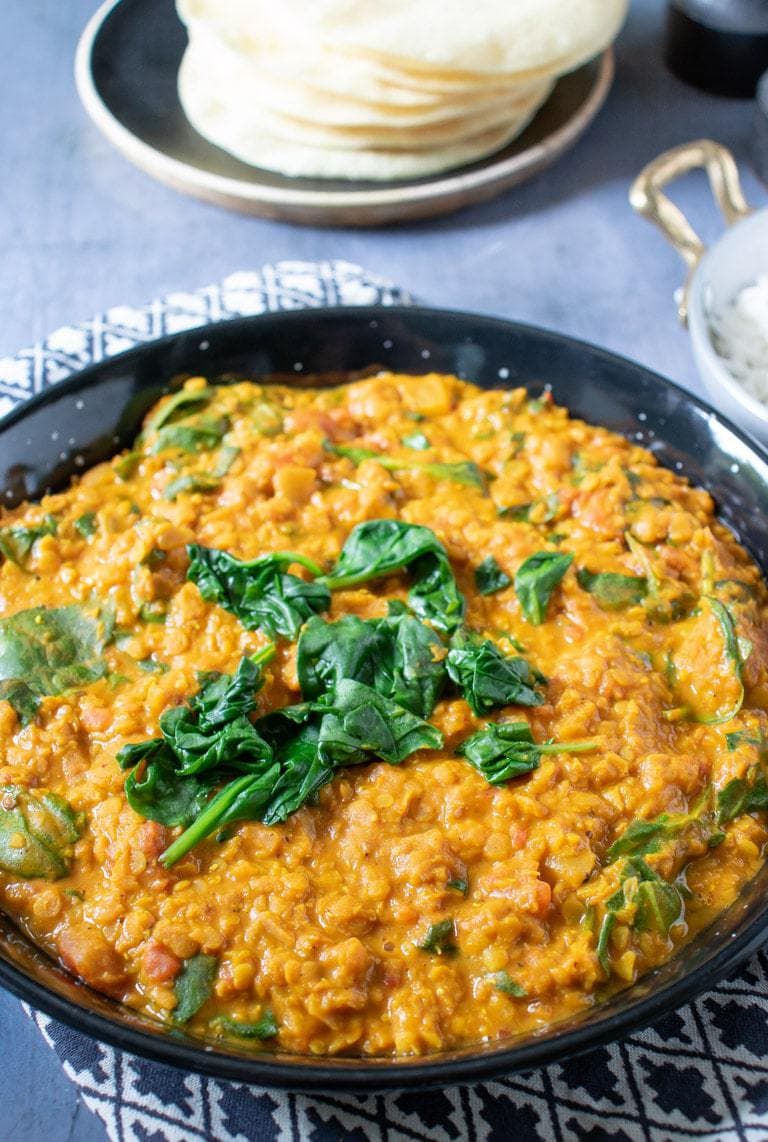 Curry Recipes
I hope you'll love this lentil dahl as much as we do, and make it part of your family meal plan! Be sure to check out some of my other vegan and vegetarian curry recipes too.
Tofu Curry
Chickpea Curry
Kidney Bean Curry (Rajma Masala)
Paneer Butter Masala
Vegan Butter Chicken (cauliflower)
Instant Pot Lentil Curry
Roasted Carrot Curry
Bombay Potatoes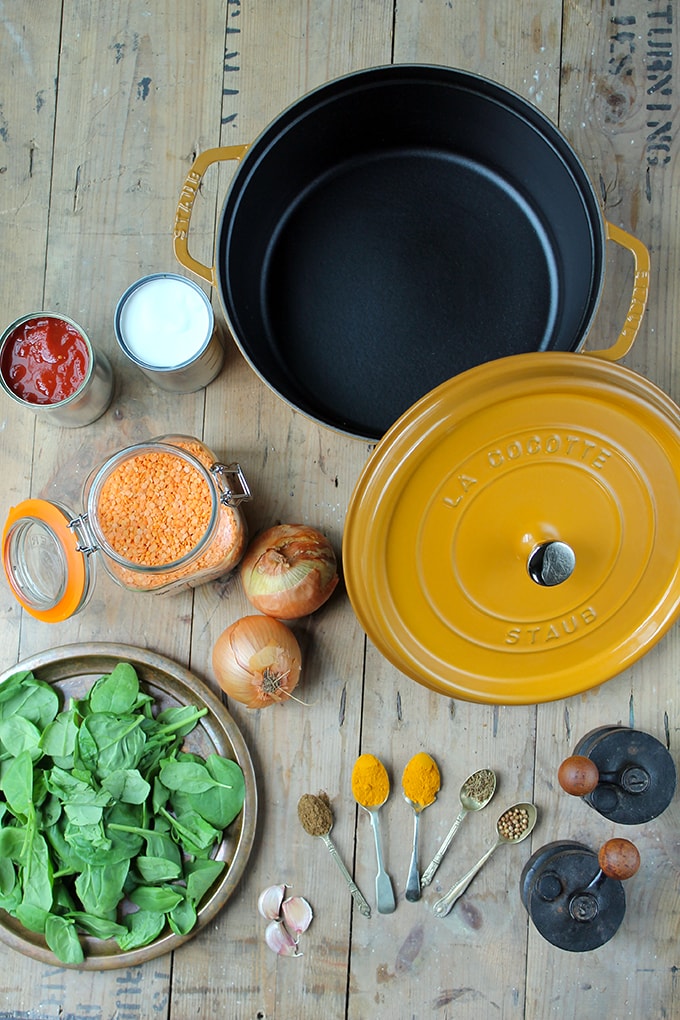 Step by Step Tutorial
Scroll down for the full dahl recipe.
This dahl is really easy to make. If you can spare a bit more time, then I'd suggest you slowly cook the onions for about 10 minutes until soft but not too brown. Then also simmer the dahl a little longer.
But if you don't have time then the dahl also great with the method below! (I usually make it the quicker way!)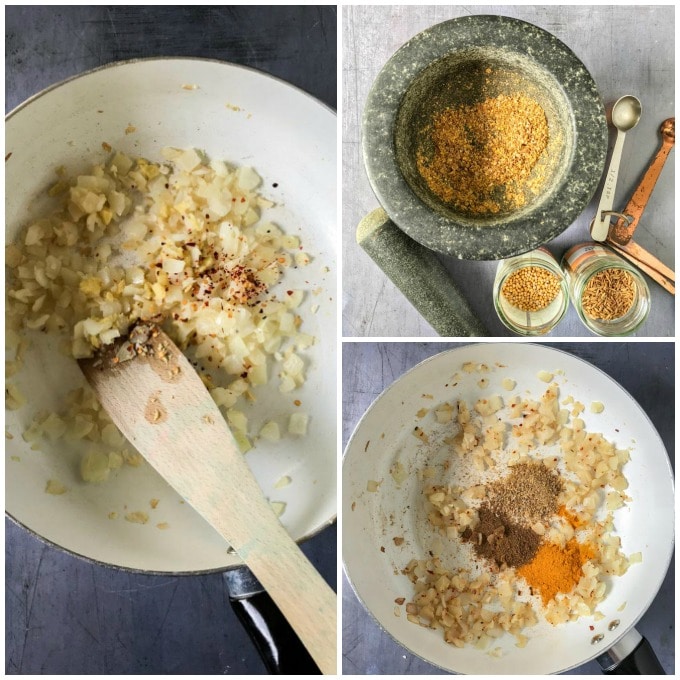 1: Cook the onions in the oil until soft, then add the garlic and chilli (fresh finely diced chilli or dried chilli flakes).
2: Lightly grind the cumin seeds, mustard seeds and coriander seeds in a mortar and pestle.
3: Add the ground spices, as well as garam masala and turmeric to the pan, stir and cook for 1 minute.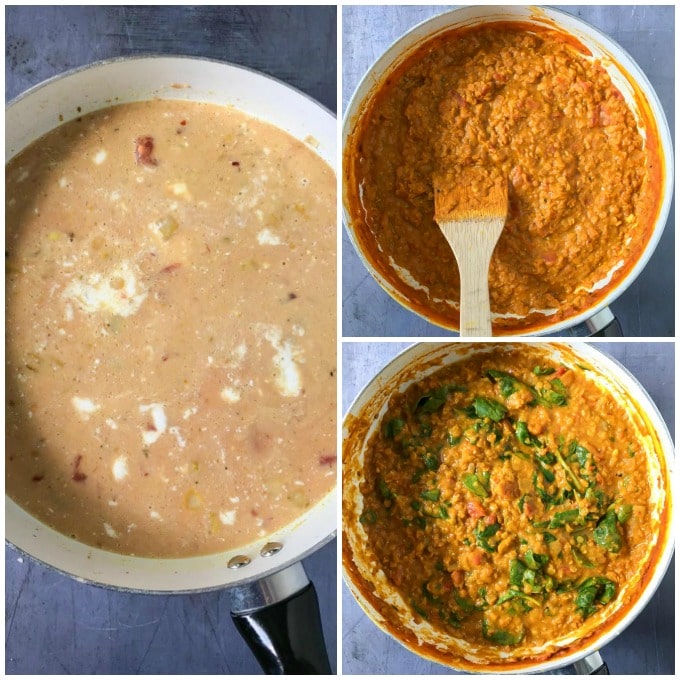 4: Add the stock/broth, canned tomatoes, dry red lentils and coconut milk, stir well and simmer.
5: Simmer until thick, about 15-20 minutes.
6: Add the spinach and lemon juice. Stir to wilt the spinach. Serve the dal recipe!
Scroll down to the recipe card for the full dhal recipe.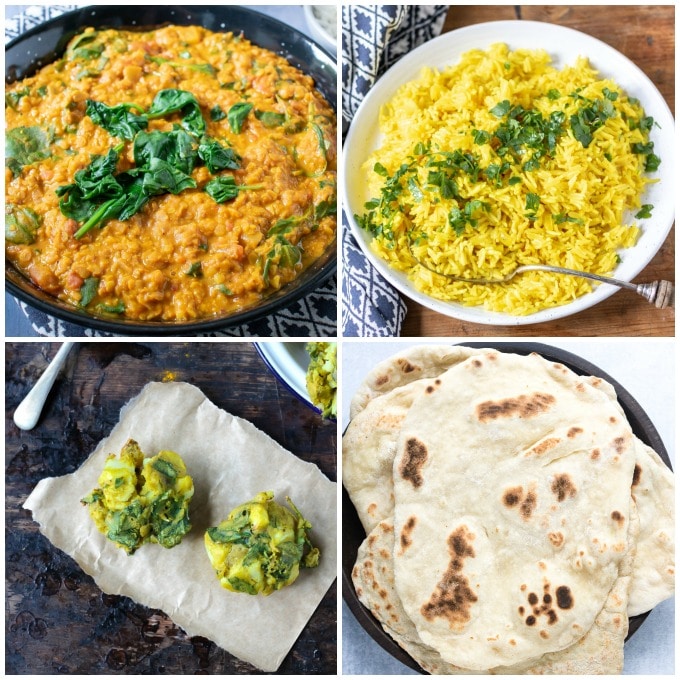 Make it a full meal with these vegan Indian recipes!
Lentil Dahl (the recipe you're reading!)
Turmeric Rice (vegan, 6 ingredients, 20 minutes)
Baked Vegetable Pakora (vegan, 6 ingredients, 25 minutes)
Naan (vegetarian or vegan, 4 ingredients, 15 minutes)
FAQs
Is dal a lentil?
Dal refers to split lentils or other pulses. Dal can also refer to a curry dish made from split lentils or pulses.
Is dahl vegan?
This dahl is vegan, vegetarian, and gluten-free.
Do I have to soak dried red lentils?
No, you don't need to soak or pre-cook red lentils for this dhal recipe. Just rinse them, then add when required.
Can I make this dhal oil-free?
Absolutely. Just cook the onions in a splash of oil, stirring often so they don't stick.
How many calories are in lentil dahl?
This dahl has 293 calories per generous, filling portion.
How long does dahl last in the fridge?
Dahl will last up to 5 days, covered, in the fridge.
Can I freeze dhal?
Yes. Freeze completely cooled dhal in airtight bags or containers for up to 3 months. Thaw and reheat before serving.
Can I make dahl without coconut?
Yes. Just substitute heavy cream (or vegan cream).
How many carbs are there in dahl?
This dahl recipe has 31g of carbs per portion.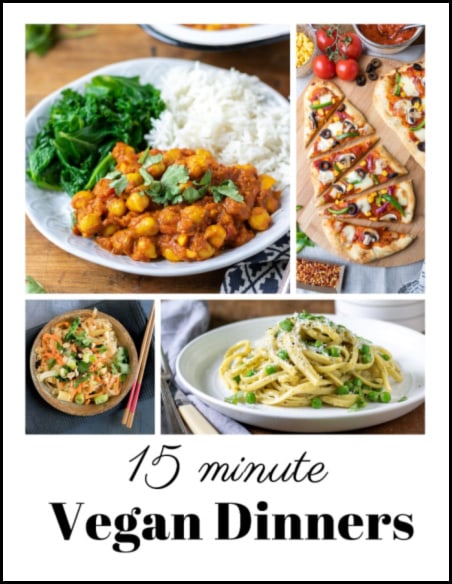 GET YOUR FREE COOKBOOK!
Download the free
15-Minute Dinners e-book, full of quick, easy and tasty vegan recipes! You'll also be added to our mailing list to get new recipes via email.
Did you make this recipe?
Please let me know how it turned out for you! Leave a comment and star rating below and share a picture with the hashtag
#veggiedesserts
. I love seeing your recreations of my vegetarian and vegan recipes. Follow me on
Instagram
,
Twitter
,
Facebook
,
Pinterest
,
Youtube
📖 Recipe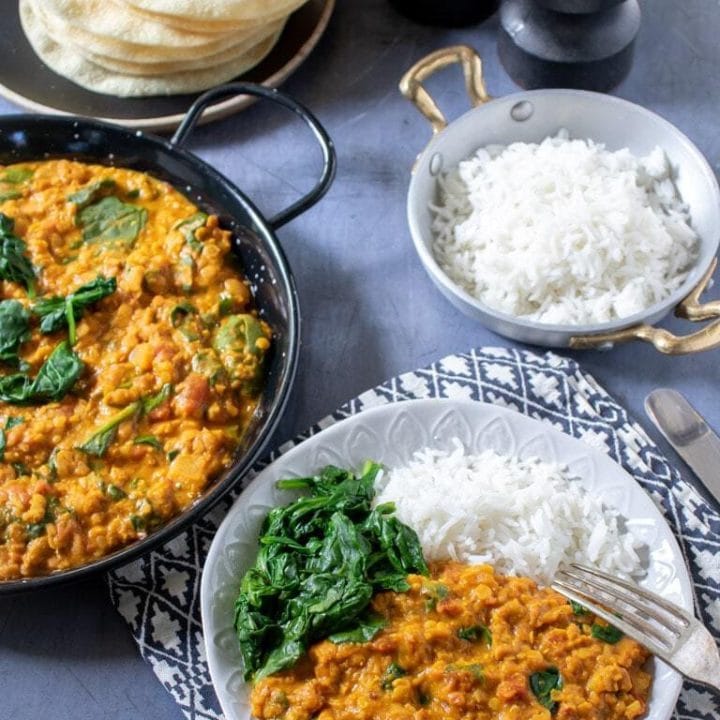 The Best Lentil Dahl
This Easy Lentil Dahl is packed with flavour, and is super-simple to make in 1 pot in 25 minutes.
Save
Saved!
Equipment
Pestle and Mortar or spice grinder
Ingredients
1

teaspoon

olive oil

or coconut oil

2

onions

diced

3

garlic cloves

finely chopped

1

tablespoon

fresh ginger

peeled and grated

½

finely chopped red chilli (or ½ tsp dried chilli flakes)

½

teaspoon

cumin seeds

½

teaspoon

coriander seeds

½

teaspoon

mustard seeds

2

teaspoon

ground turmeric

1

teaspoon

garam masala

TIP: If you don't have all the whole spices, just use 3 teaspoons of Garam Masala instead.

1

cup

(200g) dried red lentils, uncooked

(rinsed and drained)

1

can

(14oz/400ml) chopped tomatoes

1

can

(14oz/400ml) coconut milk

2

cups

(500ml) vegetable broth/stock

Salt and pepper

Juice of half a lemon

2

handfuls

fresh spinach

washed
Instructions
Stovetop Lentil Dahl
Heat the oil in a large pan over a medium heat. Add the onion and cook gently for 5 minutes. Add the garlic, ginger and red chilli and cook for a few minutes.

Grind the cumin, coriander and mustard seeds lightly in a pestle and mortar, then add to the pan, along with the turmeric and garam masala and cook for 1 minute.

Add the lentils, tomatoes with their juice, coconut milk and broth/stock, then stir to combine. Season with salt and pepper and cook on a medium/low heat for 15-20 minutes until reduced and thick. If you have time, you can leave it a little longer on a very low heat for even more flavor (just stir often and check it doesn't scorch on the bottom of the pan).
Taste and add more chilli if desired.

Stir in the lemon juice and spinach until it wilts.

Serve warm with rice, naan bread or poppadoms.
Notes
If you don't have all the spices, just substitute 3 teaspoons of Garam Masala.
This dhal is vegan and gluten-free
The squeeze of lemon really freshens the dal so try not to omit it
Freezable - just let it cool completely and then freeze. Defrost and reheat. I freeze this often and it's a staple in my freezer for quick, hearty nourishing meals.
No need to cook the red lentils first. Just rinse the dried red lentils before adding to the pan.
This is a great vegan potluck food and is always a crowd-pleaser!
Serving suggestions:

Turmeric Rice
Baked Vegetable Pakora
Naan Recipe
Bombay Potatoes
Nutrition
Calories:
293
kcal
Carbohydrates:
31
g
Protein:
11
g
Fat:
15
g
Saturated Fat:
12
g
Sodium:
452
mg
Potassium:
733
mg
Fiber:
12
g
Sugar:
4
g
Vitamin A:
1245
IU
Vitamin C:
20
mg
Calcium:
72
mg
Iron:
6.1
mg
The nutritional information provided is approximate and can vary depending on several factors, so is not guaranteed to be accurate. Please see a registered dietician for special diet advice.
Tried this recipe?
Mention @kateveggiedesserts or tag #veggiedesserts! I love seeing your recreations.