Hi, I'm Kate, a Canadian-born food blogger, magazine columnist and vegetarian/vegan cookery writer. I'm unashamedly obsessed by vegetables, whether they're in my breakfast, lunch, dinner or dessert.
I lived on a boat for 6 years, managed a wrestling team when I was 15 (to meet boys) and I can twirl a lasso. For information about me that's actually relevant to my blog, read on!
I'd love to hear from PRs and brands that are relevant to my readers.
Please contact me on [email protected]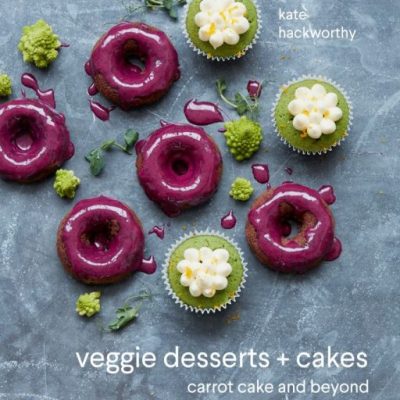 Veggie Desserts and Cakes Cookbook
I'm delighted to announce that my first cookbook, Veggie Desserts +Cakes, was released by Pavilion Books.
Order Veggie Desserts + Cakes on Amazon.
Kate Hackworthy
Hi, I'm Kate, an award-winning food blogger, cookbook author, magazine columnist and freelance food writer.
I'm unashamedly obsessed with vegetables, whether they're in my breakfast, dinner or desserts!
If you're looking for kale cupcakes, you've come to the right place.
I also write recipes for vegetarian and vegan breakfasts, meals and snacks.
But there's not just hidden veg in my recipes, I like to promote veggies loud and proud!

Awards
Top 10 Vuelio Best Food Blogs (2019)
Top 10 Family Food Blog (ranked #3) - Flea Ents Tots100 (2018)
Winner - Best Food Blog - BOOM Soil Association Awards (2017)
Top 10 Vuelio Best Food Blog (2018)
Shortlist - BIBs Brilliance in Blogging Awards Best Food Blog (2016)
Winner - Best UK Food Blog (UK National Blog Awards 2015)
Finalist - Food Magazine Awards (2015)
Top Sante Magazine Bloggers of the Year (2014)
Jamie Oliver Blog of the Month (2014)
Shortlist - BIBs Brilliance in Blogging Awards (2014)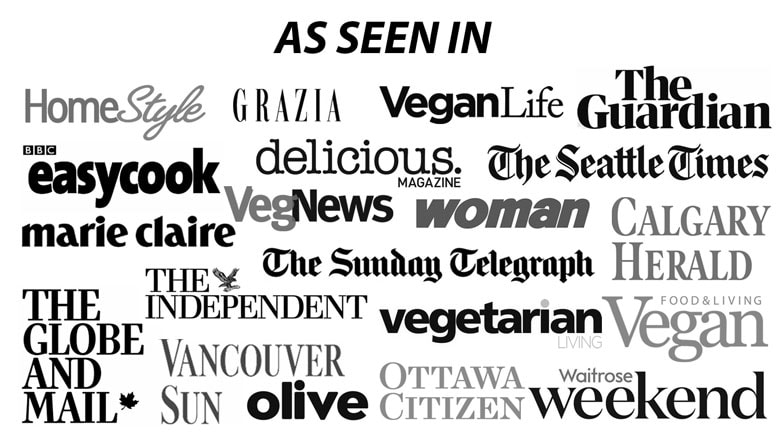 Press
See my press page for more information.
Why Vegetable Desserts?
I'll happily admit that I have an obsession with making vegetable desserts. Spinach cake, parsnip spice loaf, chocolate beetroot cupcakes… I could go on and on with my list of favourite vegetable cake. And I don't hide them, the veggies stand loud and proud in desserts and cakes around this house.
I'm a mum of two, so I try to give my children healthy, fresh food. My love of vegetable desserts started with the cake for my son's first birthday. It was to be his first taste of chocolate, and although I wasn't going to begrudge him that, I wanted it to be a bit better for him. After a few trials, his birthday vegetable cake was ready: one layer of chocolate beetroot and one layer of chocolate butternut squash. It wasn't exactly healthy, but it was a big step up from a shop bought cake. They went down well with everyone and my love of vegetable cakes began.
Since then, I've had ups (parsnip and lavender cupcakes) and downs (beetroot custard… shudder), but there is one certainty – no vegetables shall rot in my fridge. If they don't make it to the main course, they will make it to dessert. I buy organic and local as often as I can and I'd love to grow more of my own beloved vegetables - but my attempts have been rather poor so far. I spend a lot of time growing slug buffets.
Contact
I'm happy to work with PRs and brands that fit my audience. Please get in touch via [email protected]
More about Kate Hackworthy
Before my current incarnation as a vegetable cake baking mum, I was born in Canada then moved to the UK in my late teens. I worked for many years in London for a media company, co-authored a travel book about London, wrote bar, gig and restaurant reviews for magazines and lived in a narrowboat.
Now I live in a house on land in Somerset and run this vegetarian and vegan food blog full time, plus I also do freelance writing and have written a monthly column in Vegetarian Living, the UK's best-selling vegetarian magazine, since 2015.
Now I would like to share my vegetable cake recipes, vegetarian and vegan food recipes and creative desserts with you. I hope you enjoy them.
Kate x