Che bap is a traditional Vietnamese coconut and corn dessert. In this version instead of tapioca I've used nutritious chia seeds. It's creamy, rich and full of flavor. Enjoy as a dessert or breakfast.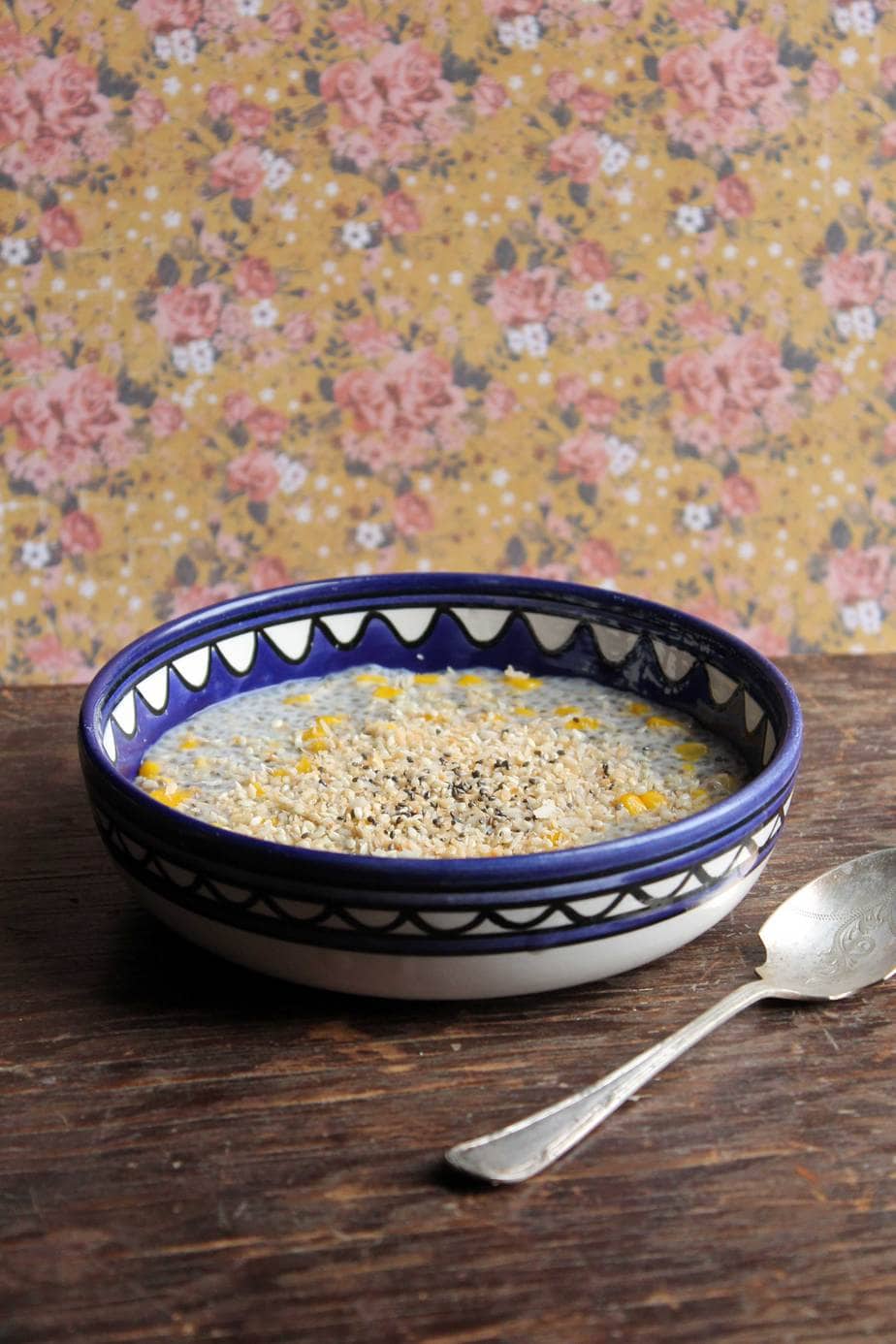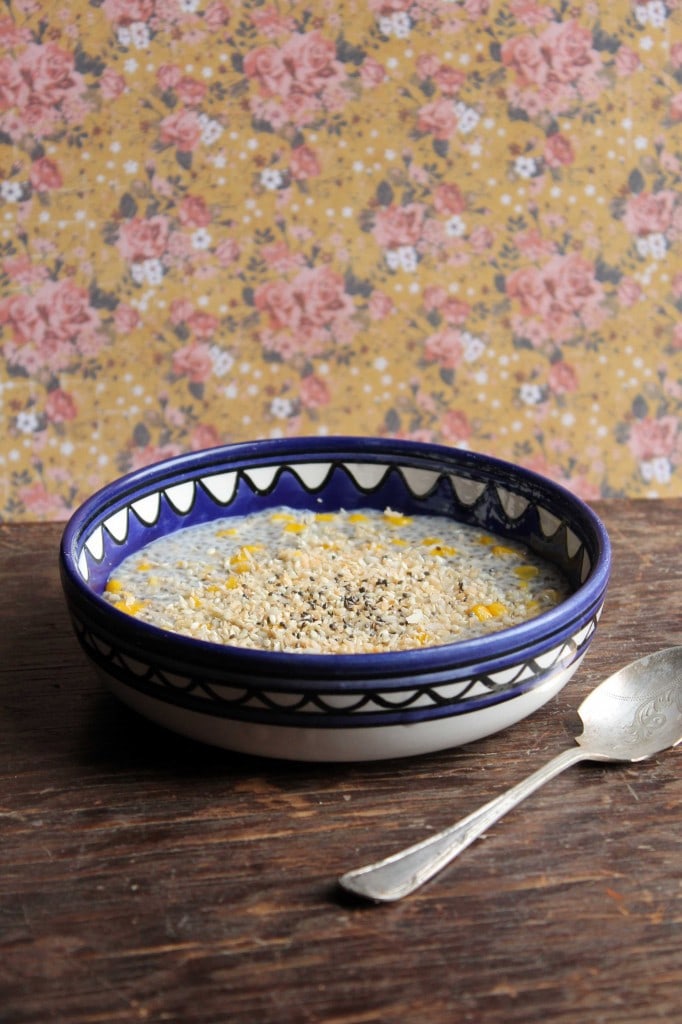 Chè bắp
You'll love this creamy corn and coconut pudding, Che bap.
Chè bắp is not only easy to make, but it tastes divine. The corn works beautifully with the sweet coconut and the chia makes it lovely and thick.
It's perfect served with Sinh to Bo - Vietnamese Avocado Shake.
Chia Che Bap
This is my take on the traditional Vietnamese dessert, chè bắp. But instead of tapioca, I've gone for chia seeds (Vietnam collectively gasps).
There are a few reasons for this: chia is healthy, I have some in my cupboard, and if I went to school in the 70s and had school dinners I would probably loathe tapioca, as well as gruel and rice pudding.
But I didn't have school dinners.
And I didn't go to school in the 70s.
I just didn't have any tapioca at home and couldn't be arsed to go to the shop.
Such is life.
I made the chia pudding part of this recipe twice. The first time I accidentally used poppy seeds. You don't want to do that.
I am obsessed with decanting everything into jars, but I am not obsessed with labelling them. Lesson learned; sharpie pen bought.
Corn facts
Speaking of lessons, how about some corn facts? You'll thank me one day when these come in handy at a pub quiz.
1. Corn is grown everywhere except Antarctica (thanks Abel and Cole for that one via Twitter)
2. Bourbon Whiskey is made from corn. Get your cocktails on.
3. Corn can grow more than 20ft tall.
4. You can make microwave popcorn in a normal paper bag. Good news as those store-bought microwave bags sound rather scary. Whatever the truth, it's cheaper to diy and you can choose your toppings - presumably you won't be glugging palm oil over it like the supermarket micro popcorn makers think you want.
Ahem, did someone at the back whisper "chia is a nutrient-powerhouse superfood packed with omega 3, protein, fibre and calcium"? No? Must have been the wind. Feet under your desks, no talking and turn to chapter seven of your texts.
This dessert is the unusual, but very tasty, marriage of sweetcorn, coconut milk and chia. A very simple, vegan, gluten-free dessert that is moreish and has a satisfying sweet pop of the corn kernels. This would also make a great breakfast if you omit the sugar.
Get the recipe
If you make this Che bap recipe, please tag it with #veggiedesserts on Instagram or other social media. I LOVE seeing your recreations of my recipes.
📖 Recipe
Chia Che Bap – Vietnamese Coconut and Corn Chia Pudding
Che bap is a traditional Vietnamese coconut and corn dessert, but in my recipe, instead of tapioca, I've used nutritious chia seeds. It's creamy, rich and full of flavor.
Save
Saved!
Ingredients
¼

cup

chia seeds

400

ml

13.5oz coconut milk

200

g

1 cup sweetcorn kernels (fresh, frozen or canned)

3

tablespoons

sugar

1

teaspoon

vanilla extract
To garnish
2

tablespoons

shredded coconut

1

tablespoon

sesame seeds

1

teaspoon

chia seeds
Instructions
Soak the chia seeds in the coconut milk for at least four hours or overnight. It will turn thick and gelatinous.

Pour the thick chia seed coconut milk into a pan, along with all remaining ingredients, and heat over a very low heat until hot, stirring occasionally.

For the garnish, place the shredded coconut and sesame seeds in a dry frying pan over a medium heat and stir until golden.

Serve warm or cold, topped with the toasted coconut and sesame seeds as well as the extra chia seeds.
Nutrition
Calories:
369
kcal
Carbohydrates:
30
g
Protein:
6
g
Fat:
28
g
Saturated Fat:
21
g
Sodium:
26
mg
Potassium:
394
mg
Fiber:
6
g
Sugar:
13
g
Vitamin A:
132
IU
Vitamin C:
4
mg
Calcium:
111
mg
Iron:
5
mg
The nutritional information provided is approximate and can vary depending on several factors, so is not guaranteed to be accurate. Please see a registered dietician for special diet advice.
Tried this recipe?
Mention @kateveggiedesserts or tag #veggiedesserts! I love seeing your recreations.