I'm excited to finally bring you the Veggie Desserts and Cakes cookbook cover reveal! My debut cookbook is packed with recipes for vegetable cakes and other desserts and will be released on 3rd August 2017.
After weeks of keeping the cover for my cookbook under wraps, I'm so excited to finally get to show it to you all! Drumroll......
Cookbook Cover Reveal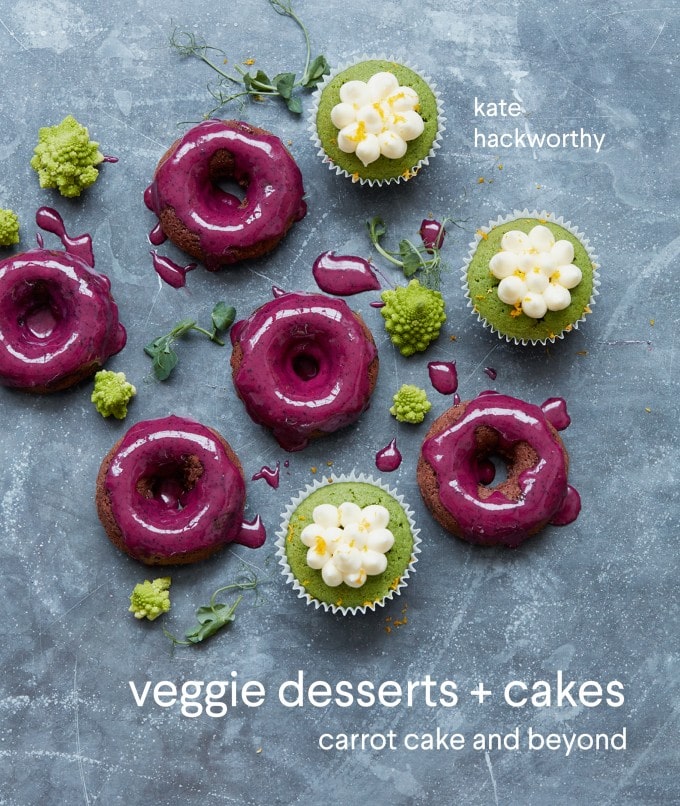 Can I squeal now?? I love the cover and it makes it all seem so... real!
I'm pretty sure that the term 'emotional rollercoaster' was coined by a debut cookbook author. Vegetable cakes and desserts had become my passion, my job and such a huge part of my life. I lived and breathed kale cake and hoped and dreamed that one day I'd write a cookbook.
The path from blog to book was bumpy at first. I yearned desperately for a book deal and then when it came I was absolutely overcome with waves of excitement, panic and a zillion nameless feelings. I finally had my cake and could eat it - literally. No, really, I had to eat a LOT of cake at the recipe testing stage.
Cookbook cover reveal - the shoot
We took this photo on the final shoot day for the book photographs. It was November and the days were short, so it was a battle against time before the sunset. The incredible photographer Clare Winfield and food stylist extraordinaire Emily Kydd grabbed some vegetable desserts, romanesco cauliflower and pea shoots and before our very eyes this photo was conjured up. I love how vibrant and graphic it is.
Are you curious about those desserts? They're beetroot chocolate doughnuts with blueberry icing and cavolo nero kale and orange cupcakes. They're two of my favourite recipes from Veggie Desserts and Cakes.
12 weeks of intense recipe testing, five days of photoshoots and sooo much time working on the book and now, with one cover photo, it's all being truly realised. *blissful sigh*
Veggie Desserts and Cakes Cookbook
My debut cookbook, Veggie Desserts and Cakes: Carrot Cake and Beyond, will be published by Pavilion Books on 3rd August 2017.
With 60 original recipes, including vegan options, virtuous snacks and lighter ways to bake cakes, this book is not about sneaking veggies into recipes, but celebrating them as hero ingredients and making them as much a part of dessert as they are of dinner.
Seeing the cover feels quite emotional. I've been navigating my way through the cookbook process guided by my lovely literary agent, Amanda from LBA and my commissioning editors at Pavilion Books. They have all been amazing.
You can pre-order the Veggie Desserts and Cakes cookbook (released 3rd Aug 2017) now:
United Kingdom
International
USA
Canada
Australia
Japan
Kate x