Beetroot chocolate cupcakes are rich, moist and decadent. I've added less sugar and fat, but they're still a wonderful treat.
This recipe makes deliciously moist, moreish cupcakes. Adding beetroot, like most vegetables, makes them last ages without drying out and these ones lasted for four days and still never got crumbly. The beetroot can't be tasted but adds a nice richness to the chocolate. I iced these ones with chocolate cardamom icing (see below for recipe) and added chocolate swirls, candied beetroot and edible flowers.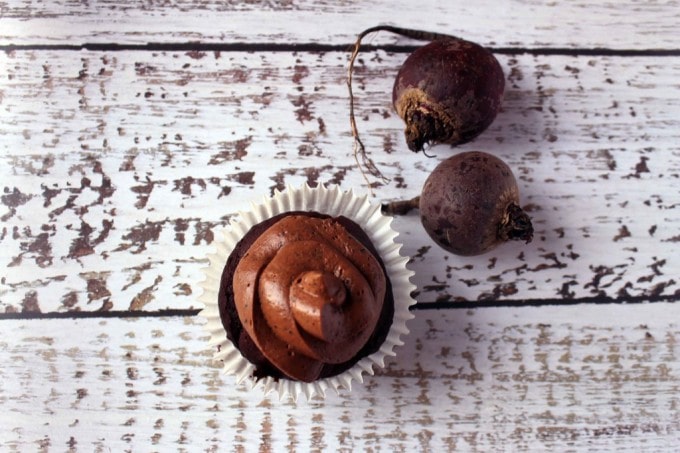 Get the recipe for Beetroot Chocolate Cupcakes with Cardamom Icing
Beetroot Chocolate Cupcakes
Author:
Kate @ Veggie Desserts
Ingredients
For the cupcakes
300g (10 oz) cooked beetroot (vacuum packed without vinegar is easiest)
125g ( ½ cup) butter, softened, plus extra for greasing
100g (1/2 cup) caster sugar
3 large free-range eggs
1 tsp vanilla extract
200g (2 cups) plain flour
75g (2/3 cup) cocoa powder
2 tsp baking powder
¼ tsp salt
For the cardamom icing
80g ( ⅓ cup) butter
130g (1 cup) icing sugar
1 tbsp milk
2 tbsp cocoa powder
5 cardamom pods, seeds ground in a pestle and mortar
Instructions
For the cupcakes
Preheat the oven to 170C/340F. Line muffin cups.
Puree the drained beetroot in a food processor or with a hand held stick blender until smooth.
In a large bowl, cream together the butter and sugar until light and fluffy. Blend in the eggs, one at a time. Add the beetroot and vanilla and mix well.
In another bowl, sift together the flour, cocoa, baking powder and salt.
Add the dry ingredients to the beetroot mixture, in thirds, and mix well.
Pour the batter into the prepared muffin tin and bake for approximately 25 minutes or until an inserted skewer comes out clean.
For the icing
Beat together the butter and icing sugar until fluffy. Add in the milk, cocoa powder and ground cardamom seeds. Blend well.
To make the crystallised edible flowers, simply brush the flowers all over with beaten egg white, then thoroughly dredge with superfine caster sugar and allow to dry overnight on a wire rack. Be sure to get each petal well covered.