Let me introduce you to the Chip Butty - the classic British french fry sandwich. It's carb heaven and you NEED to give it a try. It's the ultimate dirty comfort food. Tips, tricks, and recipe.
When you think of British food, you probably think of Fish and Chips, Full English Breakfast, Sunday Roast Dinner, Shepherd's Pie or Afternoon Tea.
Well, my friends, I'm about to tell you all about the Brits' dirty little food secret: The Chip Butty.
Yes, really. A french fry sandwich. It's greasy, it's pure carbs, it's got pretty much zero nutritional value.
But oh my, it's the ultimate comfort food.
Jump to:
Hot chips/french fries nestled between slices of soft, fluffy, white bread that are slathered with butter. It's a heart-stopping snack that will woo you with its greasy comfort.
Sure, you could try to make it a bit healthier, maybe air fryer fries in wholewheat bread. BUT STOP. You will ruin it. This is not a sandwich to be messed about with.
Don't ram it with hummus. Don't slather it in kimchi.
Perhaps some ketchup, a drizzle of HP sauce or a dash of malt vinegar, but that's it. Nothing fancy must ever get near a chip butty.
This is honest, working-class food. Cheap, filling, and actually pretty darn tasty.
It's a calorie-laden grease fest that's meant to send you off for a carb-nap afterwards.
Read on for all the tips and tricks to make the Ultimate Chip Butty Sandwich.
Regular readers of veggie desserts - don't fear, I'll be back with my usual vegetable recipes soon! A chip butty shouldn't go anywhere near a vegetable. Never. Not even mushy peas.
What is a chip butty?
A chip butty is basically a french fry sandwich.
It's classic comfort food that's popular across the United Kingdom, with some regions preferring it in bread, and others serving their chips in a roll.
There are plenty of regional names for it too: chip butty, chip sandwich, chip sarnie, chip barm, chip cob, chips on a roll...
What is a butty?
Butty is a British informal word for sandwich. The name butty comes from a shortened form of saying 'bread and butter'. It is still commonly used today.
Similarly, sarnie is a shortened form of the word sandwich and is an informal term that is still commonly used.
Buying Chip Butties
When I first came to England (a few decades ago), I saw a chip butty (I thought it was a chip buddy!) in a cafe and thought WTF? A french fry sandwich. More carbs in one meal than I'd ever seen. But I was intrigued.
And although tourists may never have heard of it, they are everywhere.
Get them in greasy cafes, roadside burger vans, fish n chip shops, football (soccer) matches. And of course, you can make them at home with the recipe below.
Ask for a chip butty anywhere from a Cornish fishing village to a Yorkshire cafe and nobody would ever bat an eyelid.
It's the weirdest thing ever, and it's totally normal here. You must try it.
At a fish n chip shop menu, you might see 'bread' listed with the extras, such as mushy peas, curry sauce and pickled eggs.
Even if you don't see it listed, you know they have bags of cheap white bread in the back and they'll happily butter up some slices to sell you. Some places even have chip butty listed on the menu and they'll assemble it for you. You're never far from a chip butty opportunity.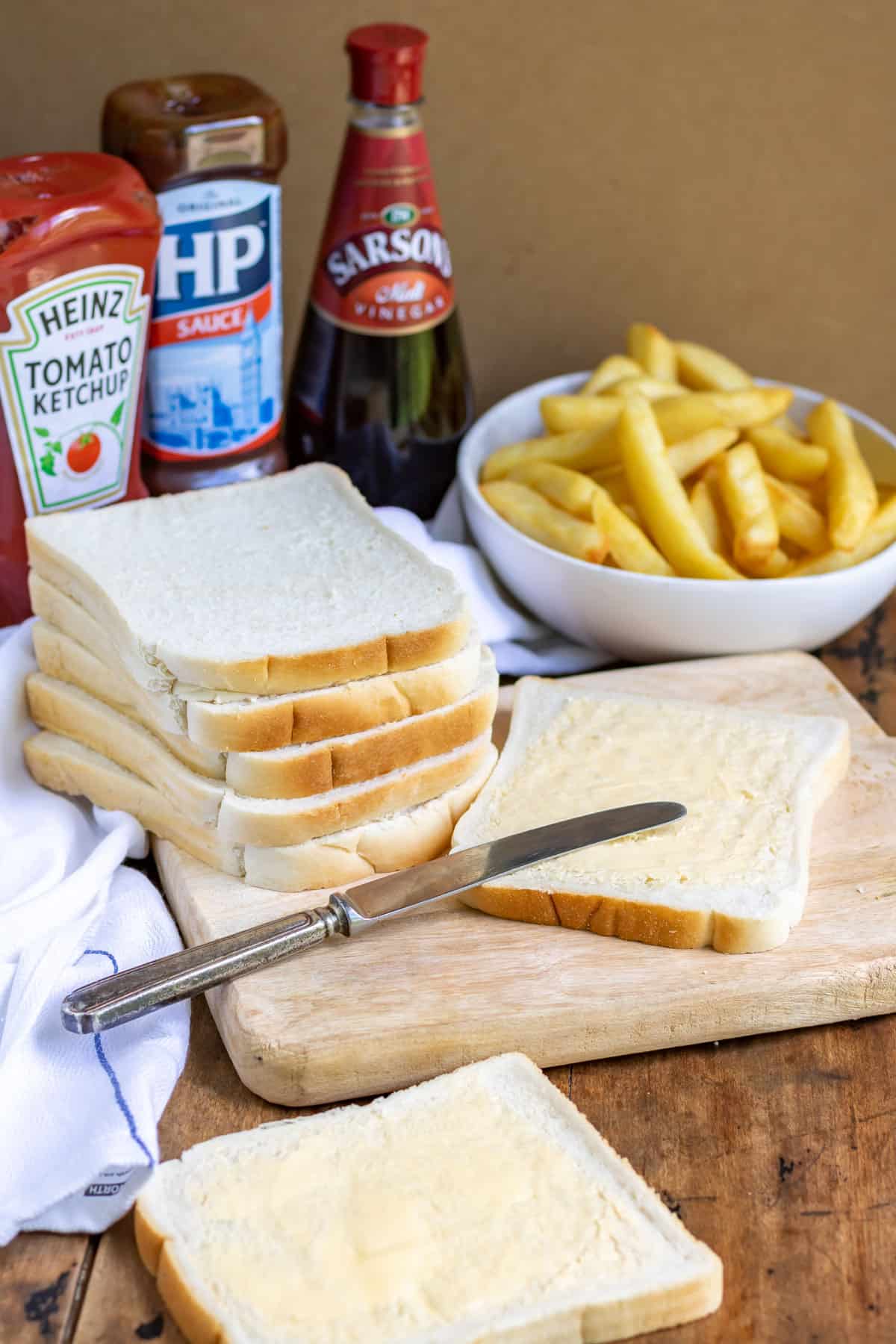 Ingredients
You only need a few simple ingredients for the classic British Chip Butty Sandwich recipe.
Chips - aka french fries. You want thick ones, with skin either on or off. Make them at home in the oven from fresh or frozen (or air fryer fries) or buy a portion from your local Fish n Chips shop.
Bread - You need sliced white bread. You know, the stuff with zero nutrients.
Butter - go for the good stuff. Proper butter, not margarine.
Now, let's delve a little further into these ingredients...
Chips
Chip butties are made with hot deep-fried chips, straight from the chippy (Fish n Chip shop) or homemade in the oven.
Don't use shoestring, thin, curly, waffle cut, or steak cut. And back away from the tater tots.
Just regular cut chips/fries. Skin on is totally fine. Crinkle cut is fine too.
Bread
Chip butties are usually served on bread, but some parts insist that it's chips in a roll. Bread or roll, it's got to be cheap white.
Not fancy-schmancy sourdough, oh no.
Don't even think about whole wheat bread. We don't want nutrients here, people.
French fry sandwiches are not about taste and fiber. The bread is purely a vehicle for holding the chips in place.
Find the cheapest, nastiest sliced white bread. The soft kind that you can turn back into dough by crushing it in your hand (yeah, pretend you've never done that).
The sort of bread that, if you're not careful, will weld itself to the roof of your mouth when you take a bite.
Cheap, white, squares of bready air.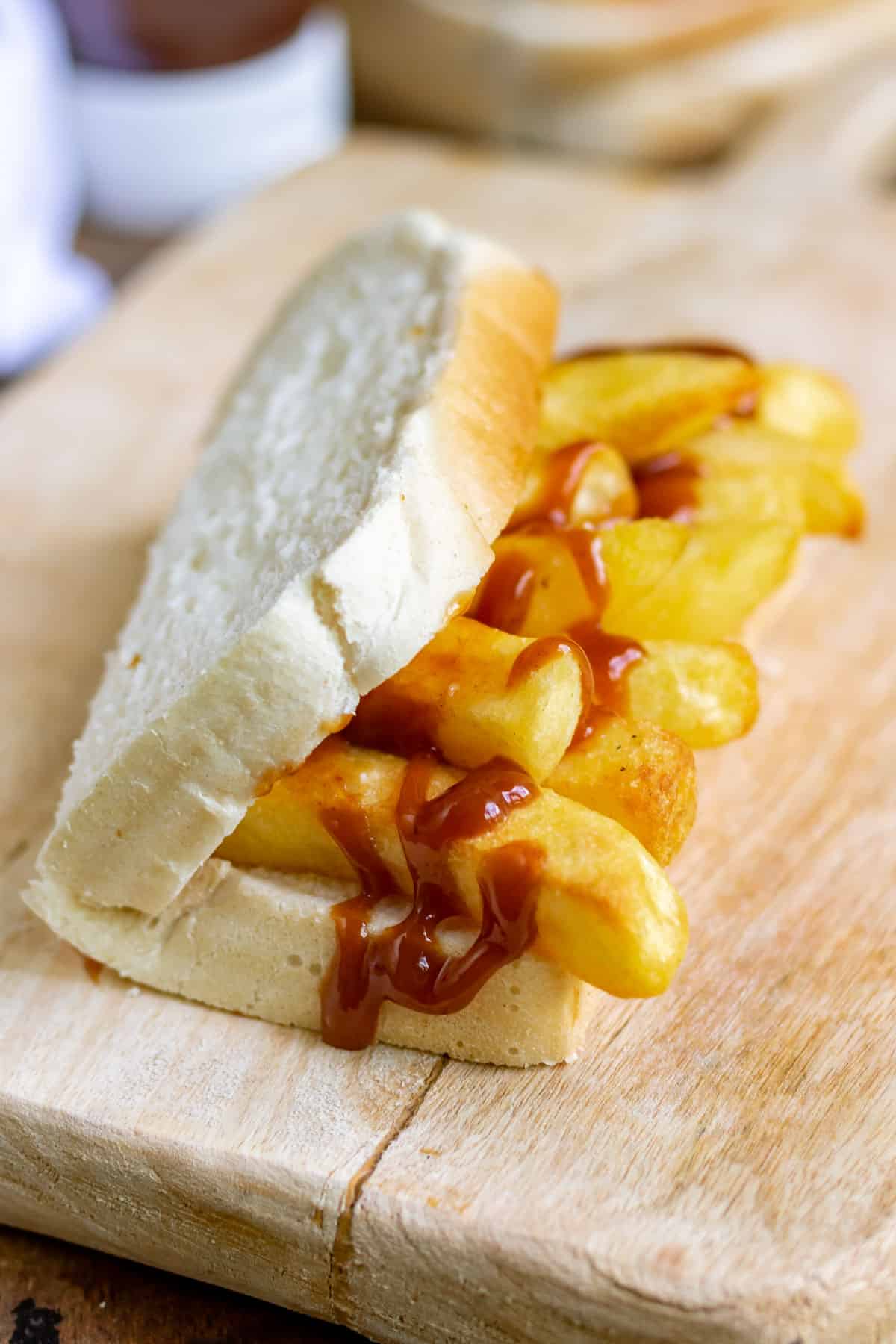 There's something else that we need to discuss. Tradition holds that you should take one slice of bread, spread it with butter, and place hot chips on one side, then FOLD the bread over. Not cutting. FOLDING. Like a little clamshell bread full of fries.
I can see the merits in this, over the layering sandwich-style of bread/chips/bread. No chips can fall out if they're enclosed in a fluffy white bread barrier at the back. Pretty genius.
It also means you don't have to cut the full sandwich into a manageable size. And you don't want to cut the sandwich.
This will cause far too much chip squishage and the cheap white bread can't handle it.
Warning: don't cut your chip butty. The only squishing that must occur, is when you pick it up and take a bite.
But you'll need to build more chip butties if you're eating them half a sandwich at a time.
So stack up some white bread, get a portion of chips from the chippy, have some room temperature white butter and some salt and ketchup. Lay it all on the table and let everyone build their butties to their hearts content.
Butter
Another non-negotiable for a chip butty is that it needs butter.
The butter will melt into the bread as soon as the hot fries touch it. Bliss.
But do you butter both slices? This is a bone of contention.
Some parts of England will insist that you only butter one slice of bread. Always the bottom. Why? I have NO IDEA.
It can't be a healthy thing because you're about to eat a freaking french fry sandwich.
It can only be that the butter is acting as a grease barrier to the bottom slice of bread. Perhaps.
Perhaps people want the top layer to soak up a little of the chip oil? Who knows. I dare you to try it both ways, double buttered or single buttered and report back.
If you're going for real butter, then please, please, let it soften. You're going for super soft cheap white bread, which absolutely cannot stand up to being buttered by firm butter.
There will be holes. Holes that will ooze squished chips and ketchup all over you. It's not worth it.
If your butter is hard, save yourselves and go for margarine (eeek, sacrilege) or spreadable soft butter. Or plan ahead and soften up that real butter.
You could go for vegan butter if you want to eat the dirtiest of dirty vegan food with a vegan chip butty.
Sauces
Now, it's completely fine to eat a naked chip butty, without any extras.
But you may wish to cut through the grease with some strong sauces.
The usual ones are:
Ketchup (or, as my British husband calls it, 'sauce'. As if there has never been any other variety of saucy condiments invented, so there can't be any confusion of which sauce 'sauce " refers to). It's the perfect accompaniment to a chip sandwich. You could even make your own homemade ketchup.
HP Sauce - which many Brits call 'brown sauce', the tangy molassesy, vinegary, sharp sauce.
Salt and Malt Vinegar - the final acceptable chip butty flavoring is a liberal sprinkling of both salt and malt vinegar.
Drinks
I feel like a chip butty sommelier here, but I do have advice on your chip butty accompanying beverage choices.
There are only two drinks you can have to accompany a chip butty: tea or beer.
Seriously, that's it. That's all that's allowed. It's, like, the law or something.
And by tea, I don't mean an insipid herbal tea that smells great and tastes of nothing. I mean strongly brewed black tea.
Tetley's, Yorkshire, or PG Tips, ideally. Brewed strong and MILK IN FIRST. Sugar, if you must.
Alternatively, serve it up with a pint of lager. Nothing fancy, not a craft ale. Just a bog-standard pint. A bit of hoppy fizz to cut though the greasy chip butty.
How to make a chip butty
This is definitely a simple recipe! Follow these pictures, then scroll down to the recipe card at the bottom of the post for the full ingredients list and method for the perfect Chip Butty!
Cook the chips/fries. Spread the bread with butter, then layer with the hot chips.
Drizzle with ketchup, HP Sauce, or vinegar. Add the top layer of bread and enjoy!
Fancy Versions
Sometimes chefs like to get in on the action too. Gordon Ramsay added homemade fish fingers to his chip butty.
Jamie Oliver has made an Indian-inspired version.
But really, there's no need to fancy up this dish. Don't mess with the classics. Right? Bread, butter, chips, and boom, you're done.
If you come near it with pesto or harissa paste, I'm outta here.
Oen variation I *may* consider is a poutine butty.
But I'm originally from Canada and we can poutine anything.
Seriously, think about it: Bread, chips, gravy, cheese curds... yes, this should be a thing.
The Chip Butty and Football
This humble sandwich is so common, that there's even a football (soccer) chant for it.
Although some say it began in Rotherham, it's often sung in the stands at Sheffield United Football Club and some other clubs.
The football chant, 'The Greasy Chip Butty Song', is sung to the tune of John Denver's Annie's Song.
You fill up my senses,
Like a gallon of Magnet,
Like a packet of Woodbines,
Like a good pinch of snuff,
Like a night out in Sheffield,
Like a greasy chip butty,
Like Sheffield United.
Come thrill me again.
Na na na na na...Ooooohh!
Magnet = a brand of beer. Woodbines = a brand of cigarettes
Sandwich Recipes
Be sure to check out these other sandwich recipes!
Peruvian Sandwich
Roasted Vegetable Sandwich
Rainbow Sandwich
Halloumi Sandwich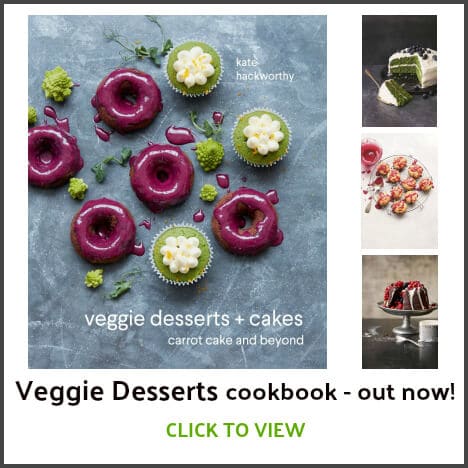 📖 Recipe
British Chip Butty
Let me introduce you to the Chip Butty - the classic British french fry sandwich. It's carb heaven and you NEED to give it a try.
Save
Saved!
Ingredients
9

oz

(250g) chips

regular cut french fries

4

slices

white bread

2

teaspoons

butter

Pinch

of salt
Optional sauces:
Ketchup

HP Sauce

Malt vinegar
Instructions
Cook the chips according to the package instructions (usually 25 minutes in the oven).

Spread the slices of bread with the butter, layer with the cooked chips, sprinkle with a little salt and top with another slice of bread.

If desired, top with a drizzle of ketchup, HP sauce or vinegar.
Notes
For the most authentic chip butty, go for cheap, white sliced bread.
Make sure the butter is room temperature, or it could make holes in the bread when spreading.
Make sure the chips (french fries) are hot when assembling the butties.
Try your chip butty with salt and vinegar, ketchup or HP sauce.
Nutrition
Calories:
500
kcal
Carbohydrates:
63
g
Protein:
8
g
Fat:
25
g
Saturated Fat:
9
g
Trans Fat:
1
g
Cholesterol:
11
mg
Sodium:
906
mg
Potassium:
607
mg
Fiber:
7
g
Sugar:
3
g
Vitamin A:
125
IU
Vitamin C:
8
mg
Calcium:
143
mg
Iron:
3
mg
The nutritional information provided is approximate and can vary depending on several factors, so is not guaranteed to be accurate. Please see a registered dietician for special diet advice.
Tried this recipe?
Mention @kateveggiedesserts or tag #veggiedesserts! I love seeing your recreations.