This Pear and Gingerbread Parfait is a quick and easy no bake Christmas treat. The warming spices in the thick yogurt contrast beautifully with the crushed gingerbread cookies. Chopped juicy pear adds a fragrant tasty extra flavour.
Recipe commissioned by Organix.
I've been working with Organix for the past few years as part of their #NoJunkJourney campaign, to highlight the importance of healthy eating for children.
Previously, I've discussed healthy snacking for toddlers, healthy kids snacking on the go and more.
For this latest post, I'm talking about cooking with kids.
Gingerbread Parfait
This gingerbread chocolate parfait is a healthy, delicious no bake dessert that's easy to make with kids. Little ones can get involved every step of the way, bashing up the cookies, mixing the yogurt filling and assembling it. Then of course, tucking in.
It's a healthy dessert that still feels decadent. The flavours of Christmas are all put together into tasty gingerbread yogurt that contrasts beautifully with the crushed gingerbread men and the fragrant chunks of pear.
My kids loved mixing the spices into the yogurt, but particularly crushing the gingerbread men with a rolling pin! They also peeled and chopped the fresh juicy pear and then set about layering it into the glasses.
Cooking with Children
Getting children involved in cooking is something that I feel very strongly about.
Kids are more inclined to eat a wider variety of foods if they're involved in cooking them. They also get to see foods in all their various natural forms and find out a bit more about their taste and where they come from.
There are so many skills to learn in the kitchen, from maths when weighing out ingredients to motor skills from carefully chopping foods. Being able to cook is such an important life skill that it's great to get started while young.
Kids love getting involved in the kitchen, particularly at Christmas. We've been making edible gifts together and they've started to help out with dinner more and more. We'll also be doing the Christmas baking together and I love pyjama clad mornings where we all pitch in for a weekend breakfast.
My six year old daughter now proudly keeps the pancakes recipe she wrote on the fridge so she can whip up a batch, nearly on her own, with just supervision for the cooking.
I vividly remember the first time I was allowed to really cook on my own. I was 6 and while my Dad hovered silently in the background, I made a plate of scrambled eggs. I'll never forget the pride I felt when I sat down to eat it.
Organix Gingerbread Men
I used Organix's iconic gingerbread men for this recipe. They taste amazing but have no junk in them, in keeping with the entire Organix range and ethos.
Organix wants a world where healthy nutritious food is a real choice for everyone. We're committed to setting standards in our food and never adding anything unnecessary. It's our No Junk Promise. We campaign for better food choices because we want the best for you and your family every step of the way. - Organix
I love the Organix gingerbread men because the ingredients list is short, they're healthy and they taste sooo good. The only things in them are wholegrain flour, wheat flour, grape juice, sustainable palm oil, sunflower oil, bicarb of soda and ginger. No nasties, additives or preservatives.
They're perfect in this recipe, alongside simple ingredients that show how a fun and delicious treat can easily be made without any junk.
How to Make Pear Gingerbread Parfait
It only takes minutes to make this easy no bake layered dessert. Perfect at Christmas!

Step 1: Mix the yogurt, spices, vanilla and maple syrup to make gingerbread yogurt.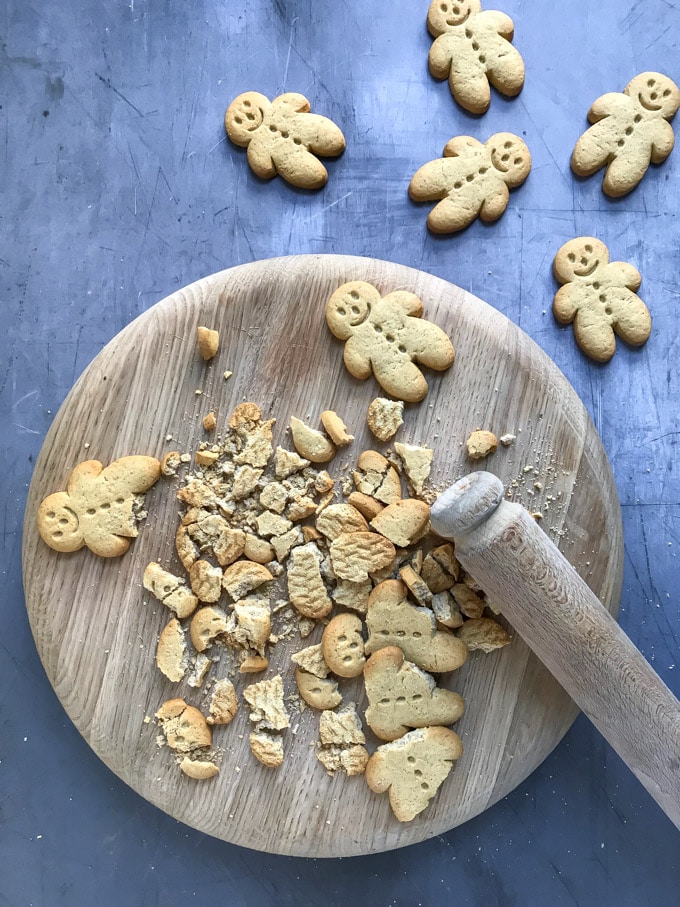 Step 2: Bash the gingerbread men with a rolling pin. The kids love helping with this part!

Step 3: Crush the gingerbread men until they're crumbly, but still with some slightly larger pieces for texture.

Step 4: Peel the pear and cut the flesh into small chunks.

Step 5: Layer the crushed cookies, yogurt and chopped pears into the glass and top with a mini gingerbread man and a little ground cinnamon.
Get the Pear Gingerbread Parfait Recipe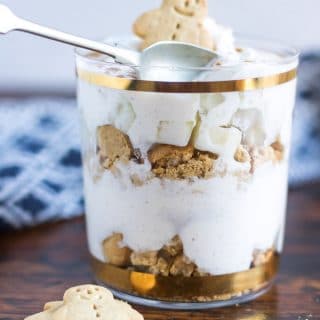 Pear Gingerbread Parfaits
This Pear and Gingerbread Parfait is a quick and easy no bake Christmas treat. The warming spices in the thick yogurt contrast beautifully with the crushed gingerbread cookies. Chopped juicy pear adds a fragrant tasty texture.
Print
Pin
Rate
361
kcal
Ingredients
400

g

(1 1/2 cups) plain Greek yogurt

divided

3

tsp

maple syrup

1/8

tsp

ground cinnamon

1/8

tsp

ground ginger

⅛

tsp

ground cloves

1/8

tsp

vanilla

135

g

(handful of) gingerbread men

1

ripe pear
Instructions
Add the yogurt to a bowl with the maple syrup, spices and vanilla and mix to combine.

Lightly bash up the gingerbread cookies.

Peel the pear and cut the flesh into small cubes.

Add half of the cookies to the glasses, layer with half the yogurt, then all pears, then the rest of the yogurt and the remaining cookies. Decorate with gingerbread men and a dusting of cinnamon.
Nutrition Information
Calories:
361
kcal
Carbohydrates:
72
g
Protein:
4
g
Fat:
6
g
Saturated Fat:
1
g
Sodium:
340
mg
Potassium:
360
mg
Fiber:
4
g
Sugar:
28
g
Vitamin C:
3.8
mg
Calcium:
71
mg
Iron:
4.5
mg
The nutritional information provided is approximate and can vary depending on several factors, so is not guaranteed to be accurate. Please see a registered dietician for special diet advice.
Organix have a No Junk Promise – they never add anything unnecessary and are always organic.
Find out more on social media using #NoJunkJourney #FoodYouCanTrust
Disclosure: Commissioned by Organix. All opinions are my own.