This brightly-coloured radish and asparagus tart is livened up with a punchy pumpkin seed and kale pesto. I've used shop-bought pastry to make it a quick mid-week dinner.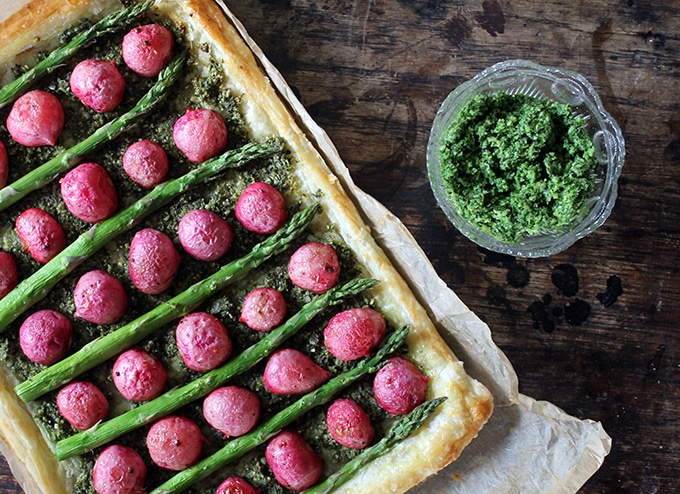 The radish is the most vibrant of brassicas. It's perky pink skins hide a pleasantly peppery interior, ready to announce their quiet addition to any salad with a beautiful colour and sharp bite.
We're used the common round pink variety and the longer French Breakfast radishes, with their red skins fading to white bottoms, heralding the onset of spring. But I'm forever on the lookout for different varieties of these edible roots, such as the intriguing-looking black radishes and the larger daikon and mooli. The crunchy, crisp radishes have a long season, running from spring to autumn, and are great whether raw, cooked, roasted or pickled.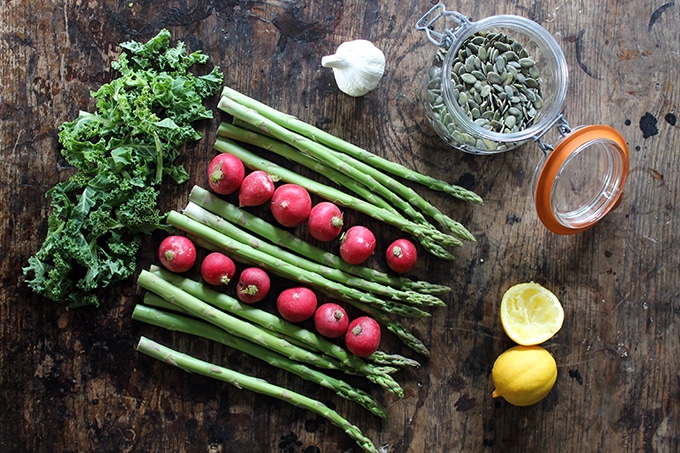 The roots are lovely, but what about the rest of the plant? Hopefully not fodder for compost, or worse, landfill, rather radish leaves, beetroot greens and carrot tops are all perfectly edible. Whether in pesto, salad or cooked into a quiche, they should be thought of like all of the other greens that we buy.
So, why are we paying for some greens and not others? Why are some routinely binned? What makes one set of greens of value while others are waste? As ever, thoughts of reducing food waste bring up endless questions.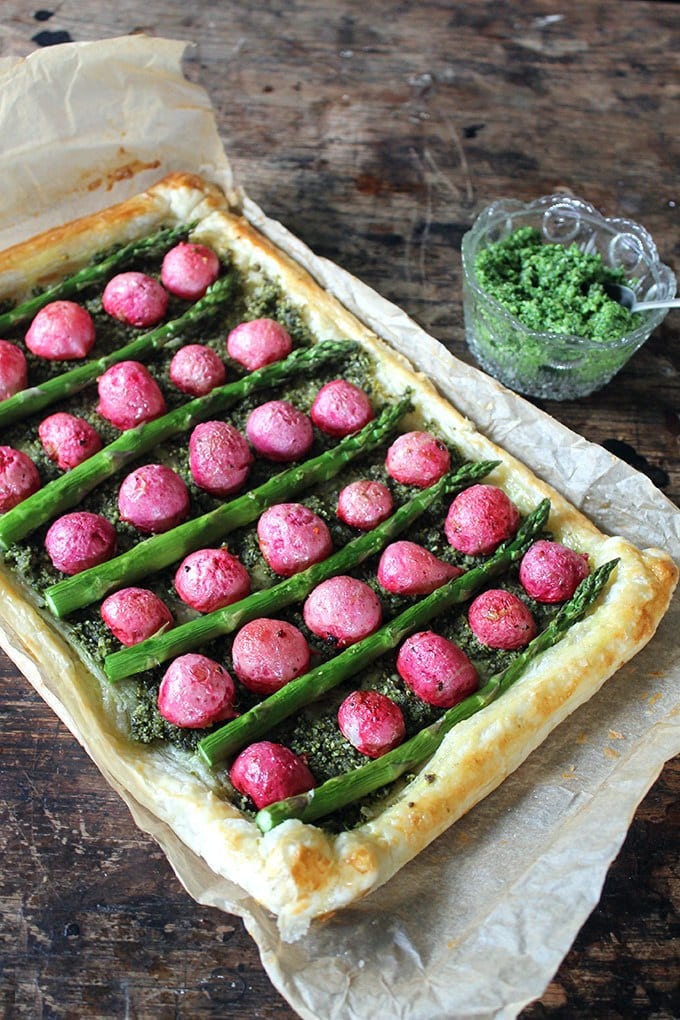 I've made this kale pesto with pumpkin seeds instead of nuts, but if you can get your hands on a few large handfuls of radish leaves, then they would make a great substitution. It saddens me when supermarkets chop off those lovely edible radish greens. Like beets, I suppose the big shops remove them because wilting leaves will belie a vegetable's true age. The longer the leaves are attached after harvesting, the faster they will wither their roots, sucking away the moisture to keep for themselves.
Instead, these pink spheres are often shorn of their glorious crowns before stuffing them into plastic bags. I imagine great piles of beautiful, nourishing leaves swept up from the floor of radish packing plants, discarded.
So I lament the lack of leaves. The barren supermarket veg, separated from their leafy bounty, lie sterile in cellophane, smelling of nothing, frozen in time in a 'modified atmosphere'.
Luckily, farmers markets and greengrocers appreciate the mud, the roots, the leaves. There's no need for hairnets and plastic bags if the vegetables don't have to travel far. Instead we can lift, touch, smell. In a perfect world, we would see unadulterated fruits and vegetables and smell their earthy scents. Some produce may get bruised or blemished, but in this world we don't call this waste, we call it soup. This is the place where radishes have leaves, edible, beautiful leaves that can nourish us as pesto or salad.


Save our Scraps
- Radishes are lovely eaten raw, dipped in butter with a sprinkling of sea salt, but you could also slice them thinly into a salad
- Try roasting radishes in a variety of herbs, or lemon juice and oil.
- Radish leaves can be cooked into a nourishing soup.
- Radish leaves have a peppery flavour, so use them where you'd use rocket.
-Separate the radishes from the leaves when you get them home to stop the roots from wilting, and use the leaves within a few days.
- Crisp up ageing radishes by soaking them in cold water for a few hours.
- The large mooli and daikon radishes can be grated into a tangy coleslaw or roasted in chunks.
This brightly-coloured tart makes a quick mid-week dinner by making use of handy store-bought puff pastry. If your asparagus are large, slice them in half lengthways to ensure they cook through. The kale and pumpkin seed pesto can be blitzed together quickly, and any remaining can be used on another day mixed with pasta.
📖 Recipe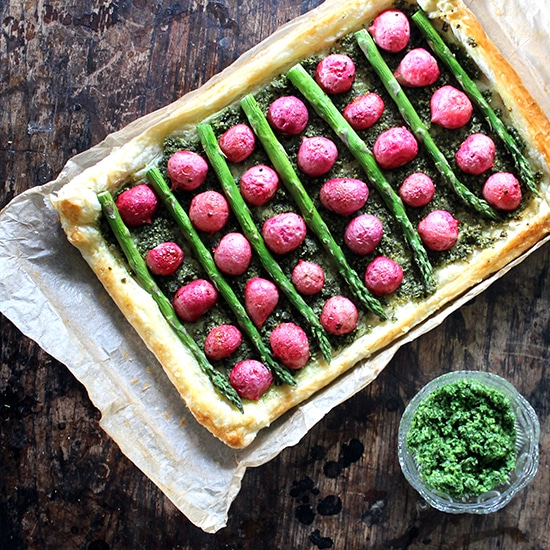 Roasted Radish and Asparagus Tart with Kale Pesto
This brightly-coloured radish and asparagus tart is livened up with a punchy pumpkin seed and kale pesto. I've used shop-bought pastry to make it a quick mid-week dinner.
Save
Saved!
Ingredients
For the roasted radishes
1

cup

(250g) radishes

1

tablespoon

olive oil

1

teaspoon

maple syrup

Pinch

of salt and pepper
For the tart
13

0z

375g store-bought puff pastry sheet

thawed if frozen (check vegan if required)

Milk

or non dairy milk

1

bunch of asparagus
Kale and Pumpkin Seed Pesto
1

cup

(150g) kale leaves, roughly chopped

½

cup

(75g) pumpkin seeds

1-2

cloves

of garlic

Juice of half a lemon

Pinch

of salt

⅓

cup

(80ml) extra virgin olive oil
Instructions
Heat the oven to 450F / 230C

Trim the radishes and slice them in half. Add them to a roasting tray and toss with the oil, syrup, salt and pepper, then roast for 15 minutes.

Meanwhile, prepare the pesto: lightly toast the pumpkin seeds in a dry frying pan over a med-high heat until just starting to brown. Add them, along with all of the other pesto ingredients except the oil, to a food processor or blender and blitz until coarse, scraping down the sides as necessary. With the motor running, slowly drizzle in the olive oil and process to create a pesto.

Reduce the oven to 400F / 200C.

Spread the pastry out onto a baking sheet, prick the base with a fork well, to stop the middle rising while it cooks, then cook for 15 minutes.

Remove the part-cooked pastry from the oven and brush the edges of the pastry with the milk. Spread the pastry with the kale pesto (you will have some left over), then top with the roasted radishes and the asparagus spears in rows. Cook for 10-15 minutes or until the edges are golden.
Nutrition
Calories:
271
kcal
Carbohydrates:
6
g
Protein:
4
g
Fat:
27
g
Saturated Fat:
4
g
Sodium:
27
mg
Potassium:
215
mg
Fiber:
1
g
Sugar:
2
g
Vitamin A:
1673
IU
Vitamin C:
25
mg
Calcium:
36
mg
Iron:
1
mg
The nutritional information provided is approximate and can vary depending on several factors, so is not guaranteed to be accurate. Please see a registered dietician for special diet advice.
Tried this recipe?
Mention @kateveggiedesserts or tag #veggiedesserts! I love seeing your recreations.