The 10 BEST places for Veggie or Vegan Brunch in London - from small vegan cafes to showstopping restaurants for a special treat.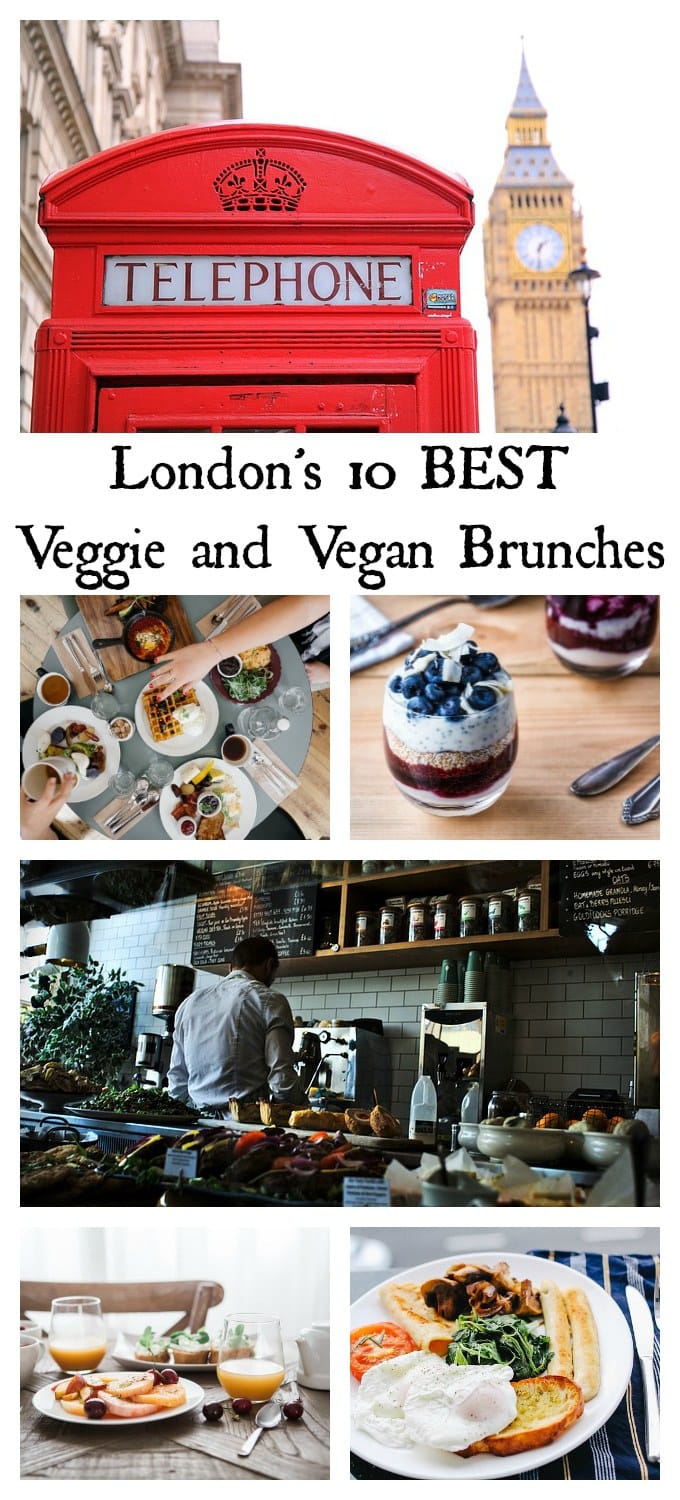 Updated Jan 2020, originally written Feb 2017
Brunch in London
I love brunch and I love London. London captured my heart when I was 19 and was backpacking from Vancouver with my best friend.
I fell in love with the hustle and bustle, the endless energy and the myriad choice of things to do: from galleries and pubs, to cafes and parks.
My love for London was so great that I made it my home and I've never returned to Canada.
I lived and breathed London and it wasn't long before the city truly felt like home.
At first, I moved around a lot and discovered new neighbourhoods and hidden gems of pubs and views.
I co-authored a living and working guide to London and wrote bar, gig and restaurant reviews for magazines. I grew up in London and it grew up around me.
Eventually, I married and had my son, but it wasn't until my daughter was on the way that we decided to say goodbye to the big smoke and head to the countryside, to new careers and new adventures.
We return whenever we can, always amazed at how things can at once be so similar and yet so different.
I could now get lost down roads I trod upon regularly. So many new shopfronts, so many new buildings. The pace is still fast and ever-moving.
Gentrification has reached out to places I never thought would change. Old haunts have closed and new treasures have opened. The city breathes, grows and is forever shedding its skin.
It's still London, but it's wearing new clothes.
At once a dear old friend and a new acquaintance.
Vegetarian and Vegan Brunch London
As Ferris Bueller says, "Life moves pretty fast. If you don't stop and look around once in a while, you could miss it."
That's where brunch comes in. You can't rush brunch, you have to savour it.
No quick bowl of oats as you get the kids ready for school; no hurried piece of toast as you rush for the bus.
Brunch is about making a late morning meal a celebration of food, conversation and togetherness.
Brunch is social, lingering and best enjoyed over conversation, good coffee and the Sunday papers.
It's time to connect with ourselves, our friends and our food.
And brunch certainly doesn't need to include meat.
There are so many amazing veggie and vegan options for this mashup of breakfast and lunch.
Read on for my top spots for vegetarian or vegan breakfast in London.
The cafes and restaurants that have made my top 10 list bring amazing flavours of exotic dishes, tick the hipster brunch boxes or just do a really good traditional fry up sans meat.
Herbs, spices, flavours, vegetables and pulses all unite to make a brunch worth slowing down for.
Worth calling friends and arranging to meet up. A meal worthy of a Bloody Mary and coffee side-by-side.
Without further adieu, here are my top picks for vegetarian or vegan brunch in London.
The 10 BEST places for Veggie or Vegan Brunch in London
Central London
Tibits, West End
I first went to Tibits with my husband and his twin brother.
The food was absolutely gorgeous and it is a great place to stop into to refuel after shopping around the West End.
They have lovely fresh, colourful food on display and you serve yourself then pay by the weight.
Every Tuesday is 100% vegan, but there are plenty of vegan options on other days.
By Chloe, Covent Garden (there's also one in Tower Bridge)

At the UK outpost of this popular New York vegan eatery, brunch is served until 4pm, so no need to roll out of bed too early.
On the menu you'll find pancakes, oats and even quinoa hash browns, but brunch should be a hearty affair, so I'd recommend The Sunrise: with tofu scramble, seitan chorizo, black bean salsa on a tortilla.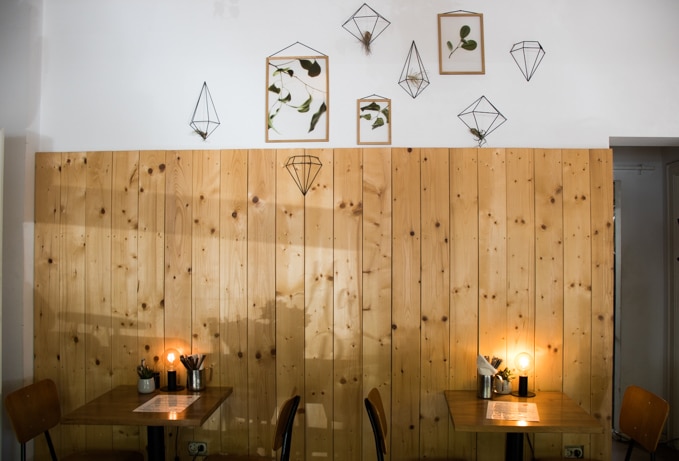 Kin Cafe, Fitzrovia
Kin is a lovely little vegetarian cafe with lots of vegan options.
Well-known for their amazing tofu scramble, other brunch options include polenta and corn fritters with creme fraiche and tomato salsa, as well as millet porridge with apple, cinnamon and candied almonds.
They change the menu often and have raw and gluten-free options.
Sky Garden's Darwin Brasserie, Fenchurch Street
With quite possibly the best view in London, Darwin Brasserie also has a brunch menu.
Veggie options include avocado on toast with poached eggs, tomato and chilli salsa, as well as squash gnocchi with wild mushrooms.
Call ahead to check about vegan options, but be aware they also serve meat.
You'll be paying for that amazing view, but it's worth it.
The Gate, Seymour Place, Marylebone (website down at time of writing)
At weekends, this branch of the small vegetarian chain has a dedicated brunch menu that includes Shakshuka: poached organic eggs in a North African tomato red pepper stew with spiced cumin, smoked paprika and cayenne, plus Huevos Rancheros: corn tortilla topped with refried beans, fried organic eggs, a Columbian Aji, jalapeno, coriander chilli relish.
West London
Nama, Notting Hill
At Nama Artisan Raw Foods, all dishes are gluten free, vegan and raw (not heated above 46°C) and they use organic where possible.
They have gorgeously presented meals and a separate brunch menu. Try the 'build your brunch' option.
Top cashew and coconut scrambled 'eggs' on artisan raw 'toast' with a variety of toppings including: smoked aubergine bacon and herbed portobello mushrooms.
Wulf and Lamb, Chelsea
Tucked down a mews behind Peter Jones in Soho Square, this vegan restaurant has a range of brunch options.
Try the Full Wulf Breakfast (potato layer cake with borlotti bean ragoût, scrambled ackee, lemon spinach and sautéed peppers with toasted sourdough) and sit outside on the terrace.
East London
Ottolenghi, Spitalfields (also Islington and a take away in Notting Hill)
As expected from the legendary Yotam Ottolenghi, the Middle Eastern and North African inspired food in this busy all day cafe is packed with flavour.
Although there's not a dedicated brunch menu, breakfast is served weekdays until 12 and until 1pm on Sundays.
Go for the Shakshuka (North African dish with eggs, peppers and tomatoes served with labneh and grilled focaccia) or the cardamom, date and strawberry muesli, which is overnight oats and quinoa served with peanut and sesame brittle, date-tahini syrup and strawberries.
Mildred's, Kings Cross
Mildred's has been a stalwart on the veggie restaurant scene for a long time and I often went to their Soho branch when I worked nearby.
The Kings Cross branch offers a dedicated brunch menu where you can peruse the menu slowly over a bloody Mary.
The current menu includes girolle mushrooms with wilted spinach on an english muffin and hollandaise (can be veganised) as well as their oak smoked beans.
Organic and gluten-free options.
The Gallery Cafe, Bethnal Green
I was lucky enough to live near this relaxed and chilled veggie/vegan cafe for a few years and loved stopping in.
On warm mornings, the terrace was always buzzing.
The 'full English' has sausages, mushrooms, tomatoes, scrambled tofu, hash browns, baked beans and toast.
They also have a selection of vegan pancakes and superfood smoothie bowls.
Black Cat Cafe, Hackney
Black Cat, a 100% vegan non-profit cooperative, is a great place to spend brunch with friends at the weekend.
The vegan cafe does an amazing fry up that draws in the local crowds, and you can choose between an accompaniment of toast or a pancake (always go for the pancake!).
There are healthy options, but the mega-epic fry up would be my top choice.
Caravan, Kings Cross
I had a lovely brunch here a few years ago with my literary agent at the start of my journey towards writing my cookbook.
The industrial surroundings host an open kitchen and on-site coffee roastery.
Aside from the usual toast with toppings, they also have vegan and veggie options including grain pancakes with maple mascarpone, pomegranate and walnut salsa and mint, though they also have meat on the menu.
On sunny days, head straight for the terrace.
Yes, maths fans - there are 12 restaurants on this list.
I couldn't resist adding in a few more!
And I'll keep updating this list so just let me know what should be included in this list of vegetarian and vegan brunch London.
What cafes and restaurants for a veggie or vegan brunch London would you add to the list? Tell me in the comments!