These sweet cider mince pies are filled with cinnamon, spices and apples, with a cheddar crust. This recipe brings together the best of Somerset flavours: cider, apples and cheddar cheese. Perfect for a Christmas treat.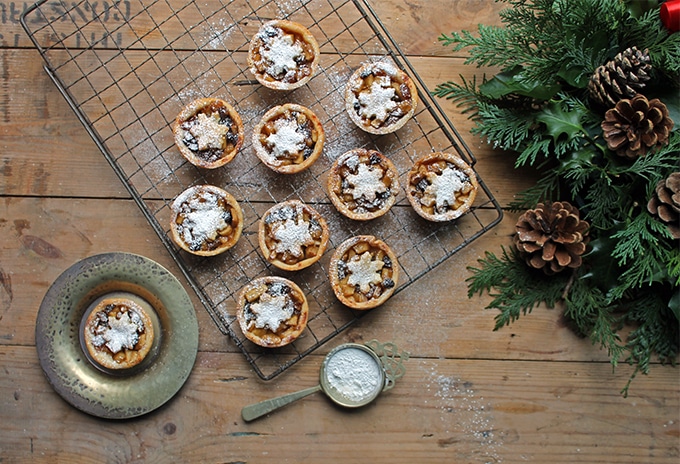 Commissioned post.
These mince pies have the typical, Christmassy, sweet spice flavour – with a twist! The filling is full of raisins and apples, then I've added cider and a cheddar cheese crust. They have a hint of savoury flavour from the cheddar that perfectly balances against the sweetness of the quick mincemeat.
I live in Somerset, a county famed for its cider and cheese. These cider mince pies merge the best of my local foodstuffs into little festive treats.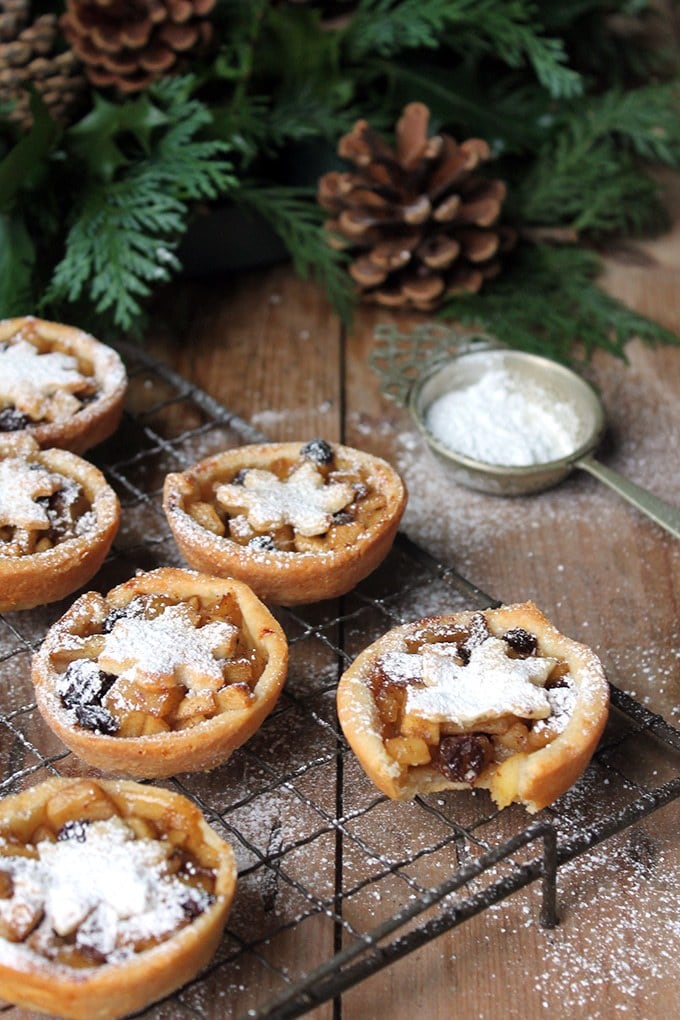 Sweet Apple and Cider Mince Pies with Cheddar Pastry
These cider mince pies are so easy to make and they taste wonderfully at once both sweet and savoury. The strong flavour from the cheese beautifully compliments the cider, apples and spice in the pies.
I know it sounds like an unusual pairing in a mince pie, but eating apple pie with cheese is very popular in America. They even say that apple pie without cheese is like a hug without a squeeze!
With Somerset's apple orchards neighbouring cheesemaking dairy farms, it makes perfect sense to bring them together for a Christmas treat.
Somerset Cider and Cheddar
Mere minutes from my house is Wyke Farms, where the Clothier family have been crafting award-winning Cheddar for over 150 years. They also use 100% green energy produced on the farm to make their cheese. Somerset is Cheddar cheese's true home, and it has been produced in the area for hundreds of years, with Wyke Farms being one of only a handle of family-run producers left in the County.
Not much further away, on Myrtle Farm, Thatchers Cider have been making premium cider on the family farm for four generations. They both use traditional methods in their crafts and produce wonderful cheese and cider. I've used Wyke Farms Vintage Cheddar and Thatchers Vintage Oak Aged Cider for my recipe. They're both bold, flavourful and absolutely delicious.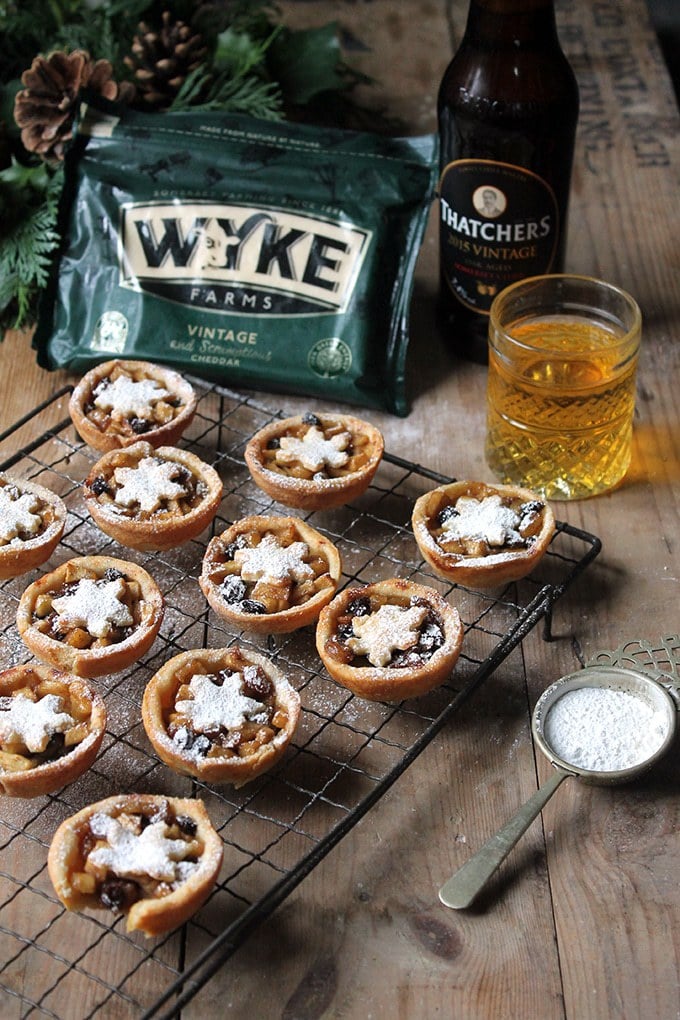 I've loved teaming up with these two local food producers to create these Apple and Cider Mince Pies with Cheddar Pastry. Their products marry well in so many recipes, from soups and stews to casseroles and soda bread.
These mince pies are very easy to make, but if you want to cheat, get some store-bought pastry, thaw it a bit then re-roll it with the cheddar. Though don't be intimidated by making it completely homemade. The pastry really only takes a few minutes to make in a food processor.
You could have these mince pies with a cup of tea… but really you'll want to have them with a nice glass of cider!

Sweet Apple and Cider Mince Pies with Cheddar Pastry
Author:
Kate @ Veggie Desserts
Ingredients
For the cider and apple mincemeat:
3 eating apples, peeled, cored and diced
7 tbsp dry cider (I used Thatcher's Vintage Dry Cider)
6 tbsp raisins
2 tbsp dried mixed fruit
3 tsp light brown sugar
½ tsp ground cinnamon
¼ tsp ground ginger
⅛ tsp ground nutmeg
For the cheddar pastry:
150g plain flour
75g cold butter, cubed
35g mature cheddar, grated (I used Wyke Farms Vintage Cheddar)
1 tsp caster sugar
1 cold egg, lightly beaten
To serve:
Instructions
For the cider and apple mincemeat:
Place all ingredients in a medium saucepan over a medium/high heat. Stir well and heat until the liquid boils. Reduce the heat and simmer for 25 minutes, stirring often.
For the cheddar pastry:
In a food processor, blitz the flour, butter, cheddar and sugar until it resembles coarse crumbs. Add the egg and whiz until it forms a ball. If necessary, add a teaspoon of very cold water to make it come together.
Wrap the pastry in cling film and chill for 10 mins.
To assemble:
Preheat oven to 200C/180C fan/400F, lightly grease the cups of a tart or muffin tray.
Roll out the pastry to 3mm thick and cut into rounds slightly larger than the holes in the muffin tray.
Cut the scraps into shapes with a small cookie cutter. Re-roll the pastry if necessary.
Place the circles into the tart/muffin tray, add a heaped teaspoon of the filling and top with a pastry shape.
Bake for 10-15 minutes until golden and allow to cool before serving.
Optional: dust the tarts with powdered icing sugar.
Disclosure: The recipe for these sweet apple and cider mince pies with cheddar pastry was commissioned by Wyke and Thatchers. All opinions are my own. Thanks for supporting the brands that make it possible for me to mess up my kitchen and write Veggie Desserts.