In these tea truffles, chocolate and earthy beetroot are combined with smokey lapsang souchong tea for a decadent and deep flavour.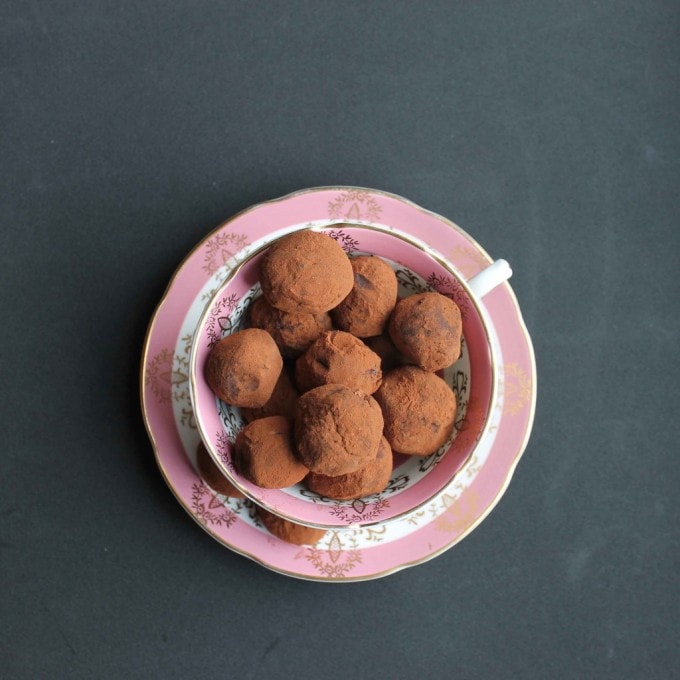 Beetroot is one vegetable that lends itself to so many dessert recipes. Pairing beautifully with chocolate, I thought I'd try my hand at truffles for the first time and use up some of my overzealous purchases of this season's beets. I've tried pumpkin truffles before, so if pumpkin works, why not beetroot? It works like a dream.
I've added an extra smokey flavour with Lapsang tea which makes these truffles grown-up and indulgent. You could also try Earl Grey or another tea if you prefer.
Vegetable desserts
I love adding vegetables to desserts (so much so that I wrote a vegetable cake cookbook!).
Beets are one of the best recipes to use in a vegetable dessert or vegetable cake. They puree well and have a rich, earthy flavour that doesn't overpower bakes. Try my beet chocolate cupcakes, vanilla beet freakshake, or slow cooker beet chocolate cake with vanilla beet icing.
Get the Beetroot, Chocolate and Lapsang Souchong Tea Truffles Recipe
Did you make this recipe? Please let me know how it turned out for you!
Leave a comment and star rating below and share a picture on Instagram, Twitter or Facebook with the hashtag #veggiedesserts.

Beetroot, Chocolate and Lapsang Souchong Tea Truffles
Ingredients
100g beetroot, cooked
200g dark chocolate, chopped.
200ml double cream
1 tablespoon sugar
2 lapsang souchong tea bags
50g cocoa powder
Instructions
Puree the cooked beetroot and gently heat in a saucepan to remove some of the moisture and concentrate the flavour. Set aside.
Put the chopped chocolate pieces into a bowl.
In another saucepan, gently heat the cream and sugar until it is just reaching the point of boiling. Take it off the heat and add the teabags. Allow the tea to infuse for 10 minutes, stirring occasionally.
Gently squeeze out the tea bags, remove, and bring the cream back to the boil.
Pour the hot cream over the chocolate and leave for one minute, then stir until smooth.
Stir in the beetroot puree, then refrigerate until firm.
Roll a teaspoonful of the truffle mix into a ball with your hands and then roll in the cocoa to coat. Repeat and chill.
Store in the fridge until ready to serve.