This rich chocolate mashed potato cake with tahini drizzle is a perfect for any celebration. The mashed potato brings bulk to the cake with less fat and sugar.
I have an announcement (sounds klaxon)! In June I'll be teaching a class about vegetable cakes at the renowned vegetarian cookery school, Demuth's in Bath. I'm so excited! It's such an amazing place and I'm so unbelievably flattered that they've asked me. Please come along if you can. We'll bake cakes. We'll talk about veg. We'll experiment. My hands might shake a little with nerves, but hey, that's useful during whisking, right?
I've never done anything like this before, so it will be a wonderful challenge. Life can be so busy that I don't think I challenge myself enough. My sister jumps out of planes, kayaks with whales and flies a teeny tiny little plane in the air even though it could fall out of the sky. My other sister is a 5'2″ ninja who is so highly trained in self defence that she could basically stop a gang of thugs with her pinky finger and an air kiss.
I bake cakes. Sure, there's a challenge in getting the maximum kale into a kale cupcake without it tasting of lawn, but my comfort zone might just be a little too snuggly and warm these days. So I'll teach a class about cake. Cake with vegetables. Lots of vegetables. Because after a few years now of baking with veg, you could call me an expert. I've sussed out the ratios so the desserts never taste of veggies. I've experimented with flavours, textures, methods. I'm that woman who bakes with veg. Join me, it will be great fun.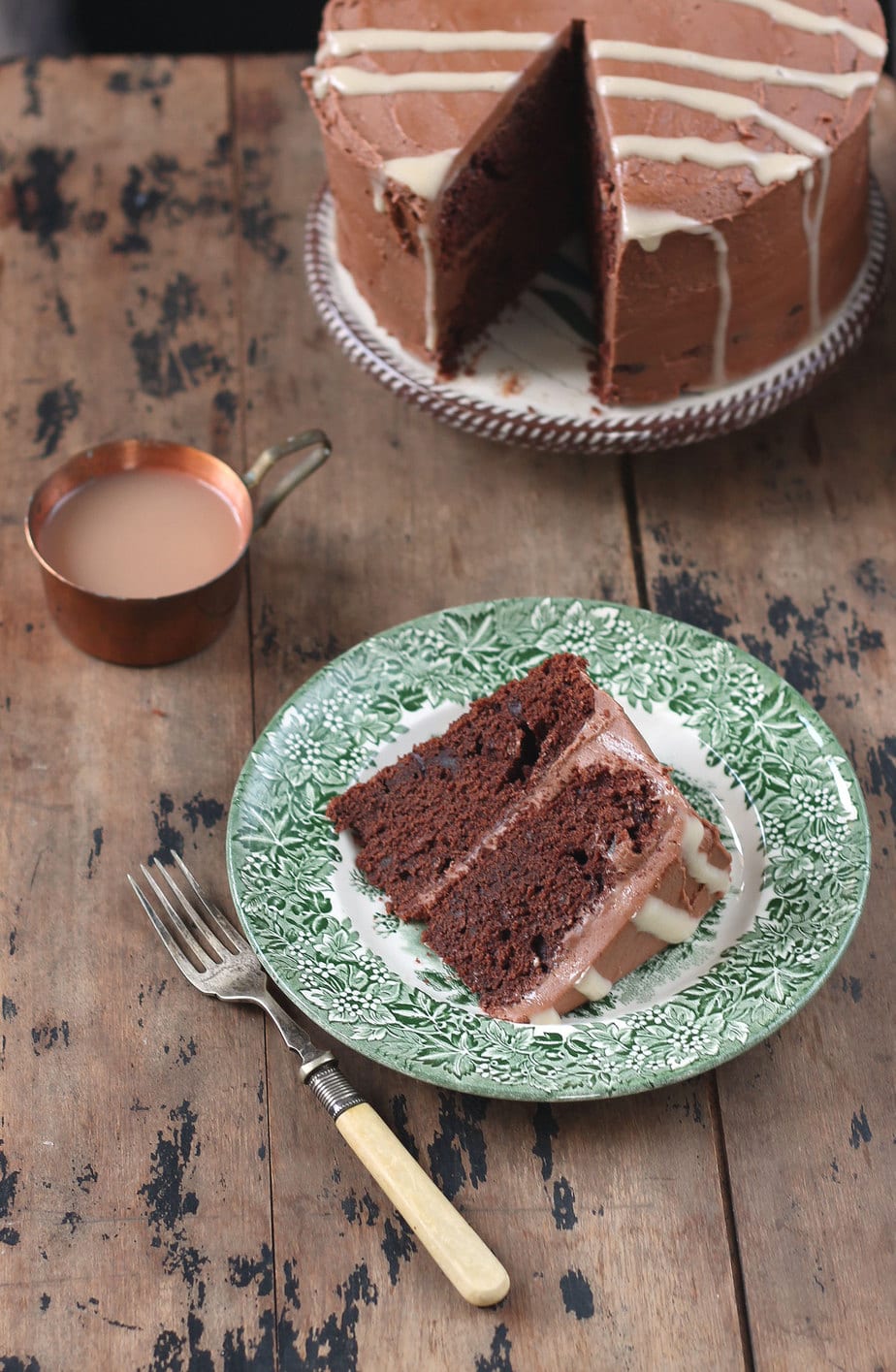 Potato in cake? Yup. Potato has been used in cake for hundreds of years. It adds bulk and moisture, plus helps the cake to keep for longer. You can't taste the potato, but it adds a nice extra richness to this decadent chocolate cake. I love tahini, so I've added an extra dash of flavour by drizzling it over the cake. This is a celebration cake, a celebration of cake. Let's party.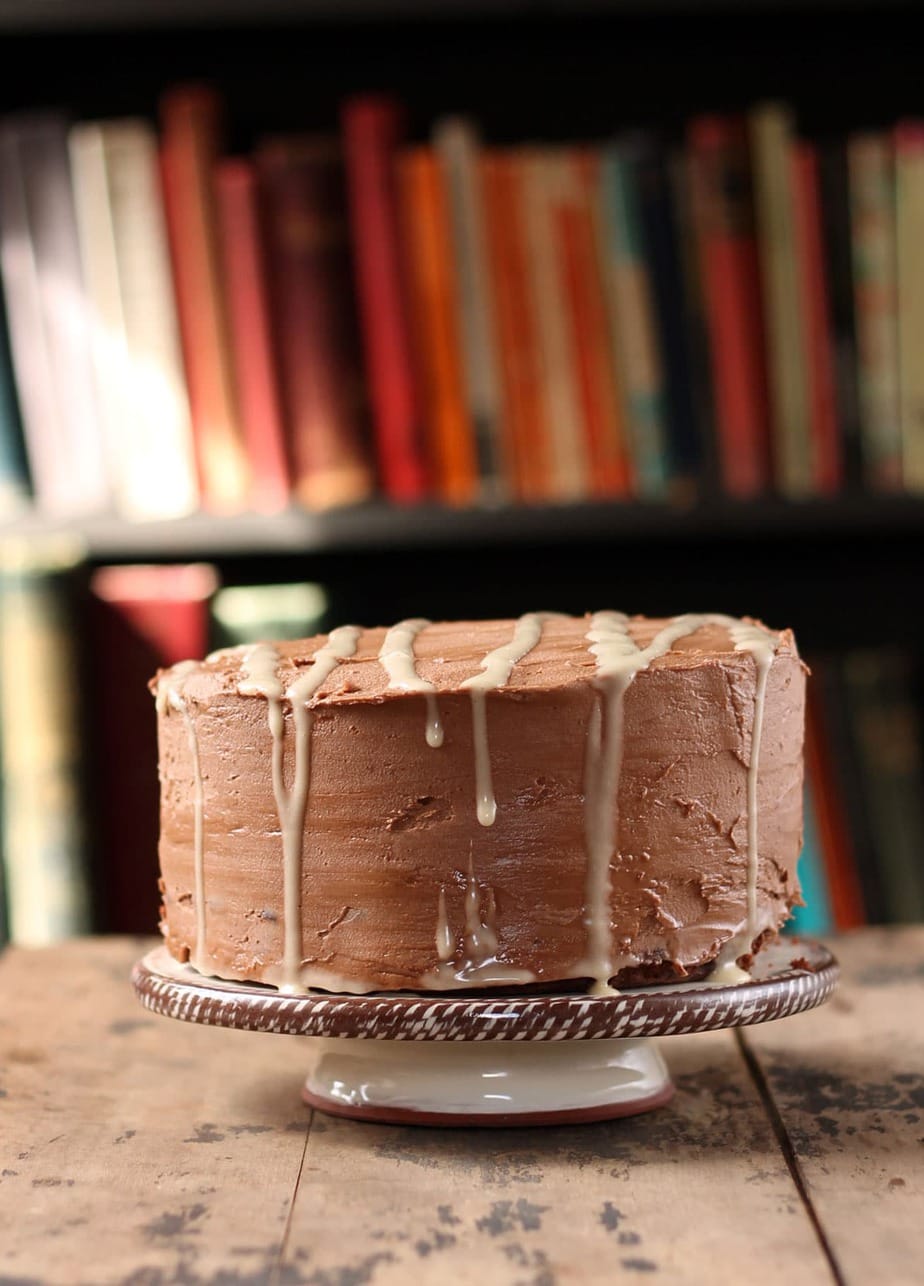 Get the recipe for my Mashed Potato Cake with Tahini Icing
Chocolate Mashed Potato Cake with Tahini Drizzle
Author:
Kate @ Veggie Desserts
Ingredients
For the Chocolate Mashed Potato Cake
225g (1 cup) butter
345g (1 ½ cups) granulated sugar
2 eggs
2 teaspoons vanilla extract
200g (1 cup) mashed potato, cooled (no milk or seasoning added)
250g (2 cups) plain (all-purpose) flour
75g cocoa powder
2 teaspoons baking powder
¼ teaspoon salt
¾ cup buttermilk (or cow's milk with 1 teaspoon of lemon juice stirred in)
For the Chocolate Frosting (note: double to cover cake fully like I have)
85g (3/4 cup) plain chocolate, broken into pieces
100g unsalted butter, softened
200g powdered icing sugar, sifted
1 teaspoon vanilla extract
For the Tahini Drizzle
½ cup tahini
1 cup powdered icing sugar
Instructions
Preheat the oven to 175C/350F. Grease and line 2x9" round cake tins
Cream the butter and sugar together in a large bowl until light and fluffy. Add the eggs, one at a time and beating each one in well. Stir in the mashed potato and vanilla.
In a separate bowl, whisk the flour, cocoa, baking powder and salt. Alternating, add ⅓ of the flour to the egg mixture and gently combine, then ⅓ of the buttermilk mixture. Repeat until all combined.
Pour the mixture into the prepared tins and bake for 35 minutes or until an inserted skewer comes out clean. Cool for 10 minutes in the tins and then turn out onto a wire rack to cool completely before icing.
For the Chocolate Frosting:
Melt the chocolate in a microwave or in a bowl over a pot of simmering water (but not touching the water). Allow the chocolate to cool slightly.
In a large bowl, beat the butter until soft and fluffy. Beat in the powdered sugar, a little at a time. Beat in the vanilla and then gently stir in the melted chocolate. Store in the fridge until ready to use. If too thick, add a teaspoon of milk to loosen. Frost completely cooled cake as desired.
For the Tahini Drizzle:
Mix the tahini and icing sugar together until thick but still runny. Drizzle over the frosted cake.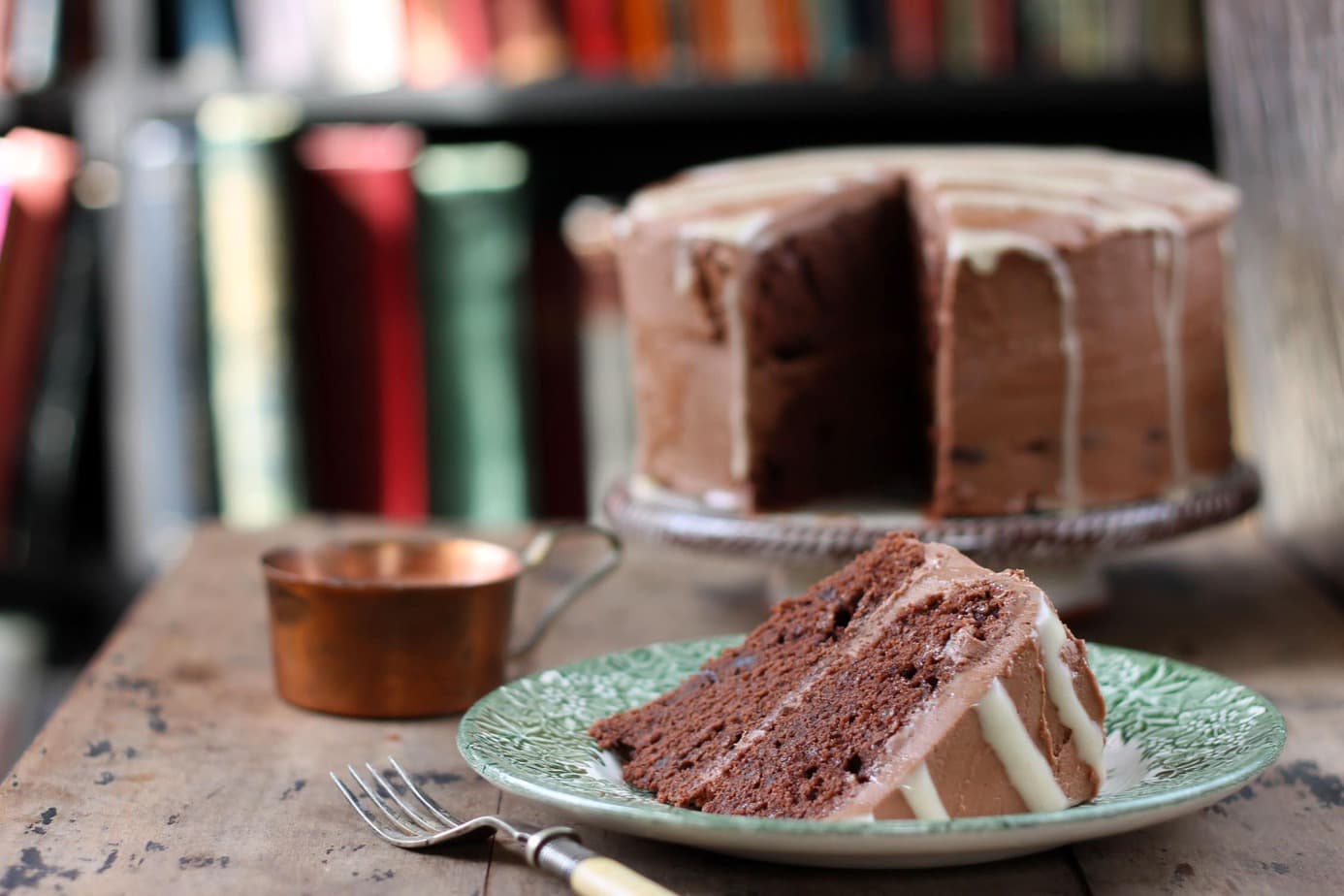 What's been happening this week?
* I was interviewed in The Sunday Telegraph.
* I had two recipes in Cosmopolitan featuring my cauliflower and almond churros and kale and apple cake.
* We're completely renovating our new house. The wonky Victorian walls are proving difficult and my husband badly hurt his hand, but on the upside, we've turned a random cupboard-like room into a library. I love it. Love it love it. Only my husband has now put a record player in it and is trying to claim it as his own space. I'm going to put a lock on it to keep him out.
PIN FOR LATER!