A barbecued cake! Grilling this celeriac and apple loaf cake makes the sugars char and get a lovely smokey flavour. I've then topped it with apple ice cream and salted bourbon butterscotch sauce.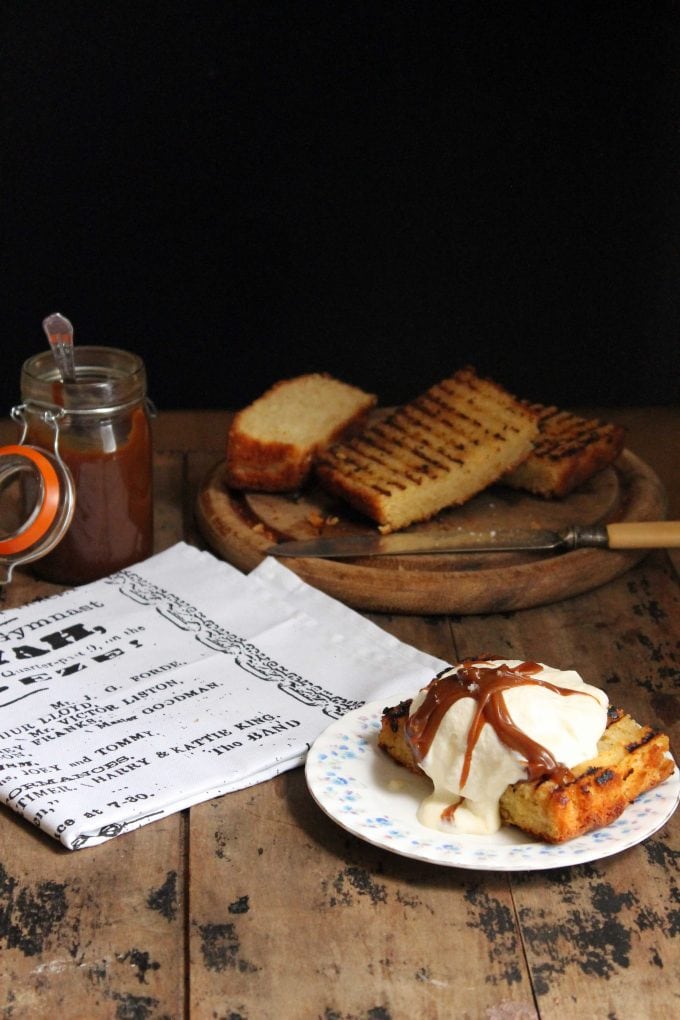 Barbecued Cake
Not content with the craziness of putting vegetables into cake, now I've made a barbecued cake! Trust me, you want to try grilling cake. The char lines impart a wonderful smokey flavour and it makes the outside beautifully hot and crispy. A wonderful way to finish a BBQ party.
Grilling
The sun shines and we cook over flame. It is tradition. There is a certain ceremony. Thick black lines impart their char upon the food as the smoke curls into the air and wafts its scent upon the neighbour's washing. We barbecue meat like paleo cavemen. Or maybe halloumi, peppers, skewers. We make bowls of salad, place multiple bottles of coloured sauces on the table, smile.
Dessert is an afterthought or a grilled nectarine. But how about cake? Grilled cake. A friend told me about barbecued cake long ago, and I only just now got around to making it.
Why, oh why, did I wait so long? The white hot metal grid sears across the sweet cake and gives it a crispy sweet smokey taste and texture as it caramelizes the sugars. The celeriac (celery root) adds mildly earthy notes against the tart apple in the cake.
A warmed, barbecued, cake topped with cold apple ice cream and drizzled in a sweet-salty butterscotch booze sauce. That, my friends, is how to finish a barbecue meal.
Quarantine
There is a pox upon my house. My two-year-old daughter smiles up at me with her spotty face. She scratches, she moans, she is bored out of her tiny mind. We are quarantined. Banished from preschool and playgroups. Libraries and the park. Not for lack of trying, her brother has not yet caught her plague, yet he must join in the confinement. Our little colony must make our own entertainment within the prison of the house and garden.
Staring out of the window, the children watch wistfully at the freedoms of others that have cruelly been taken from them. I rack my brain for ideas on how to amuse the little ones. We've had a rather over-the-top birthday party for their favourite teddies. We've turned the garden into a water park. Today is the Great Baby Bake Off.
The unmistakable scent of the thick pink lotion wafts through the house on the summer breeze, making them feel fine, blowing through the jasmine of their minds. Manicures are performed daily. Baths contain socks full of porridge oats. Nights are restless.
And so, as the sun beats down upon the garden of our little bubble-world, we barbecue. We barbecue cake.
Get the recipe
Grilled Celeriac and Apple Cake with Apple Ice Cream and Salted Bourbon Butterscotch Sauce
Ingredients
For the cake
75g (1/2 cup) raw celeriac, peeled and grated
1 apple, peeled, cored and grated
170g (3/4 cup) butter, softened
170g (3/4 cup + 2 tablespoons) caster sugar
3 eggs
200g (1 ¾ cup) self-raising flour
pinch of salt
For the apple ice cream
350g (approx 3) apples
300ml (1 ¼ cup) cream
175g (1⅓ cup) powdered icing sugar
For the butterscotch sauce
2 ½ tablespoons unsalted butter
150g (3/4 cup) brown sugar
2 tablespoons bourbon
150ml (1/2 cup) double (heavy) cream
¼ teaspoon sea salt
Instructions
Preheat the oven to 170C/340F. Grease a loaf pan and line with baking parchment.
In a large bowl, cream the butter and sugar together with an electric whisk until light and fluffy. And the eggs, one at a time, and beat each one in well. Mix in the grated celeriac and apple and then sift in the flour and salt and combine.
Pour the mixture into the prepared loaf tin and bake for about 60 mins or until an inserted skewer comes out clean. If the cake is browning too quickly, cover it with foil loosely.
Cool the cake in the tin for 15 minutes and then remove from the tin and allow to cool completely.
For the apple ice cream:
Heat the sliced apples with a tablespoon of water in a saucepan over a medium-low heat until soft. Allow to cool slightly and puree with a hand blender or food processor until smooth. In a large bowl, whisk the cooled apple puree and cream, then sift in the sugar and whisk until combined. Chill in the fridge for at least half an hour. Churn in an ice cream maker for about 20 minutes, or until thickened, according to manufacturers instructions. Pour into a dish and freeze until firm.
To freeze it without an ice cream machine, pour it into a large lidded container and stir every half hour for a few hours until firm. The final stir can be done with a hand blender to make it smoother.
For the butterscotch:
Heat the butter and sugar in a saucepan over a medium heat, stirring gently until it bubbles. Add the bourbon and without stirring, boil the mixture for about 5-7 minutes until it is a deep golden colour. If necessary, scrape the sides down with a rubber spatula, but don't stir.
Remove from the heat and stir the cream into the sauce until combined. Be careful, it will bubble up considerably. Stir in the salt. Pour into sterilized jars and allow to cool.
Slice the cooled cake thickly and heat on the griddle pan or barbecue until lightly charred. Top with a scoop of the ice cream and a drizzle of butterscotch sauce.
Pin for later!
Looking for more recipes using apple? Try my Apple Cider Cake with Salted Cider Caramel or Kale and Apple Cake with Apple Icing!