Toddlers - how to foster a love of healthy food through exploring new tastes and foods together.
As part of my work with Organix on their No Junk Journey, this month I'm exploring ways to help toddlers discover new tastes and foods.
The toddler years are full of wonder, tantrums and laughs. During this time in their development, it's a wonderful opportunity to foster a love of healthy food and the exploration of new tastes and foods. It's not always easy, believe me, I know. But by making fresh fruits and vegetables available to toddlers in a fun way, you can help them to make healthy choices for life.
My kids are in primary school now (where did the time go!), so I've been through the toddler years and we all made it in one piece. It was always a fundamental part of my parenting that my kids grow to love fruit and veggies as much as I do. I didn't want to pressure them, or make dinner time a battle - ever. But I just made vegetables a part of every meal. There's always a few carrot sticks, tomatoes and cucumber on the table at mealtimes and my kids usually reach for them. I don't hide them, puree them into sauces or sneak them into food. The vegetables are there, loud and proud. Not something unusual or to be feared.
Sure, sometimes they refuse to try something, but we don't battle about it. We just bring that particular fruit or veg out again and again and when they were ready they will try it. Neither of my kids likes the texture of leaves or salad, but that's okay. They may grow to like them.
Organix makes junk-free snacks for babies and toddlers and they've long been my go-to brand for treats and car journey snacks. They've come up with loads of great ways to help you to get toddlers to try new fruits and vegetables. Here are some of my favourites:
Magic Stars/Hearts
Using a small star or heart cookie cutter, you can cut shapes out of toast, slices of melon, cucumbers, sandwiches etc... Encourage little ones to nibble at the shapes and taste the foods. Let them nibble the points of stars until they turn into circles.
Lollipop, Lollipop
Forks can turn any chuck of fruit into a lollipop and it makes a great way to offer toddlers something new, while letting them be in charge of how much they taste. Just place a large piece of fruit onto a fork and sit with your toddler while they lick and nibble at it.
Straws
Straws are a great way to help toddlers explore the various tastes and foods in smoothies. Brightly coloured plastic or paper straws can add lots of fun. Younger toddlers may not be able to slurp through it, but you can start by stirring the smoothie with the straw and lifting it out to see if they can catch a small drip from it onto their tongue. They can also try to lick the straw clean.
Find out more about these toddler tips at Organix. Their Goodies range is a massive hit with my little ones. They love the packaging and taste, and I love that there's no junk in any of it. The Organix no junk promise is: always organic; nothing unnecessary; setting standards.
Organix Goodies sent us some treasure boxes, packed with healthy treats for kids. My children were absolutely delighted with the boxes, and the contents. After the cheers died down, they squealed, 'awesome', 'I love this' and then gave the boxes two thumbs up.
Follow the fun and get more healthy food ideas for babies and toddlers using the hashtag #NoJunkJourney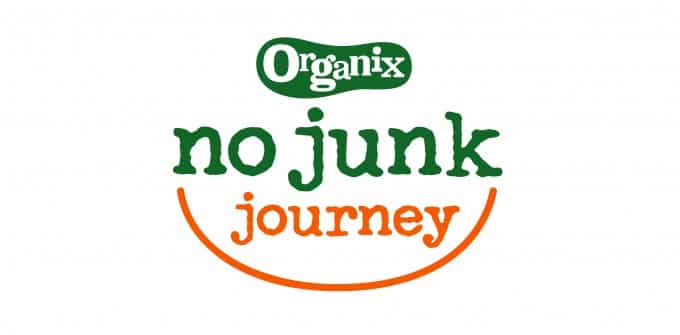 This post is part of my ongoing campaign with Organix as part of the No Junk Journey. All opinions are my own. Thanks for supporting the brands that make it possible for me to mess up my kitchen and write Veggie Desserts - Healthy Food and Lifestyle. All images, except the composite, courtesy of Pixabay.