A guide to the best vegan food in Hamburg. We explore the most delicious vegan-friendly restaurants and cafes around St Pauli and other districts of Hamburg, Germany.
Hamburg
I recently went back to Hamburg, Germany's second largest city (after Berlin). It's a port city with a wonderful busy harbour and the newly-completed Elbphilaharmonie, a world-renowned concert hall.
This time, rather than sightseeing around the intriguing culture and architecture, I was there to explore vegan food in Hamburg. A foodie tour of Germany's gem - it was the perfect weekend away.
Impeccably clean streets are contrasted by urban street art and graffiti. The two large central lakes are surrounded by parks and picturesque houses. The river and canals are lined with formidable, yet fascinatingly beautiful, red brick warehouses that rise out of the water, their reflections only increasing their imposing stature. Perhaps it's a consequence of having lived on a boat for many years, but as I crossed bridge after bridge over the twinkling water, I felt any hustle and bustle of the city fall away. The red brick heart of Hamburg beat calmly around us.
Read my Hamburg city break review.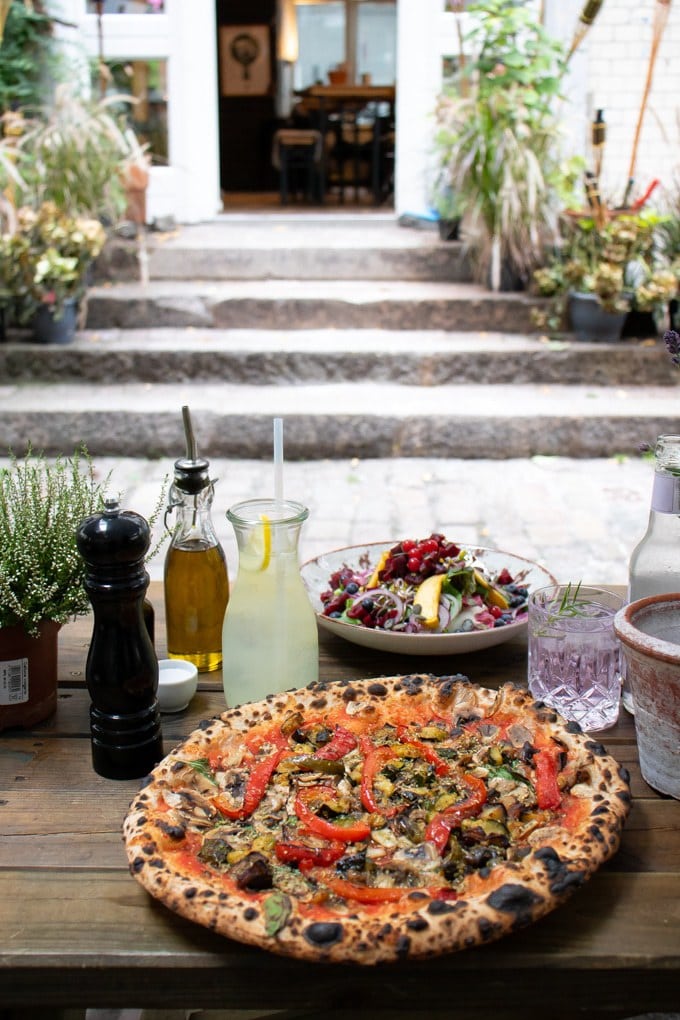 Vegan Hamburg
It's not a struggle to eat vegan in Hamburg. First, the German word for vegan is... vegan (or veganes), so no trouble with translations. Everyone we encountered spoke perfect English and vegan food was clearly labelled, from food stalls in train stations, to takeaways, cafes and restaurants. Many of the restaurants had English menus, and those that didn't were fairy easy to decipher, though staff were always happy to help translate.
There's also no confusion and no stress about what constitutes vegan food. Everyone just understands veganism and it's not a hassle at all.
There are so many vegan stalls, cafés and restaurants in this friendly city that you couldn't possibly try them all in one trip. The only hard part about eating vegan in Hamburg is deciding where to go. So, read on for my guide to vegan Hamburg.
St Pauli, Hamburg
Although vegan cafes are dotted all over the large city, your best bet is to head for St Pauli, a centrally located alternative arty quarter on the banks of the river Elbe, that's also known for it's football team, FC Sankt Pauli.
The area encompasses the famous Reeperbahn red light district (where the Beatles stayed before fame struck), which isn't actually all that seedy, more like the smut shops are mixed in with artist studios and buzzing nightlife, filled with stag do's and holidaymakers.
It also includes Sternschanze, a bohemian quarter of bars, boutiques and cafes. The area has a cool, understated style and plenty of street art.
The arty bohemian vibe emanates from every corner. Street art is abundant and a sea of stickers are adhered buildings, lampposts and bins.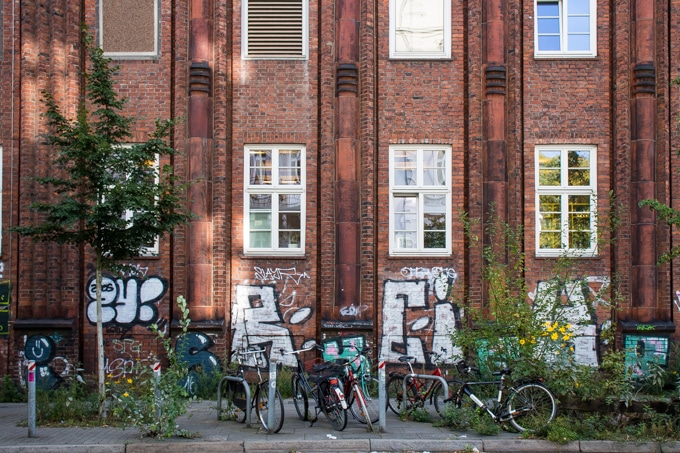 Sternschanze
The area seems to be in the grip of gentrification, but that doesn't mean whitewashing the graffiti from the buildings. It seems to be more about embracing the counter-culture. It's friendly, felt perfectly safe and full of vibrant entertainment.
Sternschanze boasts a host of alternative independent shops, with odd windows. After a day here you won't be surprised to see a headless doll in a clothing shop window clutching a bicycle pedal and a feather.
From a gypsy punk band entertaining outside the train station, to quirky furnishings at our hotel, it's a quarter with a lot of heart, and the perfect base for a vegan foodie holiday in Hamburg.
Streets are lined with bicycles and cultivated weeds allowed to run wild from cracks and corners, stark contrast to the nearby Planted un Blomen with it's perfectly pruned gardens. Here a weed is beautiful in it's contrast to the graffiti-scrawled red brick buildings.
It's a pleasantly gritty urban area with no shortage of vegan-friendly cafes, restaurants and takeaways. Think Shoreditch or Dalston.
Vegan Breakfast in Hamburg (veganes frühstück)
Cafe Miller
The sticker-clad black bar is dominated by a retro Miller beer sign for which the cafe gets it's name. On weekends and holidays Cafe Miller turns into a buzzing mainly vegan breakfast cafe with a large well-stocked 90% vegan buffet for €11.90 (all clearly labelled).
The friendly staff constantly topped up all the food, from tropical fruit and dips, to a hot selection including tempeh sausages, tofu scramble, pancakes, homemade baked beans and grilled tofu. Cereals, toast, fluffy pretzels and vegan cheese were all on offer. They also have great coffee and soy milk.
Small plates mean you can sample lots of food and return again for more. And you'll definitely want to!

Expect inspired and interesting choices, from tempeh sausages to paprika and cashew dip. I loved the maple smoked grilled tofu, with bacon-esque flavours. The tofu scramble was beautifully spiced and seasoned with welcome texture from mixed seeds.
It was also nice to see a few sweets to round of the perfect vegan brunch - lemon cheesecake and chocolate brownies. I couldn't resist getting a refill of coffee and indulging my sweet tooth with the delicious decadent squares. It was a warm late summer morning, so we sat outside on the benches and watches St Pauli slowly wake up from it's Friday night hangovers.
If you visit for lunchtime, they have a range of cakes, desserts and pastries, as well as vegan rice bowls (€4.20/€6.80) and a full a la carte menu, plus licensed bar.
Cafe Miller address: Detlev-Bremer-Strasse 16, 20359 Hamburg
Opposite Central Park (a busy large outdoor space with sand, seating and bar), is Mamalicious.
This unassuming relaxed vegetarian/vegan cafe is well known for it's fluffy vegan pancakes and there were queues of people waiting for a tasty brunch. It's not all vegan, but most items on the menu that aren't vegan have a vegan alternative.
Mamalicious is well known for their generous three level stack of vegan Canadian pancakes, a nod to the owner's heritage (€6.95). They were thick and piled with chopped fruit, a squirt of vegan cream and a drizzle of strawberry sauce. Heaven.
Lots of people were at Mamalicious especially for the pancakes.
I would also recommend the tofu scramble in the vegan breakfast. You can choose from loads of different ingredients to be mixed in, from vegan bacon and cheese to spinach and mushrooms. The potatoes were well seasoned and full of flavour. Lovely with a fresh fruit salad.
Don't fancy a hot breakfast? They also have Chuck Norris Cornflakes (€4) - You get the whole box of cereal and a pitcher of soy milk so you can eat as much as you like!
If you go at lunchtime, they have plenty of options, like vegan mac n cheese (€8.40). They have outdoor seating, a great selection of vegan desserts and are licensed for alcohol.
Mamalicious address: Max-Brauer-Allee 277, 22769 Hamburg
The Best Vegan Restaurants in Hamburg
You can't miss the wonderful scent of fresh banana bread (their specialty) wafting through the air of this pretty vegan cafe. Near Planten un Blomen, the large beautiful park, HappenPappen is comfortable and full of plants with a large window overlooking the outdoor seating.
It's a modern all-vegan cafe in St Pauli and they do an all-day breakfast, plus there is an English menu. There are lots of vegan cakes, and many are also gluten-free.
Their epic stacked sandwiches are hugely popular, and it's no wonder why. We loved the rich flavours in them, trying the 'Nocado' Sandwich (€7.90) with chilli sauce, cabbage, white bean hummus, smoked tofu, beetroot, radishes, salad and sprouts.
We had to try the hot sugar-free banana bread with soy yogurt, fruit and maple syrup (€6.50). It was absolutely delicious and was perfectly complimented by the fruit and yogurt. Excellent with the homemade sparkling ginger lime lemonade.
At HappenPappen they don't use meat substitutes, but instead their quiches, salad bowls and burgers are all full of masterfully put together plants.
HappenPappen address: Feldstrasse 36
Froindlichst is an all vegan restaurant that's beautifully decorated with a relaxed minimalist style of wood and greenery. There's even a living wall and lit up outdoor seating.
They serve hearty fare such as burritos, pizzas, burgers and bowls (expect wild rice, grilled pumpkin, sweet potato, spiralised courgette, veggies and walnuts). They also do great cocktails (€7.90) and have a huge selection of desserts!
They have a very creative and exciting array of burgers! I went for the Waikiki (€11.90) with pineapple, 'chicken' patty, vegan cheddar, mango curry sauce and salad. It had loads of flavour and was perfectly made. Excellent washed down with a raspberry mojito.
We also had the Senor Bowle (€11.90), a large bowl of bbq pulled jackfruit, guacamole, tortillas, salad and salsa. Dessert was a delicious vegan cheesecake and their homemade ice cream. I went for franz brotchen flavour - a traditional Hamburg cinnamon pastry. It was all really tasty and the atmosphere was relaxed with very friendly staff.
Most of the food has meat substitutes, so you'll be spoilt for choice for hearty vegan burgers to choose from.
Froindlichst address: Barmbeker str. 169
Other all vegan Hamburg spots to try:
Nasch - a small vegan cafe in Gängeviertel, with creative daily specials. Be sure to try the cookies. Caffamacherreihe 49
Bidges & Sons - a rooftop vegan cafe, above a fairtrade shop. Gluten free options available. Reeperbahn 7
Cafe Katzentempel - perfect for friends of felines, this cafe has all vegan food and you can eat surrounded by cats! Weekends are busy to book ahead. Kleiner Schäferkamp 24
Vincent Vegan - vegan fast food restaurant, that also has a street food truck. Expect a selection of burgers, as well as a vegan version of the famous Hamburg currywurst. Ballindamm 40
Cafes and Restaurants with Great Vegan Options
Jill's isn't vegan, but it does have some fantastic vegan options. The stylish restaurant has an authentic pizza oven, made in Naples by Stefano Ferrara, one of the last craftsmen making them. The pizzas are baked for just 60 seconds, resulting in what is considered the best Neapolitan pizzas in Hamburg. There's also a lovely outdoor courtyard seating area and further seats out front.
The pizza oven is undoubtedly the heart of Jill's. While we were there, two pizza chefs were busy cooking up pizzas in the impressive 480degree oven. The bustling restaurant in the heart of St Pauli was bustling and the friendly staff were pleasant and accommodating. We sat outside to take advantage of the late summer weather in the plant-strewn courtyard. Blankets and cushions were scattered around for comfort.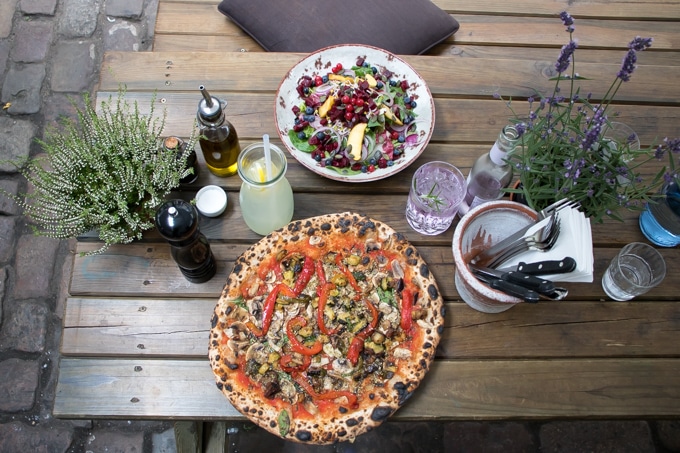 We have to talk about that pizza (vegan verdure pizza, €9.50). The chewy crust had just the right amount of flavourful char, giving a smokey taste to the crust. It was a beautiful texture to contrast the slow roasted Mediterranean vegetables, well seasoned with oregano. Basil and olives set it off perfectly. I was glad there wasn't any vegan cheese; the vegetables and crust needed no adornment and they were perfect just as they were.
Sometimes at a place where they have a single specialty, such as Jill's pizzas, the other menu items can be a bit lacking. But certainly not here. The understatedly-named beet salad was an absolute triumph. Beautiful crips green salad was jewelled with beetroot, blueberries, red currants, pumpkin seeds and the genius inclusion of semi dried apples to give a burst of sweetness against the bitter radicchio. It was simply dressed with balsamic vinegar and oil to allow the fruit and veg to shine.
We had it with their homemade lemonade and a lavender lemonade. Both delicious, though if I returned in the evening, I'd definitely choose from the extensive gin menu.
Jill's Pizza address: Bartelsstraße 12
Otto's Burger
Otto's is a busy centrally located burger joint and part of a small chain. Be warned that they mainly serve meat, but they do have great vegan options, so it's perfect if you're not all vegans. The friendly owner, Christian, explained that he's tried going vegan and his girlfriend is vegan, so he likes to have an ever-changing vegan burger and salad option.

The beetroot quinoa salad (€7) was a large bowl full of healthy veggies. The bright purple beet-infused quinoa was undoubtedly the highlight of the salad and it was bursting with flavour - lovely alongside the fresh guacamole.
The vegan burger (€9) was a thick patty made of veggies and chia rather than a meat substitute. The soft bun was spread with a delicious and fragrant five-spice vegan mayo, topped with lettuce and spicy coleslaw - all of which was the perfect setting for the tasty burger. The rosemary chips were also a delight.
It's a bustling upmarket fast food place with trendy urban interior and great food.
Otto's address: Schanzenstrasse 58
Where to Stay in Hamburg
We stayed at the Superbude St Pauli, which is perfectly located for all of the vegan cafes in my review.
It's technically a hostel, but with it's quirky decor, impeccable cleanliness, friendly staff and quiet, comfy rooms, it's more like a boutique hotel.
The lobby has lovely touches, with a bar, seating area, board games, video games consoles and even a sweetie bar. You can also hire longboards and bikes during your stay.
There are some sharing rooms, but there are also plenty of double and family rooms all with en suites. It's in the middle of a busy nightlife area, but it's a couple of minutes out of the way and has double glazed windows so it's really quiet. Thick curtains block out the morning light, and there's a TV, iphone docking clock radio and locker. From the football net bedhead (likely a nod to famous local team FC Sankt Pauli) to plunger coat hooks, there's a lot of character at the Superbude! It's hip upcycling meets Hamburg's seafaring history. Expect rope motifs alongside a wall made out of denim jeans.
Hairdryer, basic toiletries, bedlinen and towels are all supplied. There's even a small bag of 'rescue' essentials.
On the first floor is the Rockstar Suite. It's a massive room with six beds, that's for groups or touring bands. The bed area even converts to a stage for them to play on!
A room designed to sleep touring bands as they make their way around Germany. There is a huge bed large enough to comfortably sleep 6 people that can be converted into a stage, giving the bands a performance space and the hostel its own small venue. How awesome is that? There's also a projector and playstation, as well as fridge and large sofas in the living area (from €199).
Friends, families, backpackers and couples of all ages stay at the Superbude so it's a great base for anyone. The buffet breakfast has a wide range of food and vegan options are plentiful and clearly labelled. On the Friday night we were treated to a live band when we arrived and the bar is open late.
I wouldn't hesitate to recommend Superbude St Pauli to anyone. I stayed in London hostels way back in my backpacking days and they were horrific. The Superbude is a far cry from those and it's a comfortable, clean, quiet and quirky place for families, couples, solo travellers and groups in a great location.
If you're looking for another option, try the Raphael Walderhaus. It's an eco hotel and science centre that's a great base for a Hamburg holiday.
Superbude St Pauli, Juliusstraße 1-7
Rooms from €65
For more information about Hamburg, check out Visit Hamburg.
Flybmi flies from Bristol to Hamburg daily (excluding Saturdays) with fares from just £105 one way. All fares are inclusive of 23kg hold luggage, allocated seating and complimentary in-flight drinks and snacks. Book at www.flybmi.com.
Disclosure: We were guests of Visit Hamburg, flybmi and the Superbude St Pauli for this guide to the best vegan food in Hamburg. All opinions are our own and all meals were paid for. Prices correct at time of writing.