I recently had a wonderful Hamburg city break, spent exploring the sights and discovering what Germany's beautiful port city has to offer.
Partnered travel review.
Hamburg
Hamburg is a city of red brick and cutting edge architecture. Of green spaces and waterways. Of tall ships and cruise liners. An important trading port since the Middle Ages, Hamburg is now also home to Germany's most popular tourist attraction (Miniatur Wunderland) and the world's largest concert hall.
Still, Germany's second largest city somehow doesn't feel vast or overwhelming. Perhaps it's the calming waterways, the parks and the trees. Perhaps it's the kindness of the people we encountered. Maybe it's because it's so easy. Transport is straightforward and the streets feel safe. Like the city's river and canals, we could wander and meander. We could get lost and not feel lost. There were sights to take in, but no endless list we felt the need to tick off. Vistas could be casually embraced without us ever feeling like we needed to move, move, hurry, hurry - a feeling that so often accompanies a city break.
Thoughts on Hamburg
Impeccably clean streets are contrasted by urban street art and graffiti. The two large central lakes are surrounded by parks and picturesque houses. The river and canals are lined with formidable, yet fascinatingly beautiful, red brick warehouses that rise out of the water, their reflections only increasing their imposing stature. Perhaps it's a consequence of having lived on a boat for many years, but as I crossed bridge after bridge over the twinkling water, I felt any hustle and bustle of the city fall away. The red brick heart of Hamburg beat calmly around us.
Our initial impressions of Hamburg was just that everything works. Public transport is easy to navigate and trains meet at a single central station in the middle of town, yet it never feels that busy. Double decker trains are novel, and genius. Everyone we encountered spoke impeccable English but didn't flinch when we tried out our very basic German phrases. For a large city there was such friendliness, a sense of safety and an ease of navigation. Each flowing river was a welcome mat.
Tips for a Hamburg City Break
Buy a Hamburg Card so you can have unlimited travel on all public transport (and discounted attraction entry fees).
The transport system is easy to navigate and they even have double decker trains.
There are no ticket barriers at the stations, so be sure to keep your tickets with you for any inspectors (we only saw one in three days).
Everyone we encountered spoke English.
Don't jaywalk. Everyone in Hamburg waits at the crossings, even if there are no cars in sight.
Be sure to try the Franz Brotchen - a local delicacy of cinnamon wrapped in pastry.
Streets have a subtly coloured cycle path that are in regular use, so keep off them.
It's family-friendly with plenty of parks and playgrounds.
The train from the airport is fast and goes straight to the central station (Hamburg Hauptbanhof).
Tip 5-10% and leave it at the till, rather than on the table.
If you're vegan, check out my Hamburg Vegan Food Guide.
The Sights of Hamburg
In order to get our bearings, after leaving our bags at the hotel we jumped on a bus tour (Die Roten Doppeldecker). Our guide spoke English and gave us loads of interesting facts and tips as we drove around seeing the sights.
Planten un Blomen is a massive park right in the centre of Hamburg. In the summer months it has nightly laser light shows, outdoor theatre and concerts. It's open year-round, is free and is a picturesque place to picnic or let the kids play.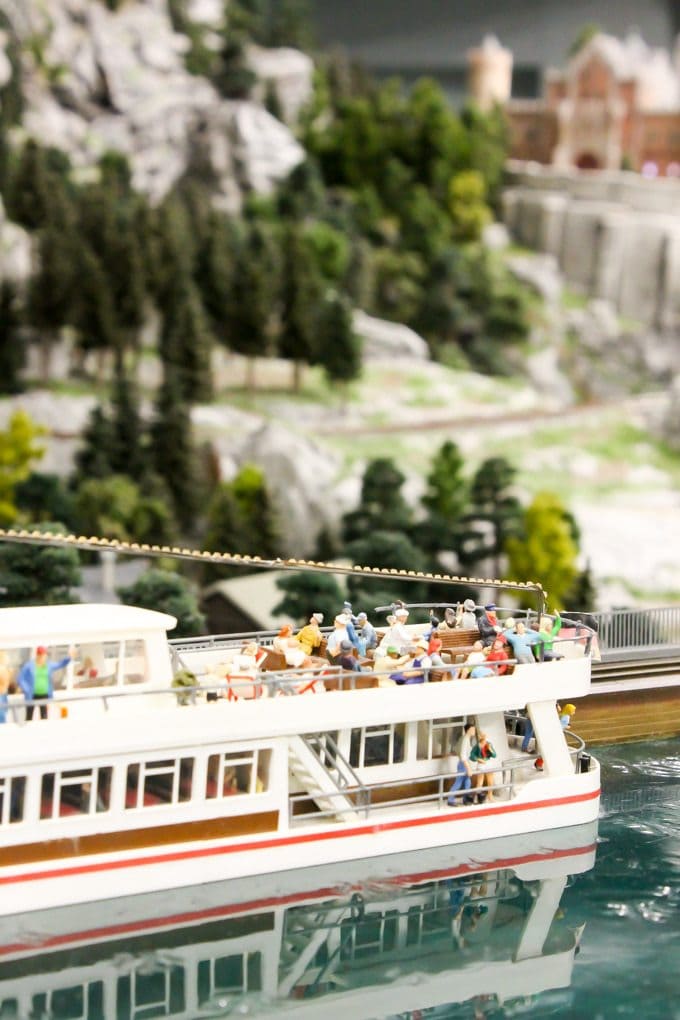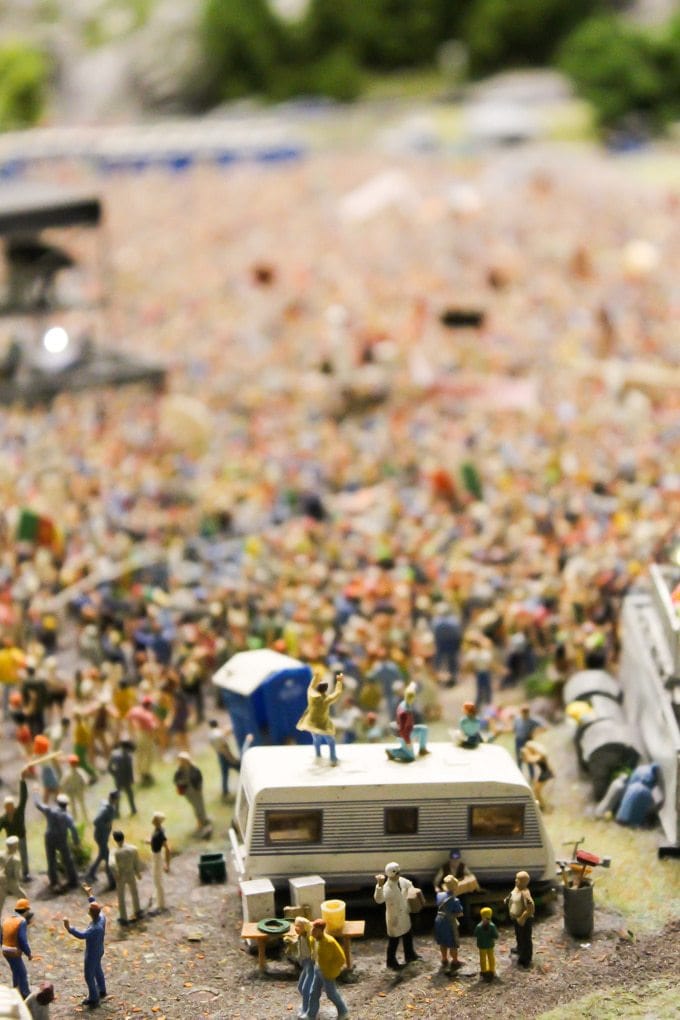 Miniatur Wunderland
Hamburg is home to one of Germany's most popular tourist attraction: Miniatur Wunderland. It's the world's largest model railway and it really is spectacular. As you walk around the floors of intricate models, you're transported around the world to teeny tiny Scandinavia, airports and a music festival. It really is quite enchanting and the attention to detail had us mesmerised.
Tip: buy your ticket online so you don't have to queue.
Speicherstadt
The Miniatur Wunderland is located in the historic Speicherstadt area - where the red brick facades of 125 years of port and commercial history have now been turned from coffee, spice and cocoa warehouses into museums, attractions and homes. What was one the world's leading oriental carpet trading centre is now a photogenic tourist hotspot, drawing more than 2.5 million visitors per year.
In this unique warehouse complex, 2km of elaborate blocks reflect in the water of the canals below. Some are still used for storage and although most are now exhibitions and attractions, there are still some housing independent makers and businesses. More than half of the Speicherstadt was destroyed during the Second World War, but it was rebuilt in 1967.

St Pauli and the Reeperbahn
St Pauli is the city's famous (or infamous) red-light district. Sure, it's blatantly seedy, but everyone told us that it was perfectly safe and a must-see. The neon-lit streets are lined with bars, stag-dos and bemused tourists. A large wall shields the street that houses hundreds of working prostitutes and the area is anchored by a historic police station.
Although the Reeperbahn nods to it's past as the Beatle's early stomping ground, it hasn't descended into a theme park experience. If you want to hit up the places where the Beatles played, try Beatles Platz, where the pavement looks like a vinyl record and there are modern 3-D statues of the Fab Four. Then head for a drink in the nearby Kasierkeller or take a walking tour.
I was born in Liverpool, but I grew up in Hamburg. - John Lennon
Skurrilum St Pauli Escape Room
While we were at the Reeperbahn, we couldn't resist taking the opportunity to visit an escape room. Like other escape rooms, the premise of the Skurrilum St Pauli is that you're put into a themed room and you must work as a team to solve puzzles in order to get out. I won't tell you much more about it, or show you any photos, because I think anyone going should be surprised. Just go. You'll have a great time. I promise.
International Maritimes Museum
We took the opportunity to wander around the International Maritimes MuseumInternational Maritimes Museum. It's housed in Hamburg's oldest preserved warehouse in the Speicherstadt, and is an epic tour of 3000 years of nautical and maritime history. Over 9 floors, we were treated to intricate models, beautiful artworks and interesting artefacts.
From a Lego cruise ship made of 1m pieces to a huge suspended replica tall ship - there was so much to see. My husband even spoke to one of the workers busy creating one of the many intricate ship models, of which there are many around the museum.

Kunsthalle Hamburg
We enjoyed wandering around the Kunsthalle Hamburg, one of Germany's largest art galleries. As we entered room after room in the stunning building, we found works by Manet and Monet, Munch and Rodin, Freidrich and Kandinsky. Walking through rooms dedicated to major periods and styles, we were enraptured by everything from classics to contemporary art.
Hamburg City Break in Summer
We visited Hamburg on a chilly mid-week in April, but the warm summer month promise beaches and riverside beach bars, as well as nightly music and laser light shows at Planten un Blomen - the large central park. You can also time your visit to coincide with the iconic Hamburger DOM - the largest public festival in Northern Germany. Held three times a year, the DOM is a massive funfair.
When the weather is better, be sure to get out on the water. The transport pass allows you to travel on the commuter boats, but if you want the guided tour, then go for a tour boat (check that there will be an English commentary).
Elbphilharmonie
The skyline is often dominated by this intriguing structure. On the bank of the River Elbe, the famous Elbphilharmonie houses two state-of-the-art concert halls comprising one of world's largest and most acoustically advanced concert halls. It was only completed earlier this year (at a whopping €800million!) and it's the tallest building in the city and was designed by renowned architect firm Herzog & de Meuron. We loved how it reflects the water and rather than balconies, you could spot people standing in the large fish-like 'scales' dotted across the facade.
The Food on our Hamburg City Break
We discovered myriad hipster enclaves nestled amongst the waterways and red brick warehouses of Hamburg. Trendy urban grit meets clean and orderly streets around every corner as we discovered coffeehouses, burger joints and pho bars.
The decor du jour is firmly industrial chic - which most restaurants and cafes we went to adopted. Often nautical touches and concrete contrasted with natural materials, sentiments echoed across the city itself. If you're vegetarian (vegetarier) or vegan (vegan), you'll be well catered for and there was loads of choice.
Cafe Stop
We had a lovely afternoon break at Cafe Elbgold - a trendy cafe with a passion for coffee. It's in the hipster Sternschanze and Karolinenviertel quarter, where there's loads of renowned street art to see, amongst the bars and cafes.
My husband had franz-brotchen (of course!) and I had a vegan cherry pie. Their outstanding coffee really blew us away, though the food was fab as well. The impressive matt black coffee hoppers dominate the busting and popular space. It was nice to see the back workings where they roast the beans in-house. If I could have, I would have sat and read a book over coffees all day, but we had more sights to see!
Dinner in Hamburg
We had a lovely dinner at Ban Canteen. The popular and busy Vietnamese pho/bowl restaurant had a buzzing atmosphere and industrial decor dominated by a neon sculpture suspended from the ceiling. The servings are of epic proportions so go hungry and fill up on warming and absolutely delicious Vietnamese street food. My husband had the pho and I had a tofu noodle bowl. Neither of us could finish them even though they were sooo good. Fresh herbs lifted the dishes and the flavours were fresh and warming. If Ban Canteen was in my town, I'd be a regular.
For dinner on our last night in Hamburg, we went to Heimat Kuche. You'll find the restaurant in the super-trendy 25 Hour Hotel which is fantastically quirky. You can choose to sit in packing containers in the window and spend ages looking around at all the decorations - many with a nautical slant. We were led across what looked like parking lines on the floor to our table where we sat on large stacks of oriental rugs (a nod to Hamburg's past as the world's biggest rug importer). I had spinach ravioli with a carrot salad, while my husband opted for breaded fish with mashed potato and salad. We thought that the meals were delicious and the atmosphere was great.
Lunch in Hamburg
We had a lunch at our hotel, the Raphael Walderhaus, in the Wilhelms restuarant. My husband loved his pork with rosemary potatoes and celeriac roulade and the flavours of my sweet and sour peppers and crispy polenta was outstanding. The small daily seasonal menu includes a vegetarian or vegan choice each day. See more of my review of the Walderhaus.
When in Hamburg, one must have a hamburger so for another lunch, we stopped into Better Burger - a popular spot in town. Customers order a burger at the counter, then go up to have the desired toppings added. The results are a HUGE burger that's delicious. I enjoyed my flavourful vegan patty alongside their signature iced tea.
We stayed at the Raphael Walderhaus, an eco hotel and science centre based just outside of the city centre, 8 minutes by S-bahn. We thoroughly enjoyed our stay there and didn't ever feel that we weren't central. The transport network is so quick and simple so it only took minutes to be whisked away to our peaceful hotel area. Read my review of the Raphael Hotel Walderhaus.
Disclosure: We spent our Hamburg city break as guests of ComeToHamburg. All opinions are our own. Thanks for supporting the brands that make it possible to write Veggie Desserts.