Welcome to the virtual book launch for my debut cookbook, Veggie Desserts + Cakes! I've gathered some amazing blogging friends to all post in celebration of my book's release.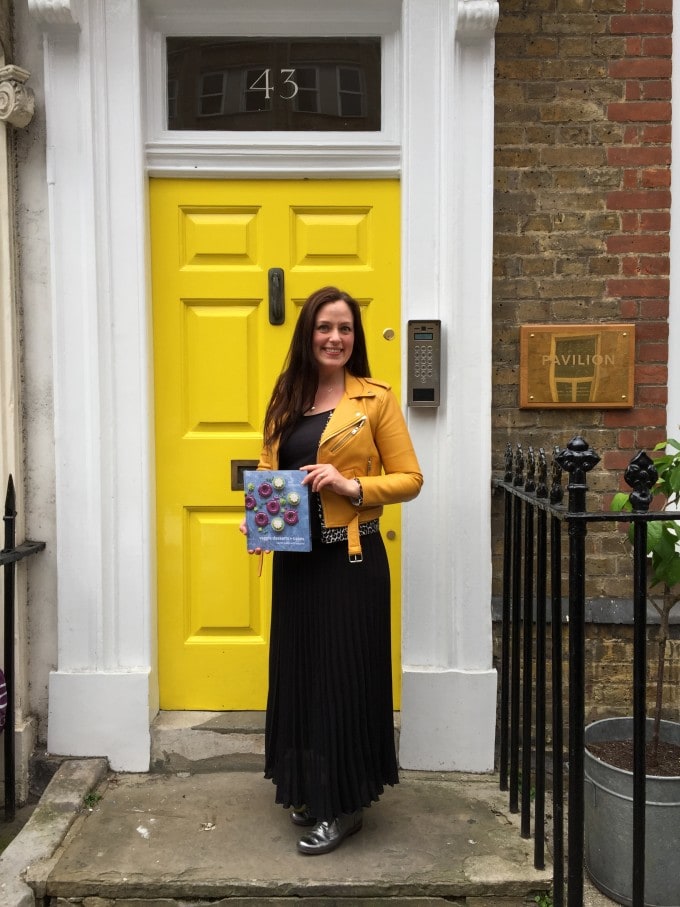 I'm absolutely thrilled that my debut cookbook Veggie Desserts + Cakes was released on 3rd August 2017. I've worked so hard for so long, and it's quite emotional to see it all finally realised. From months of pitching to publishers with my lovely agent Amanda, to intense weeks of testing recipes, it has been an incredible journey.
Some days at the beginning I didn't think that we would get here, but we have. Pavilion Books have been amazing and thoroughly backed the book. From the commissioning editor Ione, to Emily and Stephanie who picked it up and helped to shape it. Then the marketing, design and all the behind-the-scenes staff who turned my words into something real.
The photoshoots were so special, with Clare Winfield taking stunning photos of Emily Kydd's beautiful bakes using Wei Tang's gorgeous props. I got to sit there and watch all of my recipes come alive in their professional hands.
This is it now. It's real. Thank you all.
Read more about making my cookbook.
Virtual Book Launch Party
Some wonderful supportive blogger friends have joined together to throw me a virtual book launch party. They've been reviewing Veggie Desserts + Cakes and making some of the recipes - all to share with their readers. I've been floored at their generosity and willingness to help make my book a success. They're all busy, but they took the time to support this because it means so much to me. I'm endlessly thankful.
Blogging is a solitary pursuit, but it comes with an amazing network of friends. We're dotted around the UK, but although many of them I haven't met in person, they're my friends, colleagues and all around awesome people. Thanks guys, you're amazing.
The Recipes
The lovely Bintu from Recipes from a Pantry recreated my chocolate cauliflower ice lollies on her blog and they look amazing! I've known Bintu for a few years now and she's been a wonderfully supportive blogger friend. She's one of the bloggers that I can always turn to with a question or for a laugh.
Although we've only met in person a few times, our online relationship means that we get on brilliantly face to face. I was in London for my book photoshoots on my birthday so she and Diana from Little Sunny Kitchen took me out for the night! Fun fact about Bintu? Girl talks a LOT! In a good way. Another fun fact about Bintu? She's a scientist - specifically an Entomologist. Impressive stuff.
Head over to her site for beautiful pictures and recipes, plus food from her native Sierra Leone and West Africa. Expect to see vivid colours and flavours on her blog. This girl NEEDS to release a book of Sierra Leonian recipes.
I met Ceri from Natural Kitchen Adventures a few years ago on a press trip to a cookery school in Paris. We had a great time cooking and eating! She has kindly recreated the Beetroot Vanilla Sorbet from my book on her blog. It looks absolutely amazing.
Ceri is a certified natural chef and cookery tutor, plus her blog is full of seasonal, healthy and nutritious recipes.
I've only briefly met Jane from The Hedge Combers in person, and sadly couldn't meet up with her at a festival a few weeks ago. She's an amazing blogging friend and I'd love to have a night at the pub with her! To celebrate my virtual book launch, she recreated my Cavolo Nero and Orange Cupcakes with Orange Icing.
Jane specialises in foraging, local Cornish food and campfire cooking. Be sure to follower her adventures on Myrtle - her lovingly-restored VW Campervan.
I'm a massive fan of Kate from The Veg Space. She blogs about amazing veggie and vegan recipes and she recently released the cookbook Vegan in 15. It's a great book with quick vegan recipes and I've cooked from it loads of times. Her mushroom stroganoff is awesome (edit: my husband made it again last night and it was delicious!).
Here, she's made my vegan Avocado Lime Tarts. They look yummy!
Ren Behan showcases outstanding photography and a passion for quality food and ingredients on her eponymous blog. Not only is she a fellow blogger, but Ren is also an author at Pavilion Books. Her debut cookbook, Wild Honey & Rye features a modern take on the Polish recipes of Ren's heritage. The book is out in September and I can't wait to see it!
Ren is a calm, sage and supportive member of the blogging community. Head over to Ren's blog for her beautiful take on my Carrot Gingerbread - cooked in a caravan while on holiday! That's the supportive dedication that makes Ren so incredibly awesome.
Janice from FarmersGirl Kitchen has possibly the most lovely and soothing voice I've ever heard. I want her to read me stories. She's Scottish and as her blog name suggests, she lives on a farm.
Janice also kindly recreated my Carrot Gingerbread from the book on her blog and it looks absolutely delicious - just gaze at that squidginess (yes, that's a word, I swear). She also did a video book review on her Facebook page, so head over for her thoughts.
The recipe that sticks out in my mind of Janice's the most is... wait for it...it's awesome... Hot Cross Bun Waffles. It's the most amazing food mashup EVER.
Lisa from United Cakedom is American and Americans love their pumpkin amiright? See, I can say this with zero stereotype as I'm Canadian and we equally love pumpkin. It's fact. So, I wasn't surprised that at the height of our (very very drizzly) summer Lisa chose to test out the recipe for the slightly Autumnal Pumpkin Cupcakes with Avocado Icing.
Lisa was skeptical about the avocado icing, but I'm pleased that she now agrees that it's a great substitute for butter! Check out Lisa's review of the Veggie Desserts + Cakes Cookbook! She's also got loads of scrumptious recipes and lots of book reviews.
What Lucy from BakingQueen74 doesn't know about slow cookers, frankly ain't worth knowing. She makes meals in it, but particularly cakes! You want to check out her slow cooker chocolate and mint aero bubble cake, trust me. Lucy is also a master of turning your favourite chocolate bars into creative bakes, from Caramacs to Creme Eggs. She very kindly made this lovely recreation of the Courgette and Lemon Poppy Seed Cake!
Choclette from Tin and Thyme made this pretty and very green version of my Kale and Apple Cake! I've known Choclette virtually for ages and she became a blogging buddy early on in my Veggie Desserts career. We share a passion for veggies, chocolate and creative vegetarian recipes.
I got to meet Choclette (and find out her real name!) at the Food Magazine awards last year, and celebrate her win for best blog! We enjoyed a lavish awards ceremony at Yeo Valley and she received her award from none other than Michelin starred chef Michael Caines MBE. Choclette's in the middle of a big move at the moment and I wish her all the best. It was very kind of her to take the time during such a hectic time to write about my book and I'm truly touched that she did.
Claire from Foodie Quine is a thoroughly awesome lady. She's a supportive blogger colleague, hilarious and knows how to rock a festive manicure. A proud Scot through and through, she's recently celebrated her blog's 5th birthday with an amazing Tunnock's Teacake Croquembouche. Claire loves to use traditional Scottish ingredients, like Irn Bru!, in creative ways, plus she's a gin connoisseur. She also has, hands down, the most amazing collection of foodie Christmas tree decorations.
To celebrate my virtual book launch, Claire has recreated my Strawberry Spinach Swiss Roll - which went down a storm with her husband's colleague.
Helen writes the UK's number 1 kosher food blog, Family Friends Food. We're in a blog group together and many of us skived one afternoon and made video tours of our kitchens to share with each other. Not knowing that much about Jewish living, it was really really interesting to discover that Helen's kosher kitchen has separate utensils and dishes for dairy and meat. It's so nice that even though we're dotted all over the UK, we can all pour cups of tea and have a nosey into each other's kitchens lives beyond our blogs.
Helen has a glut of courgettes in her garden, so she kindly recreated my Courgette Lemon Poppy Seed Loaf with Lavender Glaze. It looks exactly like in the book and I'm so pleased that she loved it.
Check out Helen's cookbook, Helen's Delicious Pesach, which reached No 1 on the Amazon kosher food chart.
Kavey from Kavey Eats is a very well-known blogger who has been at this game since 2009! She focuses on food and travel, often merging the two in sharing food she's found on her extensive travels, and recreating dishes at home. I first met Kavey briefly at a blogging conference, but it was outside on a very cold September weekend and I mostly remember her shivering under a blanket! It was the first time I had met another blogger and I was quite overwhelmed by everyone's loveliness.
Fast forward a few years and I got to meet her better at a lovely intimate blogger weekend in Dorset. She brought along her awesome husband Pete and it was really nice to get to know them a bit better. In case anyone was wondering, Kavey is an accomplished trampolinist. Sorta. Actually, she's just discovered the joy of pottery and you can check out her Etsy shop at Studio Favelle.
Kavey has given my book a really lovely review. Check out her Veggie Desserts Cookbook review.
Kellie from Food to Glow has very impressive credentials as a food blogger. She's a health educationist and nutrition adviser, working with Maggie's Cancer Caring Centres running classes to help support groups and individuals through treatment and recovery.
Originally from Florida, Kellie has lived in Edinburgh for many years. She writes beautifully with knowledgeable snippets about nutrition, a passion for vegetables and international cuisine. She first introduced me to the joys of kimchi grilled cheese. Most of the food she blogs about is vegan, not because she is, but because she's a fellow veg fanatic. I love reading her blog posts
Kellie has written a lovely review of the Veggie Desserts Cookbook and shared the recipe for Kale and Apple Cake.
Elizabeth from Elizabeth's Kitchen Diary has made this stunning recreation of the Pea and Vanilla Cake with Lemon Icing from the Veggie Desserts Cookbook! She's also given the book a really lovely review.
Elizabeth is a fellow ex-pat Canadian and we discovered that we both spent time in a tiny town in British Columbia called Chilliwack. Some years ago she moved to Shetland and is now the UK's most northerly food blogger, posting gorgeous recipes, travel and crafts. Elizabeth regularly posts stunning photos of her breathtaking surroundings and she's pretty much a walking tourist board - making us all want to visit. She's also a dab hand at some pretty impressive crafts, like her Hand Painted Fair Isle Stairs.
As she mentions in the post, we've followed each other for a long time, but finally had the chance to meet up at a food blogging conference a few years ago. She's such a lovely blogger and a great supportive part of the community.
Heidi of Heidi Roberts Kitchen Talk has recreated my Chocolate Black Bean Brownies - keeping walnuts to one side so her nut-avoiding grandson would tuck in! Although she blogs about recipes (often using the fruits of her allotment), travel, restaurant reviews and products, when I think of Heidi's blog, I instantly go to her Caribbean adventures.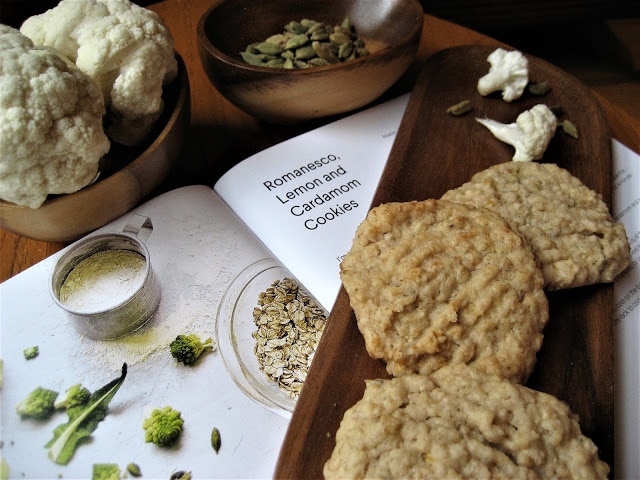 Solange from Pebble Soup has made this lovely version of my Romanesco Lemon and Cardamom cookies from the book. Substituting what she had on hand, she's turned them into Cauliflower, Lime and Cardamom Cookies. She's also written a really kind review of the book in the recipe post.
Mandy from Sneaky Veg is a woman after my own heart. We both love cooking and baking with veggies and using them as much as possible. With her kids being veg-loathers, she's created amazing recipes to sneak them into all meals. This has let to her regularly working with Metro newspaper. Check out Mandy's review of the Veggie Desserts cookbook and recreated the Spinach and Lemon Bars.
A huge thanks to my lovely blogging community for this virtual book launch. You are all wonderful and I'm so thankful for all of your support. Virtual group hug everyone.
Kate xx