Discover the magic of Parkin Cake - a quintessentially British cake made with oats, fiery ginger and rich molasses. This gingerbread style cake is a perfect winter warmer.
In the world of comforting desserts, few can rival the enduring appeal of Parkin Cake. This traditional English treat is a true embodiment of coziness and flavor.
It's a cake that blankets you in warmth, both from its rich, syrupy, sticky sweetness and the subtle, lingering warmth of ginger.
Parkin is the kind of cake that brings people together, whether it's shared over a cup of tea on a chilly afternoon or served as the grand finale of a hearty dinner.
Originating from Northern England, Parkin Cake has a rich history dating back centuries. Traditionally enjoyed on Bonfire Night, a British holiday celebrated with fireworks and bonfires, Parkin Cake was designed to be hearty and filling, providing sustenance and comfort during the outdoor festivities.
During Bonfire Night (5th November) in the UK, people make big vats of hot soup and stews, like vegan slow cooker lentil stew , vegan shepherds pie, or red lentil dahl.
As people stand in fields, parks or gardens, waiting for the skies to light with the flashes and roars of fireworks, flasks of tea and hot chocolate are supped all over the country. Perhaps a warm boozy drink or two.
And there's cake. Particularly Parkin Cake.
It's no wonder this cake has stood the test of time; its irresistible blend of ingredients and flavors has made it a beloved staple in British baking.
This recipe was originally posted on November 1, 2017, and republished with extra text and updated photos on September 27, 2023.
Jump to:
Testimonials for this Parkin Cake Recipe
⭐⭐⭐⭐⭐ "I had never tried a recipe for parkin cake and even never had ginger cakes, but saw your recipe on Twitter. I made it this weekend. We couldn't wait for it to get stickier so ate it right away! I'll make it again and try to wait to try it extra sticky. Really good cake." - Jill
⭐⭐⭐⭐⭐ "Thanks for the parkin cake recipe. We made this yesterday and it's so good. I don't know if we can wait for it to get stickier though!" - Sandra
⭐⭐⭐⭐⭐ "Omg can we say yum?!?! Everything about the recipe was amazing. Absolutely delicious!!!" - Courtney
So, what is Parkin Cake?
Parkin Cake is a traditional British dessert hailing from northern regions of England, particularly Yorkshire and Lancashire.
This cake is known for its distinctive combination of flavors and textures, making it a beloved treat, especially during the colder months and on special occasions like Bonfire Night and Halloween.
At its core, Parkin Cake is a sweet, moist, and slightly sticky cake with a rich, dark, and complex flavor profile from oats, black treacle/molasses, golden syrup (corn syrup), and ginger.
The cake is traditionally baked in a square or rectangular tin and then cut into squares or rectangles for serving. It has a dense yet tender texture, and it's often enjoyed with a cup of tea or coffee, making it a quintessential treat for teatime in Britain.
One of the unique aspects of Parkin Cake is that it improves with age. Many bakers recommend allowing the cake to rest for several days, even up to a week, after baking to let the flavors meld and the cake to become stickier and more delicious over time. This characteristic makes Parkin Cake a popular make-ahead dessert, perfect for celebrations and gatherings.
You can eat the gingery cake on it's own, or even warmed up with custard so it's more of a pudding.
Of course it's best enjoyed with a big mug of Yorkshire tea, hot chocolate, or maybe this hot apple cider.
Why You Should Make This Recipe
Timeless Tradition: Embrace the rich culinary history of England by creating a cake that's been cherished for generations.
Comfort Food at Its Best: Parkin Cake is the ultimate comfort food, perfect for lifting your spirits on a gloomy day.
Rich, Complex Flavors: The combination of golden syrup, molasses, ginger, and oats creates a symphony of flavors that dance on your taste buds.
Versatile Treat: Whether it's a family gathering, tea time with friends, or a solo indulgence, Parkin Cake is suitable for all occasions.
Easy to Store: Parkin Cake gets better with time, so you can make it ahead and enjoy it over several days.
Ingredients
Golden Syrup (Corn Syrup): The backbone of this cake's sweetness. If you can't find golden syrup, corn syrup works as an alternative.
Butter: Unsalted butter adds richness and moisture to the cake.
Molasses/Treacle (Black Treacle): This ingredient is responsible for the cake's deep, dark flavor. If you can't find black treacle, regular molasses will do.
Light Brown Sugar: Provides sweetness and a slight caramel note.
Plain Flour (All-Purpose): The base of the cake, giving it structure.
Baking Powder: Helps the cake rise and become tender.
Ground Ginger: The star spice that gives Parkin Cake its distinctive flavor.
Bicarbonate of Soda (Baking Soda): Acts as a leavening agent.
Oats: Adds texture and a nutty flavor to the cake.
Egg: Provides structure and moisture.
Milk: Makes the batter smooth and pourable.
How to Make Yorkshire Parkin Cake
Traditional Parkin is a simple cake to make.
You can find lots of recipes online from Delia, BBC, Nigella etc... but this is a simple classic Old Fashioned Parkin recipe that many readers make again and again!
Gently melt the butter, sugar, molasses and syrup together.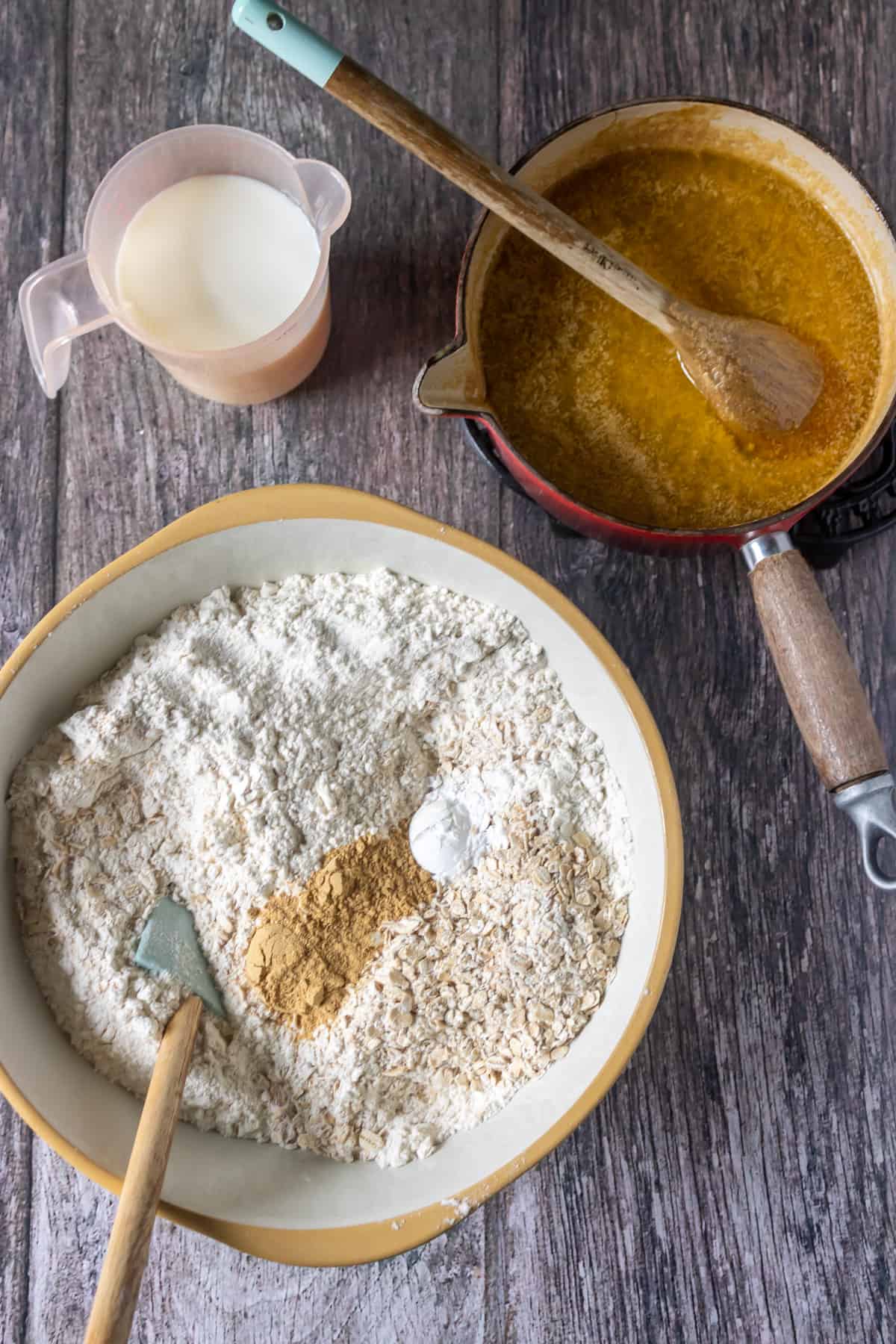 Mix dry ingredients.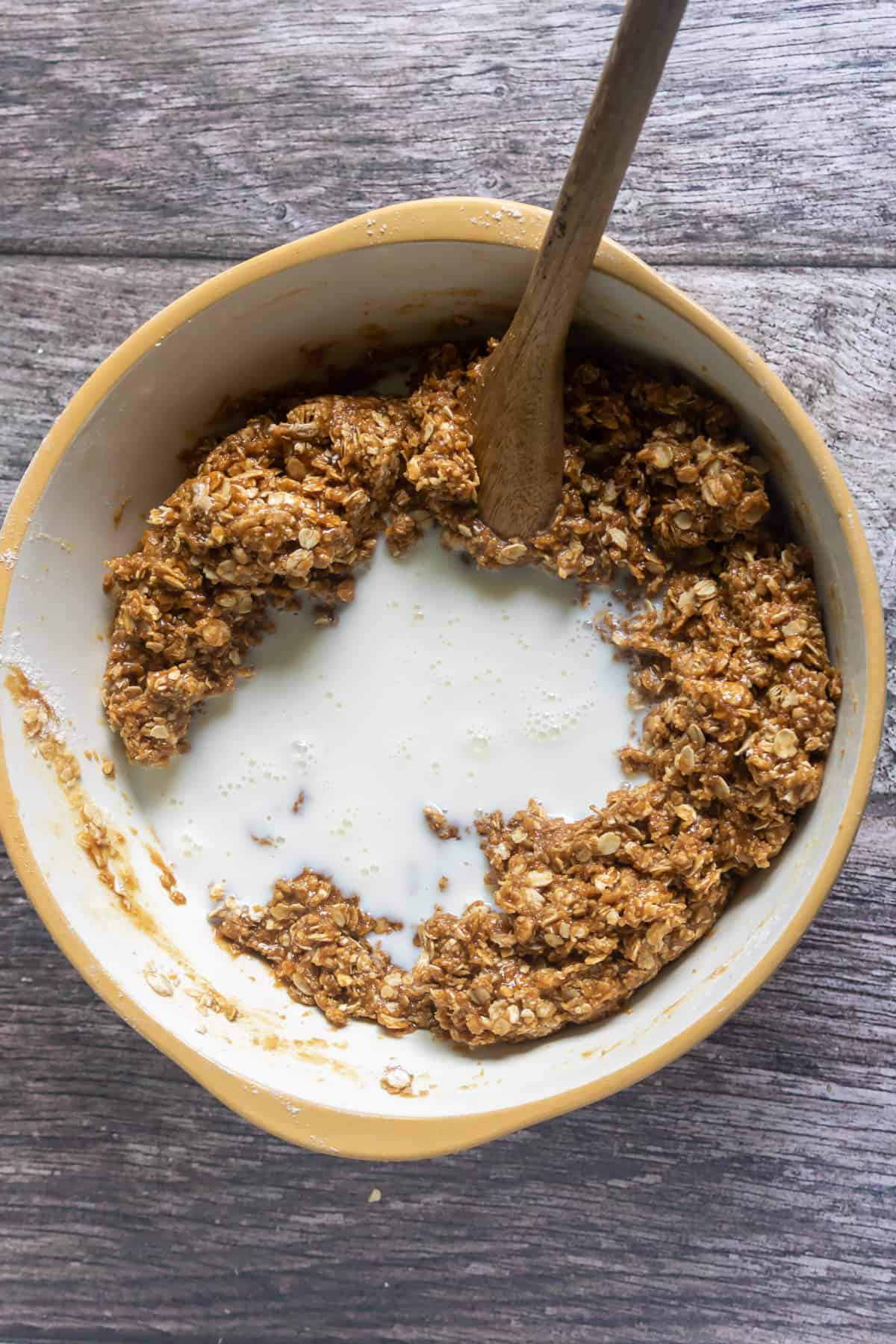 Add the wet ingredients and stir well.
Pour into the prepared pan and bake.
Variations
Nutty Parkin: Add chopped nuts like walnuts or pecans for a delightful crunch.
Fruity Twist: Fold in dried fruits like raisins, currants, or chopped dates for extra sweetness.
Chocolate Infusion: Mix in dark chocolate chips for a luxurious twist.
Spice Experimentation: Adjust the amount of ginger to suit your taste—more for a spicier kick, less for a milder flavor.
Serving Suggestions
Traditional Tea Time: Serve Parkin Cake with a pot of English breakfast tea for the perfect British tea time experience. Check out these other Traditional British Puddings.
Ice Cream Companionship: Warm a slice and pair it with a scoop of vanilla ice cream for a contrasting treat.
Custard Comfort: Drizzle warm custard sauce over the cake for a comforting dessert.
Whipped Cream and Berries: Top slices with freshly whipped cream and a handful of berries for a delightful contrast of flavors.
Storage Advice
Parkin Cake is one of those rare treats that gets better with age. To allow its flavors to fully develop and the cake to become delightfully sticky, wrap it tightly in parchment paper and store it in an airtight container. You can start enjoying it after a day or two, but it truly shines after 3-5 days. If you're in a rush, it's perfectly fine to savor it immediately.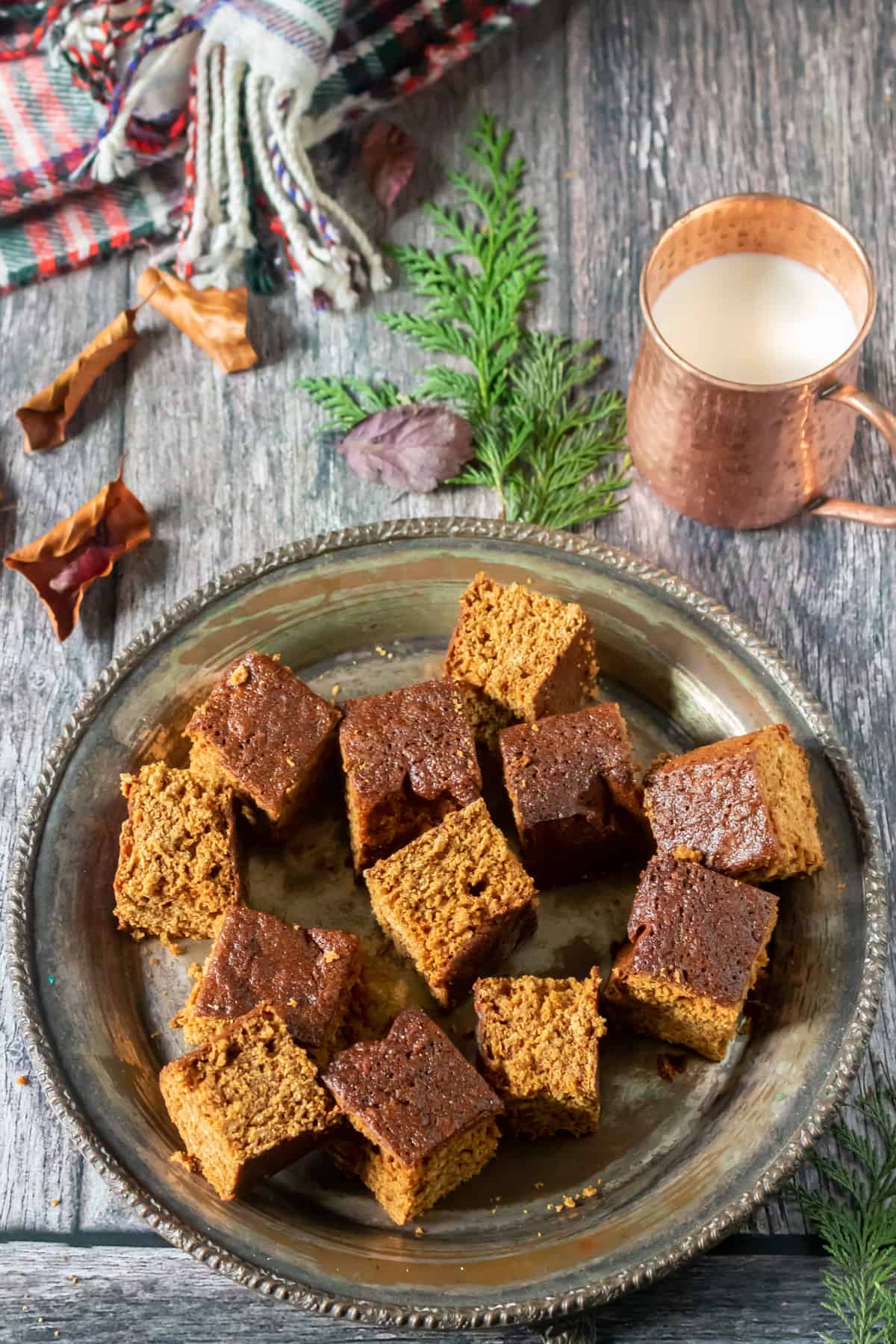 Recipe Tips
Avoid Overmixing: When combining wet and dry ingredients, stir just until they come together. Overmixing can lead to a tougher cake.
Measure Molasses/Treacle with Ease: Before measuring molasses or treacle, lightly grease your measuring cup or spoon with a little oil. This will help the viscous syrup slide out easily.
The Ginger Factor: Adjust the amount of ground ginger according to your preference. For a milder flavor, reduce it slightly; for an extra kick, add a bit more.
Patience is a Virtue: While it's tempting to dive into your Parkin Cake right away, allowing it to rest for a few days truly enhances its taste and texture. Exercise patience, and you'll be rewarded with a stickier, more flavorful cake.
FAQs
What's the best way to store Parkin Cake for maximum flavor?
To allow the flavors to develop fully, wrap the cake in parchment paper and store it in an airtight container at room temperature. It's best after 3-5 days but can be enjoyed sooner if desired.
Is it possible to freeze Parkin Cake?
Yes, you can freeze Parkin Cake. Wrap it well in plastic wrap and then in foil before placing it in the freezer. It can be stored for up to three months. Thaw at room temperature before serving.
If you make this parkin cake recipe, please tag it with #veggiedesserts on Instagram or other social media. I LOVE seeing your recreations of my recipes. I work hard to bring you recipes for vegetable cake, vegetable desserts and vegan and vegetarian recipes.
📖 Recipe
Parkin Cake
Yorkshire parkin is a sticky ginger cake, traditional to the North of England and eaten on Bonfire Night. It's made with oats, molasses and ginger.
Save
Saved!
Ingredients
¾

cup

golden syrup

200g (corn syrup)

1

stick

butter

115g

⅓

cup

molasses

115g (treacle)

½

cup

brown sugar

115g

1 ⅔

cups

all-purpose plain flour

200g

2

teaspoons

baking powder

2

teaspoons

ground ginger

1

teaspoon

bicarbonate of soda

(baking soda)

⅔

cup

oats

100g

1

egg

½

cup

milk

100ml
Instructions
Preheat the oven to 160°C/310°F. Line a 20x20cm/8x8in baking pan with baking paper.

Melt the butter, golden syrup, treacle and sugar in a pan, but don't allow it to boil. Stir to combine.

In a large bowl, sift in the flour, baking powder, ginger and soda, then stir in the oats.

Pour in the melted butter mixture and stir to combine into a thick batter.

Whisk the egg into the milk, then mix them into the batter.

Pour the batter into the prepared baking pan and bake for 60-75 minutes or until the centre springs back when touched and an inserted skewer comes out clean.

Allow to cool in the tin before cutting into squares.

It's best if you wrap it and allow the flavours to develop and the cake to get sticky over 3-5 days, but can be eaten immediately.
Notes
This parkin keeps well in an airtight tin, with the benefit that it gets stickier if you can wait a few days before eating it!

Try it on it's own or served with hot custard.
Nutrition
Calories:
217
kcal
Carbohydrates:
38
g
Protein:
2
g
Fat:
6
g
Saturated Fat:
4
g
Polyunsaturated Fat:
0.4
g
Monounsaturated Fat:
2
g
Trans Fat:
0.2
g
Cholesterol:
26
mg
Sodium:
126
mg
Potassium:
209
mg
Fiber:
1
g
Sugar:
25
g
Vitamin A:
206
IU
Vitamin C:
0.002
mg
Calcium:
58
mg
Iron:
1
mg
The nutritional information provided is approximate and can vary depending on several factors, so is not guaranteed to be accurate. Please see a registered dietician for special diet advice.
Tried this recipe?
Mention @kateveggiedesserts or tag #veggiedesserts! I love seeing your recreations.