This Yorkshire Parkin recipe is a traditional British dessert. It's a sticky oat ginger cake that's simple to make. Plus, it gets even better if you can leave it a few days to get even stickier!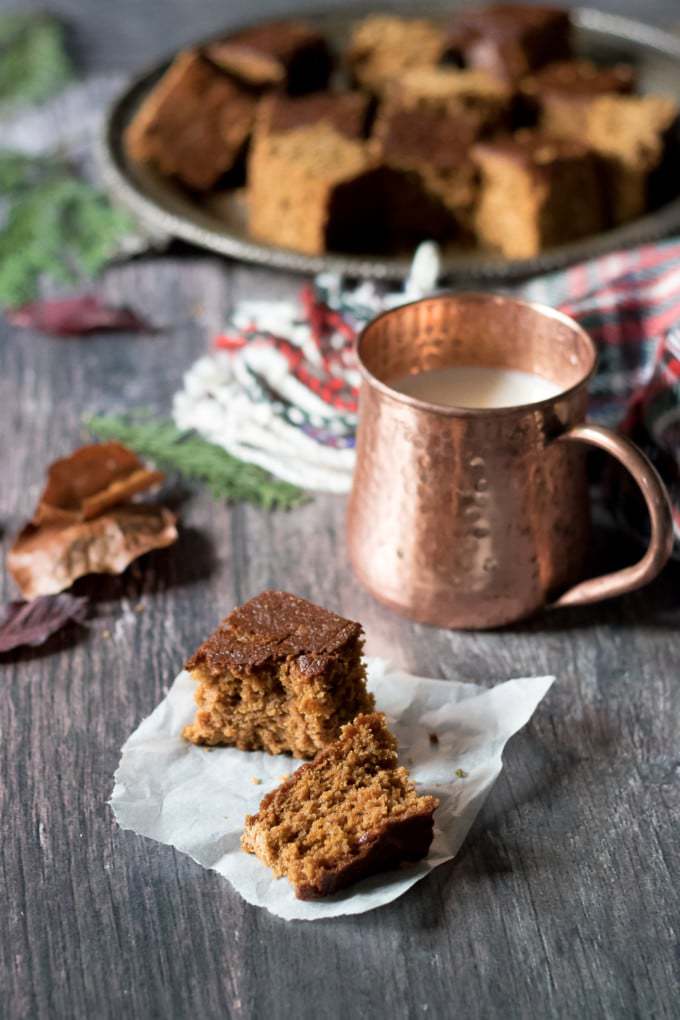 Yorkshire Parkin recipe
I do love Autumnal foods.
During Bonfire Night (5th November) in the UK, people make big vats of hot soup and stews, like my vegan slow cooker lentil stew , vegan shepherds pie or red lentil dahl.
As people stand in fields, parks or gardens, waiting for the skies to light with the flashes and roars of fireworks, flasks of tea and hot chocolate are supped all over the country.
Perhaps a warm boozy drink or two. Jacket potatoes hot from the oven are wrapped in foil and brought out into the night.
And there's cake.
Particularly Parkin.
Testimonials for this Parkin Recipe
⭐⭐⭐⭐⭐ "I had never tried a recipe for parkin and even never had ginger cakes, but saw your recipe on Twitter. I made it this weekend. We couldn't wait for it to get stickier so ate it right away! I'll make it again and try to wait to try it extra sticky. Really good cake." - Jill
⭐⭐⭐⭐⭐ "Thanks for the recipe. We made this yesterday and it's so good. I don't know if we can wait for it to get stickier though!" - Sandra
⭐⭐⭐⭐⭐ "Omg can we say yum?!?! Everything about the recipe was amazing. Absolutely delicious!!!" - Courtney
So, what is Yorkshire parkin cake?
Parkin is a gingerbread cake that originates in Northern England.
It's a wonderfully sticky sponge made with oats, black treacle/molasses and ginger.
It's particularly known in Yorkshire, with families having their favourite spin on the classic cake.
Some recipes insist on using no eggs, others add spices in addition to ginger.
As with any traditional recipe, there are also regional variations.
In Lancashire parkin is paler with more golden syrup (corn syrup) rather than treacle.
You can eat the gingery cake on it's own, or even warmed up with custard so it's more of a pudding.
Of course it's best enjoyed with a big mug of Yorkshire tea.
Or maybe this hot apple cider.
Bonfire Night
Being from Canada, we obviously never celebrated Bonfire Night.
We went big for Halloween, but that was it.
I've lived in the UK for many years now, so I've celebrated Bonfire Night now many times.
Still, I've always been slightly confused by it.
On the 5th of November people let off fireworks to celebrate Guy Fawkes' failed plot to blow up parliament in the 1600s.
He was Catholic, and that was outlawed by the government and Crown, so he and his cohorts planned to set off gunpowder in the vaults under the Houses of Parliament.
Right.
Got that.
And people eat baked potatoes and Yorkshire parkin and drink hot chocolate.
Gotcha.
Baffled
I'm mildly baffled by the whole thing though.
Centuries later people still sip hot drinks out in the cold while watching fireworks displays and bonfires burning effigies of Guy.
The odd cheeky kid will knock on the door in the run up to Bonfire Night to ask for money as a 'penny for the Guy' - an old custom of begging for money for fireworks that's rather out of favour now.
It all seems a bit mad, but hey, this is a country that still does cheese rolling.
And don't even get me started on my confusion over Wassailling.
What's the difference between Gingerbread and Parkin?
The difference is oats.
Parkin contains oats, while gingerbread cake doesn't.
The oats give Parkin a slightly denser texture chewier texture, but both are lovely rich cakes made with ginger and treacle.
How to Make Yorkshire Parkin Cake
Traditional Parkin is a simple cake to make.
You just need to melt butter and sugars then stir it into the mixed dry ingredients.
Mix it up well, then add the milk and egg and stir it again. Pour it into the pan and bake!
It's a no-fuss recipe for parkin that's quick and easy.
You can find lots of recipes online from Delia, BBC, Nigella etc... but this is a simple classic Old Fashioned Parkin recipe.

1: Gently melt the butter, sugar, molasses and syrup together.
2: mix dry ingredients then add wet and stir well.

3: Pour into the prepared pan and bake!
Get the Yorkshire Parkin Recipe
If you make this parkin recipe, please tag it with #veggiedesserts on Instagram or other social media. I LOVE seeing your recreations of my recipes. I work hard to bring you recipes for vegetable cake, vegetable desserts and vegan and vegetarian recipes.
Yorkshire Parkin
Yorkshire parkin is a sticky ginger cake, traditional to the North of England and eaten on Bonfire Night. It's made with oats, treacle and ginger.
Save
Saved!
Ingredients
200

g

(¾ cup) golden syrup

(corn syrup)

115

g

(1 stick) butter

115

g

(⅓ cup) molasses/treacle

(black treacle)

115

g

(½ cup) light brown sugar

200

g

(1 ⅔ cups) plain flour

(all-purpose)

2

teaspoon

baking powder

2

teaspoon

ground ginger

1

teaspoon

bicarbonate of soda

(baking soda)

100

g

(⅔ cup) oats

1

egg

100

ml

(½ cup) milk
Instructions
Preheat the oven to 160C/310F. Line a 20x20cm/8x8in baking pan with baking paper.

Melt the butter, golden syrup, treacle and sugar in a pan, but don't allow it to boil. Stir to combine.

In a large bowl, sift in the flour, baking powder, ginger and soda, then stir in the oats.

Pour in the melted butter mixture and stir to combine into a thick batter.

Whisk the egg into the milk, then mix them into the batter.

Pour the batter into the prepared baking pan and bake for 60-75 minutes or until the centre springs back when touched and an inserted skewer comes out clean.

Allow to cool in the tin before cutting into squares.

It's best if you wrap it and allow the flavours to develop and the cake to get sticky over 3-5 days, but can be eaten immediately.
Notes
This parkin keeps well in an airtight tin, with the benefit that it gets stickier if you can wait a few days before eating it!

Try it on it's own or served with hot custard.

Recipe adapted from Country Living.
Nutrition
Calories:
217
kcal
Carbohydrates:
36
g
Protein:
2
g
Fat:
6
g
Saturated Fat:
3
g
Cholesterol:
26
mg
Sodium:
142
mg
Potassium:
228
mg
Fiber:
1
g
Sugar:
22
g
Vitamin A:
205
IU
Calcium:
63
mg
Iron:
1.4
mg
The nutritional information provided is approximate and can vary depending on several factors, so is not guaranteed to be accurate. Please see a registered dietician for special diet advice.
Tried this recipe?
Mention @kateveggiedesserts or tag #veggiedesserts! I love seeing your recreations.