Traditional British puddings include boiled and steamed desserts, trifles, rice puddings, plus other tasty desserts! I've gathered the best recipes from Bread and Butter Pudding and Christmas Pudding to Jam Roly Poly and Sticky Toffee Pudding. I'll also explain just what exactly a British pudding is!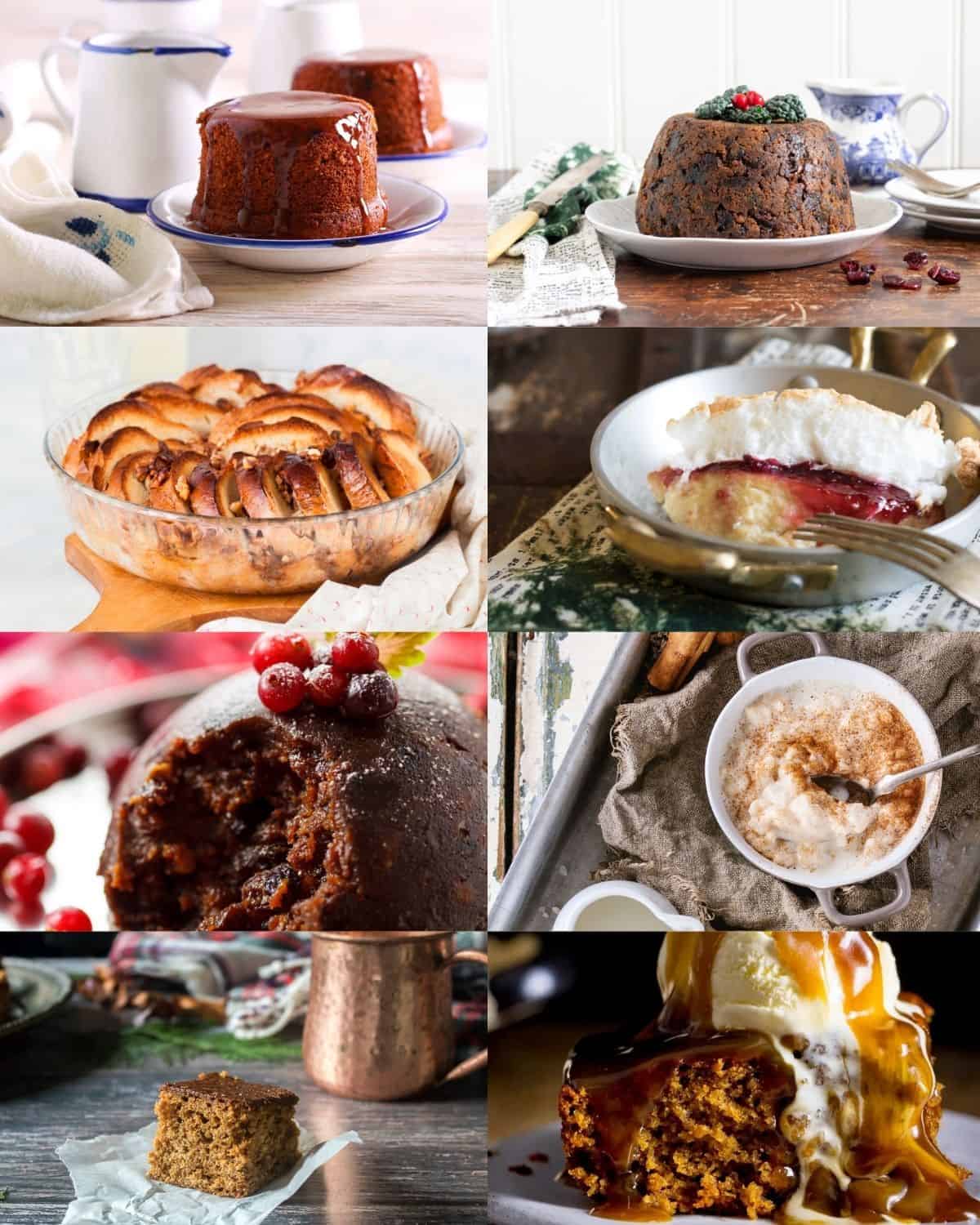 There are so many different types of traditional British pudding and there isn't exactly a firm rule about what constitutes a 'pudding'.
It gets even more confusing because in Britain, the word pudding is often used to mean dessert.
But I'm going to focus on traditional British puddings.
I've gathered the best ones together, from old school classics such as Summer Pudding to trifles, crumbles, and the interestingly named Spotted Dick.
You'll love these English puddings, many of which are specific to different regions.
Jump to:
What is pudding?
But first, let's clarify. What is pudding?
In the United States, a pudding is a flavored creamy, cold, set dessert, similar to custard.
In Britain, pudding is often used as another word for dessert, to mean any sweet course after a savory meal.
However, there is also a category of desserts called pudding.
Traditional British puddings are usually steamed, baked or boiled desserts, such as Christmas Pudding, Spotted Dick, or Summer Pudding. They're a bit like cake that is steamed so they're very moist, take the shape of the bowl or basin they are cooked in and have a 'close' texture - very unlike traditional fluffy cake.
Part of the texture also comes from the wide use of suet in puddings. It's a type of grated hard beef fat, but vegetarian versions are widely available and often used instead.
Puddings can also include cold desserts, such as trifle, or baked topped fruit, such as apple crumble, as well as rice pudding and bread and butter pudding.
Puddings can also refer to savory dishes (such as black pudding, Yorkshire pudding and pease pudding), but for this post, we're sticking to sweet.
There isn't a firm rule about what constitutes an English pudding! My kids tend to call it 'tasty hot slop in a bowl'!
What is the dictionary definition of a British or English pudding? "A baked or steamed sponge or suet dish, usually sweet and served as a dessert, but also savoury suet puddings (e.g. steak and kidney). Also milk puddings, made by baking rice, semolina, or sago in milk." - Bender & Bender, A Dictionary of Food and Nutrition.
Platinum Pudding Competition
2022 marks Queen Elizabeth's 70 years on the throne. To celebrate, there is a year of Platinum Jubilee events, including the Platinum Pudding Competition.
Fortnum & Mason, the upmarket London England department store founded in 1707, is asking anyone over the age of 8 to submit a pudding recipe fit for the Queen, but 4 February.
The winner, judged by celebrity chefs including Dame Mary Berry, will be served to Her Majesty as part of the Platinum Jubilee celebrations!
Is your creation good enough? The proof is in the pudding! (sorry, groan).
Popular Puddings
Puddings can be broken down into a few basic categories: steamed or boiled puddings, bread puddings and jellies + milk puddings.
Steamed or Boiled Puddings
Steamed or boiled puddings are usually cooked in a basin/bowl or elaborate fluted basin. The moist puddings then take the shape of the dish it's baked in.
Examples:
Sticky Toffee Pudding is a date and caramel cake that lives up to its sticky name. The rich cake is traditionally steamed but often baked instead.
Jam Roly Poly is an old-school classic that's similar to Swiss roll. A large suet-rich thin cake is spread with jam and rolled up into a swirl.
Spotted Dick is a bizarrely-named steamed suet cake full of currants/raisins. It's usually served warm with lashings of hot custard.
Other examples are Christmas Pudding, Figgy Pudding, Plum Pudding, and Self Saucing Chocolate Pudding.
Bread Puddings
Traditional puddings are often made of leftover or stale bread, usually with a sauce or custard.
Bread and Butter Pudding has slices or cubes of bread baked in custard, often flavored with spices or dried fruit.
Summer Pudding consists of slices of bread around the edge of a pudding basin/bowl. It's then filled with fruit, which seeps through the bread giving it a vibrant color and fruity taste.
Other examples include Bread Pudding, Queen of Puddings (which has a breadcrumb custard), and Apple Charlotte.
Jellies and Milk Puddings
From trifles to rice pudding, there are plenty of desserts that are gelatine and/or milk-based.
Rice pudding is a milky dish of sweet baked rice. It can have add-ins such as vanilla, raisins or spices. It's served on its own or with custard or fruit compote.
Eton Mess is one of the cold puddings. It's made of crumbled meringues in a glass with fruit and whipped cream.
Other examples include Blancmange, Syllabub, Fruit Fools, and Possett.
Recipes
Here are the best English pudding recipes and British pudding recipes!
I hope you'll try them out. Let me know how you get on with them in the comments.

Traditional British Puddings
Traditional British pudding recipes include boiled and steamed desserts, trifles, rice puddings, plus other tasty desserts! I've gathered the best recipes from Bread and Butter Pudding and Christmas Pudding to Jam Roly Poly and Sticky Toffee Pudding.