Carrot Cake Protein balls are nourishing, healthy and sooo easy to make. My kids love making and eating these bliss balls, which taste like carrot cake!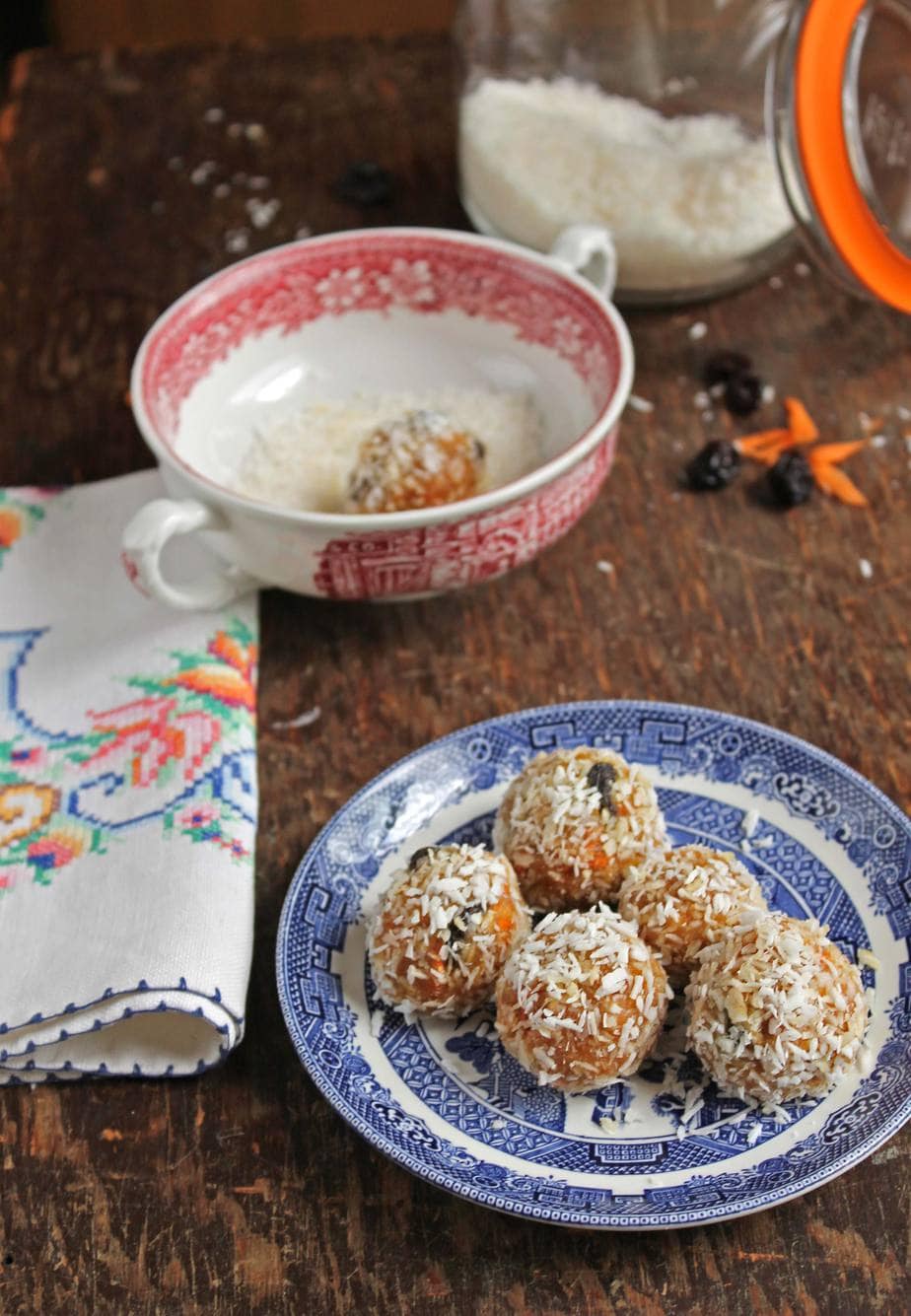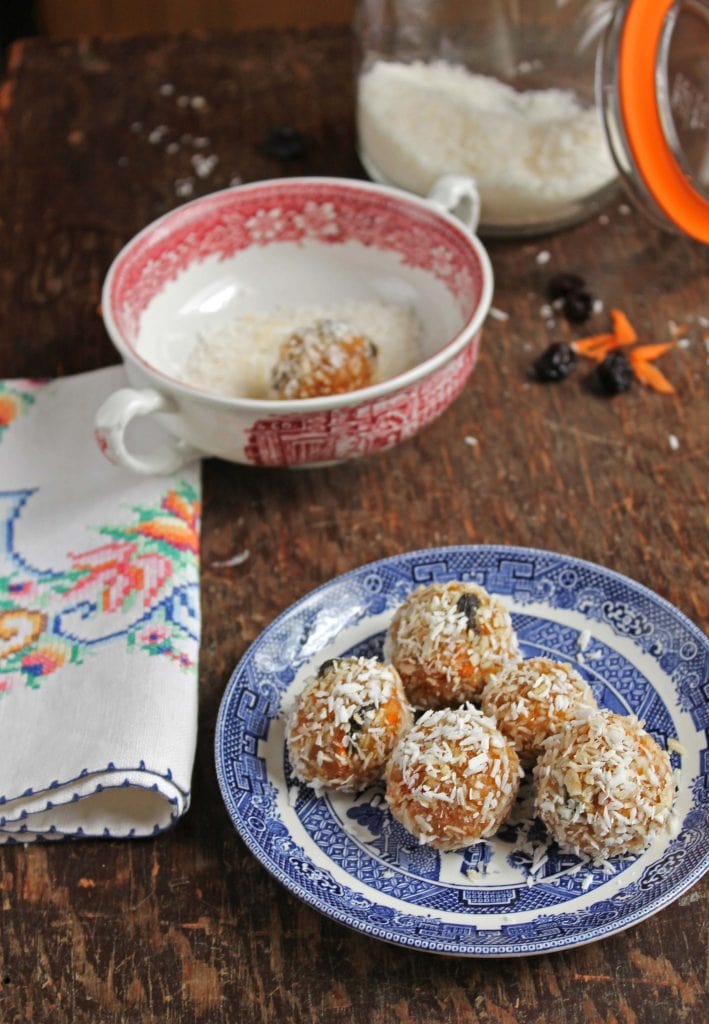 These sort of protein balls are a great healthy treat for grown-ups and kids.
My little ones got stuck in and loved rolling these balls - all that playdough practice finally came in useful.
These protein balls are quick and easy to make with ingredients that most people will have to hand.
They're also great for freezing, so you can take a few out for breakfast or for a treat.
The familiar carrot cake spices and raisins are mixed with grated carrot, oats and peanut butter and rolled in coconut.
This is so easy to make and is a go-to recipe when the kids want to 'cook'.
Cooking with children is so important.
I feel so strongly that they need to learn early on how to wield utensils, mix, stir, chop, measure... It's a fun activity for easy recipes like these carrot cake protein balls.
Some food may get ruined, some cakes may have eggshells. Some bowls may be broken and some clothes might get mucky. It doesn't matter.
What does matter is that children know food is not something that just appears on a plate. They need to know that the boxes in the cupboard and the cold things in the fridge can so easily come together to make meals and dessert.
We need to talk about food: where it comes from, how it grows, how to cook. Many of us do, but sadly, many don't.
I love Jamie Oliver and all that he's done to make the food in our schools better. But I'm worried about something. Dessert. Pudding. Afters.
Why are our children being given something sweet to end their meals at school?
Why are we teaching them five days a week that a meal is incomplete without sugar at the end? My son is five and I love that he gets a hot dinner (lunch) at school.
The only thing he's allowed to bring for his snack is water and either fruit or vegetables. He always wants either cucumber, carrots or red peppers and sometimes grapes. That is fantastic.
So why give them sugar after their lunch? I presume that since they know they will be getting custard and cake, jelly or ice cream after their carefully balanced main meal, that they hold out for the treat.
I always ask him what he had for lunch, and the only thing he can remember is the dessert. Why are they giving it? I don't feel the need to finish every meal with sugar, so I wish the school system wasn't giving it every day to my son.
The schools struggle to feed our children healthy food on a budget, so why not cut out the desserts and spend more on the meals?
I feel a strongly-worded letter coming on...
📖 Recipe
Carrot Cake Protein Balls
Carrot Cake Protein balls are nourishing, healthy and sooo easy to make. My kids love making and eating these bliss balls, which taste like carrot cake!
Save
Saved!
Ingredients
1

carrot

peeled and grated

⅔

cup

(75g) rolled oats

½

cup

½ cup (125g) peanut butter

3

tablespoons

raisins

¼

teaspoon

vanilla extract

¼

teaspoon

ground cinnamon

⅛

teaspoon

ground ginger

⅛

teaspoon

ground nutmeg

3

tablespoons

unsweetened shredded coconut

for rolling
Instructions
Add all ingredients except the shredded coconut to a bowl and combine. Roll into balls and then roll the balls in the shredded coconut. Store in the fridge or freezer.
Nutrition
Calories:
106
kcal
Carbohydrates:
9
g
Protein:
4
g
Fat:
7
g
Saturated Fat:
2
g
Sodium:
55
mg
Potassium:
143
mg
Fiber:
2
g
Sugar:
1
g
Vitamin A:
849
IU
Vitamin C:
1
mg
Calcium:
10
mg
Iron:
1
mg
The nutritional information provided is approximate and can vary depending on several factors, so is not guaranteed to be accurate. Please see a registered dietician for special diet advice.
Tried this recipe?
Mention @kateveggiedesserts or tag #veggiedesserts! I love seeing your recreations.