Cauliflower popsicles! Sounds crazy, but this vegan treat uses pureed cauliflower for a creamy base to these chocolate frozen treats.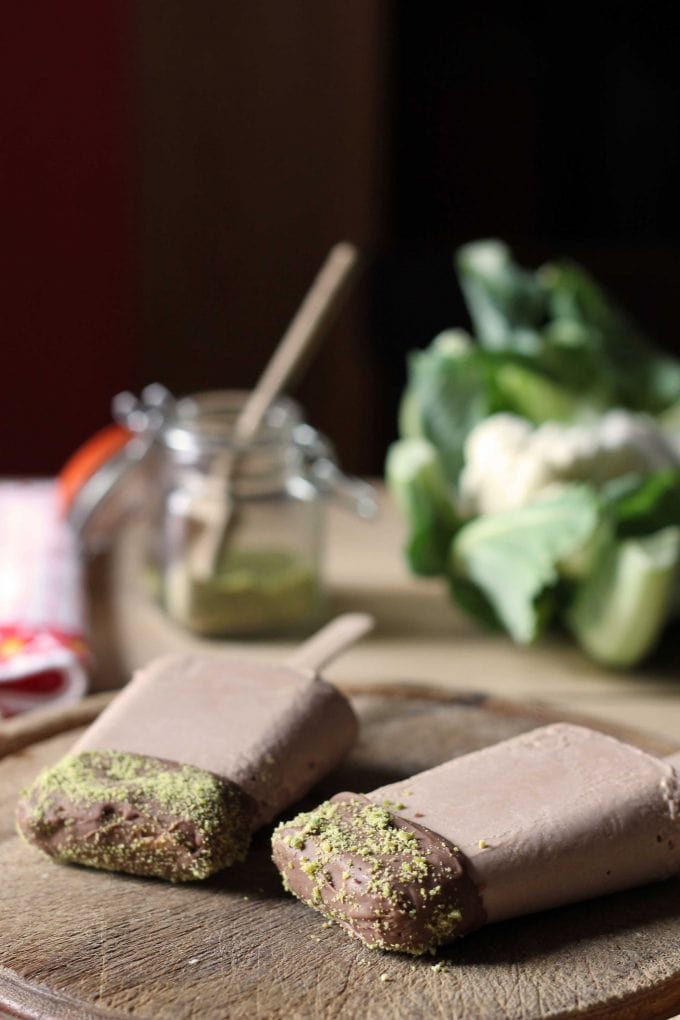 Cauliflower popsicles – yeah, you read that right: cauliflower! No cream, no milk, not even an avocado. This creamy frozen treat is… pureed cauliflower. Cauliflower makes a nice, fairly neutral base (as we all know from cauli rice, cauli pizza etc…), and it's flavour pairs well with cinnamon and chocolate. So here I've turned it into a sweet chocolate popsicle with a hint of coffee and cinnamon, plus a hard chocolate shell sprinkled with pistachio dust. Use milk, dark or vegan chocolate if you wish.
You're intrigued, perhaps skeptical. But I urge you to give it a whirl: the flavours mask the taste of cauliflower and it's a portion of veg in a frozen dessert. Yup.
I made these in my Froothie Optimum high speed blender, but you could also use a hand blender and make it in stages.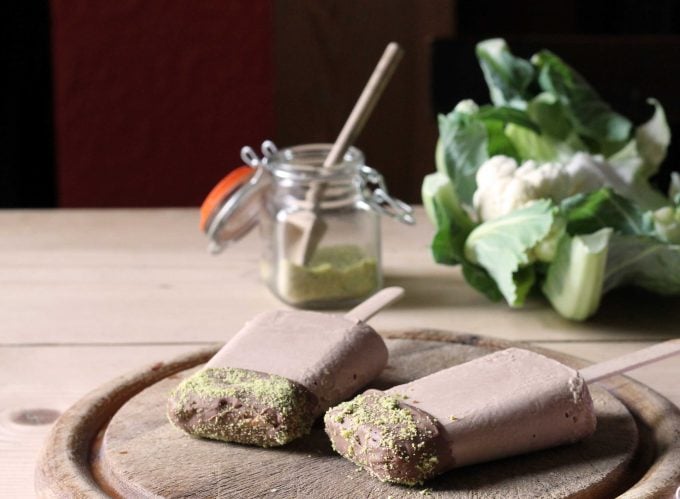 The house echos. Memories are in boxes. The carcass of my empty house no longer feels like home. We are moving across the country and new adventures await. But for now I'm exhausted and I broke my toe on a box. Popping bubble wrap has lost all of it's pleasure. Adieu old town, old life.
Cauliflower and Chocolate Ice Lollies with Pistachio Dust
Ingredients
For the popsicles:
250g (2 cups) cauliflower
75g (½ cup) chocolate, chopped or chips
1 teaspoon strongly brewed coffee, cooled
½ teaspoon vanilla extract
pinch of cinnamon
To decorate:
35g (¼ cup) chocolate, melted
50g (¼ cup) pistachios
Instructions
Boil or steam the cauliflower until just soft, then rinse and drain under cold water to stop it cooking. Blitz the cauliflower with all of the popsicle ingredients in a high speed blender until smooth. Pour into moulds and freeze until solid.
Alternatively, puree the cauliflower with a hand blender until smooth, melt the chocolate and add, along with the other ingredients, and puree until smooth. Pour into moulds and freeze until solid.
To decorate, melt the chocolate and set aside to cool very slightly. Whiz the pistachios in a high speed blender, or in a food mill or coffee grinder, until fine. Dip the frozen popsicles into the melted chocolate and sprinkle with the pistachio dust.
Made these cauliflower popsicles and now for more desserts with cauliflower? Try this!
Cauliflower Banana Bundt Cake with Cinnamon Icing