Cauliflower cake! This decadent chocolate cake filled with pureed cauliflower (you can't taste it!) and topped with an incredible Salted Cinnamon Caramel Frosting.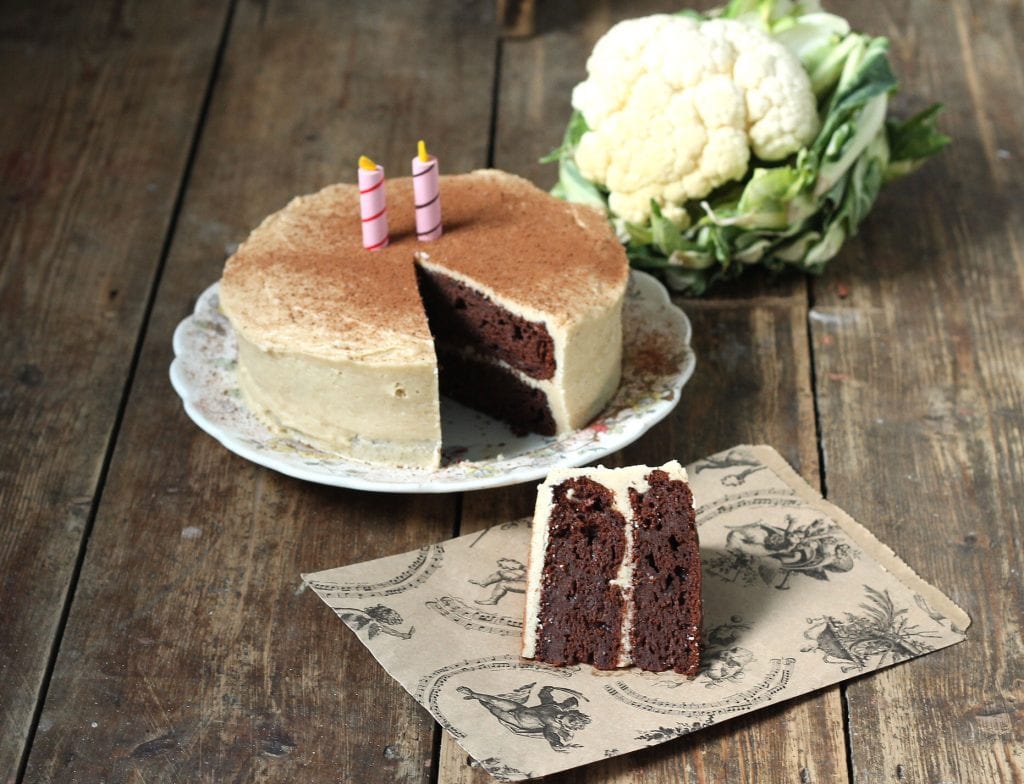 My blog is two! Happy blog birthday to meeeeeee!
Time has really flown by and a lot has happened in the last two years. I started the blog as way to cope after being made redundant at the end of a year's maternity leave with my daughter, when my son was two. I felt rubbish and wanted an outlet for any creativity that had been buried under the newborn haze of sleepless nights, as well as something new to focus on besides work. I had been experimenting with adding vegetables to cakes since my son's first birthday, so Veggie Desserts was suddenly borne.
Over these two years I've learned how to blog, take pictures and develop recipes. The blogging community has been very helpful and supportive. My vegetable cakes slowly became more and more experimental; I started with the now-ubiquitous Chocolate Beetroot Cake and my recipes moved to the definitely more unusual Barbecued Celeriac and Apple Cake.
I've been so pleased with the reaction to my recipes. Often people seem a bit confused at first, but then when they realise that you can't taste the vegetables (I trial them until they work without any veg taste), they're usually game to try more.
I've been honoured to have been Jamie Oliver's Food Blog of the Month, won Best Food Blog at the UK National Blog Awards 2014, one of The Guardian's Sustainable Bloggers, nominated and shortlisted for a load of other awards, and I was chosen as one of Top Sante Magazine's Best Bloggers of 2014.
My blog's original premise, vegetables in desserts, is very niche, so the sheer volume of international press it has garnered has seriously floored me. A three page spread in the Vancouver Sun, which was serialised across Canada was amazing. The Telegraph sent a photographer to take pictures of me for an article, I went to London for an amazing photoshoot and had my hair and makeup done all glam-like and made to feel so special. I've been surprised and pleased to have been asked to do so many interviews about my blog. My recipes have been in Cosmopolitan, Grazia, Good Housekeeping and so many others. I've got a massive stack of newspaper and magazine clippings that I'm so, so proud of. I was at such a low point when the blog started, so very low, that I don't mean to boast about any successes, but I'm just really happy with all of the opportunities.
As my blog grows up, I've started to branch into vegetable-heavy breakfasts, snacks, drinks and other meals. A girl can only eat so many desserts so I've started to share the vegetable-heavy meals that my family enjoys, particularly on Instagram. I'm passionate about veg at every meal and would probably collapse in shock like a damsel in too tight a corset if there wasn't anything green on my plate. Kale is my friend.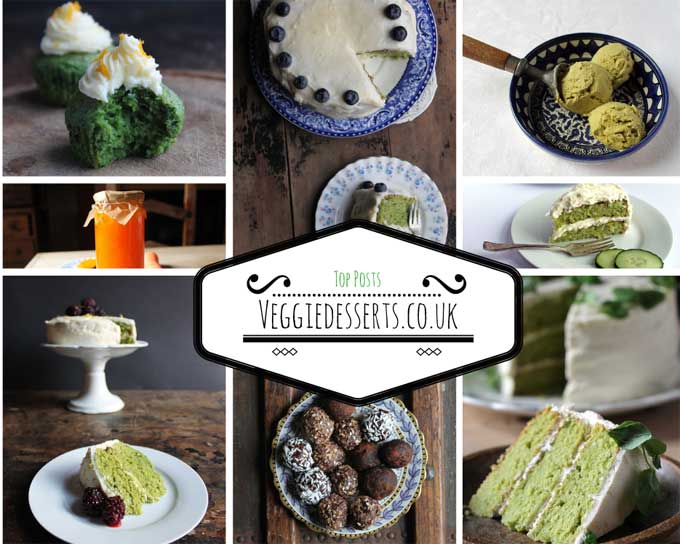 My most popular recipes since I started my blog are:
Kale and Apple Cake with Apple Icing
Cucumber and Lemon Cake with Elderflower Icing
Beetroot Chocolate Protein Balls
Carrot Jam
Stinging Nettle and Lemon Cake with Lemon Icing and Blackberries
Cauliflower and Chocolate Ice Lollies with Pistachio Dust
Sweet Pea and Vanilla Cake with Lemon Icing and Pea Shoots
Avocado and Pistachio Vegan Ice Cream
Kale and Orange Cupcakes with Orange Icing
Let's share this birthday cake.
This decadent chocolate cake is filled with pureed cauliflower (you can't taste it!) and topped with a rather sinful salted cinnamon caramel frosting. It is a celebration after all. It's a celebration that I'd like to share with all of my lovely readers. Thanks for your comments, likes and tweets, for sending me pictures of my recipes that you've made, for all of the support. I really do appreciate it all so very much.
Get the recipe for Chocolate Cauliflower Cake!
Eat your vegetables, everyone. In cake.
Like this cauliflower cake? Please follow me for more vegetable foodie inspiration on Twitter, Instagram, Pinterest and my new Facebook page!
📖 Recipe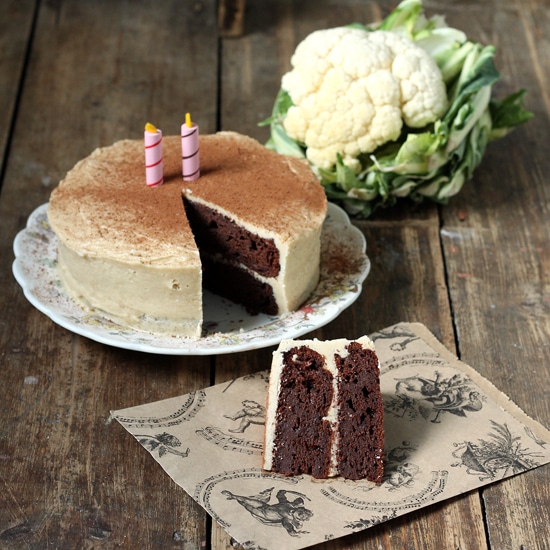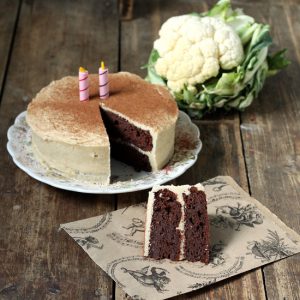 Chocolate Cauliflower Cake with Salted Cinnamon Caramel Icing
A rich, moist chocolate cake, with the surprise ingredient of pureed cauliflower. You'd never know it was there as you can't taste it! It's topped with a decadent salted cinnamon caramel frosting.
Save
Saved!
Ingredients
For the cake:
2

cups

(75g) raw cauliflower florets

100

g

(100g) plain full-fat yogurt

½

cup

(100ml) rapeseed or vegetable oil

¾

cup

(175g) sugar

2

eggs

2

teaspoons

vanilla extract

2

cups

(250g) plain (all-purpose) flour

½

cup

(75g) cocoa powder

2

teaspoons

baking powder

2

teaspoons

ground cinnamon

¼

teaspoon

salt

¾

cup

(180ml)buttermilk

(or milk with 1 teaspoon of lemon juice stirred in)
For the salted cinnamon caramel frosting (*double recipe to cover fully, as I have)
½

cup

(115g) unsalted butter, at room temperature

1

cup

(200g) brown sugar

3-4

tablespoons

milk

2

teaspoons

vanilla extract

1

teaspoon

ground cinnamon

1

cup

powdered icing sugar
Instructions
Preheat the oven to 350F / 175C. Grease and line 2x9" round cake tins

Steam or boil the cauliflower for a few minutes until tender. Drain, rinse under cold water to cool and purée. Set aside.

Beat the yogurt, oil and sugar together in a large bowl. Add the eggs, one at a time and beating each one in well. Stir in the pureed cauliflower and vanilla.

In a separate bowl, whisk the flour, cocoa, baking powder, cinnamon and salt. Alternating, add ⅓ of the flour mixture to the egg mixture and gently combine, then ⅓ of the buttermilk mixture. Repeat until all combined.

Pour the mixture into the prepared tins and bake for 35 minutes or until an inserted skewer comes out clean. Cool for 10 minutes in the tins and then turn out onto a wire rack to cool completely before icing.
For the frosting
Melt the butter over a gentle heat. Add the brown sugar, vanilla, cinnamon and milk Stirring heat for approx 3 minutes. Remove from heat and stir in the powdered icing sugar. Frost the cooled cake as desired.
Nutrition
Calories:
424
kcal
Carbohydrates:
62
g
Protein:
5
g
Fat:
19
g
Saturated Fat:
13
g
Cholesterol:
51
mg
Sodium:
160
mg
Potassium:
267
mg
Fiber:
2
g
Sugar:
42
g
Vitamin A:
315
IU
Vitamin C:
8
mg
Calcium:
98
mg
Iron:
2
mg
The nutritional information provided is approximate and can vary depending on several factors, so is not guaranteed to be accurate. Please see a registered dietician for special diet advice.
Tried this recipe?
Mention @kateveggiedesserts or tag #veggiedesserts! I love seeing your recreations.