This sweet pea cake tastes like a vanilla sponge, with added goodness from the peas and a lovely green colour. I've topped it with a zingy lemon icing and a halo of pea shoots for decoration. The flavour of the peas fades away beneath the vanilla in the pea cake.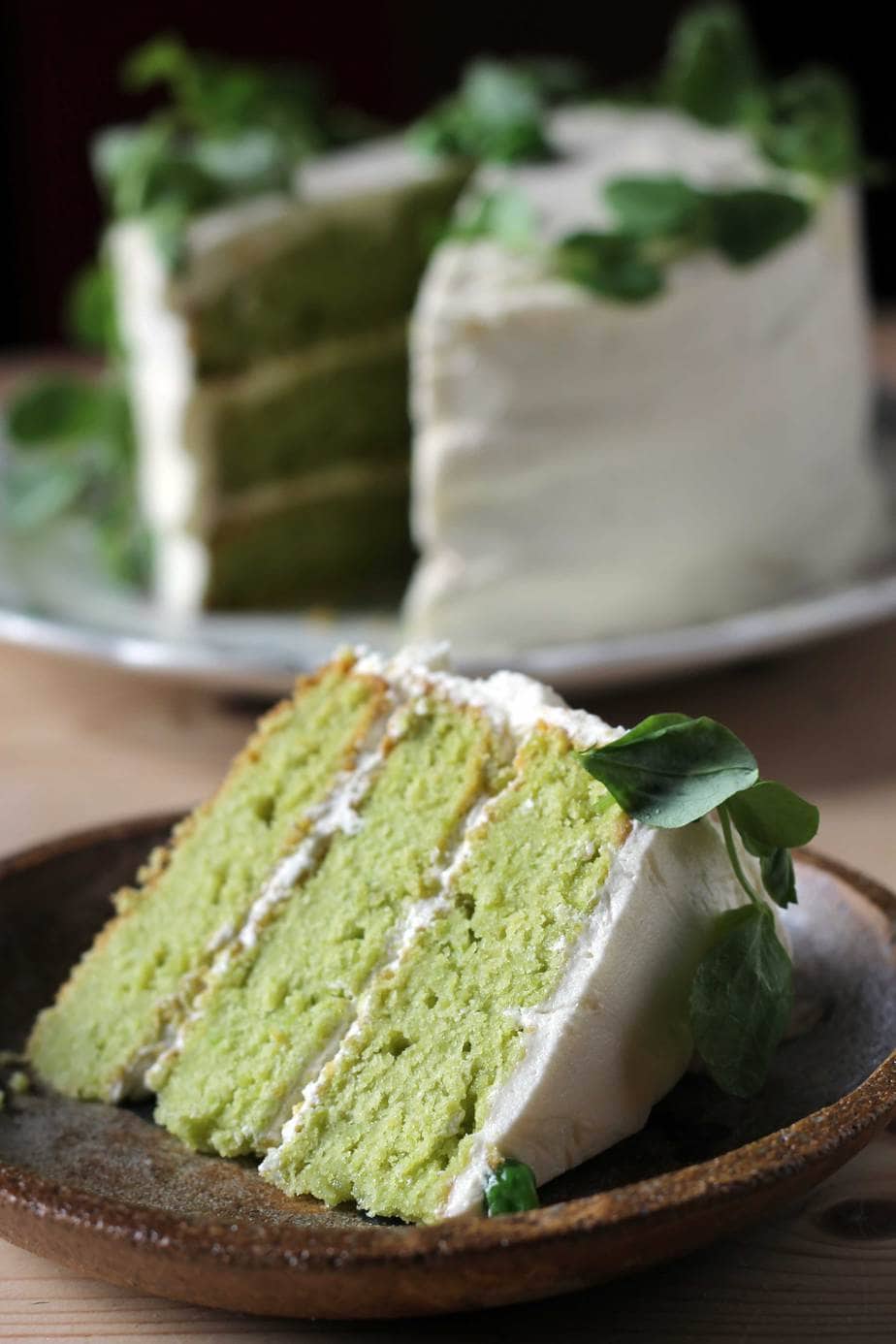 Sweet summer peas are an absolute joy. Ideally eaten straight from pod to mouth on a warm morning with nothing to rush for, nothing to do but burst the little spheres and savour the texture and flavour.
Does anyone have the luxury of empty time? Will I ever have it again?
You could stare into the distance blissfully eating peas, listening to songbirds and relishing the moment, or you could rush indoors and bake a cake.
A pea cake with vanilla and a lemon frosting. Decorated with a halo of pea shoots like the cider queen at a village fete.
We all know the sweetness of peas, and in this cake the pea flavour fades beneath the vanilla, marrying nicely with the zing of the lemon buttercream.
In its wake the peas leave their moist green vegetable goodness, nutrients and vitamins. Wrapped in a blanket of cake.
Two weeks without broadband. This is the horror that has befallen me. There is nothing I can do but muster my energy, stiffen my upper lip, raise my chin and cope. With wartime spirit I make do, eyes squinting at mobile screen. It's barbaric.
This week I was thrilled to be on Sorted Food as well as Grazia. I was also interviewed in Cook Vegetarian Magazine and made the Guardian Sustainable Blog of the Week!
Vanilla and Pea Cake with Lemon Icing
Sweet Pea and Vanilla Cake with Lemon Icing
Ingredients
275g (2 cups) fresh or frozen peas
200g (3/4 cup) unsalted butter, softened
150g (3/4 cup) granulated sugar
3 eggs
2 teaspoons vanilla extract
zest and juice of ½ lemon
250g (2 cups) plain flour
2 teaspoons baking powder
½ teaspoon salt
For the Lemon Buttercream:
150g (2/3 cup) unsalted butter, softened
300g (2 ½ cups) powdered icing sugar
Zest and juice of ½ a lemon
To finish:
Pea shoots (optional)
lemon zest (optional)
Instructions
Preheat the oven to 160C/325F. Grease and line two 9" cake pans (or three 6" pans, as I did in the pictures).
Boil the peas for a few minutes, drain, refresh under cold water and puree until completely smooth. Set aside.
In a large bowl, cream together the butter and sugar until light and fluffy. Beat in the eggs, one at a time, then beat in the cooled pea puree, vanilla, zest and lemon juice.
Sift in the flour, baking powder and salt and stir to gently combine.
Spoon the mixture into the prepared tins, push to the edges and level, then bake for 25 minutes or until an inserted skewer comes out clean. Cool for 10 minutes in the tins and then turn onto a wire rack to cool completely before icing.
For the icing:
In a large bowl, cream the butter until fluffy. Add in the icing sugar and beat. Beat in the zest and a little of the lemon juice. Add more lemon juice to make it a frosting consistency and beat again. Store in the fridge until ready to use.
To assemble:
Spread a little of the buttercream between the layers of the completely cooled cakes and sandwich together. Cover the cake in the remaining buttercream and decorate with pea shoots and lemon zest.
PIN FOR LATER!