This date and walnut bread recipe is easy to make and delicious. There's only a few minutes kneading and it's packed with flavour.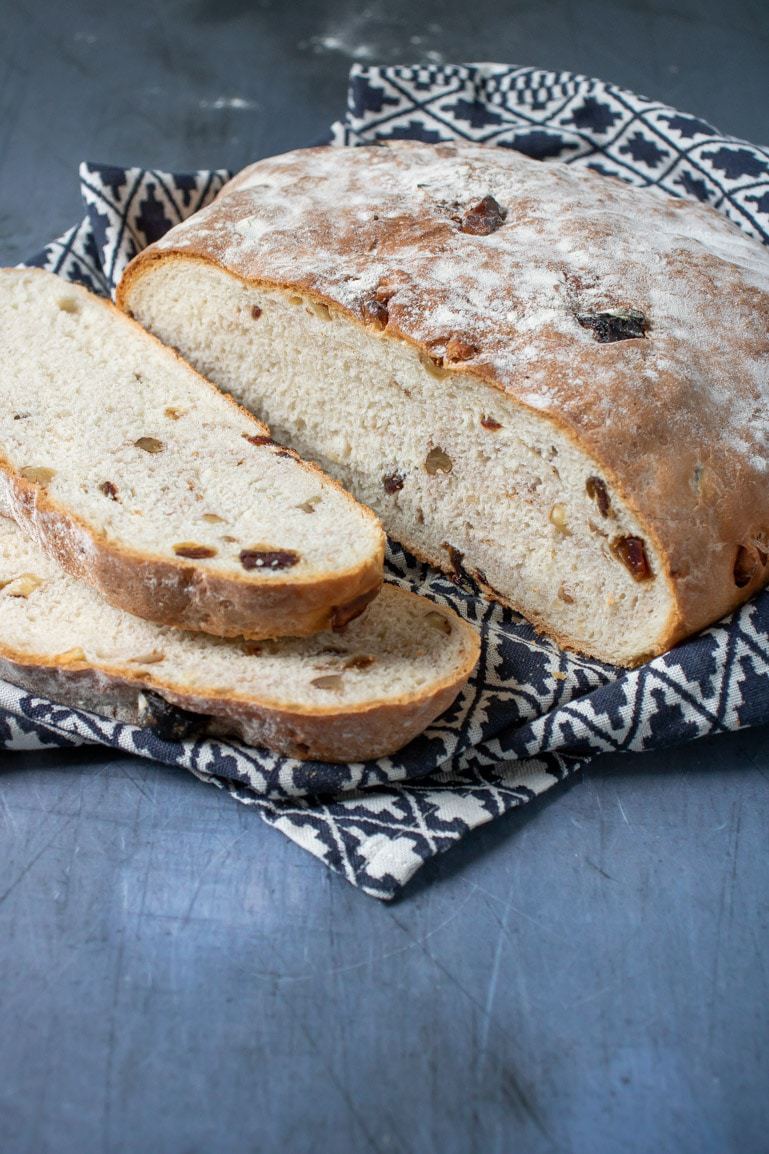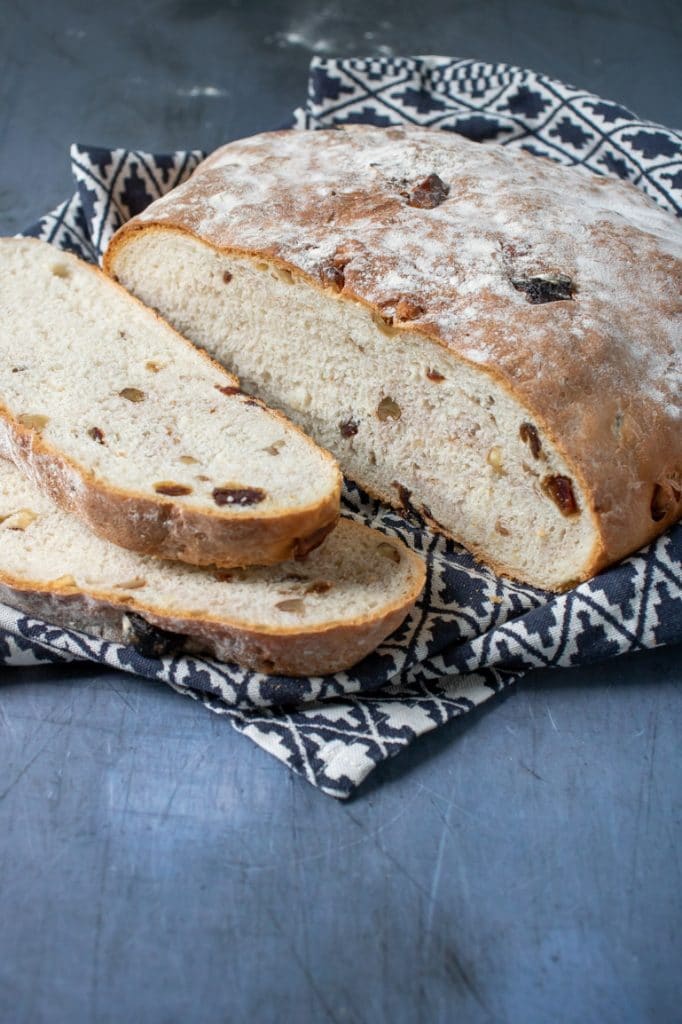 Recipe commissioned by Thermapen.
Sometimes I get into the swing of regularly baking bread from scratch. Sure, it takes a little effort and time, but oh my, it's ALWAYS totally worth it. There are few things as pleasant as cutting a slice of freshly homemade bread and savouring it.
I love the methodical kneading of the dough. It's a few minutes with only thoughts for distraction as your hands turn the dough from a scraggly heap into a smooth and pliable ball. Sure, you could whack it into a stand mixer to knead the dough, but it's a manual kitchen task that I love. You really earn your slice.
Date and Walnut Bread
This is a simple rustic bread. Only one rising time and just a few minutes of kneading means it's super easy to make. Most of the time it takes is just waiting for it to rise or cook, so it's actually really not difficult at all.
The dates bring little bursts of soft sweetness to the loaf, while the chopped walnuts add their distinctive aroma and texture.
If you're worried about kneading, this is a good guide.
To make this bread you'll need:
Flour
Dried yeast
Sugar
Salt
Dates
Walnuts
Other equipment
Bowl
Wooden spoon
Food Thermometer (optional, but very useful. I use a Thermapen)
Baking Tray
Baking paper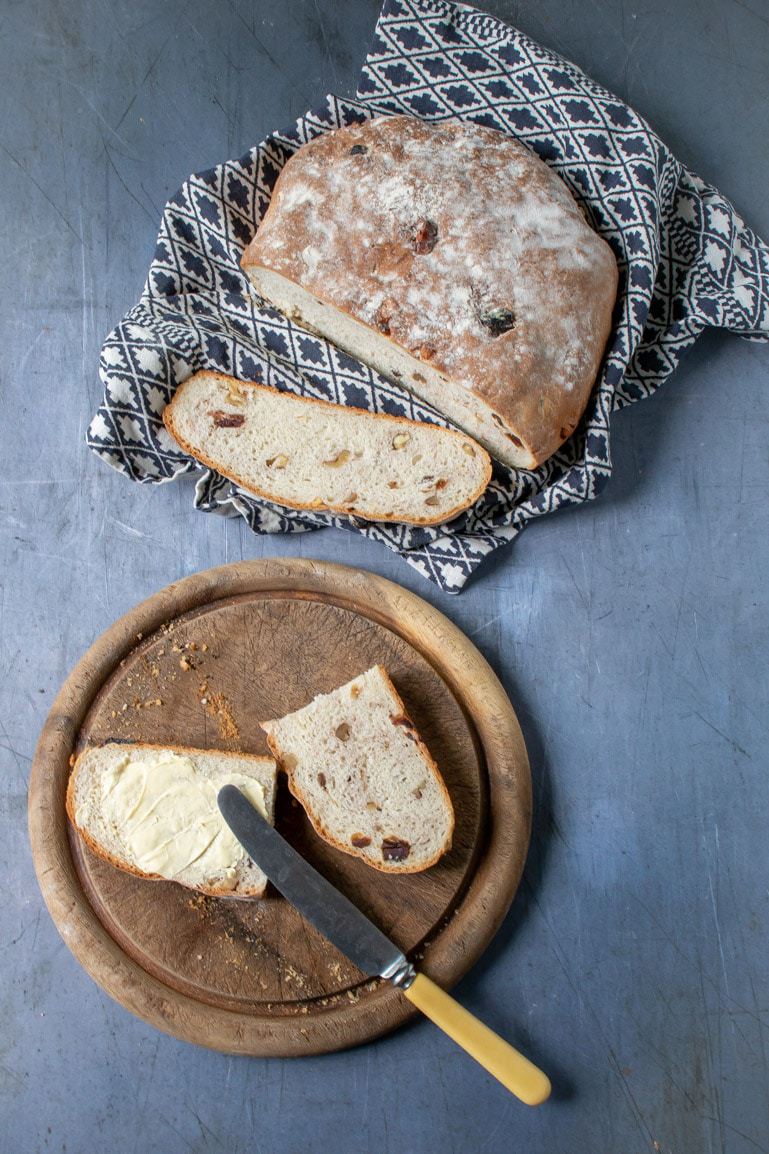 This recipe makes a great basic rustic loaf. It's my go-to loaf and we make it often with lots of different additions.
Try it with some of these flavours:
Cranberry and pistachio
Apricot and cardamom
Raisin and almond
Dried apple and pecans
Dried mango and peanuts
Sundried tomatoes and herbs
If you're looking for another type of bread, be sure to try my Italian Braided Easter Bread or Garlic and Herb Skillet Rolls. They're both delicious yeasted breads that look show-stopping but are actually quite easy to make!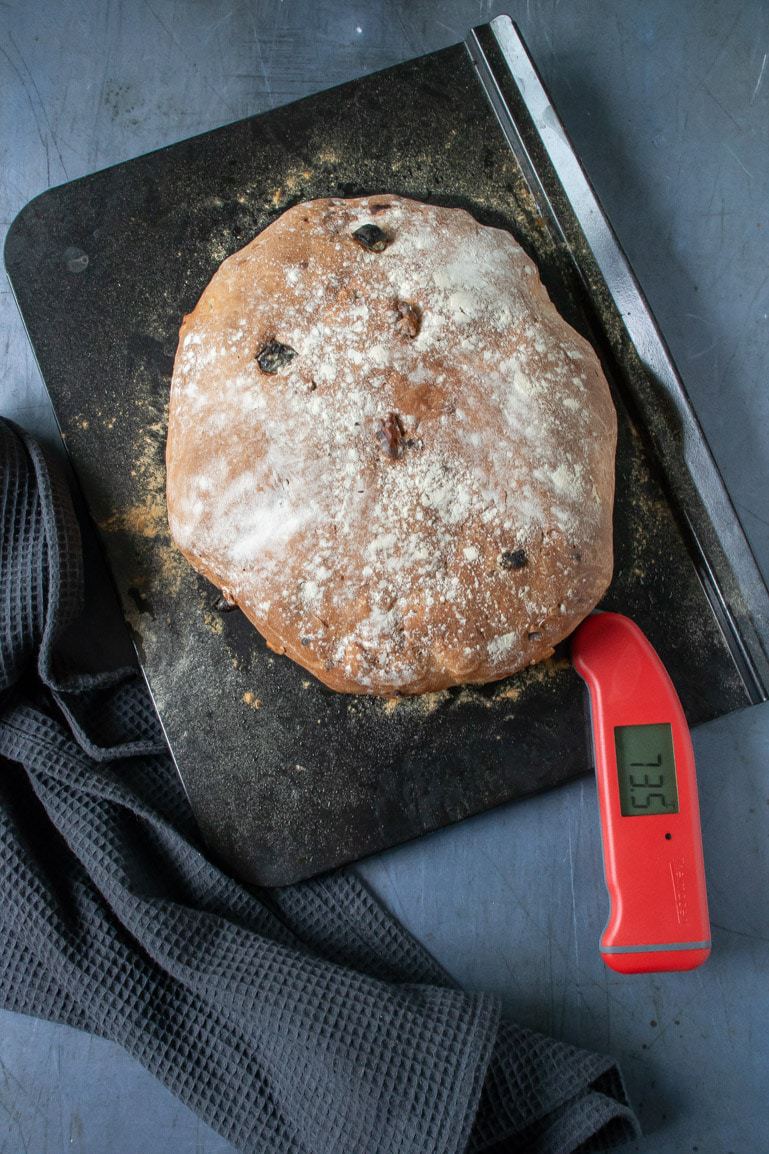 Thermapen®
For this rustic loaf recipe (and many other recipes!) a Thermapen® food thermometer can take out the guesswork and help to ensure success. For years I've been using mine for everything from honeycomb and homemade lollipops, to carrot and ginger hot cross buns and pecan brittle.
Food thermometers are perhaps thought of as mainly useful for meat, but as a vegetarian, I still use it all the time. It's particularly useful for bread, but also plenty of sweet treats.
The SuperFast Thermapen® 4 Cooks Thermometer is the UK's best-selling food thermometer.
* Measures a temperature range of -49.9 to 299.9 °C.
* Used worldwide by hundreds of thousands of cooks
* Fast, accurate and convenient
* Patented 360° self-rotating display that automatically turns to make it readable in any position.
What temperature is lukewarm?
When a recipe calls for lukewarm water, it's hard to know exactly what that means. A thermometer means you can be sure the water is lukewarm when it's 38°C/100°F
How can you tell bread is cooked?
Many bread recipes say to knock on the bottom of the loaf and if it sounds hollow, then it's done. But it's difficult to determine if it really is ready to come out of the oven.
To be sure that your loaf is fully cooked, simply lift the bread and poke the tip of the Thermapen® food thermometer into the centre, from the underside. If it's close to 100°C/210°F, then you're ready to take it out.
You can use this temperature method to check many types of bread for doneness.
Bread Temperatures
Enriched bread: 90°C / 190°F
Sandwich loaves: 90°C / 190°F
Soft Rolls: 90°C / 190°F
Harder crusty loaves: 95°C / 200°F
No-knead rustic loaves: 100°C / 210°F
How to make this rustic date and walnut bread recipe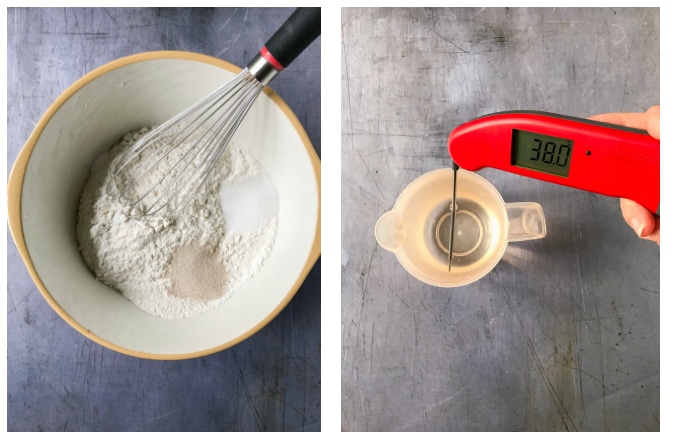 Step 1: Whisk the flour, yeast, sugar and salt together
Step 2: Ensure the water is lukewarm, then stir in the oil
Step 3: Add the liquid and stir to combine
Step 4: Tip onto a floured surface and knead for 5 minutes
Step 5: Knead in the dates and walnuts
Step 6: Allow to rise for 1 hour, then bake
Get the date and walnut loaf recipe

📖 Recipe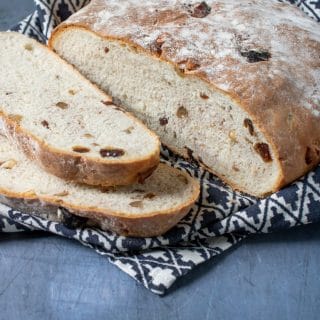 Rustic Date and Walnut Loaf
This simple rustic loaf is full of flavour from the dates and walnuts. It only needs 5 minutes kneading and one rise.
Save
Saved!
Ingredients
500

g

(4 ½ cups) strong white bread flour

(plus extra for dusting)

7

g

(1 sachet / 2.5 tsp) fast-action dried yeast

1

tablespoon

sugar

1

teaspoon

sea salt

300

ml

( 1 ¼ cups) lukewarm water

(38°C/100°F)

1

tablespoon

olive oil

(plus extra for greasing)

50

g

( ½ cup) walnuts

roughly chopped

8

pitted dates

roughly chopped
Instructions
In a large bowl, whisk together the flour, yeast, sugar and salt.

Stir the oil into the water, then add it to the flour and mix well.

Lightly flour a work surface, then turn the dough out of the bowl and knead until the dough becomes smooth, about 5 minutes.

Add the dates and walnuts to the dough and knead gently until they are incorporated.

Place the dough onto a lightly oiled baking sheet, cover with lightly oiled cling film and leave to rise for 1 hour.

Pre-heat the oven to 200°C/400°F.

Remove the cling film from the risen dough, lightly dust the dough with flour, place the tray in the oven on the middle shelf and bake for 35 minutes until done (see below). Allow to cool on a wire rack.
To test the bread for doneness:
Insert the tip of a Thermapen digital food thermometer into the centre. If it reads 100°C / 210°F then it's done. If not, return to the oven for a further 5 minutes.

Tap the bottom of the bread. If it's cooked it will sound hollow, if not bake for a further 5 minutes and test again.
Notes
To test the bread for doneness: Insert the tip of a Thermapen digital food thermometer into the centre. If it reads 100°C / 210°F then it's done. If not, return to the oven for a further 5 minutes. Alternatively, tap the bottom of the bread. If it's cooked it will sound hollow, if not bake for a further 5 minutes and test again.
Nutrition
Calories:
249
kcal
Carbohydrates:
44
g
Protein:
6
g
Fat:
5
g
Sodium:
234
mg
Potassium:
118
mg
Fiber:
2
g
Sugar:
5
g
Calcium:
15
mg
Iron:
2.5
mg
The nutritional information provided is approximate and can vary depending on several factors, so is not guaranteed to be accurate. Please see a registered dietician for special diet advice.
Tried this recipe?
Mention @kateveggiedesserts or tag #veggiedesserts! I love seeing your recreations.
Disclosure: This recipe was commissioned by Thermapen. All opinions are my own. Thanks for supporting the brands that make it possible for me to be a UK food blogger and write Veggie Desserts.