This salted chocolate honeycomb recipe is surprisingly easy to make and you only need four ingredients. It's also naturally vegan and gluten free. It makes a fantastic homemade foodie Christmas gift.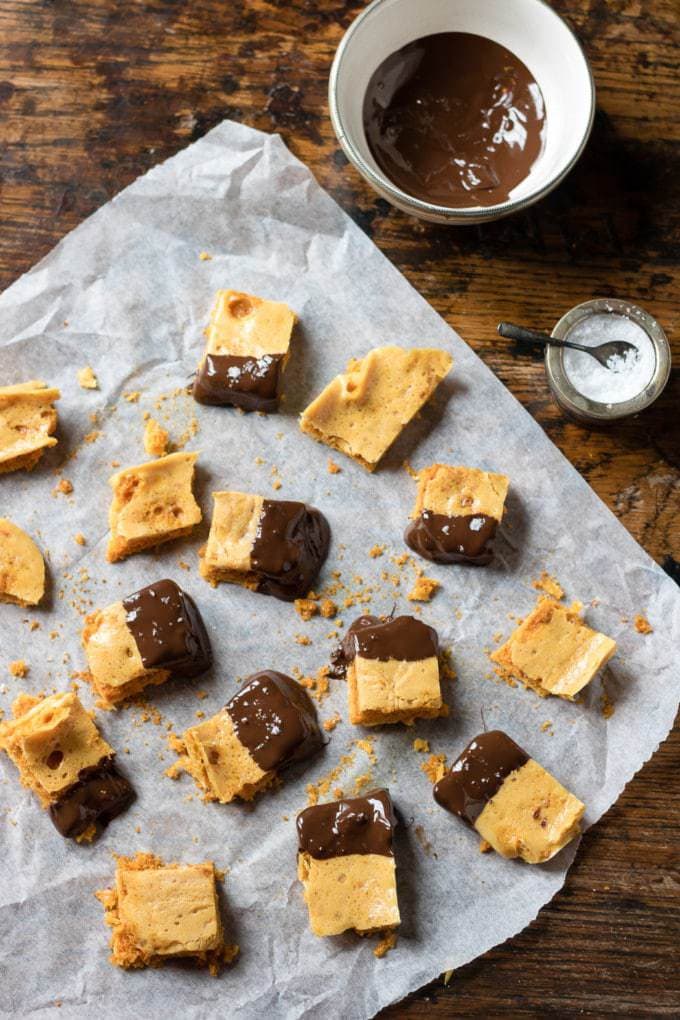 Commissioned honeycomb recipe.
Chocolate Honeycomb
Do you make foodie Christmas gifts for people? I'll be honest that I often intend to, but then life gets in the way.
I'd love to make some of those Christmas biscuits iced like lacy doilies, but I always seem to run out of time.
And frankly, I probably don't have the patience to decorate them very artistically!
But there are some homemade food gifts that don't take long to make, and are always welcome from the lucky recipient!
Enter: salted chocolate honeycomb. You only need 30 minutes and 5 ingredients to make these fantastic treats.
Reader Testimonials for Chocolate Covered Honeycomb Recipe
⭐⭐⭐⭐⭐"OMG I LOVE this chocolate covered honeycomb and have made this over Xmas to give as gifts! Thanks for the recipe" – Jane
⭐⭐⭐⭐⭐"WOW!!! I just made this, so EASY, and so DELICIOUS!!! I'm not sure one batch will be enough…my kids are devouring it…and I may be helping them!" – Terri
⭐⭐⭐⭐⭐"These were so dreamy! I didn't know chocolate honeycomb was so easy to make!" – Taylor
⭐⭐⭐⭐⭐"Made this recipe many times for honeycombed ice cream" – Anj
Honeycomb Recipe
If you've ever had a Crunchie bar, you've had chocolate honeycomb.
Regardless of the name, it doesn't actually have any honey in it!
It's a mix of sugar, syrup and baking soda – meaning it's actually vegan.
And, let me tell ya, people – IT IS AMAZING! Seriously.
Even if you make it as a gift, you will want to keep it all to yourself and give them a box of chocolates. Really.
You've got to love someone a lot
Chocolate Covered Honeycomb
You can enjoy honeycomb on its own, but I love it dipped in melted dark chocolate and sprinkled with a few flakes of sea salt.
The creamy chocolate is lovely against the brittle and sweet shards of honeycomb, which are then offset with the sea salt.
This is definitely my best honeycomb recipe and I hope you all love it too!

Making honeycomb
Although hot sugar can seem scary, it's actually quite easy to make honeycomb.
It's much easier with a food thermometer so you know when you get to the 'hard crack' stage of 140C.
I use a digital thermometer so it's super-easy to know when the sugar has reached the right temperature.
Then just stir in the bicarb of soda, pour it into a pan and let it cool.
This is a basic honeycomb recipe (it's naturally vegan), that I've made extra special with salted chocolate.
Ingredients:
Caster sugar (superfine sugar)
Golden syrup (or corn syrup)
Bicarb of soda (baking soda)
Dark chocolate
Sea salt
Tools you'll need:
Heavy bottomed pot
Wooden spoon
20cm/8″ square baking pan
Baking paper
Food thermometer
Vegan Honeycomb
It may be surprising, considering there is honey in the name (honey isn't vegan), but honeycomb is naturally vegan!
This recipe doesn't have any swaps to make it vegan, it just naturally is because none of the traditional honeycomb recipe ingredients contain animal products.
How to make Honeycomb
Scroll down for step-by-step honeycomb recipe instructions and the full recipe!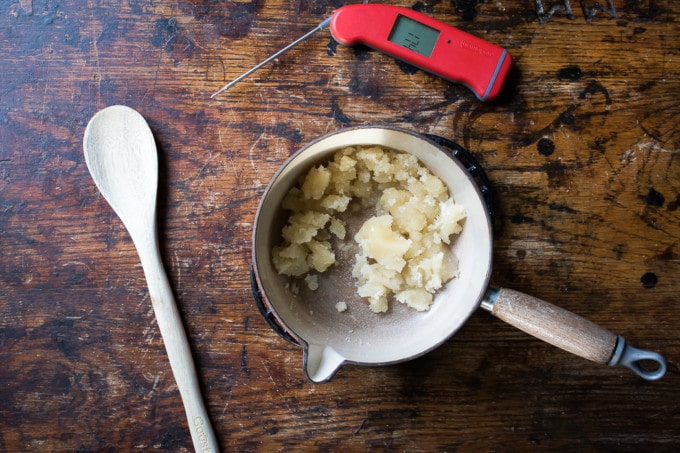 How to make honeycomb: Step 1 – mix sugar and syrup in a heavy bottomed pan. Prepare the bicarb of soda (baking soda), and keep a thermometer and wooden spoon to hand.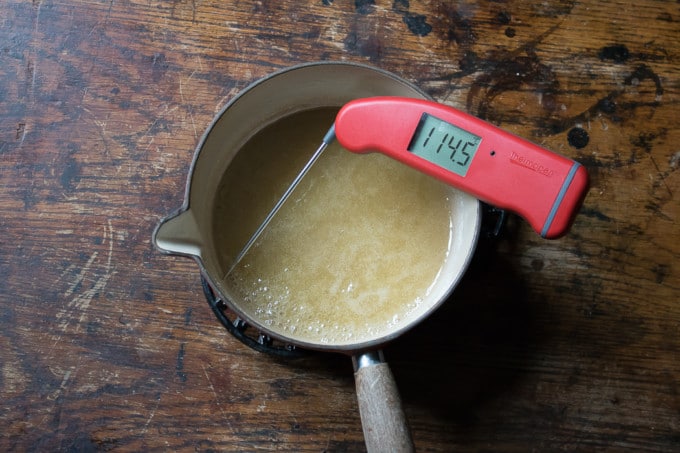 2 – heat the sugar and syrup in a heavy saucepan to soft crack stage (140C / 285F)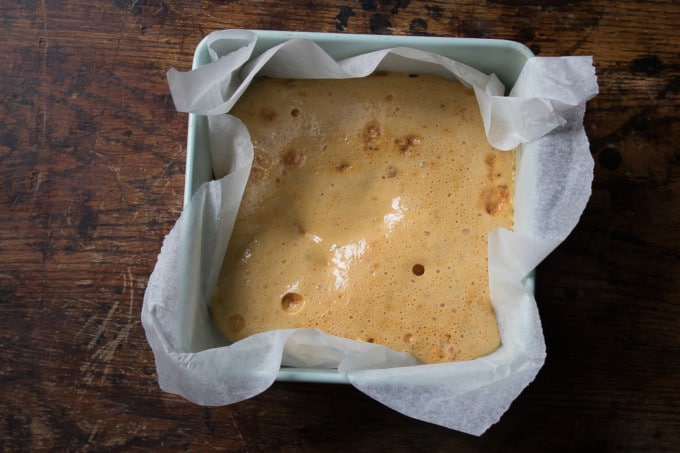 3 – quickly but carefully (it will be hot!) stir in baking soda with a wooden spoon, then pour into prepared pan to set at room temperature.
What are the benefits of a Thermapen?
I've been using my trusty Thermapen digital food thermometer for a few years now. It takes the guesswork out of so many recipes, from candy to bread.
The SuperFast Thermapen® 4 Cooks Thermometer is the number one selling food thermometer in the UK. Here are a few highlights:
Temperature range of -49.9 to 299.9 °C.
Fast and accurate
Reads the true temperature in just three seconds.
Stainless steel probe that conveniently folds into the unit when not in use.
Get the Salted Chocolate Honeycomb Recipe!
Did you make this honeycomb recipe? Please let me know how it turned out for you!
Leave a comment and star rating below and share a picture with the hashtag #veggiedesserts. I love seeing your recreations of my vegetarian and vegan recipes and cakes.
Disclosure: This chocolate vegan honeycomb recipe was commissioned by Thermapen. All opinions are my own. Thanks for supporting the brands that make it possible for me to be a food blogger and write Veggie Desserts.
Thanks for checking out my chocolate covered honeycomb recipe! I love hearing from my readers.
You all allow me to do what I love and write this UK food blog, sharing vegetarian and vegan recipes, vegetable cake recipes, vegan cake and also easy vegan desserts.
Kate x
Salted Chocolate Honeycomb Recipe
Salted chocolate honeycomb recipe is surprisingly easy to make and you only need four ingredients! It's vegan and gluten free and makes a great edible gift.
Print
Pin
Rate
109
kcal
Ingredients
3/4

cup

(150g) superfine / caster sugar

4

tbsp

corn syrup

(golden syrup)

2

tsp

baking soda

(bicarb of soda)

5.5

oz

(150g) dark chocolate

Sea salt flakes
Instructions
Line a 20cm/8" square baking pan with baking paper. You'll need to work quickly when the sugar is hot, so measure the baking soda and be sure to have a candy thermometer and wooden spoon handy.

In a large, heavy bottomed pan, stir the sugar and syrup together. Melt them over a low/medium heat, checking with a candy thermometer until it reaches 140C/285F (soft-crack stage).

Remove the hot sugar mixture from the heat, add the baking soda and quickly beat it in with a wooden spoon - be careful as the mixture will foam up and be very very hot!

Immediately pour the mixture into the prepared baking pan, then leave it to set at room temperature.

When it has cooled and set, cut or break it into shards.

Melt the chocolate in a microwave or in a bowl over a pan of gently simmering water, but don't let the water touch the bottom of the bowl.

Dip the shards of honeycomb into the melted chocolate and sprinkle with a few flakes of sea salt. Allow the chocolate to set.
Nutrition Information
Calories:
109
kcal
Carbohydrates:
18
g
Fat:
3
g
Saturated Fat:
2
g
Sodium:
1
mg
Potassium:
67
mg
Fiber:
1
g
Sugar:
15
g
Vitamin A:
5
IU
Calcium:
7
mg
Iron:
1.1
mg
The nutritional information provided is approximate and can vary depending on several factors, so is not guaranteed to be accurate. Please see a registered dietician for special diet advice.