You'll love these 5-ingredient roasted Parmentier potatoes with rosemary and garlic. The classic French cubed, diced potatoes are quick, easy and tasty. They'll be a hit on your Thanksgiving or Christmas dinner table. Vegan and gluten free.
Parmentier Potatoes
These little cubes of roasted potatoes are to die for! You'll love how easy they are and how they make the perfect side dish.
They couldn't be simpler to make - just peel and dice potatoes, then roast with oil, garlic and rosemary. Just a few ingredients to take you to potato heaven.
It's a simple dish that tastes absolutely delicious. It's perfect for Thanksgiving, Christmas, roast dinners and so many more meals.
What ingredients do I need for roasted diced potatoes?
This potato side dish only has a short ingredients list!
Potatoes - try Yukon gold, russet, maris piper etc...
Oil - olive, canola, coconut and rapseed all work.
Garlic - but feel free to leave it out if you're not a fan!
Rosemary - or try other herbs such as sage or thyme.
Salt and pepper
What are Parmentier Potatoes?
Parmentier potatoes are roasted cubes of potatoes, usually seasoned with herbs and garlic.
The dish originated in France and non-vegetarian or vegan versions sometimes contain bacon. It's usually served as a side dish
The dish is named after Antoine-Augustin Parmentier, who popularised eating potatoes in France. Previously it had been used for hog feed, but Parmentier was an army medic who was captured in Prussia where it was a staple foodstuff. He left the prison in good health, which he put down to his spud-heavy diet.
Parmentier promoted potatoes in Europe upon his return, and nowadays French menus often write Parmentier to show that it's a potato-based dish.
It's a simple, rustic potato side dish that's sure to be a hit on your table.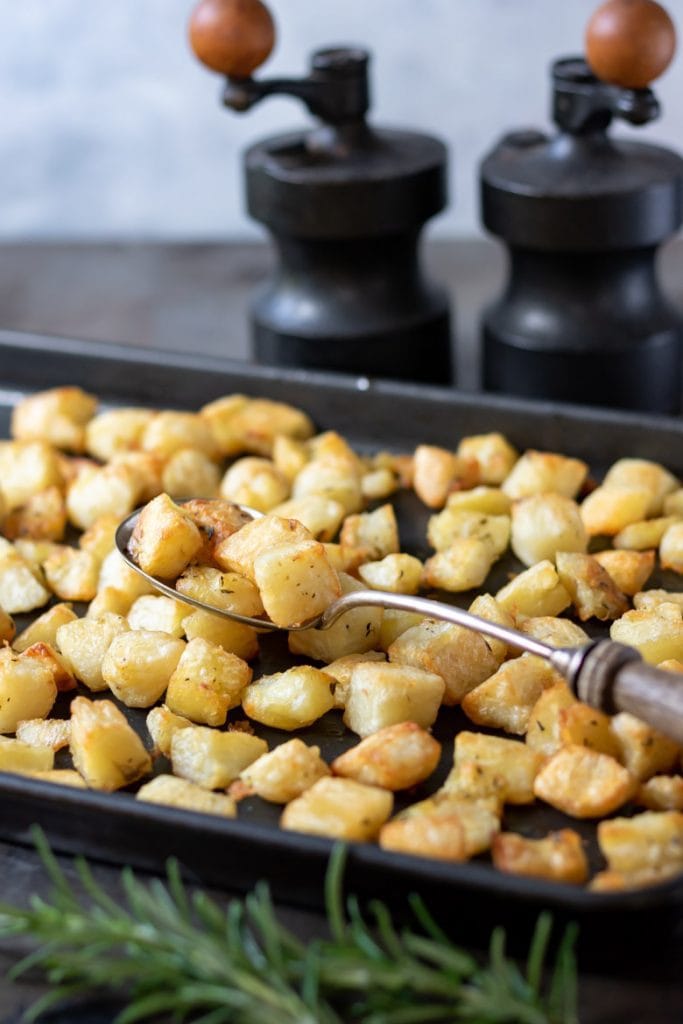 Expert Tips for Roasted Diced Potatoes
These spuds are delicious alongside my easy Portobello Mushroom Steaks
You can reheat leftovers in a hot oven for about 10 minutes. Store them in the fridge before reheating.
Make ahead - you can cook them, then reheat them before serving.
Try them with thyme or sage for a different taste.
They're a nice alternative to mashed potato or roast potatoes for Thanksgiving and Christmas dinner.
Try them in the air fryer for low-oil option.
Potato Recipes
Hands up if you LOVE potatoes. Yup, I thought you might.
They're just so ridiculously versatile. Plus, they're cheap, keep well without spoiling and are easy to find year round.
You can enjoy them in many ways, so try some of these potato recipes:
Hasselback Potatoes
Vegan Shepherds Pie
Sweet Potato Gnocchi
Brazilian Gaucho Potato Salad
Chocolate Mashed Potato Cake with Tahini Drizzle
Roasted Rosemary Potato Peelings (a great way to reduce food waste)
Cubed potatoes - Parmentier Potatoes
It's funny how just changing a food's shape has such a drastic impact on its taste and/or texture.
Potatoes are cut into fries, scalloped potato slices, cubes or wedges. They're baked whole or mashed. Roasted in large pieces or boiled. Deep fried, air fried, cooked in the instant pot or steamed. All those methods seem drastically different to each other.
Making potatoes my top versatile food. I can't think of any other that can be cooked so many ways.
But for this recipe, simply cutting them into cubes and then baking / roasting them makes them utterly incredible.
Air Fryer Cubed Potatoes
You can absolutely make these diced potatoes in the air fryer! It makes them lower calorie and just as delicious.
Just cut them into cubes, then air fry them with finely chopped rosemary, a few cloves of garlic, a tiny bit of oil and cook until they're lovely and crispy all over.
Get the Parmentier Potatoes Recipe
Did you make this cubed potato recipe? Please let me know how it turned out for you!
Leave a comment and star rating below and share a picture with the hashtag #veggiedesserts. I love seeing your recreations of my vegetarian and vegan recipes and cakes.
Thanks for checking out my recipe! I love hearing from my readers. You all allow me to do what I love and write this UK food blog, sharing vegetarian and vegan recipes, vegetable cake recipes, vegan cake and also easy vegan desserts.
Kate x
Follow me on Instagram * Twitter * Facebook * Pinterest * Youtube
📖 Recipe
Parmentier Potatoes
You'll love these 5-ingredient roasted diced Parmentier potatoes with rosemary and garlic. The classic French potato dish is quick, easy and perfect for dinner, parties or a side dish. They'll be a hit on your Thanksgiving or Christmas dinner table. Vegan and gluten free. Make them in the oven or air fryer.
Save
Saved!
Ingredients
3

tablespoon

oil

4

cups

peeled cubed potatoes (750g, approx 6 medium potatoes)

(Yukon gold, russet, maris piper etc...)

4

cloves

garlic

3

sprigs fresh rosemary

Sea salt and black pepper
Instructions
Preheat the oven to 425F / 220C.

Peel the potatoes and cut them into small ½ inch (1cm) cubes.

Add the potato cubes to a large pot of cold, salted water and bring to the boil. When it starts fully boiling, drain the potatoes in a colander/sieve. Leave the potatoes in the colander over the pot for a few minutes to steam and dry out. You could also pat them dry with a tea towel.

Chop half of the rosemary finely and mince/crush the garlic.

Add the potatoes, garlic and chopped rosemary to a baking tray in a single layer. Don't crowd them and use two trays if necessary. Drizzle the potatoes with the oil and season, then toss to coat. Add the rosemary to the tray(s) and place in the oven.

Roast for 30 minutes, stirring occasionally so the parmentier potatoes are evenly browned.
Nutrition
Calories:
146
kcal
Carbohydrates:
18
g
Protein:
4
g
Fat:
7
g
Saturated Fat:
1
g
Sodium:
14
mg
Potassium:
586
mg
Fiber:
4
g
Sugar:
1
g
Vitamin C:
17
mg
Calcium:
46
mg
Iron:
5
mg
The nutritional information provided is approximate and can vary depending on several factors, so is not guaranteed to be accurate. Please see a registered dietician for special diet advice.
Tried this recipe?
Mention @kateveggiedesserts or tag #veggiedesserts! I love seeing your recreations.