These juicy and tender grilled portobello mushroom steaks are AMAZING! They're quick (ready in just 15 minutes!), easy, tasty and have all the best flavours of a smokey grilled steak, but vegan. The charred mushrooms have a lovely dense texture that's perfect with the flavourful simple marinade. Vegetarian, vegan and gluten free. Make them on the grill, grill pan, barbecue or in the oven.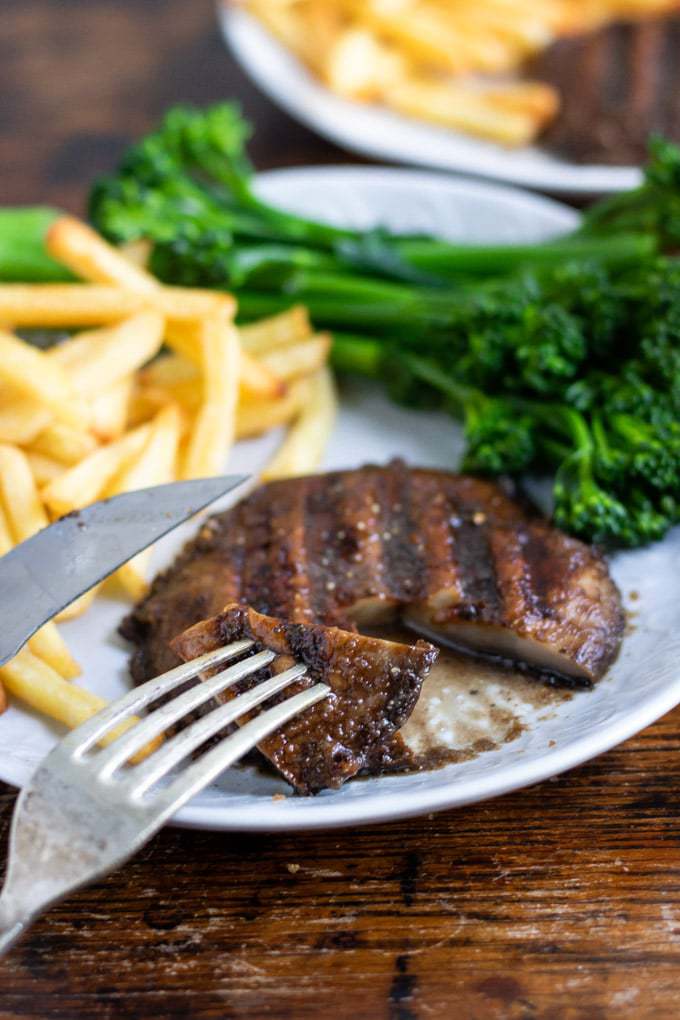 If you're looking for a romantic vegan dinner for two, then you've come to the right place.
Heck, this dish is even perfect for a non-romantic, rushed post-work Wednesday dinner.
It's screams "I love you", but it's also quick, easy and tasty.
This vegan Valentine's Day dinner is quick, easy and full of flavor.
You won't be slaving in the kitchen all day.
Instead it takes just a few minutes to prepare and a few minutes to cook.
You can have a vegan / vegetarian dinner for two on the table in just 15 minutes!
When they cook, the mushrooms release their juices, which mingle with the marinade ingredients creating a lovely jus/sauce with concentrated steakhouse flavours.
But it's all vegan!
Serving Suggestions
Add some fries or mashed potato plus some green veg and you have a flavor-packed easy vegan dinner.
I love serving these mushroom steaks with roasted radishes!
Perfect for a romantic meal, or a quick midweek dinner.
Drizzle with a little Carrot Top Chimichurri or even Carrot Top Pesto.
Serve with a side of vegan mashed potatoes, swede and carrot mash or roasted swede.
Add a side of Zax Sauce or this Cane's Sauce Recipe. Both are flavor-packed dipping sauces.
Try it with a whole roasted cauliflower for a real showstopper of a meal.
Try with a drizzle of mushroom gravy or vegan gravy.
Serve with roasted garlic mashed potatoes, baby hasselback potatoes or parmentier potatoes.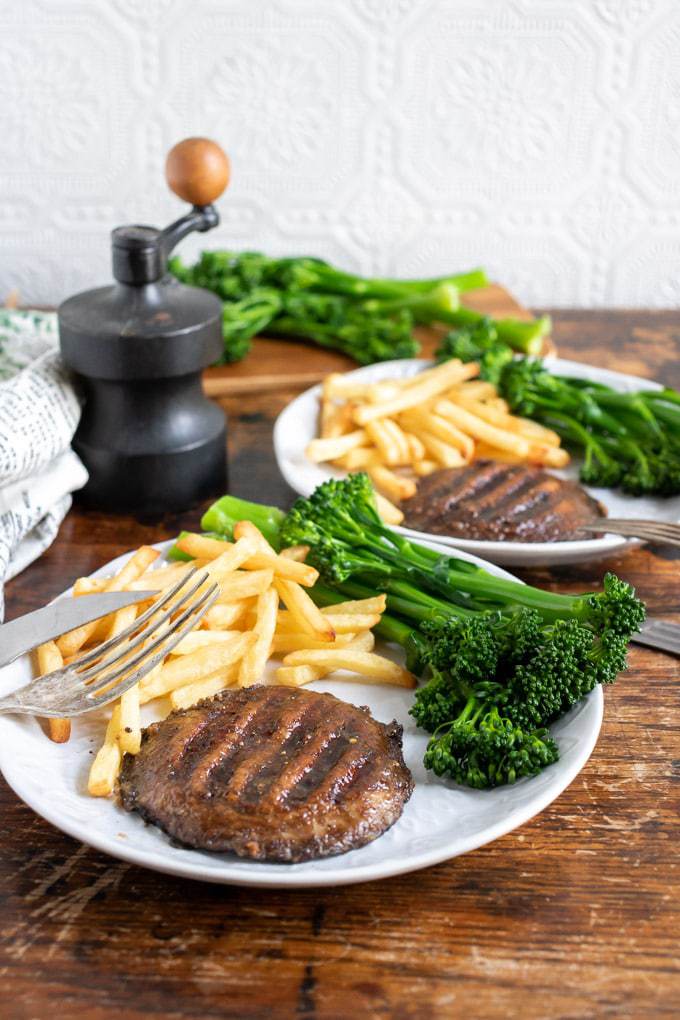 What is vegan steak made of?
You can find premade vegan steaks in many supermarkets, and they're likely to be a highly processed mixture of soy, seitan, microprotein, vital wheat gluten or other unusual ingredients.
I do eat vegan convenience foods sometimes, but for this vegan steak I wanted it to be natural, plant based and with recognizable ingredients.
I've seen lots of vegan steak recipes with seitan, but my no-seitan vegan steaks are far cheaper, easier to get hold of and less process.
This vegan steak is made from large flat mushrooms, marinated in a few simple ingredients then grilled (I used a George Foreman-style clamp grill, but you can use a broiler, grill, griddle pan, barbecue, frying pan of oven.
I've made vegan cauliflower steaks often, but I've found that mushrooms give a better look and texture.
Not that I've ever had an actual meat steak, but to me mushrooms are my favourite vegan steak substitute.
Mushroom Steak
For these portobello steaks, I've marinaded the large flat mushrooms for a few minutes in a few simple ingredients.
I've been experimenting with lots of different flavourings in the marinade. Balsamic vinegar is in a lot of mushroom steak recipes, but I found it a bit harsh.
With the below ingredients, I found the perfect steakhouse flavors in a quick and easy marinade.
You don't even need to leave the steaks marinading for long. Just brush them with it and when the grill/griddle pan/oven is hot - then whack them on until soft, juicy and tender.
Marinade ingredients
Oil - olive, canola, vegetable,whatever you prefer.
Soy Sauce - or tamari for gluten free.
Onion and garlic powder
Salt and lots of fresh black pepper
Liquid smoke (optional) - You can find it in larger grocery stores in the BBQ sauce section, or online at Amazon (afflink).
Liquid Smoke
Look for the Stubbs or Colgin brands. Use this stuff very sparingly - just a few drops will give a lovely smokey flavour.
If you can't get hold of it, don't worry - the portobello steaks will still be delicious without it.
How to make Portobello Steaks
Follow these simple steps for the perfect Portobello Steaks!
Remove the stems from the mushrooms.
Mix all the marinade ingredients in a dish.
Brush the mixture over the mushrooms and leave to marinade while the grill heats.
Heat a grill, griddle pan or George Foreman-style grill.
Add the mushrooms and cook until juicy and tender. If possible, collect the cooking juices to pour over the mushroom steaks on the plate.
SCROLL DOWN FOR THE FULL RECIPE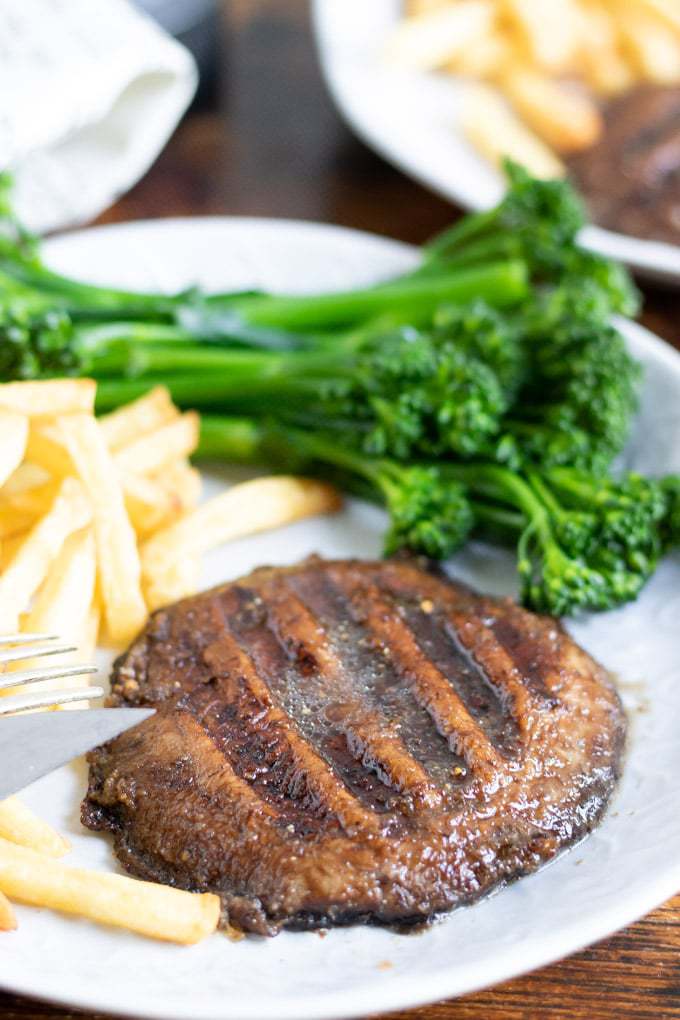 How to enjoy Portobello Steaks
I love serving these vegan steaks with fries and green veg, but you could also serve them with mashed potato, wedges, polenta or delicious fried gnocchi.
It's tasty with steamed green veg, but also with turmeric roasted cauliflower.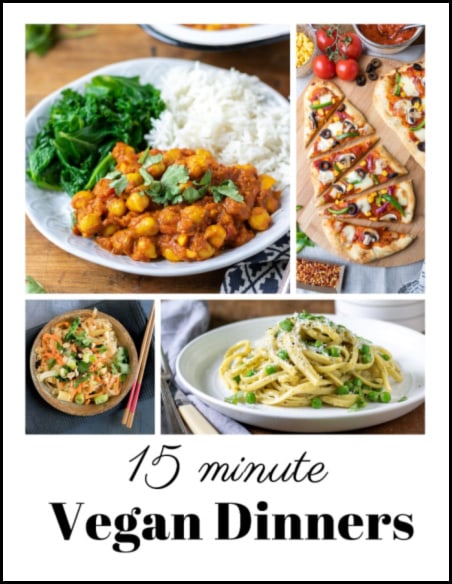 Sign up for our free newsletter and never miss a recipe!
Plus, you'll get a free eBook: 15 Minute Vegan Dinners!
Get the Recipe
Did you make this recipe? Please let me know how it turned out for you!
Leave a comment and star rating below and share a picture on Instagram, Twitter or Facebook with the hashtag #veggiedesserts.
Thanks for checking out my recipe! I love hearing from my readers. You all allow me to do what I love and write this food blog, sharing vegetarian recipes, vegan recipes, vegetable cake recipes, vegan cake and also easy vegan desserts.
Kate x
📖 Recipe
Portobello Mushroom Steaks
These juicy and tender grilled portobello mushroom steaks are quick, easy, tasty and have all the best flavours of a smokey grilled steak, but vegan.
Save
Saved!
Ingredients
2

Portobello mushrooms

(any large flat mushrooms)

3

tablespoons

oil

1

teaspoon

soy sauce

or tamari for gluten free

1

teaspoon

garlic powder

1

teaspoon

onion powder

½

teaspoon

ground pepper

½

teaspoon

sea salt

⅛

teaspoon

liquid smoke

optional
Instructions
Remove the stems from the mushrooms.

Add the oil and all seasonings to a large dish and mix. Brush it over the mushrooms, then leave the mushrooms in the remaining liquid to marinade.

Heat a griddle pan or clamp grill (like a George Foreman grill). Place the mushroom steaks onto the hot grill and cook until soft and lightly charred. If possible, save the mushroom cooking juices.

Alternatively heat a grill/grill pan/bbq/broiler and cook as above. Or, heat the oven to 200c/400f and bake on a tray for 25 minutes or until soft and juicy.

Serve with fries or mashed potatoes and steamed broccoli or other veg with the cooking juices poured over the mushrooms.
Notes
If you can't get hold of the liquid smoke (in larger grocery stores and online at Amazon), then these portobello steaks are still lovely without it.
The nutritional information provided is approximate and is created with online calculators. Info will vary based on cooking methods and brands of ingredients used.
Nutrition
Calories:
216
kcal
Carbohydrates:
5
g
Protein:
2
g
Fat:
21
g
Saturated Fat:
1
g
Sodium:
759
mg
Potassium:
324
mg
Fiber:
1
g
Sugar:
2
g
Iron:
0.3
mg
The nutritional information provided is approximate and can vary depending on several factors, so is not guaranteed to be accurate. Please see a registered dietician for special diet advice.
Tried this recipe?
Mention @kateveggiedesserts or tag #veggiedesserts! I love seeing your recreations.