Make the most of the seasonal winter fruit with this epic list of the 21 Best Persimmon Recipes! Whether you have the fuyu, hachiya or Sharon fruit varieties, you'll find lots of inspiring ways to use them up in baking, breads, muffins, dried, jam and more! Plus hints, tips and tricks about persimmons.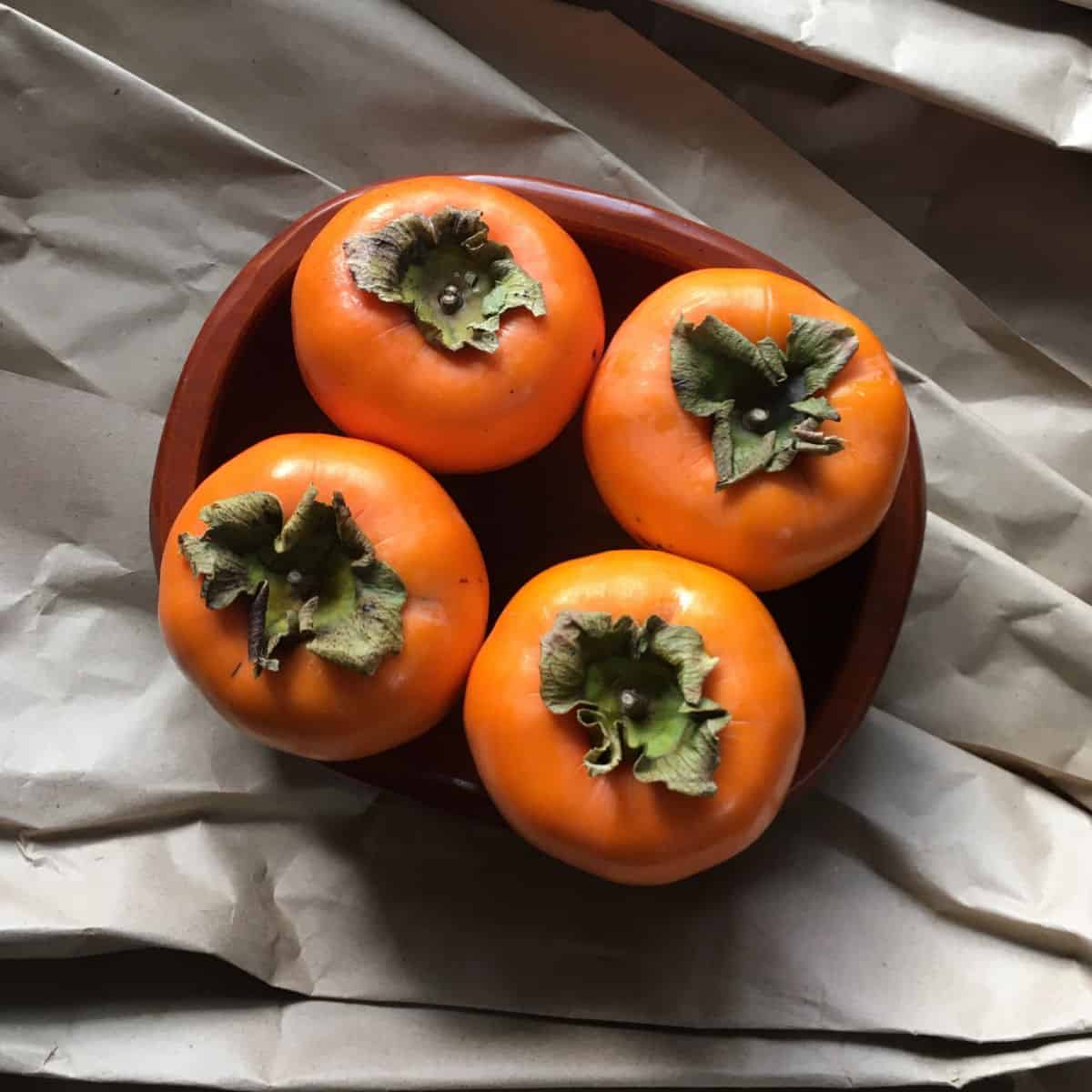 Wondering what persimmon recipes you can make with the tasty winter fruits? I've got you covered in this guide to persimmons!
Ripe persimmons are delicious on their own, but they also make a great ingredient in recipes including desserts, baking, salads, and other dishes.
Also known as Sharon Fruit, you can turn them into jam, persimmon muffins, persimmon cookies, salads, cakes, bread, and more recipes too. You'll love persimmon bread with pecans. Or try persimmon white chocolate tarts with pistachios.
Whether you have fuyu or hachiya varieties, I'll show you what you can do with them, how to ripen them, and more in this 101 guide to persimmons.
What Are Persimmons?
Persimmons are an edible winter fruit with a sweet honey-like flavor.
Botanically speaking, persimmons are actually a berry, but in culinary terms, they can be considered a fruit.
They grow on fruit trees, have smooth, shiny skin, and range in color from light orange to dark reddish-orange depending on the variety.
Persimmons are a winter fruit, so you'll find them in season from mid-fall to early winter. You can find them in farmer's markets, CSA boxes and grocery stores from October to around January.
Eat them on their own or use them in persimmon recipes (see the lists below).
Types of Persimmons
Although they're not a hugely popular fruit, there are actually over 100 varieties!
The most common ones found in grocery stores are fuyu and hachiya.
Fuyu are smaller, squat and rounder with orange flesh and skin. They're also called Sharon Fruit, particularly ones grown in Israel. They're a non-astringent variety, so when underripe they don't have as strong a taste as astringent varieties.
They can be eaten whether firm or soft though they're best when slightly firm. Fuyu persimmons are great sliced into salads or used in dishes where you want them to hold their shape.
They have a slightly gingery flavor.
Hachiya are larger than fuyu, with a slightly longer acorn-like shape with skin color that ranges from yellow-ish orange to reddish-orange.
Hachiya are astringent, which means that they taste pretty awful when they're unripe with a bitter aftertaste. They leave a 'dry' taste in the mouth, so you'll definitely know that they're unripe!
However, when soft, squidgy and ripe, they have a glorious honey-like sweet flavor. Their sweetness makes them perfect for baked desserts and other recipes. Ripen them on the counter or windowsill.
Tip: Unless you're going to use them right away, choose slightly firm hachiya persimmons at the grocery store and let them ripen at home as they have a fairly quick ripening time and could rapidly get overripe.
How to Store Persimmon
Whether you have hachiya or fuyu varieties, they should both be stored on the counter at room temperature.
If you need to speed up their ripening, then place them into a paper bag with a banana and keep it on the counter for a few days. The banana's ethylene gas will speed up ripening.
If you need to slow down the ripening of your persimmons, then store them in the fridge for up to 7 days.
How to Eat Persimmons
Ripe Fuyu persimmons can be eaten, skin and all, like an apple, avoiding the leaves at the top.
Ripe hachiya persimmons have more bitter skins, so they're best eaten by cutting the leafy top off, then using a spoon to scoop out the soft and sweet insides. They can be eaten as they are or used in persimmon recipes such as muffins, cakes, smoothies etc...
Recipes
Now that you know all about persimmons, it's time to try out some persimmon recipes! Use them in pudding, bread, salads, cookies, cakes, desserts...
The Best Persimmon Recipes
Make the most of the seasonal winter fruit with this epic list of Persimmon Recipes! You'll find lots of inspiring recipes to use them up in baking, breads, muffins, dried, jam and more!