Find out how to cook dried Red Lentils, plus lots of recipes using this incredibly versatile, nutritious, and delicious ingredient, from soups to salads and dhal to dips.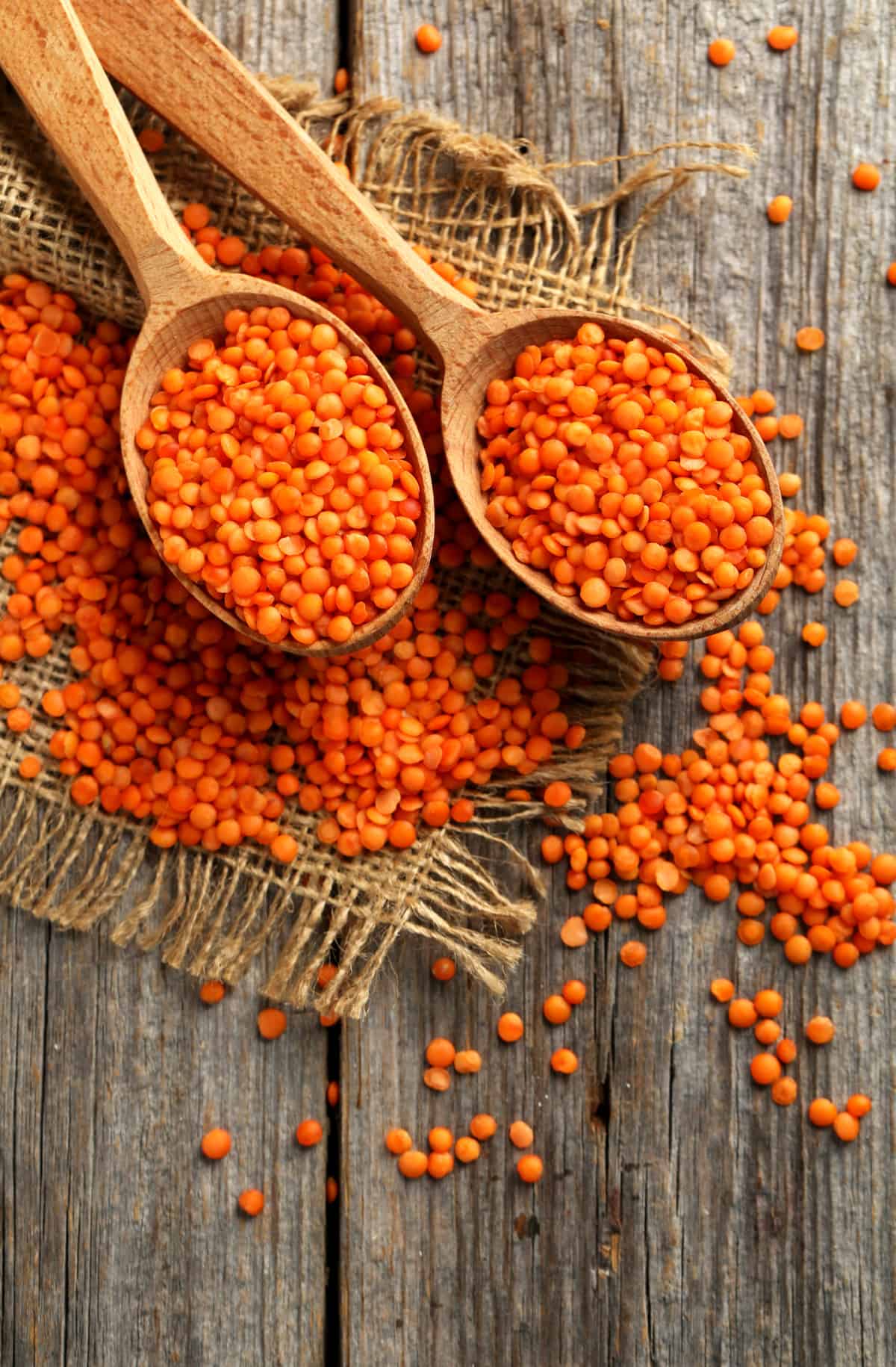 Red lentils, those unassuming little legumes, have become a staple in my kitchen for a plethora of good reasons. They are not just affordable and versatile; they are also incredibly nutritious.
If you're looking for an ingredient that's quick to cook, packed with protein, and can be transformed into a variety of tasty dishes, you're in the right place.
In this blog post, I'll tell you all about red lentils, their nutritional benefits, and provide you with some delectable recipe ideas to make them a regular part of your meal rotation.
What are Red Lentils?
Red lentils are a type of legume that are widely used in various cuisines around the world.
These lentils are small and typically have a pinkish-orange or red color, which is how they got their name.
They are a popular choice for cooking due to their mild, slightly sweet flavor and quick cooking time.
Find out more about Legumes and check out these 15 Best Lentil Recipes.
Characteristics
Color: Red lentils can range from pale orange to deep red in color, and their color often lightens as they cook.
Texture: When they are cooked, they tend to break down and become soft, creating a creamy and thick consistency. This makes them ideal for soups, stews, curries, and other dishes where a smooth texture is desired.
Nutrition: They are highly nutritious. They are a rich source of plant-based protein and dietary fiber.
Quick Cooking: One of the significant advantages of red lentils is their quick cooking time. They usually cook in about 15-20 minutes, requiring no pre-soaking, which sets them apart from some other lentil varieties.
Versatility: These legumes are incredibly versatile and can be used in a wide range of dishes. They pair well with various spices and flavors, making them a popular choice in many international cuisines, including Indian, Middle Eastern, and Mediterranean.
Culinary Uses: They are commonly used in dishes like soups, stews, curries, and dals. They can also be made into dips, spreads, and salads. In some cuisines, they are used in meatless dishes to boost protein content.
Availability: They are widely available in most grocery stores and markets, making them easily accessible for cooking at home.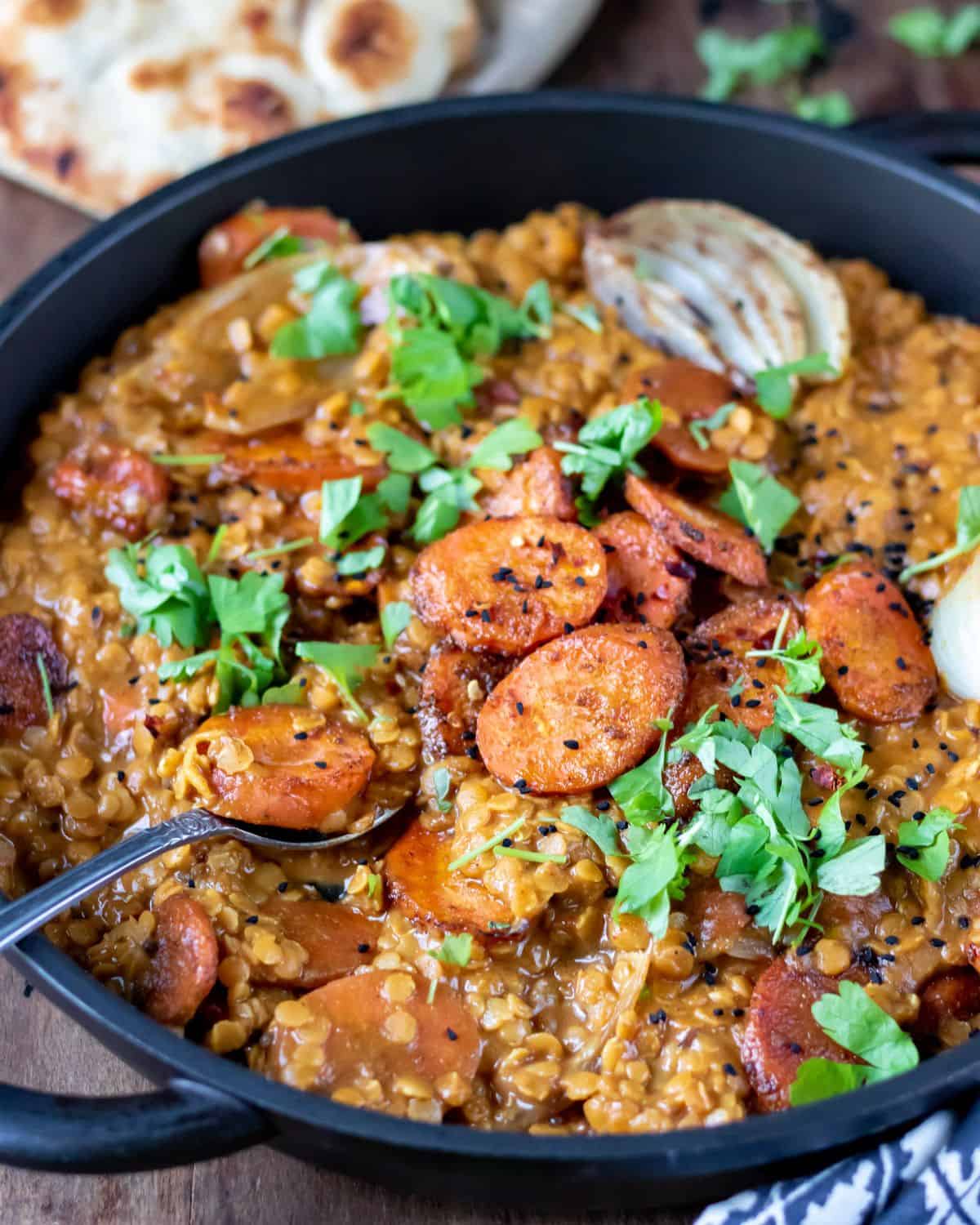 Global Cuisines
Red lentils are commonly used in various cuisines around the world, and they don't belong exclusively to one specific culinary tradition. They are a versatile ingredient and can be found in dishes from several different cuisines. Some of the cuisines where they are frequently featured include:
Indian Cuisine: They are widely used in Indian cuisine to make dishes like red lentil dhal (lentil curry), which can vary in flavor and spice levels from region to region.
Middle Eastern Cuisine: In Middle Eastern cuisine, they are used in dishes like lentil pilaf, often flavored with a variety of spices.
Mediterranean Cuisine: Mediterranean countries use red lentils in dishes such as salads and stews with Mediterranean herbs and flavors.
North African Cuisine: They are also used in North African cuisine for dishes like Harira, a popular Moroccan soup.
Southeast Asian Cuisine: They can be found in some Southeast Asian recipes, often prepared as a curry or used in soups.
Global Vegan and Vegetarian Cuisine: In the context of global vegan and vegetarian cuisine, red lentils are used to make plant-based versions of classic dishes, like vegan meatballs or meat free bolognese. Looking for more meat free recipes? Find Vegetarian Recipes.
Are Red Lentils a Pulse or Legume?
Red lentils are both a type of pulse and a legume. The term "pulse" and "legume" can often be used interchangeably, but they refer to different aspects of the plant.
Pulse: A pulse is the edible seed of a legume plant. This category includes a variety of dried seeds, such as lentils, chickpeas, black-eyed peas, and dry beans. Pulses are known for their high protein and fiber content, making them a valuable source of plant-based nutrition.
Legume: Legumes are a larger plant family that includes a wide range of plants, many of which produce pulses. Legume plants are known for their ability to fix nitrogen in the soil, making them beneficial for crop rotation and soil fertility. Examples of legumes include not only lentils but also beans, peas, peanuts, and soybeans.
The plant belongs to the legume family, and the edible part of the plant, which is the dried seed, is considered a pulse. This distinction helps clarify that the term "legume" encompasses a broader group of plants, while "pulse" refers specifically to the edible seeds derived from these legume plants.
Tips
Here are some tips to make your red lentil cooking experience even better:
Rinse: Always rinse your red lentils before cooking to remove any dust or debris. Unlike other lentils, you don't need to soak them.
Add spices and herbs: They have a mild flavor, so don't be afraid to get creative with spices and herbs. You can start with cumin, coriander, turmeric, and ginger as all work beautifully. Or try a spice blend such as Baharat, Shawarma Seasoning or Vegan Chicken Seasoning.
Don't overcook: They cook quickly and can become mushy if overcooked. Keep an eye on them to ensure the desired texture.
Make extra: Many soups and curries taste even better the next day. I like to make extra and enjoy leftovers.
Experiment: Red lentils are incredibly versatile, so don't hesitate to experiment. You can use them in a variety of dishes, from burgers and meatless meatballs to red lentil-based pasta sauce.
Red Lentil Recipes
Red Lentil Recipes
From hearty soups to zesty salads and creamy dips, there's no shortage of ways to enjoy the benefits of dried red lentils!
How to Cook Red Lentils
Find out how to cook dried red lentils and if they need soaking.
Save
Saved!
Ingredients
1

cup

Dried red lentils

3

cups

Water

¼

teaspoon

Salt

optional
Instructions
Use a fine-mesh strainer to rinse the dried red lentils under cold water, getting rid of any dust or debris.

Decide how many dried red lentils you want to cook. The typical ratio is 1 cup of lentils to 3 cups of water. Adjust according to your recipe.

In a medium-sized saucepan, bring the specified amount of water to a boil. You can add a pinch of salt if you like.

Once the water is boiling, add the rinsed red lentils to the saucepan, giving them a quick stir.

Lower the heat and cover the saucepan with a lid to let it gently simmer.

Let the red lentils simmer for about 15-20 minutes until they absorb the water and become tender. Taste one to check—they should be soft but not mushy.

Depending on your recipe, you might want to keep some cooking liquid. Red lentils tend to absorb a lot of liquid, so if you're making a soup or stew, you can retain some. For salads or side dishes, feel free to drain extra water.

Your cooked red lentils are ready to be added to your desired recipe, whether it's a soup, curry, salad, dip, or any other dish.
Notes
The number of servings for a recipe using dried red lentils can vary depending on the specific recipe and the portion size you prefer. However, as a general guideline, here's an approximate serving suggestion:
1 cup of dried red lentils, when cooked, typically yields about 2 to 2.5 cups of cooked lentils.
So, if you're planning a meal with a side of red lentils, 1 cup of dried lentils should serve approximately 2 to 4 people, depending on the portion size and the other dishes you're serving. If red lentils are the main part of the dish, then 1 cup of dried lentils may serve 2 as a main course.
Keep in mind that specific recipes may vary, so always adjust the quantities to match your serving needs and preferences.
Nutrition
Calories:
159
kcal
Carbohydrates:
27
g
Protein:
12
g
Fat:
0.5
g
Saturated Fat:
0.1
g
Polyunsaturated Fat:
0.2
g
Monounsaturated Fat:
0.1
g
Sodium:
157
mg
Potassium:
430
mg
Fiber:
14
g
Sugar:
1
g
Vitamin A:
18
IU
Vitamin C:
2
mg
Calcium:
31
mg
Iron:
3
mg
The nutritional information provided is approximate and can vary depending on several factors, so is not guaranteed to be accurate. Please see a registered dietician for special diet advice.
Tried this recipe?
Mention @kateveggiedesserts or tag #veggiedesserts! I love seeing your recreations.