Turn the humble sprout side dish into a showstopper this Christmas! Roasted Brussel Sprout Christmas Tree - simply arrange into a fun tree shape and roast. Roasting makes sprouts taste delicious - trust me. Vegan and gluten free Christmas side dish.
I'll stick my hands up right now and say that I am firmly Team Sprout. I don't like the soggy over boiled ones of yore, but modern sprouts are sassy, tasty and... roasted!
Stay with me. If you think you don't like sprouts, then perhaps you've had them the wrong way.
Perhaps Great Auntie Hortense simmered them on the stove for four hours before insulting your Christmas dinner with greige soggy balls of sadness that stunk more than Uncle Stanley after too many festive sherries.
If that's the case, then I don't blame you for shunning them.
But what Great Auntie Hortense didn't know is that sprouts can be a pleasure. No, really.
They may not be the star of the Christmas dinner (that accolade goes to stuffing, amiright? My mum's veggie stuffing is LEGENDARY), but they most certainly deserve space on your plate.
Have extra left over? Try this Christmas Leftovers Loaded Fries!
Jump to: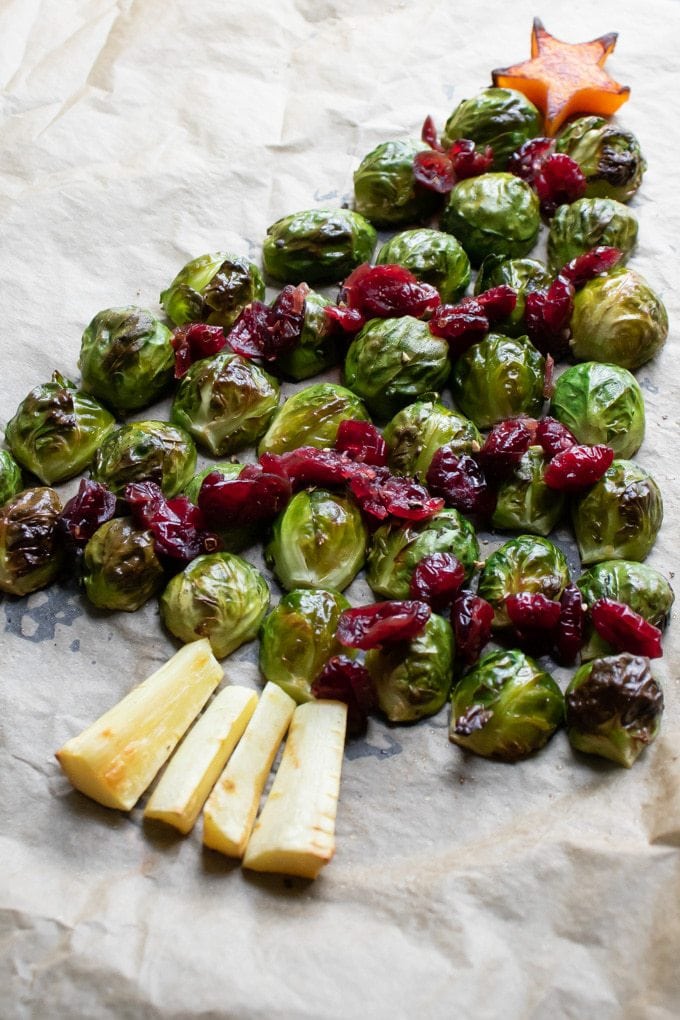 What you need to do is jazz up those sprouts. I don't mean covering them in sauces or anything too fancy. They can shine on their own. You just need to make them into a tree shape. Even modest cooks can manage that. Slice them (you don't want those bad boys rolling all over your kitchen), then place them into a triangle shape.
I got a little OCD about lining them up. You can if you want as well - heck, you can even get out a ruler and line them up perfectly. Or just slap them onto the tray and freestyle - it's your perogative.
(Aside: OMG - my computer has just informed me that it's prerogative not perogative. WITH AN EXTRA R! I was my primary school Spelling Bee champion so how did I not know this? Did Bobby Brown teach it wrong to me all those years ago in the song??? Was it him? Was it me hearing wrong? One of us is at fault here).
Aside to the aside: I've just watched the Bobby Brown My PRERogative music video on YouTube. It hasn't aged well. There's stomp dancing, Star Trek uniforms, receptionist headsets, keyboard guitars and an ozone clearing amount of hairspray. Oh dear, he's just reverse twerked in a frenzy. I can't bear this. However, after enduring three minutes of that I can confirm that he sings PER-ogative.
PUBLIC INFORMATION NOTICE: If you're under 35 and unable to watch Brown's My Prerogative music video through misty eyes of nostalgia then I suggest you don't do it and instead scroll down a bit where I'll get back to discussing sprouts. You don't need to have ever seen this video. Just erase my little rant here from your mind. There. Gone.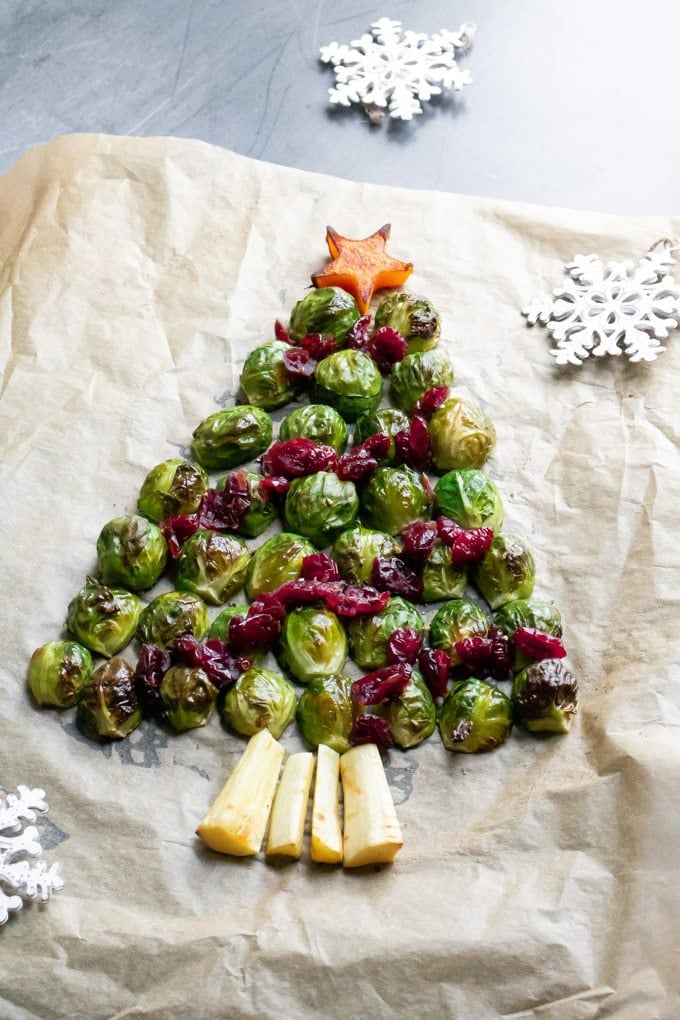 Roasted Brussel Sprouts
Okay, now that we've cleared all that up, SPROUTS.
So you just need to line up the halved sprouts into a triangle shape, slice a parsnip (or try carrot) and make a tree trunk shape out of it. I used a slice of butternut squash cut with a star cookie cutter for the star, but feel free to use any veg you have to hand.
Stick it all in the oven and then serve on the tray so everyone can take a few from the tree!
I decorated my roasted brussel sprout tree with dried cranberries (added after roasting the veggies) but again, use your imagination and go for what your family like.
If you're looking for more interesting ways to serve sprouts, try my Red Cabbage and Sprouts Tart or Shredded Sprout Salad. See? I love sprouts. And that, my friends, is my PRERogative.
How to make a Roasted Brussel Sprout Christmas Tree (step by step tutorial)

Step 1: wash and trim the sprouts, then slice in half and toss in the olive oil.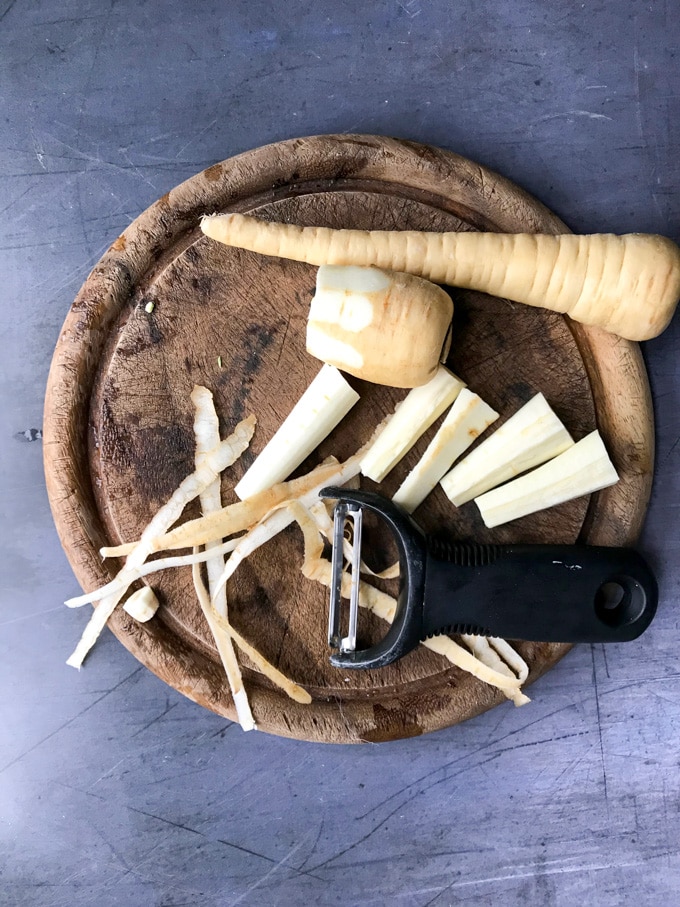 Step 2: Peel the parsnip (or use a carrot) and cut into thick sticks and coat with a little oil.

Step 3: Cut a slice of butternut squash and use a cookie cutter to cut out a star shape and coat in a little oil.

Step 4: Arrange the sprouts on the baking sheet in a triangle shape. Add the parsnip at the bottom as the tree trunk and the star at the top. Bake then decorate with dried cranberries and serve!
Get the Roasted Brussel Sprout Christmas Tree Recipe
Thanks for checking out my recipe! I love hearing from my readers. You all allow me to do what I love and write this UK food blog, sharing vegetarian and vegan recipes, vegetable cake recipes and also easy vegan desserts.
Kate x
📖 Recipe
Roasted Brussel Sprout Christmas Tree
These delicious roasted Brussels sprouts are served in a fun Christmas tree presentation! It's easy and fun - perfect for a Christmas dinner side dish.
Save
Saved!
Ingredients
25-30

brussel sprouts

1

parsnip (or carrot)

1

slice

butternut squash

2

tablespoon

olive oil

1

handful

dried cranberries

salt and pepper
Instructions
Preheat the oven to 180C/350F. Line a baking sheet with baking paper.

Check the sprouts for any major blemishes and cut them out. Trim the bottom and cut each one in half so there is a flat side. Place them into a bowl with half the oil and toss to coat.

Peel and slice the parsnip (or carrot) lengthways into equal length pieces then rub to coat with some of the remaining oil.

Add the sprouts to the baking sheet in a large tree shape. Use the parsnips to create the tree trunk.

Use a star cookie cutter (or a knife to make the shape freehand) to make a star shape from the butternut squash slice. Lightly coat it with oil and add to the top of the sprout tree.

Roast in the oven for 20 minutes or until cooked and beginning to brown.

Add the dried cranberries decoratively to the sprout Christmas tree and sprinkle with salt and pepper. Serve!
Notes
Notes: To serve more people, double the amount of sprouts and roast them (and the parsnip and star) in a baking tray. Make the tree shape to serve it all with the sprouts piled high. That will ensure they're all evenly cooked.
Nutrition
The nutritional information provided is approximate and can vary depending on several factors, so is not guaranteed to be accurate. Please see a registered dietician for special diet advice.
Tried this recipe?
Mention @kateveggiedesserts or tag #veggiedesserts! I love seeing your recreations.