Here's an epic vegetable cake: Swede (rutabega) Nutmeg Cake with Browned Butter Frosting and Salted Hazelnuts! It's moist, flavorful and soooo good. It's similar to carrot cake, but with swede / rutabaga instead.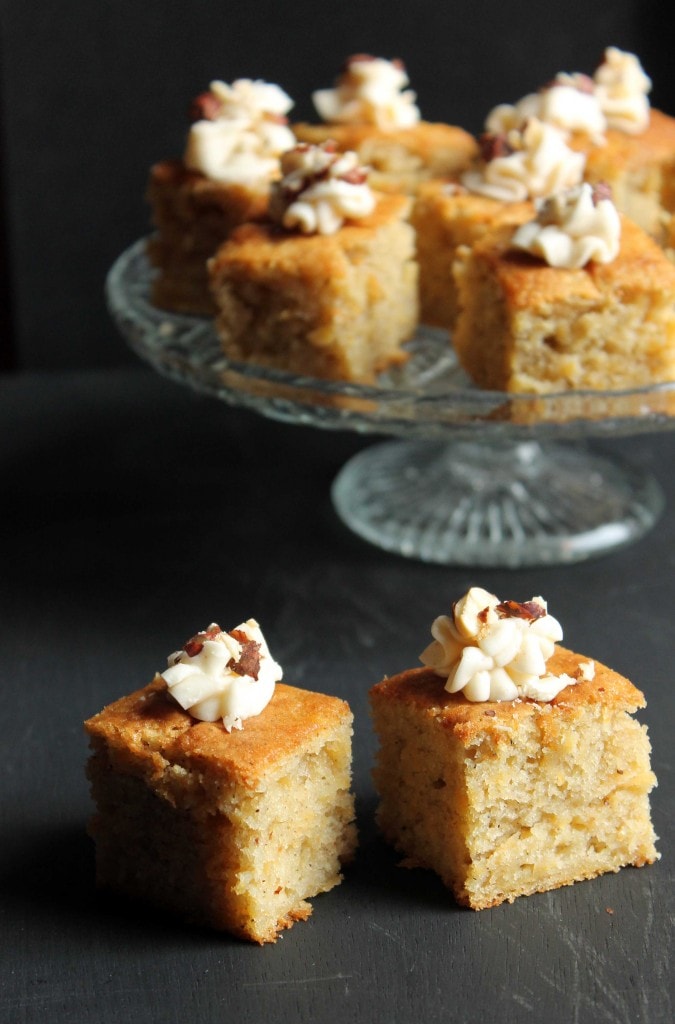 Swede Cake
My mum loves her kale smoothies in the morning and grew huge cucumbers in the garden when we were kids, but when thinking about a vegetable for her Mother's Day cake I thought of the humble turnip.
That or spinach, I suppose.
She doesn't like cooked spinach but still, I feed it to her with the regularity of a mum of toddlers who is used to soldiering on, re-offering spurned food frequently enough to wear the hater into submission.
I always thought it odd that as a child she carved turnips at Halloween, so I suppose that is why I thought of it.
Turnips remind me of my mum, so here is a swede recipe, even though they are not the same thing.
I realise that doesn't particularly make sense.
Expect the unexpected, people.
Read: there were no turnips at the store.
Rutabaga Cake
This cake is very similar to carrot cake.
It's subtly spiced and even with a great pile of rutabaga (swede) in it, the veg can't be tasted.
The moist, fluffy cake combines well with the nutty flavour of the browned butter icing and the crunch of the salted hazelnuts.
It sounds crazy (like many of my other vegetable cakes!) but the flavors really work! I hope you enjoy this rutabaga cake!
Snippets of my week:
1. Giles Coren, inimitable foodie wordie man, spoke to me on Twitter. I take this to mean, in all seriousness, that we are to be great friends. We shall eat the food of Roman times, drink well-matched wines and laugh about the absurdities of life, while our children grow up, fall in love, and marry.
2. My Kale and Almond Biscotti was mentioned in The Province newspaper in Vancouver, Canada. Cool, eh?
3. Food52 featured my Pumpkin and Spice Dark Chocolate Bark via Instagram.
4. I failed my driving test. Teenage children whose mummies still make their packed lunches are allowed behind the wheels of cars and I am not. Okay, so perhaps I shouldn't have gone careering across a junction like a maniac, nearly killing both myself and the examiner. Oops. *Dons cycle helmet*.
Swede / Rutabaga
Swede and Rutabaga are the same thing, depending on what country you're from.
Swede, rutabaga and turnips are those veg that sometimes you just don't know what to do with.
They turn up in the veg box, and laugh as you scratch your head wondering what to make.
One way to cook them is Foodie Quine's turnip in microwave - it sings!
Before I head to the recipe, let me tell you a bit about my mum.
She did something pretty amazing a few years ago.
She moved to England from Ireland to help out and be a full-on Grandma.
My son was one and my daughter was about to be born, so Grandma retired and moved to help my husband and me with the little ones and to be a big part of our family.
She's just across the road when we need her and that is so very very special.
She's my recipe tester, chocolate-provider and sanity-saver.
Plus she doesn't get annoyed when the kids create epic, totally tubular waves all over the floor at bath time or smear yogurt on her sofa, and she loves them dearly. That's pretty special, too. Happy Mother's Day, mum.
Swede (Rutabega) Nutmeg Cake with Brown Butter Frosting and Salted Hazelnuts
Brown butter frosting tops this twist on carrot cake: it has swede / rutabaga instead! Spiced with nutmeg the vegetable works well in this tasty vegetable cake!
Save
Saved!
Ingredients
For the cake:
150

g

1 cup, packed raw peeled and grated swede (rutabega)

3

eggs

175

g

¾ cup sugar

100

g

½ cup plain full-fat yogurt

100

ml

½ cup rapeseed or vegetable oil

2

teaspoons

vanilla extract

250

g

2 ½ cups plain (self-raising) flour

2

teaspoons

baking powder

½

teaspoon

bicarb of soda

baking soda

2

teaspoons

ground nutmeg

½

teaspoon

salt
For the brown butter frosting:
400

g

3 cups powdered icing sugar

2

teaspoons

vanilla extract

3-4

tablespoons

milk

115

g

½ cup unsalted butter, at room temperature
To serve:
30

g

¼ cup salted hazelnuts, chopped
Instructions
For the cake:
Preheat oven to 180C/350F. Grease and line a 9" square cake tin with parchment paper.

Beat the eggs, sugar, yogurt, oil and vanilla together well. Stir in the grated swede. Sift in the flour, baking powder, bicarb of soda, nutmeg and salt and gently stir to combine.

Pour into the prepared tin and bake for 25-30 minutes or until an inserted skewer comes out clean. Cool for 10 minutes in the tin and then turn onto a wire rack, removing the parchment paper, to cool completely.
For the frosting
Put the icing sugar, vanilla and 1 tablespoon of the milk into a large bowl. Set aside.

In a saucepan over a low heat, melt the butter and continue to heat until it turns brown and smells nutty. Pour into the bowl of powdered sugar and beat until thick and smooth, adding more milk if necessary.

Top the cooled cake with the frosting and sprinkle with the chopped hazelnuts.
Nutrition
Calories:
543
kcal
Carbohydrates:
80
g
Protein:
5
g
Fat:
23
g
Saturated Fat:
15
g
Cholesterol:
76
mg
Sodium:
283
mg
Potassium:
213
mg
Fiber:
1
g
Sugar:
59
g
Vitamin A:
376
IU
Vitamin C:
4
mg
Calcium:
76
mg
Iron:
2
mg
The nutritional information provided is approximate and can vary depending on several factors, so is not guaranteed to be accurate. Please see a registered dietician for special diet advice.
Tried this recipe?
Mention @kateveggiedesserts or tag #veggiedesserts! I love seeing your recreations.