Wondering what to do with the tops of carrots? Are carrot tops edible? Yes! Here you'll find plenty of recipes, ideas, tips, how to prep and more so you can be sure to make use of your leafy carrot greens.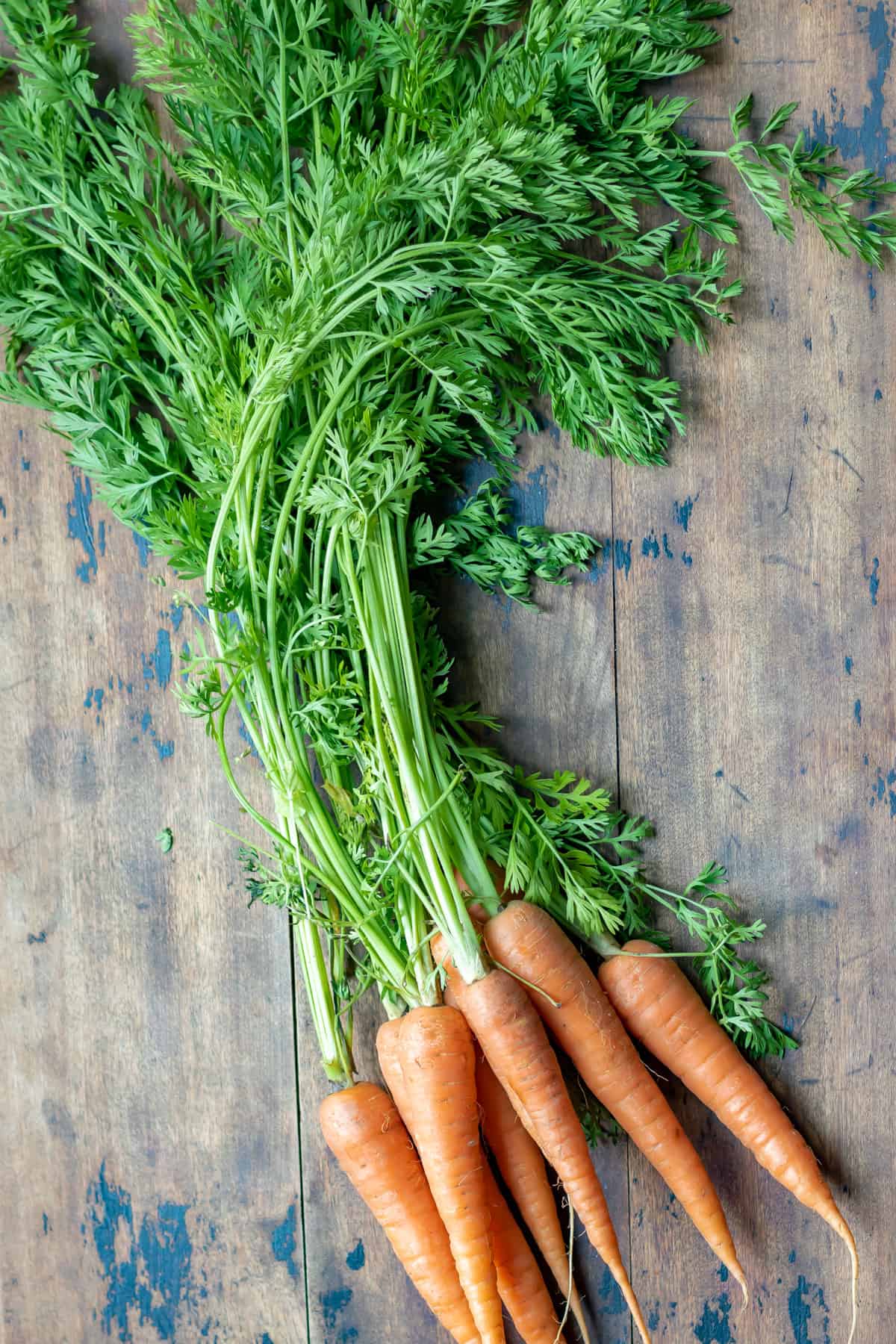 Don't toss out your carrot tops! These leafy greens found on the top of a bright orange carrot are so good for you and pack a lot of fresh flavor. They can be interchanged with parsley in a lot of savory recipes.
Carrot tops are edible, but they're often discarded after the carrot is peeled and chopped.
However, they can be used to add flavor and color to many dishes. If you're looking for a way to use them up, keep reading!
A lot of people don't know what to do with the tops of carrots. It's easy! They can be cooked, eaten raw, or used as a herb.
Read on for our Carrot Greens 101 - with recipes, tips, ideas, how to prep, and more!
What do carrot tops taste like?
The leafy green tops of carrots (carrot heads) taste a bit like a cross between carrots and parsley. They have a pleasant herbaceous grassy and carrot-like taste that's mildly bitter.
The flavor is refreshing and adds a lovely dimension to many dishes.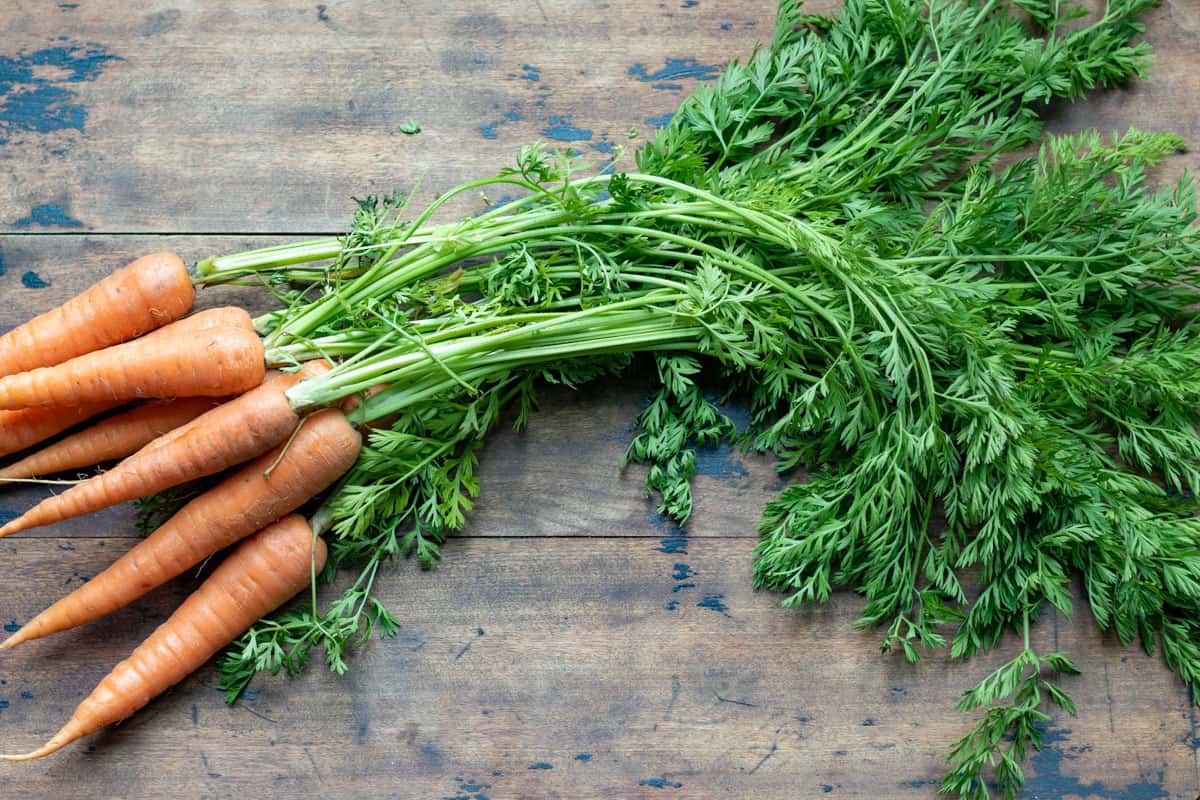 Ideas for using the leafy green tops of carrots
SALAD - Carrot greens can be eaten raw, so try adding them to salads. Mix it up with other salad vegetables like spinach, kale and arugula for a beautiful Green Salad with loads of taste and texture. Highlight them in a Carrot Top Salad. Or use them in Carrot Top Dressing!
SAUTÉE - You can also blanch them in a pot of boiling water for a minute or two, then drain and add to a pan with a little splash of olive oil and sautée them briefly. Flavor them up with a little garlic, parmesan, chili flakes, herbs, or spices.
SMOOTHIE - Whiz a little of the greens into a green smoothie.
PASTA - Stir finely chopped tops into pasta dishes like spaghetti or macaroni and cheese. It will add some green color as well as additional nutrients.
STIR FRY - with other veggies and your favorite seasonings, like Baharat or Old Bay Seasoning, or just garlic and lemon juice, and enjoy as a side dish.
INSTEAD OF PARSLEY - Use carrot tops like you would parsley. Try it in Carrot Top Pesto, Carrot Top Chimichurri, tabbouleh etc...
COCKTAILS -Stick a sprig into a Carrot Moscow Mule as a garnish.
GARNISH -Use as a garnish to dishes instead of parsley, or chop up the stems and use them instead of chives.
DIPS - use them in hummus and other dips for flavor and a nice green colour.
Tips
As soon as you get your bunch of carrots home, remove the roots from the heads by cutting the stems off. The leaves will suck the moisture from the roots so they'll go soft sooner if you leave the leaves attached.
Prep the leaves by washing, as detailed above.
Keep your washed and dried carrot greens in the fridge for a few days, and use them up before they begin to wilt or brown.
Be sure to use the stems too - just chop them up and add them to dishes, as you would chives.
Are carrot tops poisonous?
Not at all! They are a completely edible portion of the carrot. Just give them a good wash and choose organic if possible.
A few years ago, there was an internet rumor that carrot leaves were toxic. Well, that's long since been debunked and people are aware now that the tops of carrots are perfectly edible.
Carrot tops do contain alkaloids, but this doesn't make them dangerous, and alkaloids are a substance found in many green vegetables, as well as the nightshade family (eggplant, tomatoes etc...).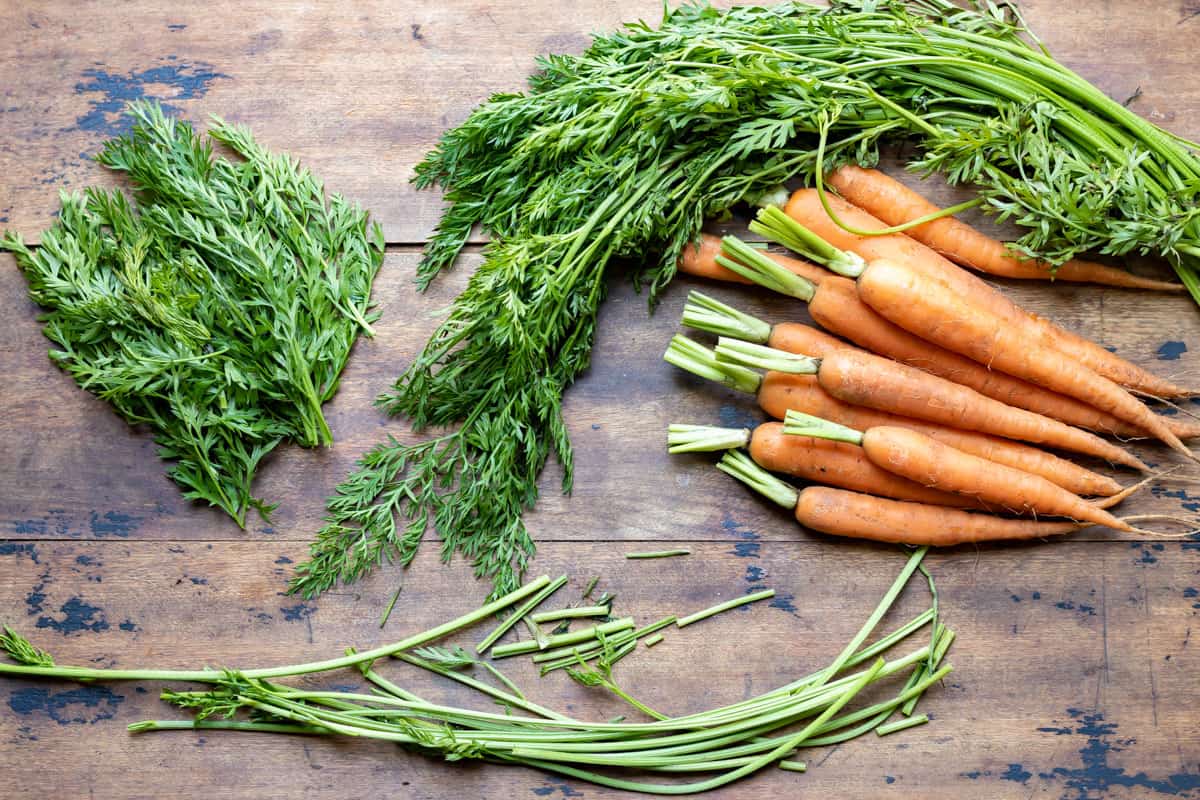 How to clean carrot leaves
It's really easy to prep the tops of carrots.
One thing to remember is that they can often harbor a bit of dirt and sand in the leaves.
Start by removing the leaves from the stem of the carrot. Place in a cold bowl of water to remove as much dirt as possible. Give them a good swirl in the water to ensure the water gets into all the folds of the leaves.
Dry in a salad spinner, or by blotting with a clean tea towel. I use this salad spinner.
Then remove any brown or discolored leaves and they're ready to use!
Benefits of carrot tops
Leafy carrot greens are edible and have nutritional benefits. They contain iron, calcium, vitamin A, vitamin C, and vitamin K. In addition, carrot tops have dietary fiber, chlorophyll, and potassium.
Like many leafy green vegetables, they are nutritional powerhouses and a great addition to our diets.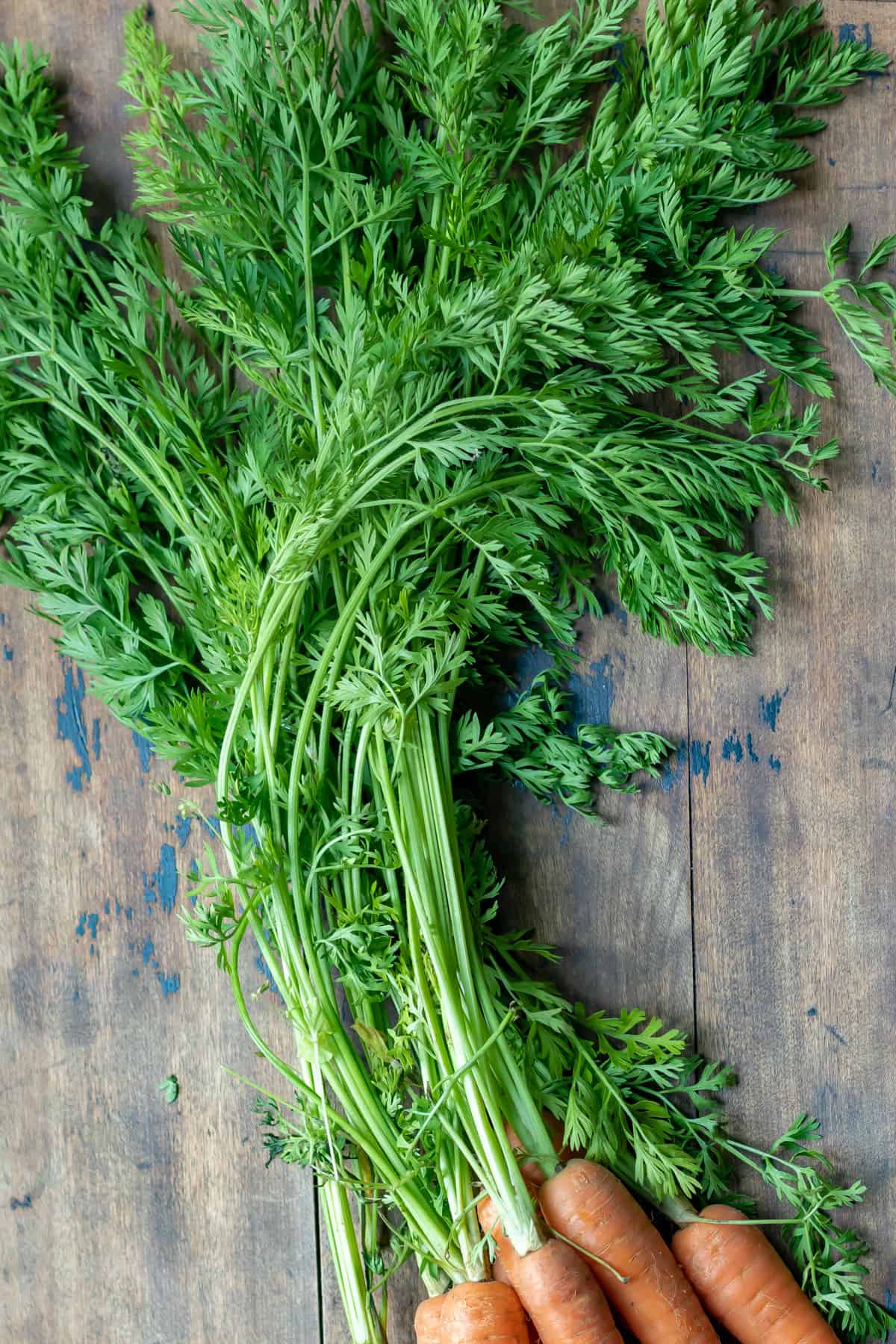 Recipes
There are many great recipes using the tops of carrots, and I hope you'll try them out. The leafy greens are often used in place of parsley, but get creative and see what other recipes can help reduce food waste and make the most of carrot leaves.
Carrot Tops Recipes
Make the most of the edible tops of carrots with these tasty recipes! Carrot greens are full of flavor (sort of a mix of parsley and carrots), so they're a tasty addition to many dishes.
Get inspired with these recipes using the leafy green tops of carrots!