Halloween mummy pies are a fun and easy way to make spooky Halloween party food! You can make them with just 3 ingredients - but I also give the recipe to make your own bloodcurdling raspberry sauce.
I've loved Halloween since I was a little girl. My sisters and I decorated the house and cooked spooky recipes with my mum and dad.
We would stuff clothes to look like a witch and sit her on the front porch, then fill bowls with wet spaghetti and grapes as 'brains' and 'eyeballs' to trick any treaters.
I grew up in Canada where Halloween is a BIG DEAL.
My parents weren't keen on us trick or treating, so we would always have huge parties. The table would be spread with an epic eerie buffet and spooky tunes.
Friends would arrive in all manner of fancy dress and we would party and play games into the night.
These 'mummies' are a fun way to get in the halloween spirit. You could get creative with the fillings and make them savoury with tomato sauce and mozzarella cheese, perhaps pureed vegetables or a different fruit.
They're versatile, adaptable and so easy to make! I added edible eyes to make them fun.
I went for a raspberry filling, simply made by heating frozen raspberries with a bit of sugar and a squeeze of lemon juice. It turns into a jam-like consistency and for ease you could even just use jam!
These halloween mummy pies are perfect if you're looking for easy Halloween recipes for kids.
They're simple and make for a bloodcurdling party. My kids instantly tucked into them with glee.
If you're looking for more Halloween recipes, try my naturally green witch finger cookies, easy bread shapes or pumpkin cupcakes!
How to make Halloween Mummy Pies
As this photo shows, it's really easy to make mummy hand pies.
With only 6 ingredients, you can quickly cut the pastry into shapes and turn them into quick and easy Halloween treats! Pop them in the oven and they puff up and get full of oozy raspberry 'blood'.
I always keep a big stash of frozen raspberries in the freezer as they're perfect for quick desserts, adding to porridge or blitzing into a smoothie. Nothing gets wasted as I just use what I need and it doesn't go off. I also love that frozen fruit means the goodness is all locked in.
But - you can just use strawberry or raspberry jam instead!
You will need:
NOTE: To make this super quickly, you only need store-bought puff pastry, raspberry jam and milk for brushing.
Store-bought puff pastry (check for vegan and/or gluten free if required)
Frozen raspberries (or raspberry jam instead of the raspberries, lemon juice and sugar!)
Lemon juice
Sugar
Milk (for brushing)
Edible eyes make them extra spooky (and cute)
Cook's Tips:
Make them even easier by using your favourite jam for the filling.
Make savoury mummy pies by adding tomato sauce and mozzarella cheese.
Vegan? Check your pastry, but many are naturally vegan. Also check the edible eyes to see if they're vegan.
Gluten free? Use gluten free store-bought pastry, or make your own!
Halloween recipes
If you love these mummy hand pies, then try these other tasty Halloween Recipes!
Naturally Green Peanut Butter Witch Finger Cookies
Pumpkin Cupcakes with Avocado Buttercream Icing
Get the recipe for Raspberry Halloween Mummy Pies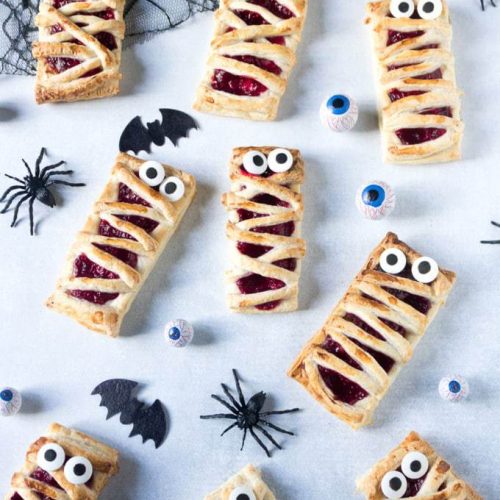 Easy Raspberry Halloween Mummy Pies
These 6-ingredient easy raspberry Halloween pies are shaped like mummies. They're quick and easy to make and taste delicious.
Want to make them even easier? Then you just need 3 ingredients: store bought puff pastry, raspberry jam and milk for brushing.
Print
Pin
Rate
379
kcal
Ingredients
30

oz

puff pastry

(2 x 375g/15oz package), ready rolled

6

tbsp

raspberry jam

3

tbsp

milk (or vegan milk)

for brushing
Instead of jam, you could make your own raspberry sauce
2 1/2

cups

(300g) raspberries

fresh or frozen

5

tbsp

sugar

1

tsp

lemon juice
Instructions
Preheat oven to 375F/190C. Line a baking sheet with baking parchment paper (or use the parchment from the pastry packet)

If making the raspberry sauce: Add the raspberries, lemon juice and sugar to a pan and heat, stirring often until thawed and the raspberries break up a bit. Reduce the heat and simmer for 2-3 minutes until thickened slightly.
To assemble
Unroll the pastry (or roll it out) and cut one sheet into 6 equal-sized squares, then cut each square in half to make 12 rectangles.

Cut the other sheet of pastry into thin strips.

Spoon the raspberry jam or sauce onto the rectangles, avoiding the outer edge.

Add dough strips decoratively to look like mummies, and gently press the edges to seal.

Brush with the milk and bake for 20 minutes, or until golden. Serve warm or cold and decorate with edible eyes.
Recipe Tips
To make this recipe even quicker, use raspberry jam for the filling!
For vegan and/or gluten free, use non-dairy milk and check pastry ingredients. Many store-bought puff pastries are vegan and some are now gluten-free.
Nutrition Information
Serving:
12
g
Calories:
379
kcal
Carbohydrates:
36
g
Protein:
4
g
Fat:
24
g
Saturated Fat:
6
g
Sodium:
157
mg
Potassium:
80
mg
Fiber:
2
g
Sugar:
6
g
Vitamin A:
15
IU
Vitamin C:
6.7
mg
Calcium:
17
mg
Iron:
1.8
mg
The nutritional information provided is approximate and can vary depending on several factors, so is not guaranteed to be accurate. Please see a registered dietician for special diet advice.