Check out this huge collection of Fancy Desserts that will impress anyone. Majestic cakes, French patisserie, elegant macarons, delicate pastry, plus many more ideas that can be made at home from scratch.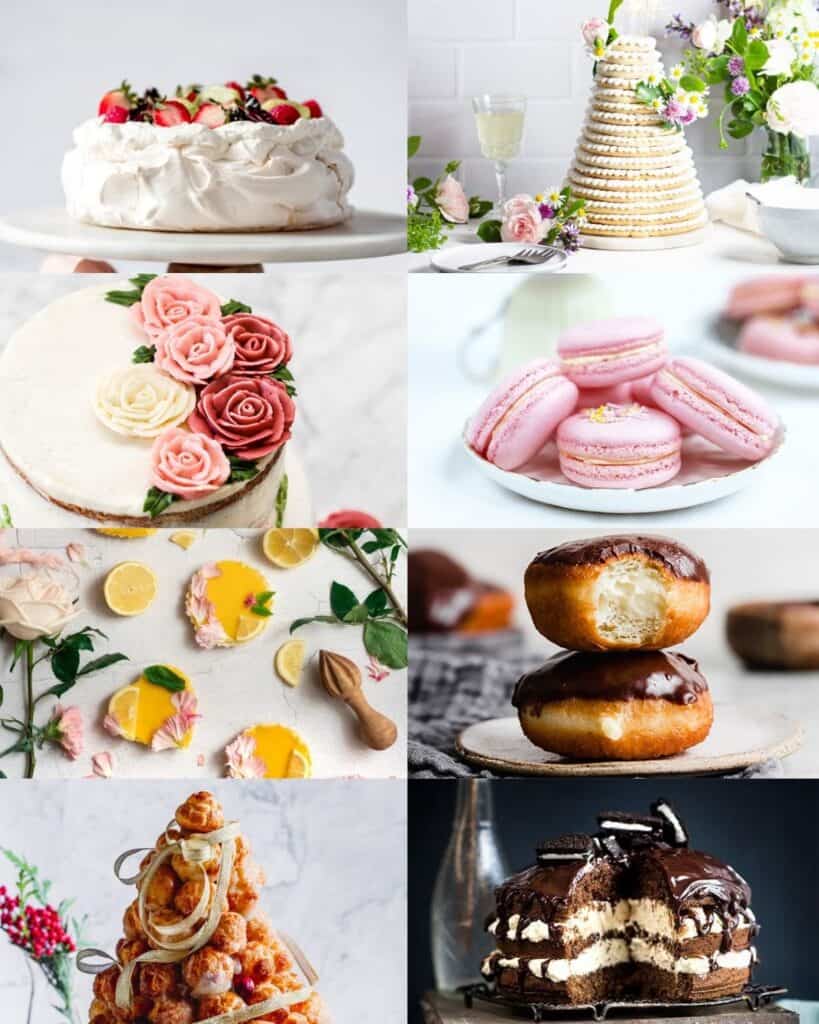 It's been a year where few of us have been able to showcase our culinary skills by entertaining guests at home. However, for some, we might be able to get back in the kitchen soon.
So why not make dinner parties extra special with some fancy desserts?
I've scoured the internet to bring you the most impressive, elegant, and beautiful fancy dessert ideas. Sit down with a cup of coffee and peruse these incredible sweet treats.
Don't expect anything quick and easy, instead, these are fancy desserts that many need love, time, and care to create.
And they will be worth every moment spent in the kitchen.
Of course, a few in this list might look very special but are actually easy fancy desserts. Shhhhh don't tell anyone!
Jump to:
Fancy Dinner Parties
I've been daydreaming about getting to hold dinner parties again.
Oddly, I even dreamed the other day about sitting next to Harry Styles at a dinner party and accidentally eating his grilled cheese sandwich, but I digress.
I want to open my door to loved ones. Sit them around the table, pour some wine, and serve delicious gourmet food.
I yearn to host, chat, and fuss over people that I care about.
But mostly, I want to serve them the prettiest and fanciest of homemade desserts.
We're all a bit rusty after a year of staying home, so here are my top tips for hosting a dinner party:
Preparation: Prep as much as you can the day before. From laying the table to chopping the vegetables and making any dishes that can be made ahead. Many of the fancy desserts in this list below are make-ahead. Check out these make-ahead side dishes. Be sure to run the dishwasher before guests arrive so you can put dirty dishes straight in.
Timeline: Plan the menu and write a timeline so the cooking and serving runs smoothly.
Accept help: It's not easy hosting a dinner party, from making fancy foods to spending enough time with everyone. If someone wants to help, let them! It's extra time to chat as you work.
Make it welcoming: Put on some music, get yourself completely ready, finish laying the table, and prepare some cocktails. Check out this list of 40 Cocktails You Can Make At Home. Ensure you're as ready as can be when the doorbell rings.
Keep it stress-free: There's nothing worse than panicking in the kitchen. Turn on some soothing music, plan ahead, and don't let any mishaps ruin the night. Even if you burn dinner you can still order pizza and enjoy your friends and loved ones. You could also take the stress out by getting everyone to bring a dish, potluck-style.
Dinner Party Desserts
So we're going to need some fancy dessert ideas...
Perhaps a delicate mille feuille with layers of crispy pastry filled with the silkiest crème pâtissière?
Maybe a vintage plate piled with pretty homemade French macarons in a rainbow of colours.
How about a beautiful towering display of choux pastry in a croquembouche, drizzled with salted caramel. Or an elegant canelé, the individual French pastry with a custardy rum and vanilla center enrobed in a crispy caramelized crust.
Maybe something international like a Norweigan Kransekake, Persian Love Cake, or an airily light Japanese cheesecake for a stunning final flourish to a national cuisine-themed dinner party. I do love a themed dinner party.
Many of the recipes in this list can be prepped ahead of time. Because nobody wants the dinner party host in the kitchen all evening!
Types of desserts
Deserts are a sweet course served at the end of a meal. There are lots of sweet desserts in Western cultures and they can generally be classified in the following categories:
Candies & Chocolates
Cakes & Cupcakes
Cookies & Biscuits
Custards & Puddings
Gelatin-based
Ice Creams & Frozen Desserts
Pastries & Pies
Fruit
I've tried to include as many from each category as possible in the list below.
There's everything from extra special cakes, French pastries, fancy chocolate desserts, delicate pies, champagne jellies and no-bake desserts.
There are so many delicious gourmet dessert recipes in this roundup, I guarantee you'll struggle to choose just one!
Dessert Ideas
So if you're looking for fancy desserts to make at home for a showstopping, beautiful sweet end to a meal, then check out this list.
It's full of elegant desserts that will impress any guest.
Whether you're looking for a beautiful recipe for a dinner party, celebration, wedding, or Christmas, there will be plenty in this list to inspire and excite you.
So, without further adieu, here are 45 of the BEST Fancy Desserts to make at home.
Fancy Desserts
If you're looking to impress guests, then feast your eyes on these fancy dessert recipes! From French patisserie and intricate pies to decadent layer cakes and beautiful fruity tartlets, you'll find a showstopping elegant dessert recipe to suit you.