This Farro, Chickpea and Kale Stew is a healthy dish that is easy to make. It's lovely on it's own or mopped up with crusty bread.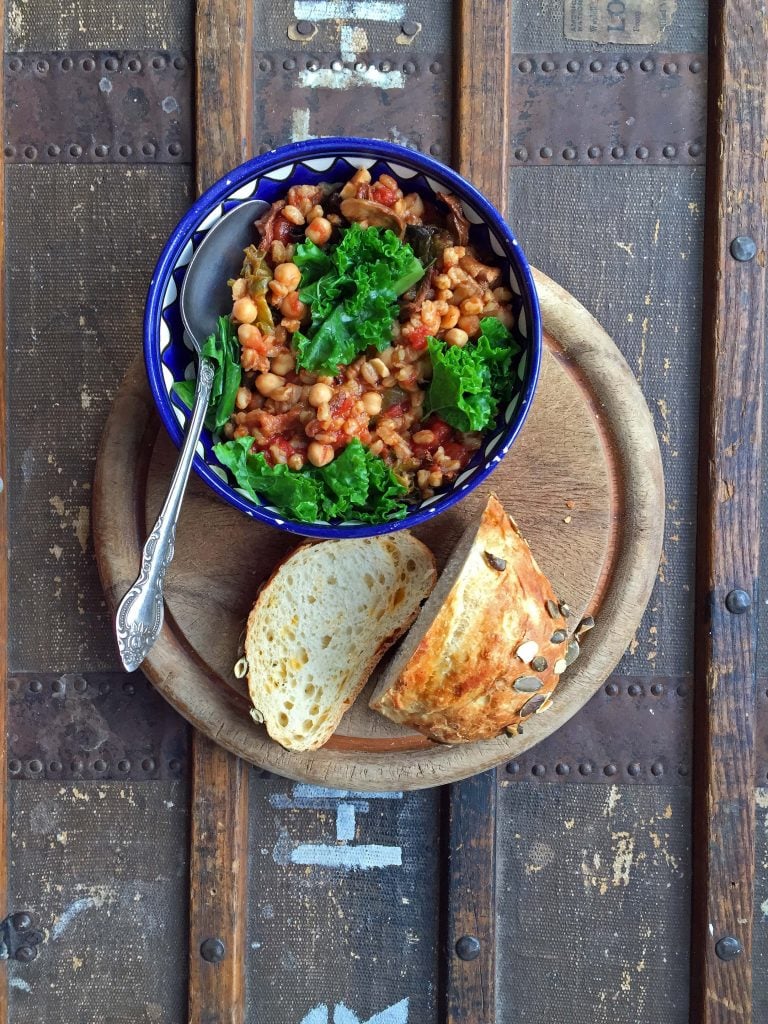 Commissioned by Redmond Multicookers
Even in summer, when the days are warmer, I still love a nice, flavorsome stew. This stew has the denser texture of the chickpeas, with the strong, earthiness of the mushroom stock and dried mushrooms, matched with the juicy tomatoes and concentrated puree.
I've added kale for some extra green goodness because, well, there isn't much that I don't add kale to these days (like kale cupcakes!). To the complex and complimentary flavours of this stew, I've added a few good handfuls of farro.
What is Farro?
Farro is an Italian nutty wheat-based grain that is seeing a massive surge in popularity at the moment. And rightly so, this tender grain has a consistency similar to rice, but is higher in fibre and protein and is gently chewy. The farro gives a nice bite to this stew, with a barley-like texture.
It's easy to cook, and Bon Appetit has a comprehensive guide to cooking farro. If you can't get hold of this particular grain, you could substitute barley or even couscous. Check out Recipes from a Pantry's guide on how to cook couscous.
If you make this recipe, please tag it with #veggiedesserts on Instagram or other social media. I LOVE seeing your recreations of my recipes.

Farro, Chickpea, Mushroom and Kale Stew
Author:
Kate @ Veggie Desserts
Ingredients
25g (1 oz) dried mushrooms (porcini or mixed)
1 x 400g (8oz) can chickpeas, drained and rinsed
1 x 400g (8oz) can chopped tomatoes
500ml (2 cups) mushroom or vegetable stock
125g (1/2 cup) faro, rinsed
1 onion, roughly chopped
3 cloves of garlic, roughly chopped
2 tablespoons tomato puree
sprig of rosemary
sprig of thyme
salt and pepper, to season
3 handfuls kale, washed, tough stalks removed and torn into pieces
Instructions
Rinse the mushrooms, then place in a bowl and cover with hot water. Leave to soak for 15 minutes.
Multicooker instructions:
Add the mushrooms and their water, as well as all other ingredients except the kale, to the bowl of the mullticooker. Set to 'stew' for 30 minutes and cook. Add the kale at the end and leave to wilt into the stew before serving.
To cook in a slow cooker, follow the same instructions, but increase cooking time to 3 hours.
Hob instructions:
Cook all ingredients, except the kale over a low heat for 30 minutes, stirring often. Add water if necessary. Add the kale shortly before serving to wilt.
Multicooker – perfect for Farro Stew
A multicooker is one of those gadgets that you don't know you need, but when you get one, it really makes life easier. Seriously. I've used mine SO MUCH. Counter space is at a premium at the moment while we're having our new kitchen built (yay!), but the Redmond Multicooker gets to stay out in our existing, tiny, kitchen. All winter we have used it for soups and stews, and even now we're using it for porridge and hot salads.
The Redmond Multicooker is compact but can do so much. You'd be forgiven for thinking that it is like a slow cooker, but this gives the taste of slow cooked food – fast! Instead of eight hours in the slow cooker, a multicooker stew is ready in 40 minutes. And you can add the ingredients in the morning and preset it to be ready when you come in from work. The multicooker can also boil, fry, steam and the 360 degree multicooker function ensures that it cooks quickly and evenly and can't burn. This is perfect for anyone after safe, convenient cooking and also where there isn't much space (like caravans, boats, small flats and student housing). You can read my full Redmond Multicooker reviews here and here.
Disclosure: This post was commissioned by Redmond. I use a Redmond MRC-M4502E, which is currently available for approximately £105.